We are proud to finally press the publish button on this post and announce to the world that the Android version of TalentLMS is, as of this minute, ready.
The TalentLMS for Android and for iOS have both been carefully designed and meticulously crafted to be the perfect companion for mobile and offline learning, microlearning and micro-certifications.
Instead of trying to cram everything the web (and mobile web) version of TalentLMS does into it, we optimized TalentLMS mobile for learning on the small (screen) and on the go, while still allowing you to deliver rich multimedia courses complete with a intuitive, mobile-optimized, experience.
And now, before we go into introducing the app and its features, let me just say one thing…
From expertise to app
You'd think developing a strong Cloud based LMS platform would have prepared us for this, but mobile development, and specifically, fully native mobile development, is a whole new ball game.
Especially when you factor in all the differences between the two major mobile platforms, all the different screen sizes and devices that you have to support on Android, and all the peculiarities of the iOS development platform.
When it comes to mobile, we are an equal opportunity development shop: we like both Android and iOS, and our team members use both platforms. So when we shipped TalentLMS for iOS ahead of Android, it wasn't because we didn't care about the latter platform: it's just hard work to test and code around all the different form factors and feature sets available in the Android world.
But I digress. What's important is that we're now ready, we finally have a great mobile app out for both major platforms, and we have the foundation and experience to build even greater and more ambitious things in subsequent releases.
And why go mobile when the computer is mighty fine?
Because you want to have a great learning experience on the go, obviously!
TalentLMS for Android lets your learners access their content from everywhere, even when offline, in a secure, fast, mobile (and battery) friendly platform.
Your learners get to study while they commute or travel (on and off the grid), leveraging all the capabilities of their native mobile platform, and escaping the limitations of mobile browsers.
Features? Yes, please!
A few of the features the TalentLMS Android app boasts are:
•  Offline Learning & Synchronization
Mobile learners are as often online as they are offline (on a flight, on the metro, in areas with poor coverage, in developing countries with sky-high data plan prices, etc.). TalentLMS allows you to download any course you want, and study while disconnected. And when you are back online, it will synchronize your progress to the TalentLMS Cloud.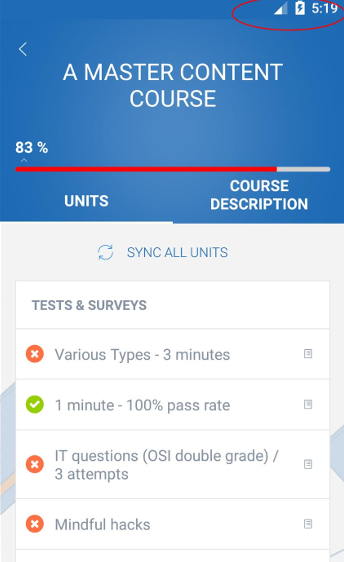 • Mobile-first UX
The TalentLMS Android app offers a fresh way to get through courses tailored to the needs of modern corporate training. We minimized the interface distractions that get in the way of learning, allowing the user to easily navigate between different content.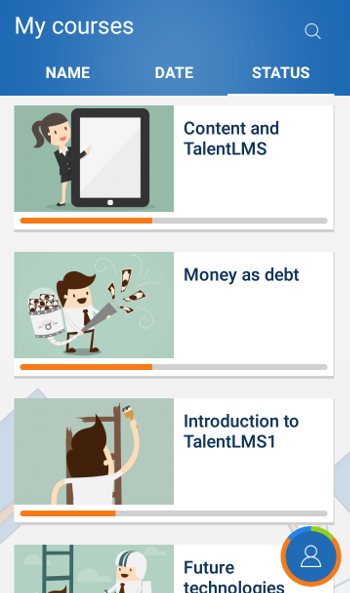 • Mobile and Offline compatibility check
Each lesson unit created in TalentLMS is now labeled as mobile and/or offline compatible. This way, instructors can see at a glance which content and features work on mobile devices, and easily optimize their courses. In the opposite case, the platform will inform you that a given unit is not mobile-compatible.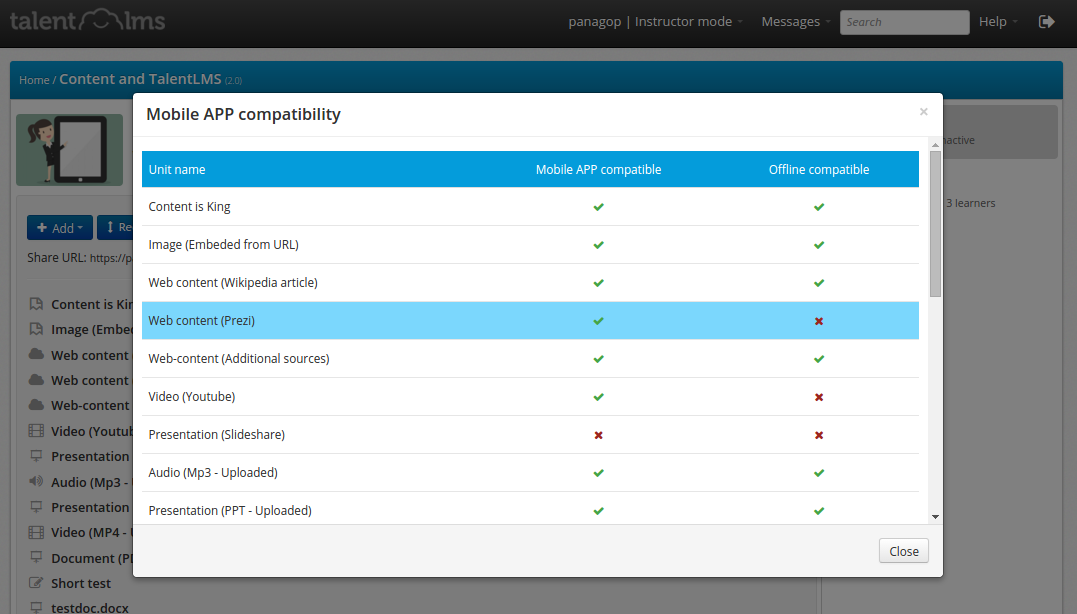 • Assessments
The TalentLMS mobile app supports "Assessments" (even in offline mode), and gives you access to all major question types and most of the assessment customization characteristics (e.g. number of retries, allowed time, or question shuffling).

• Unit completion and course rules
All unit completion methods available in the web version of TalentLMS are supported on the mobile version too. This holds true for content traversal and course completion rules as well.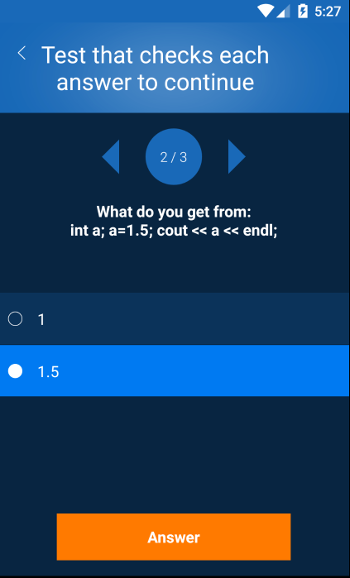 • Branches
If you use Branches in your TalentLMS web portal, then you'll be happy to know that the Android app is fully compatible with those too, letting your learners log in to any custom domain and Branch that you have set up.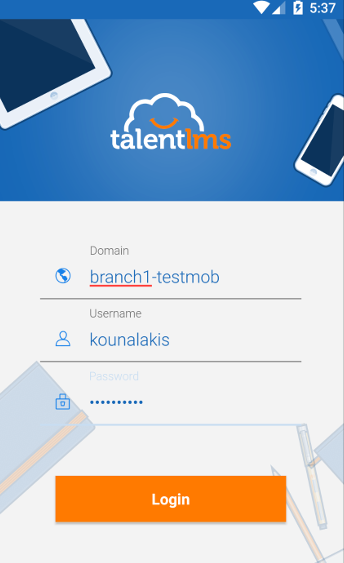 • Full profile access
We have tried to keep the mobile app functionality focused on learning and content delivery. However, the mobile app also lets you access your full TalentLMS web account details (via the Profile page). Handy for light administrative work, like getting new courses or seeing extended reports.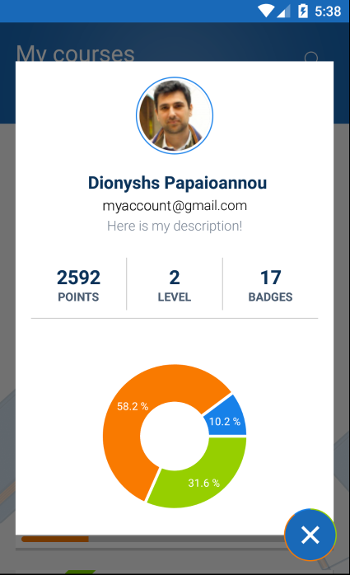 And there's a whole lot more — which you can easily discover for yourself by using the app. We've designed TalentLMS for Android so that you don't need to have a rocket science degree or go through some hefty manual to take advantage of its features. But you probably knew that from using its web version, which is renowned for its intuitiveness and ease of use.
We also took extra care and did extensive testing to ensure that the app works perfectly in the huge range of devices that Android runs on.
The future
Even before TalentLMS Android app 1.0 hit Google Play, we had already started designing and planning features for the next versions.
First to arrive will be the ability to save and display uploaded videos and documents (such as MS Office and PDF) offline. Furthermore, we plan to implement a large chunk of the Instructor- and Administrator-related functionality, starting with reporting.
And this is just the beginning, or as we experts call it, version one.
With mobile devices getting beefier by the minute, both Android and iOS are great platforms for us to build an even richer, and more expressive, eLearning experience. We strongly believe in mobile and mobile learning, and we want TalentLMS to become a leader in the eLearning platforms in both web and mobile.
Last, but not least, a big thank you to our beta testers.
We have been really excited by your participation in the testing process, and your bug reports and feedback have been a great help in allowing us to deliver the best product that we could.
In fact, all TalentLMS users are welcome to share their suggestions and wish-lists for future versions. As per standard practice, all great ideas, most requested features, and workflow enhancements, will be prioritized for upcoming versions.
And this ends the announcement of version 1.0 of the TalentLMS Android app. It is officially released.

| Tags: Mobile Learning,TalentLMS Android App