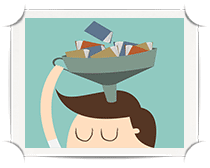 It's hard to disagree with the statement that gamification is a hot topic right now. It definitely is for us at TalentLMS.
This week we released a fantastic update for our LMS's gamification features, which you can now incorporate into your own online courses.
To become more knowledgeable and get some theoretical background on it, read those 10 gamification articles we found for you!
Based on multiple studies and survey ran among our customers, we created an infographic with 30 facts about gamification in elearning. The infographic focuses on favorite and least favorite gamifying techniques, the most efective uses and the future of game-like elements in elearning. We also gathered few great examples of successful gamifying of corporation training.

Gamifying definitely has a huge impact on learning, especially online where implementing gamification techniques is a lot easier than in traditional education. This ebook contains selected information about effective use of game-like elements profided by 23 top professionals who share their knowledge and tips on effective use of gamification, applications and it's influence on elearning
This gamification article answers the question why do we actually use gamification in elearning? Is it just for fun? Fun is important component of every elearning course but main purpose of gamification is increasing engagement – one of the biggest challenges for everyone who creates courses. This very insightful article by Rick Raymer (video  games designer) focuses on gameplay mechanics that can be applied to elearning to engage users.
So you already know what gamifying is and what are techniques you can use, but implementing them the right way to engage your users and not confuse them can be a struggle. This article will provide you with ready ideas of using gamification in your elearning course to witness your learners motivation and engagement growth.
As mentioned above, we conducted a survey about gamification techniques on TalentLMS users. The answers about users habits and preferences gave us an insight to users needs. Data shows for example how often users engage in playing video games, what they think about online competitions and which mechanisms they like and find effective in contrast to those you should avoid when designing the gameplay in your course.
Gamification and game based learning may seem similar at first but in fact they are two completly different apporached to learning and they require different skills and tools when deisgned. This article briefly explains the difference between those two techniques and shows what each one of them can be used for.
In his article about gamification Kapil Bhasin disagrees with dividing gamification, game based learning and serious games because of similar benefits of each approach. Article explains why gamification of learning had gotten so popular in last few years and lists the best practices of using gamification elements in workplace training.
Karl Kapp created slideshare about gamification of learning which not only explains what gamification is but also how and why exactly it works. Examples and tips on designing each part of your course like story or characters will let you provide your learners with interesting and what's most imporant really effective learning experience.
Kate Pasterfield shares her view on gamification of elearning process and answers the question about implementing gamification in order to fulfill the objectives, especially in workplace training. You won't find tips on creating the story or using badges here but you will find answers to when and what you should gamify to refine your training process.
10. Are you a gamification wizard? Play the game.
Done reading about gamification? Why not gamify learning about gamification?;) Here's a little game from Connie Malamed based on Karl Kapp's book The Gamification of Learning and Instruction. This quizz will not only teach you basics of designing gamified course but also give you an example of introducing learners with a chapter of the book in a fun way.

| Tags: Gamification