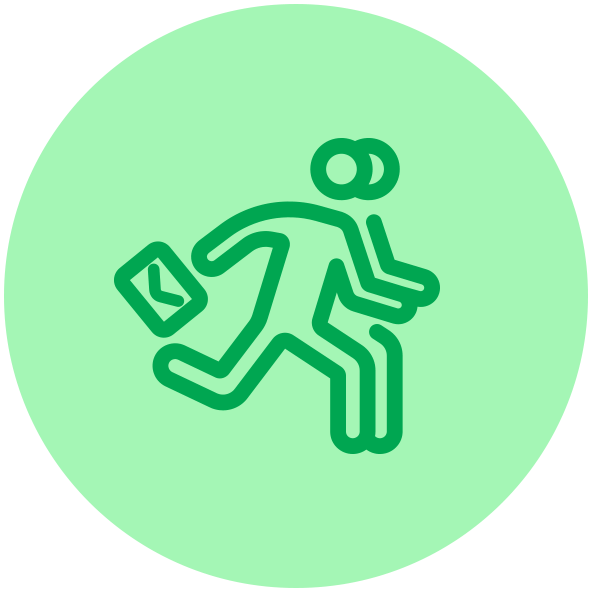 Meet and beat sales quotas with first-rate online sales training
Want to arm your sales teams with the right knowledge, tools and techniques to explode sales and generate more revenue? Corporate sales training will get you there. And with sales training software your team and your bottom line will get even better results.
Why Use An LMS For Sales Training?
Examples of Sales Training
The Benefits of Sales Training
How to improve sales by moving your sales training online
The era of classroom-based, lecture-style sales training is over. Today, online sales training is the best solution, no matter the size or type of your organization.

And creating effective sales training is easier than you think. With the help of a sales enablement software platform, your sales training program will be up and running in no time.

How does online sales training improve sales?
Automates sales training processes

A sales enablement platform is able to automate repeatable tasks that waste time. e.g. it can automatically grade tests and assignments.

Integrates software

An online sales training platform connects with your favorite software to streamline both training and business processes. e.g. connecting your learning management system to your customer relationship tool.

Minimizes disruptions

When training courses are delivered online, staff can engage with sales courses online and offline. This freedom to choose their own training schedule reduces disruptions and gets staff back to work (and back to selling) faster.

Reduces training costs

The right sales enablement software will reduce many staff training costs including travel, venue and instructor costs. And once developed, an online sales training course can be used over and over again – without any additional costs.
Increase sales training performance with TalentLMS
TalentLMS is a learning management system that helps organizations deliver effective sales training. It's also the only sales enablement software at a reassuringly fair price. It's easy-to-use and comes fully-loaded with the features you need to design, deploy and manage your online sales training.
You'll love using these features:
Powerful content-builder

An effective sales training course needs a wide range of content including audio and video. TalentLMS' powerful content-builder supports the formats you'll need and is SCORM/xAPI compatible too. It's also extremely easy to keep your sales training up to date as your product or services lineup changes.

Salesforce integration

TalentLMS connects to your favorite software for an easier user experience and more effective sales training. With the Salesforce integration, employees can access training through a tab in the CRM. And managers can deploy just-in-time training to their sales team.

Learning-on-the-go

With TalentLMS' native mobile apps (For iOS and Android) you can take your sales training online and make it even more accessible to your staff.

Engaging gamification

TalentLMS' gamification engine is designed to encourage user engagement through points, badges and leaderboards, leading to more effective sales training.

Comprehensive report engine

TalentLMS' report engine expertly tracks performance through the sales training process. Then delivers customized reports with the information you need to spot your star sales talent and deliver more specialized sales training.

Supports all training methods

Some sales and customer support techniques require interactive demonstration. TalentLMS gives you the tools to seamlessly integrate classroom-based and real-time online-based seminars with your regular online content.

Rich communication tools

One of the benefits of online sales training is that your sales team can exchange ideas while training. TalentLMS encourages communication with discussion forums and keeps your staff stay on schedule with personal messages and calendars.

Stress-free maintenance

Αs a cloud-based platform, there's no installation, maintenance, or backups for you to worry about. TalentLMS' expert team takes care of all of those, while you focus on your training.
What is sales training?
In sales training, organizations educate their staff to improve their ability to sell more effectively. A useful sales team training program should sharpen sales skills, develop interpersonal skills for better client relationships and raise the rate at which sellers close deals.

To deliver effective sales training, organizations should focus on developing their own custom sales training program. To help agents reach their full selling potential, your program should include: standard sales skills training as well as product- and organization-specific training.

By arming sales teams with the knowledge to understand the product inside out and the skills to persuade customers, you're setting them up to exceed expectations.
Types of Sales Training by Position
Every salesperson, no matter their experience, can improve their technique. Successful companies use targeted training to get the most value out of their sales training and deploy training based on employees' positions in the sales team. This is often split into two types of sales training programs: sales management training and sales rep training.
Sales rep training

Sales representative training (often referred to as sales associate training or sales executive training) ensures reps are highly knowledgeable on the product they're selling as well as masters in the art of selling.

Sales management training

Sales management courses equip managers and supervisors with the skills they need to plan, direct and motivate their sales teams.
But, simple sales training can only take a team so far. For even better outcomes, savvy businesses implement a sales enablement program.
What is sales enablement?
While sales training refers to the specific process of education, sales enablement refers to a structured and comprehensive training solution that empowers the entire sales team from beginning to end.

A sales enablement strategy includes onboarding, ongoing training, as well as a framework to get the team from the the point of first contact, through to pre-sales prospect engagement and post-sale communication.

Better sales begin with sales training. But bigger, better and more consistent sales only happen as part of a sales enablement strategy.
Do these sales training examples apply to your company?
One of the most sophisticated ways to capitalize on the benefits of sales training is to employ it across an entire organization, no matter the team, industry or market you're serving. And whether you're selling a product or a service, corporate sales training activates growth.
Pharmaceutical sales training

In the pharmaceutical industry, sales training keeps teams up-to-date with the latest advancements and studies so sales reps are armed with the right information at the right time.

Insurance sales training

In a complex market like insurance, sales training helps sellers and leaders stay fresh and customer-focused.

Retail sales training

With a singular focus to make the sale, sales training in the retail industry is crucial to turn more browsers into buyers, increase the average ticket size and keep customers coming back.

B2B sales training

Worldwide the business-to-business market is almost double the size of business-to-consumer market. Organizations that invest in B2B sales training build more productive and more efficient sales forces who outmaneuver the competition.

Hotel sales training

In the hospitality industry, where employees sell experiences, proper hotel sales training can improve customer service skills to increase bookings and improve profit margins.

Software sales training

In the software as a service (SaaS) arena, sales training that focuses on practical skills, like demo training, gives your team a distinctly competitive edge.
All industries, even ones not included in these examples, can benefit from sales training. From car sales training to real estate sales training, a highly-trained workforce will have the right tools and knowledge to close more deals and generate more revenue.
TalentLMS is mobile friendly, allowing our 'remote' sales representatives to gain knowledge and training on a more regular basis.
The importance of sales training to an organization
Fierce competition demands bold strategies that work. So, the importance of sales training as part of a growth strategy can't go unnoticed. It's a proven way to impress old and new customers, empower your sales team to meet and beat quotas, and outperform the competition.
Sales effectiveness goes up

One of the benefits of sales training is that sales teams become equipped with the necessary tools to increase the amount of wins they achieve relative to the amount of leads that come in.

Employee turnover drops

A properly trained sales rep is less likely to leave an organization. This lowers turnover, and in turn, all associated recruitment costs.

Sales productivity rises

One of the more valuable benefits of sales training is that sales teams become better equipped and more creative at problem-solving. A team that has achieved sales mastery can align their product and their customer needs in mutually beneficial ways.

Cultivates a sales culture

Sales training delivered company-wide to employees indirectly involved in sales, e.g., marketing and customer support teams, can create a more sales-focused culture, which can bring in more revenue.
Train your people. Measure results. Drive growth.
TalentLMS gives you the tools to supercharge every step of your training.
##SOLUTIONS##TalentLMS is free to use for as long as you want. You can always upgrade to a paid plan to access even greater features.