If someone asked us to describe this version of TalentLMS in 3 words, it would be: Who? What? Where?
Here's why:
In this update, we focused on upgrading the Instructor's experience. In TalentLMS, anyone with the relevant permissions can be an Instructor. And instructors need info, like:
Who has completed/started/passed/logged into training?
What do these people think about the course, training, platform?
Where is that darn file?
More importantly, you want to collect this info without feeling like you're heading into battle each time.
So, let's see what's new, improved, and so much easier in TalentLMS 4.10:
The Who: Instructor-led training gets an intuitive makeover
In this release, you'll notice a few new changes in Instructor-led training units. These changes have improved the experience of creating, tracking, and assessing ILTs.
Specifically, you can now:
See who has attended an instructor-led training session in the new Attendance column. (Currently, only available for Learners joining via desktop). From here, you can also grade all attendees at once.
Print Attendance sheets that learners can sign during physical, offline sessions. You can customize the sheets to show preferred columns, including custom user fields.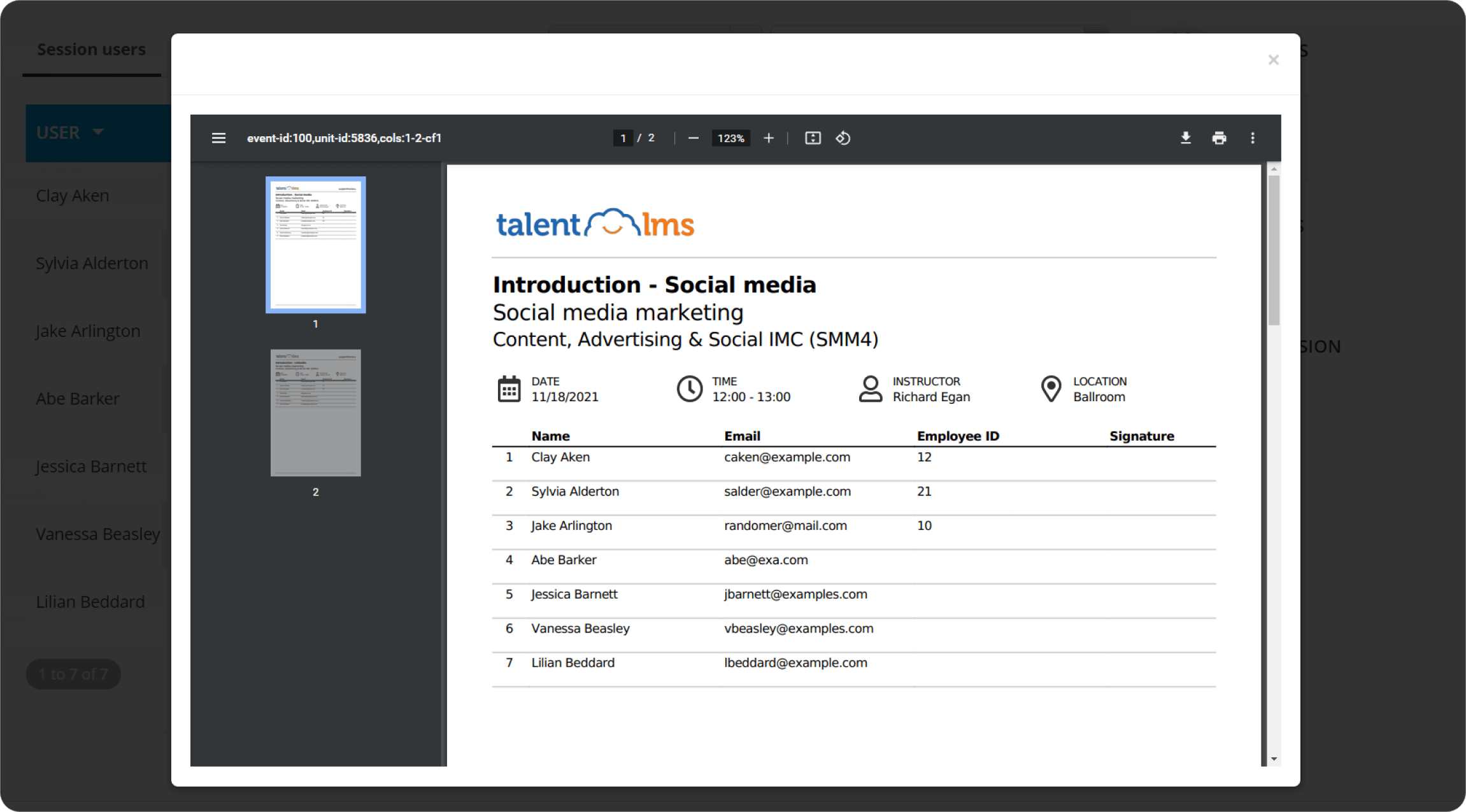 Learn more about printing attendance sheets.
Add a description to an ILT unit so that learners can quickly glean any necessary information about their upcoming session(s).
Enjoy an improved interface where you can more easily manage users and sessions.
Bonus: You now have the option to use ILTs and SCORM units to contribute to a course's final score.
Learn more about working with attendance in ILTs.
The What: Smarter feedback with Likert scale surveys
In addition to free text and multiple-choice questions, you can now use Likert scale questions in surveys. A Likert scale is a reliable way to measure attitude, opinions, and even reported behavior.
Likert scales usually offer 3 – 7 opinion points, from high to low, with one neutral option in the middle.
They're popular because they can make complex opinions on specific topics easy to analyze and understand.
In TalentLMS 4.10, you can use pre-configured responses to create a survey instantly. These responses measure agreement, satisfaction, quality, frequency, and likelihood.
Or, you can create your own responses using the custom scale. Use our 99 question ideas for a post-training evaluation survey to get started.
Response types include:
Level of Agreement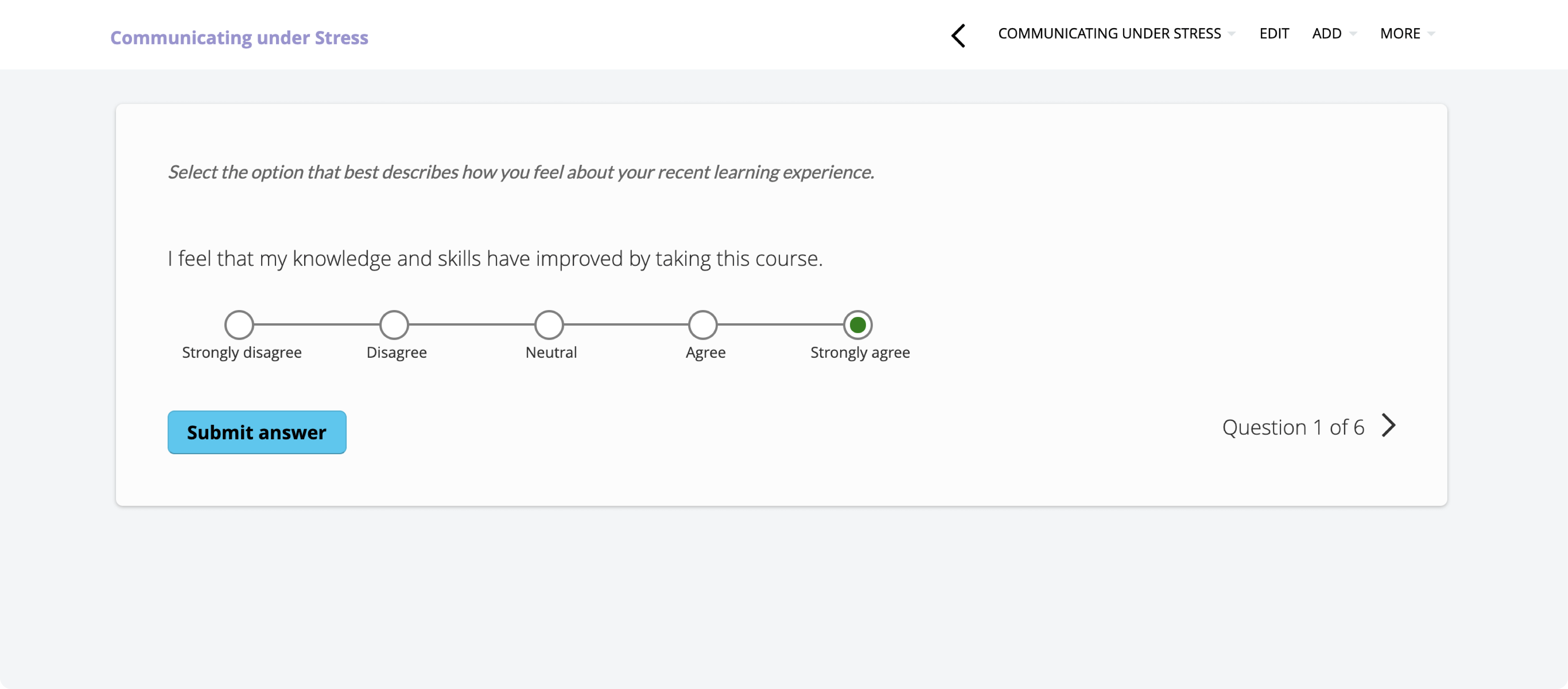 Level of Satisfaction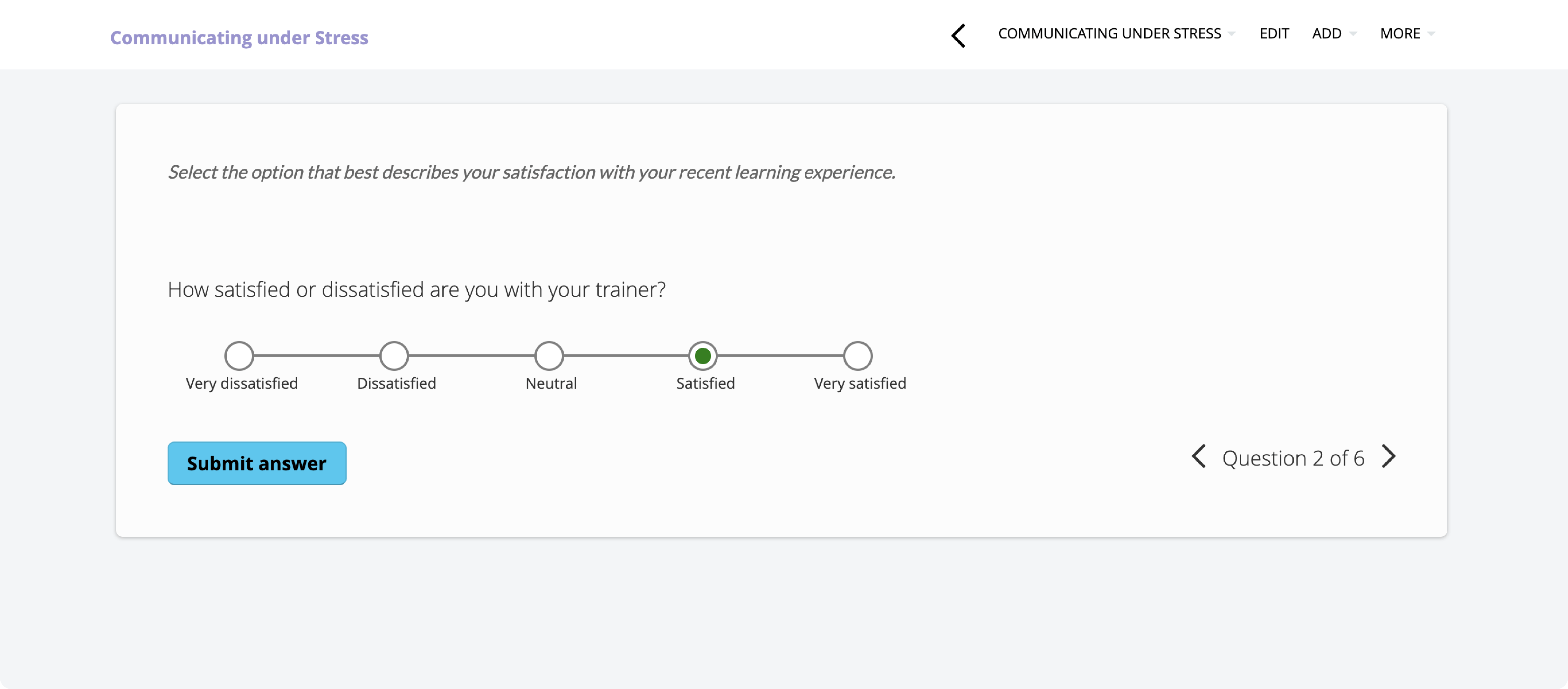 Level of Quality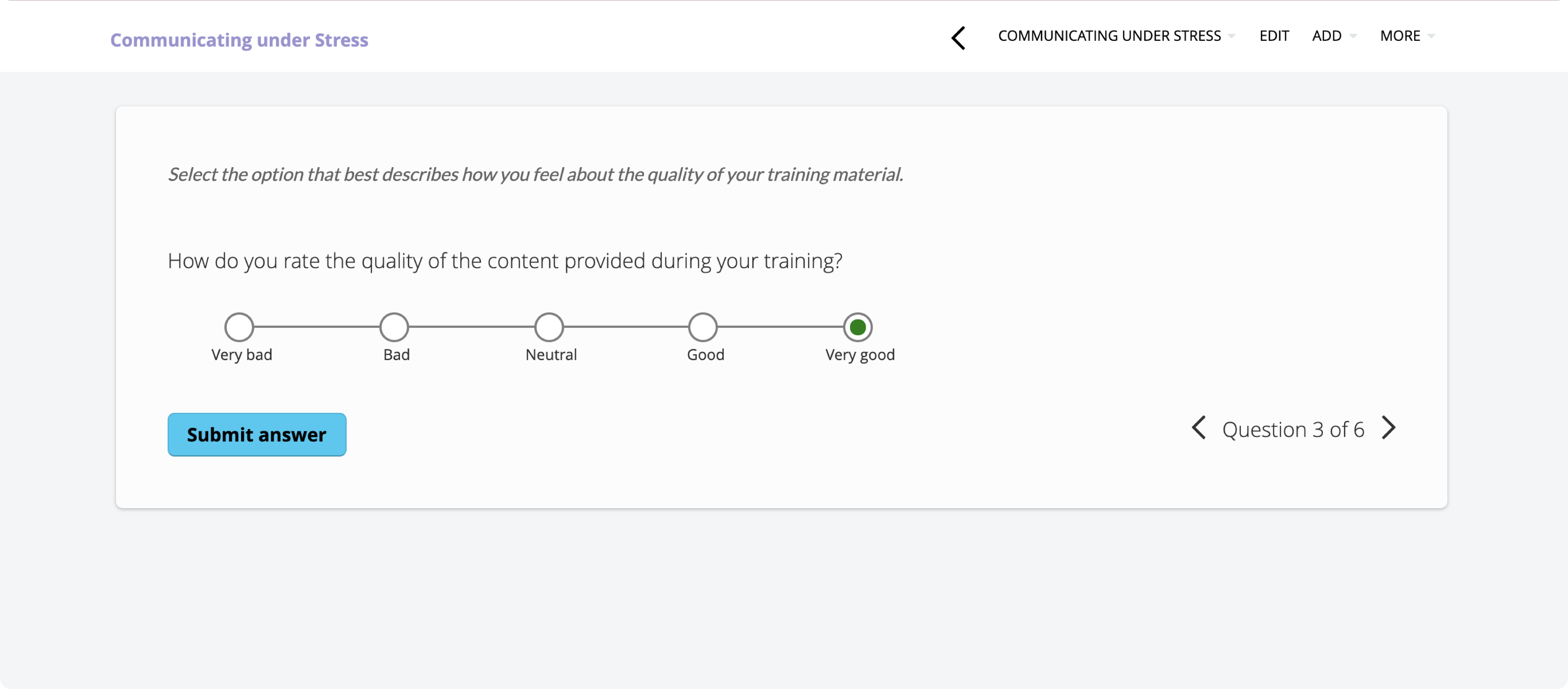 Frequency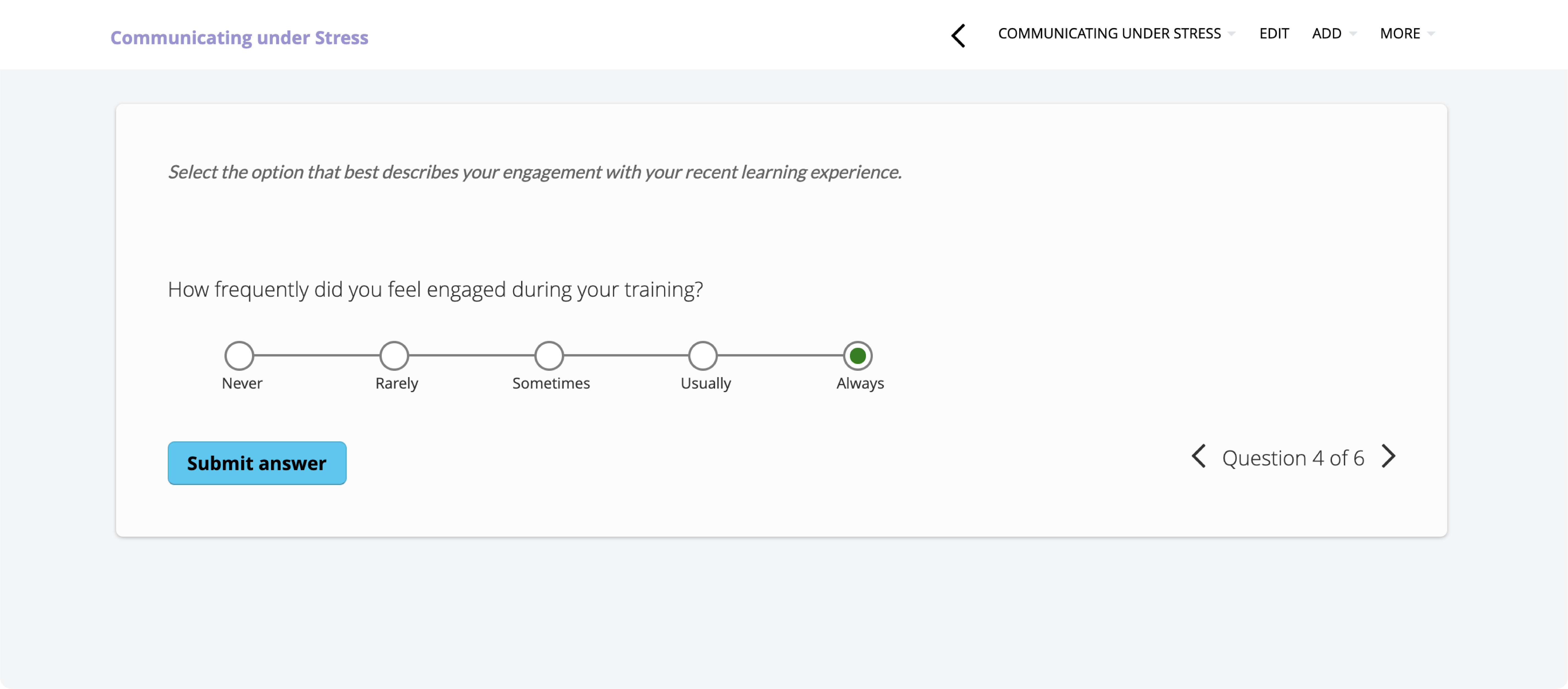 Likelihood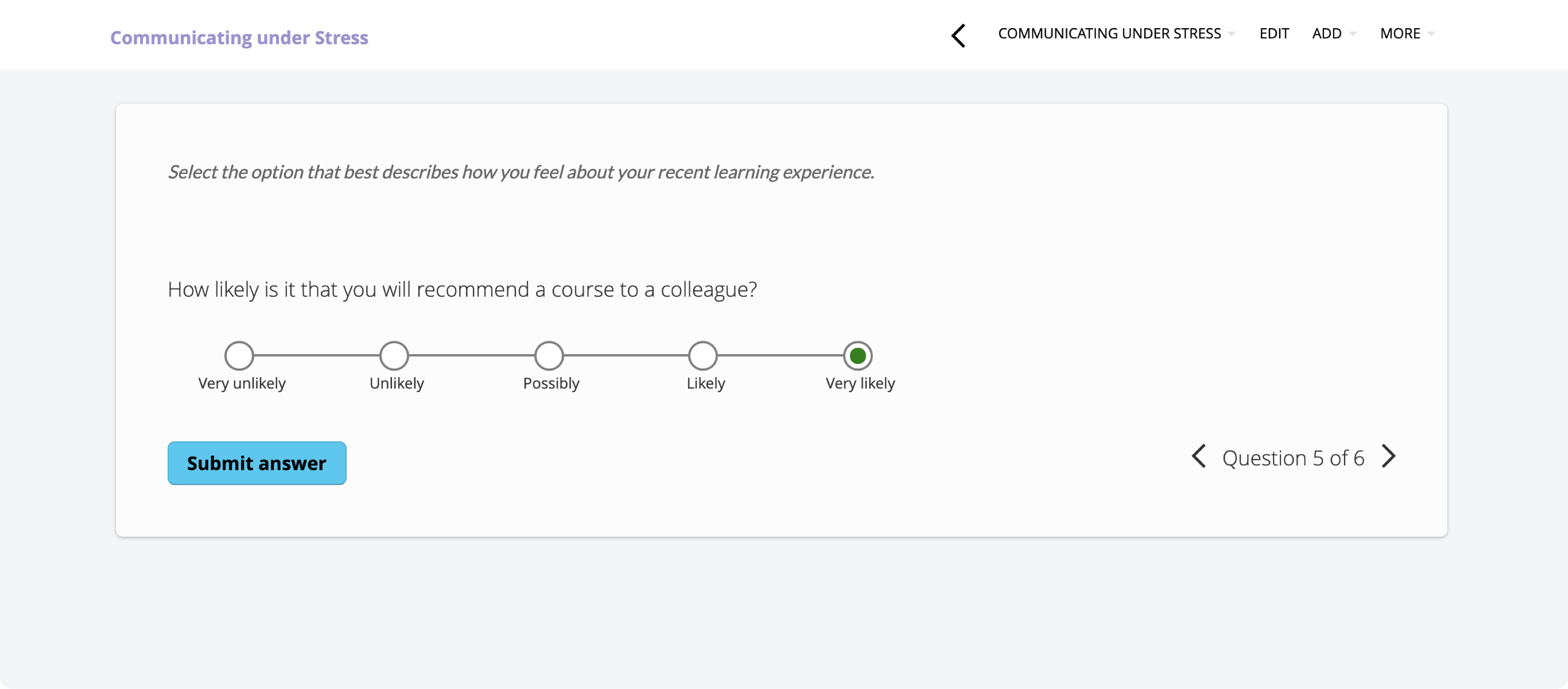 Custom responses (minimum three, maximum seven)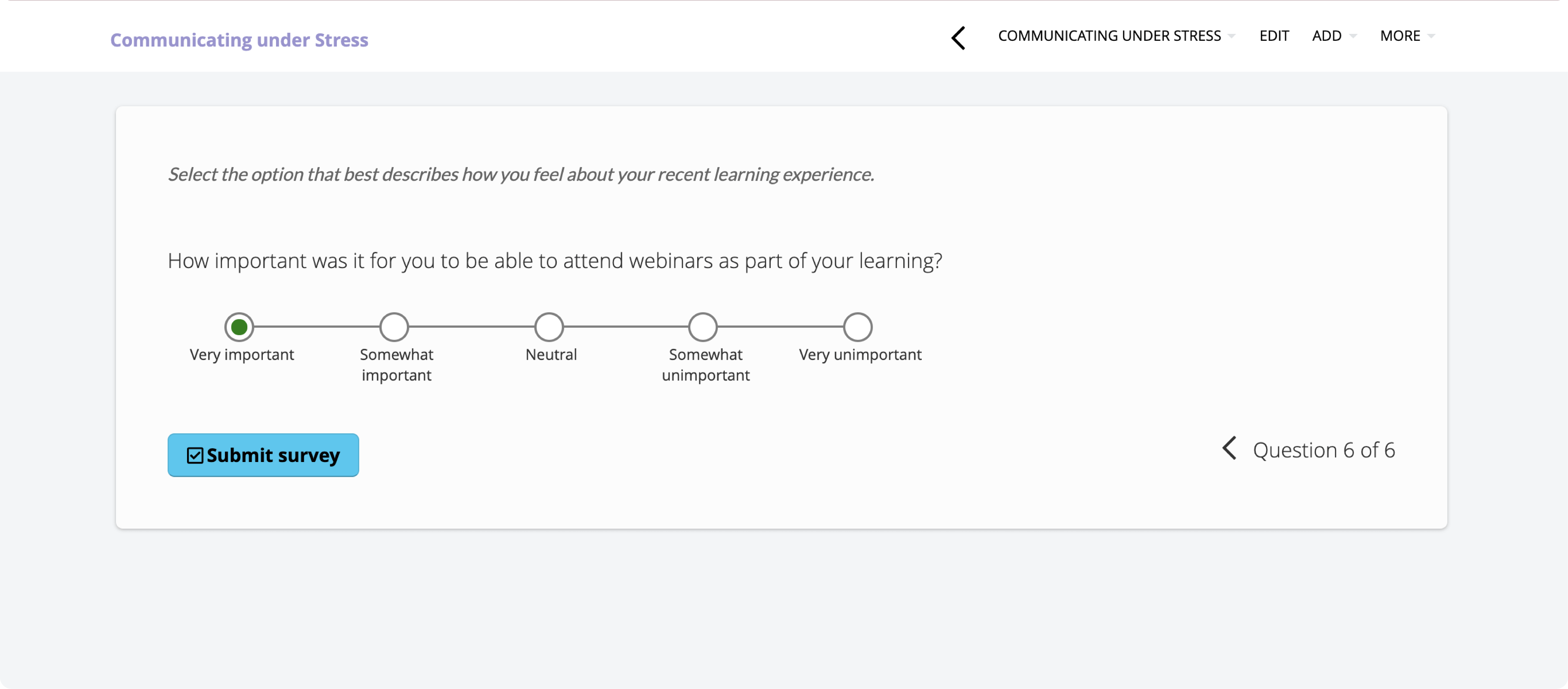 Learn more about working with Likert scale surveys.
The Where: Introducing tags for better file management
You can now better organize your files by using tags. Tags are, by default, generated based on the file type, like JPEG, PDF, or MP4. Now, when you click on the "pdf" file tag, all pdf files will come up for you to view.
You can also create custom tags to organize your files better. Custom file tags can be particularly useful in cases where more than one instructor is working on the same course.
Learn how to organize your files with tags.
---
Just launched in TalentLibrary™
50 new courses in
Customer Service, Sales, Health & Wellbeing, Personal Development, and HR

---
New additions in reporting
Custom Reports
Custom reports aren't only a way to keep track of training metrics, but they're a great way to collect and organize info and then act on it.
You can now report (and act) on:
Learners who are assigned to courses that are about to expire in a selected period. Need to remind them their training is expiring soon? You can send them a message using the mass actions available in the report.
Learners who have received certificates that are about to expire in a selected period of time. Using (you guessed it!) mass actions, you can reset their progress on the spot, enroll them in a course, or message them to let them know that their certificate is expiring soon.
Learners who have started but not completed a course. Nudge them to re-engage by sending them a message.
Matrix reports
The training matrix launched this year is getting bigger and better.
In this update, you can:
View how much time each learner spent on a specific unit. A brilliant metric that helps you assess if people did the training (for real!) or skipped the unit but indicated they consumed it by marking the unit as "completed".
Export your unit matrix reports in Excel.
Schedule your training and unit matrix reports.
Learn more about working with the training and unit matrix reports.
Bonus: For quick, at-a-glance insights, we've redesigned the exported user and training progress reports. Now, they include more information in their overview sections, including, among others, the export date, the report's type, and the domain or branch the report refers to.
You'll also notice that they are quicker to generate and download. The training progress report now also shows the time it was exported.
Other improvements
New alert: In addition to setting up a start date for a course, you can now also send reminders by using the new notification "X hours before course start".
Learn more about working with Notifications.
Easy access: Super admins can now contact their success manager from the platform using the Help menu.
See the official Release notes for more details on new features, bug fixes, and improvements.