The TalentLMS' app offers an exciting new way to consume your learning content. It also turns TalentLMS into an effective tool for delivering offline learning, micro-learning and micro-certifications. We have a grand vision for micro-learning[1] and we consider this app to be an important part of that process.
The mobile app does not try to be everything the web-app is. It concentrates on a few important usage cases and content consumption like Videos, Presentations and Assessments. Still, it offers ample opportunities for delivering rich, multimedia courses while delivering a superb mobile optimized experience.
In this post we shall see what you will be able to do with the TalentLMS app, what content it can render efficiently and how it merges with the main tool.
Offline Learning & Synchronization
The most important feature of the mobile app is that it lets you continue learning while being offline. You can download a course, get on a plane (or on a train or in a submarine), complete your training and then synchronize with the server when you get online.
By default, whenever you view a unit or synchronize a course, the mobile app downloads its assets and lets you continue offline. All units that are completed while being offline are synchronized with the server when you go online. Nothing special to do, it just works!
User experience of the TalentLMS app
The second most important feature of the mobile app is that it offers a fresh way to consume content. The mobile app minimizes the interface around learning, turning it to a suitable medium for micro-learning and micro-certifications.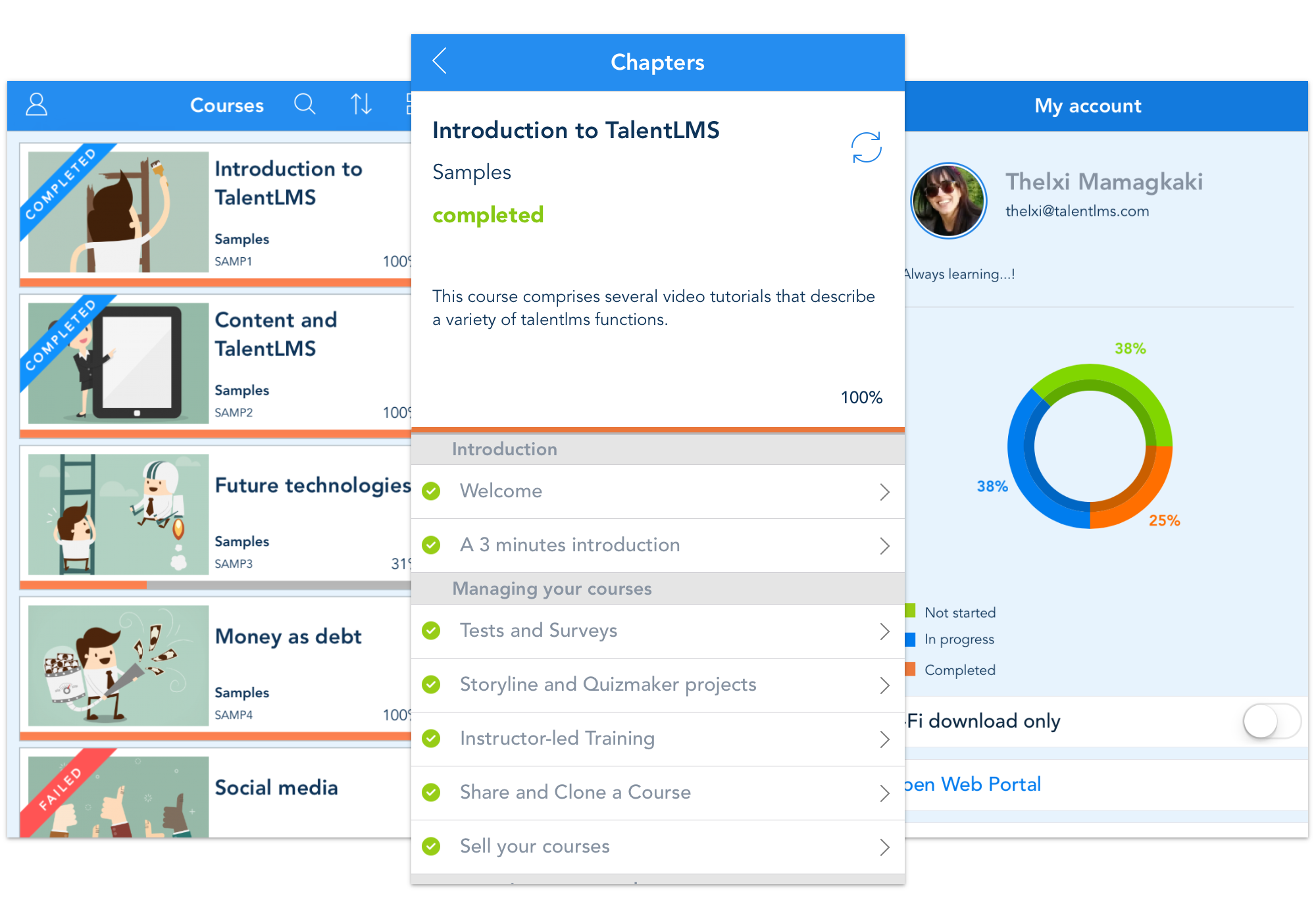 Mobile and Offline compatibility
Each unit created within TalentLMS is now characterized as mobile compatible and/or offline compatible. There is a convenient way to check a course for this compatibility info. Just below the course's edit button there is a "mobile app compatibility" option that visualizes this information for all your units.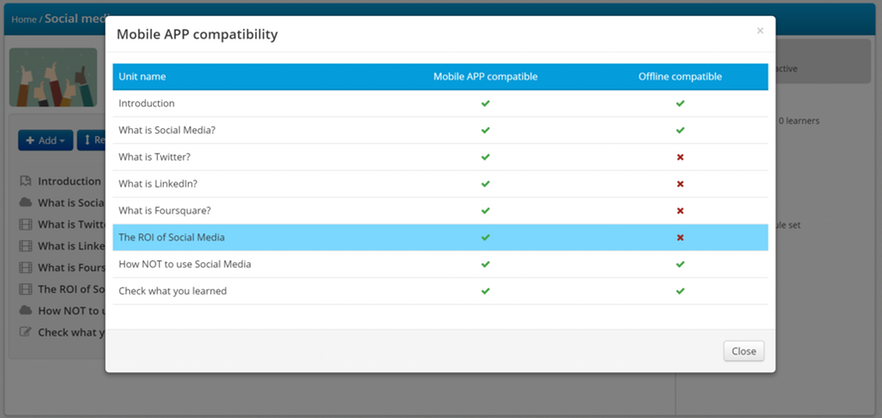 Broadly, mobile compatible are the following types of content: HTML content, Video, Audio, Presentations, Documents and Assessments. The mobile app does not support SCORM or TinCan (mainly because we cannot control their UI characteristics), Surveys (the final version does support Surveys), ILT units and Flash.
Offline compatible units have the additional requirement to provide content in a downloadable format. For example, a unit that is based on a video you uploaded to TalentLMS is Offline compatible. On the other hand, a Video unit that is based on a Youtube source is not Offline compatible. Being mobile compatible is a pre-requisite for offline compatibility.
Note that as the content development tool of TalentLMS is "open-ended", all our compatibility tests were made assuming its default usage. Use the compatibility info as an indication, but we cannot guarantee a perfect fit for all cases.
Assessments
Assessments are both mobile and offline compatible. We support all major question types and most of the assessment customization characteristics (e.g., number of retries, allowed time or shuffling of questions order).
There are a few assessment characteristics that are not supported in this first iteration though, for example randomized questions or storing a snapshot of the learner.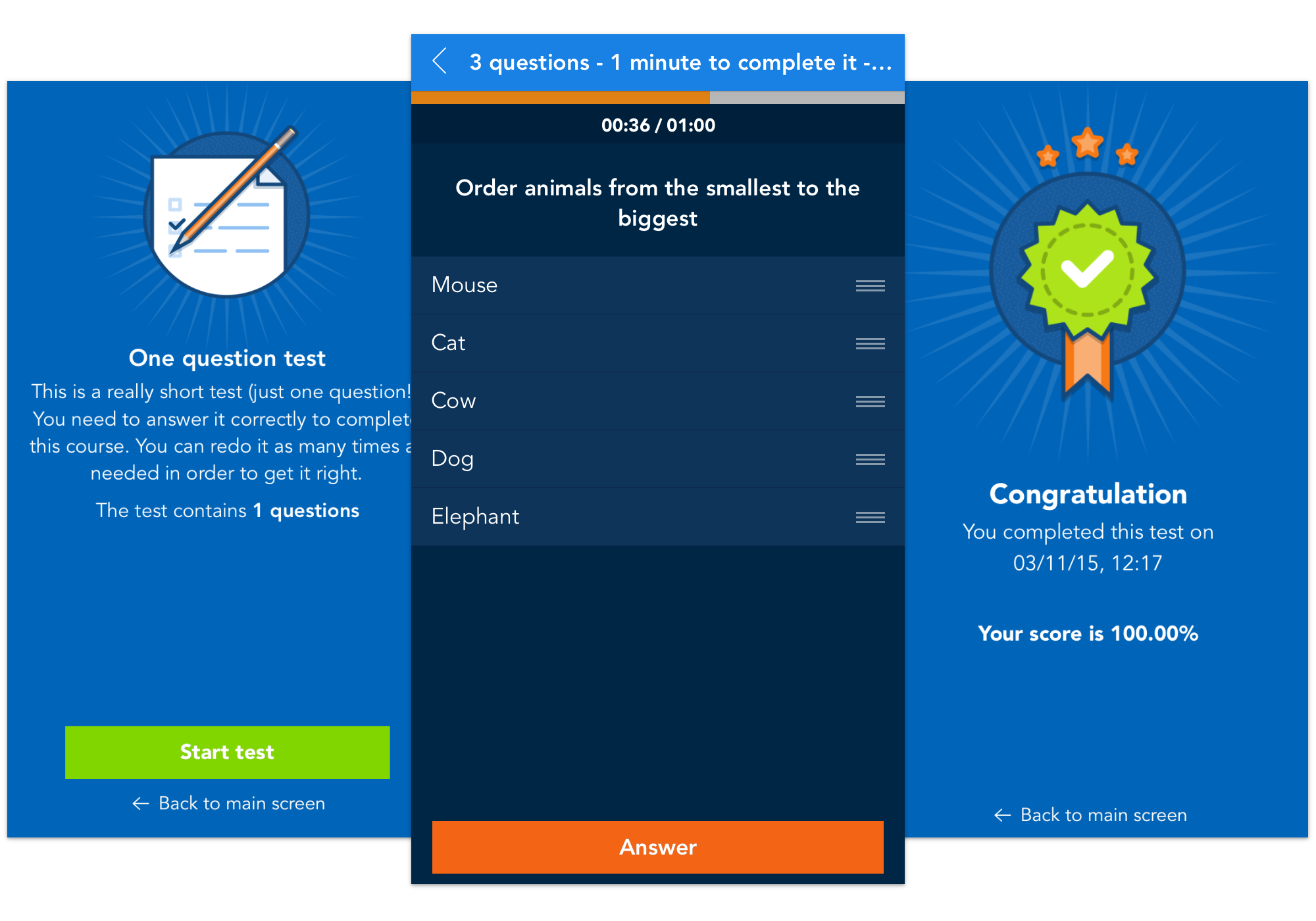 Unit completion and course rules
The TalentLMS app supports all available unit completion methods. It also supports content traversal and course completion rules.
Branches
The mobile app is compatible with branches. For example, if you have a domain (say myportal) and it includes a branch (say mybranch) then you can login to a special domain named mybranch-myportal.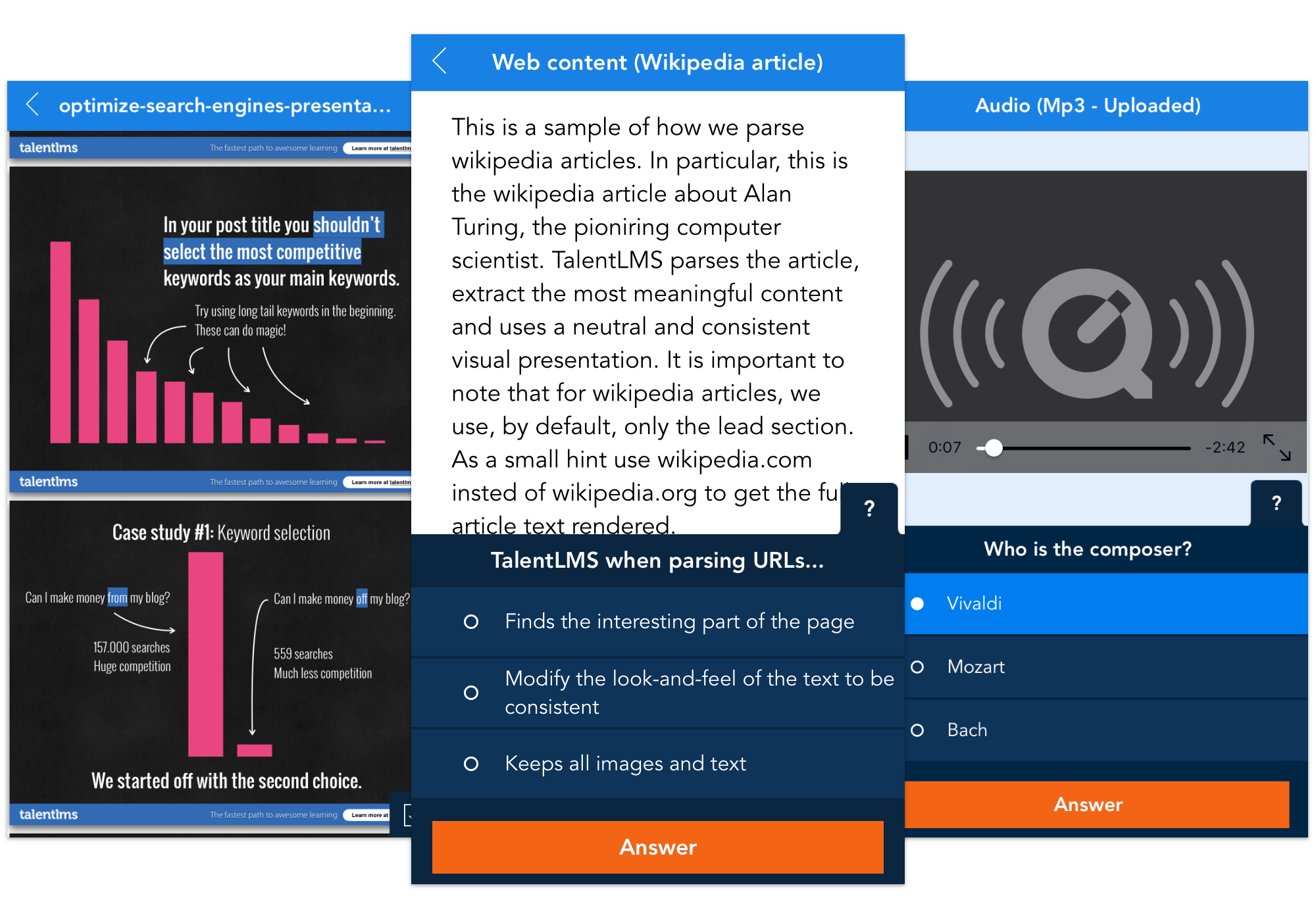 Web-app link
We have tried to keep the mobile app functionality only around learning delivery. However, within the mobile app you can easily access your fully equipped TalentLMS web account (via the Profile page). Handy for some administrative work, like getting new courses or seeing extended reports.
Other things you need to know
You can always turn off access to the TalentLMS app for your domain from your account's security settings. The mobile app is compatible with both iPhone and iPad devices running IOS 8+. The iPad version is specially crafted for that type of device and not simply a scaled-up iPhone version.
Beta program – how to take part and how to send feedback
The mobile app is currently in beta. You are welcome to take part in this process and provide your feedback so we can deliver a better product. If you are interested please send an email to iosbeta@talentlms.com.
And if you are already part of the beta program, make sure you "shake" your mobile while working with the app to send bug reports and feedback.
Have fun!
[1] We have also recently launched a card-based microlearning mobile app called Snappico. Give it a try at
snappico.com
.