*cough cough* Is this thing on?
TalentLMS, the leading learning management system (LMS), is now officially a leader in G2's Corporate LMS quarterly report.
What the world says and how G2 listens
G2 (formerly G2 Crowd) is the world's leading independent business software review platform. For their quarterly G2 Corporate LMS report, they gather data from real user reviews and ratings across all Corporate LMS providers. All products are ranked by customer satisfaction based on user-generated reviews and market presence — including market share, vendor size, and social impact. Then, each product is placed within four main categories:
Contenders
Niche
High Performers
Leaders — This is where you'll find TalentLMS!
Here's how TalentLMS compares to other learning management systems: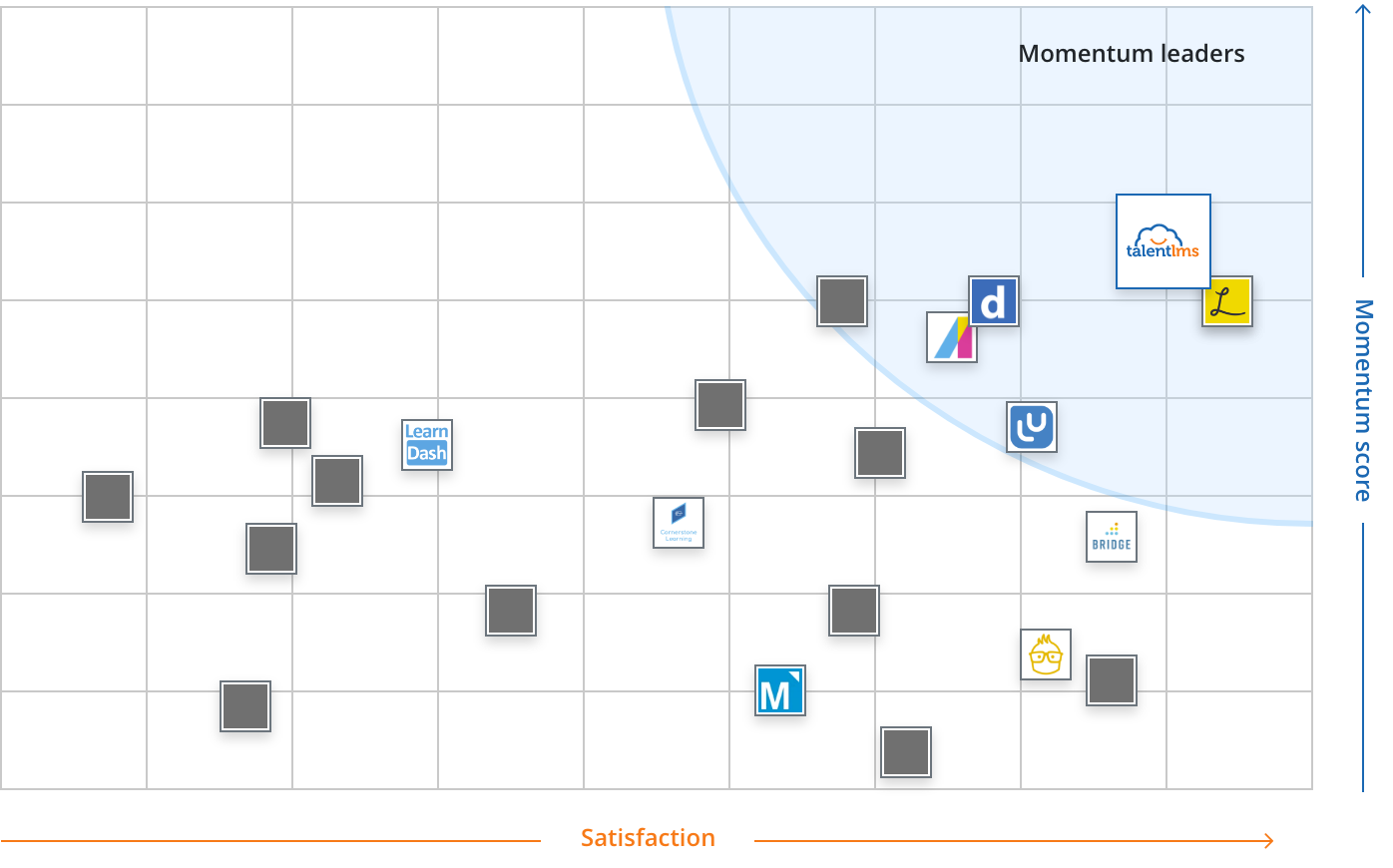 What users talk about, when they talk about TalentLMS
The G2 Winter 2020 report sums up how TalentLMS, the best LMS you can go with, stacks up against the G2 Corporate LMS category average:
1. Customers achieve a shorter payback period

TalentLMS customers saw a payback period of 9 months, which is 10 months shorter than the category average. Users say they managed to take their training live faster, which, in turn, allowed them to welcome a positive ROI in just 9 months.
2. TalentLMS users go live 2x faster

Customers — no matter their level of expertise — say they needed just 1.5 months on average to launch their training program. On the other hand, LMS users who've gone with another LMS vendor say they needed double the time.
3. With TalentLMS, everything is so much easier
With an impressive 91% for ease of setup (vs. the category average of 83%), TalentLMS scored the number one spot. Built with ease of use in mind, even beginners can set up their training without advanced tech skills.
Here's what other users say about TalentLMS
Administrators who want to take their training live fast, and without onboarding new IT experts choose TalentLMS. It's no wonder the platform gets such positive feedback when it speaks right to the user's needs:
"TalentLMS is so intuitive. Other LMSs I've used have been clunky and over-complicated. With TalentLMS, I was able to do what I wanted to do within minutes."
– Training and education manager in Logistics and Supply Chain
"This LMS system provides a robust set of tools to begin any eLearning program. It is very easy to use, and set up is a breeze!"
– Administrator in Hospital & Health Care
"I extensively reviewed over 20 LMS products when determining the right system for my company's training needs. Within minutes of accessing my test database during my exploration, I was almost sure TalentLMS would be the one. The cleanliness, simplicity, and feature-fullness of the product are what stand TalentLMS apart from the others."
– Administrator in Computer Software
Thank you to the 70,000+ teams who use TalentLMS to acquire new skills and develop a continuous learning philosophy! Your feedback is what makes TalentLMS better day by day.
Sign up for a free account today, and see for yourself why users consistently rank us #1!
| Tags: Update