Are you in favor of web applications or native mobile apps?
While both have their place, and each has its strengths and weaknesses, it all comes down to horses for courses. Fortunately, unlike a lot of LMS platforms, TalentLMS does not make you choose one or the other.
Being big believers in both the power and ubiquity of web-based apps, and the huge flexibility, richer experience and power efficiency that native applications can offer, we offer you the choice between accessing TalentLMS as a mobile-friendly and responsive website from your browser (desktop or mobile), or through our fully native mobile client for iOS (and, soon, for Android).
Whichever you choose, you'll have a very powerful tool for microlearning and training on the go. In this post, though, we're going to focus on the native mobile application, as it's the one with all the hotness.
TalentLMS for mobile
Yeah, it shares the same name with the web version.
It also shares several other things — like our focus on intuitive and easy to use UI, and all the concepts (learners, instructors, classes, branches, groups, etc.) that you're already familiar with from its big brother.
User accounts are shared too — you can login to the mobile app with the same username and password that you use for the web application.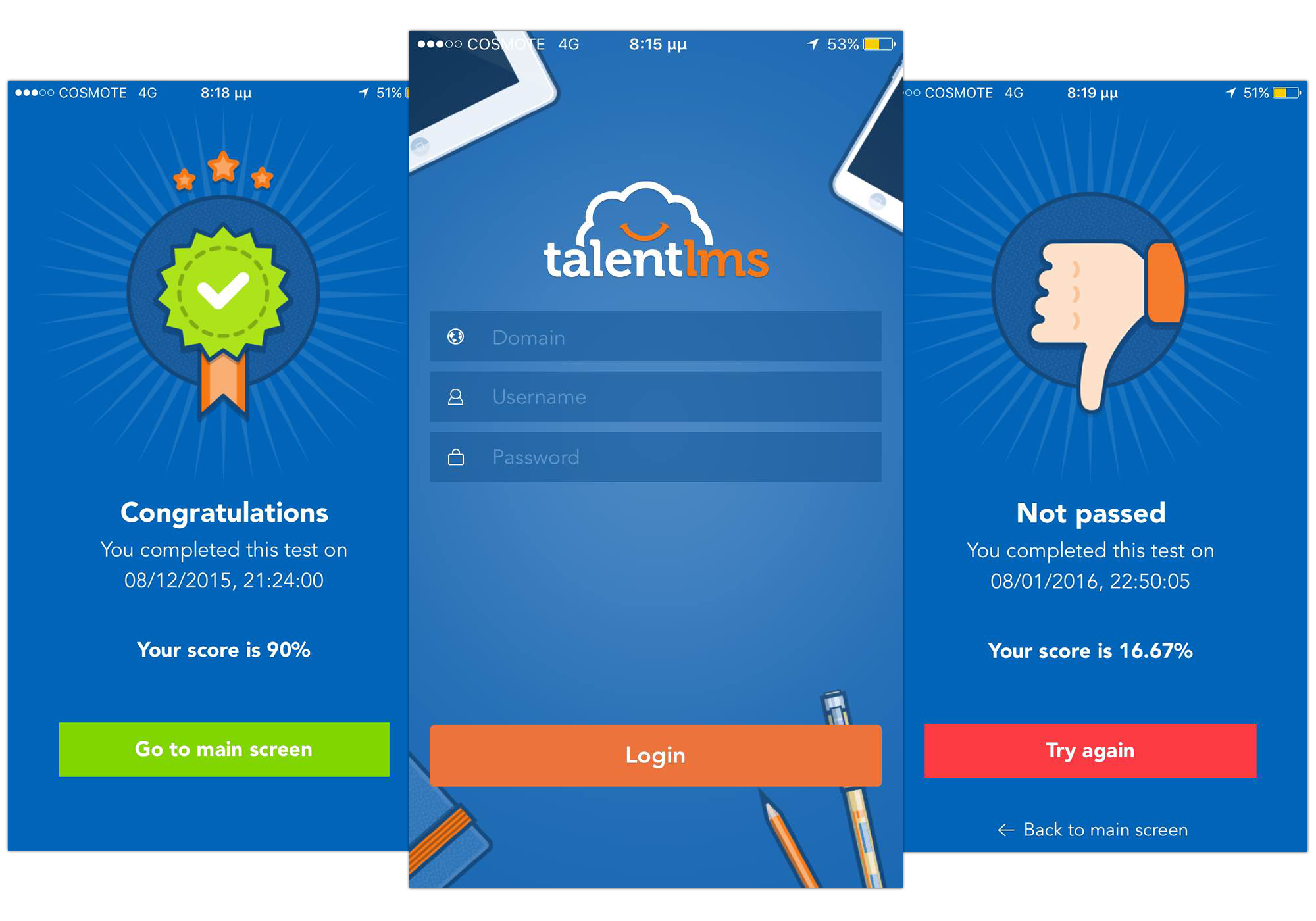 But, just like your smartphone is not a miniaturized laptop, TalentLMS mobile does not try to be everything the web app is. Rather it aims to be its perfect companion for delivering microlearning and microcertifications, both online and offline.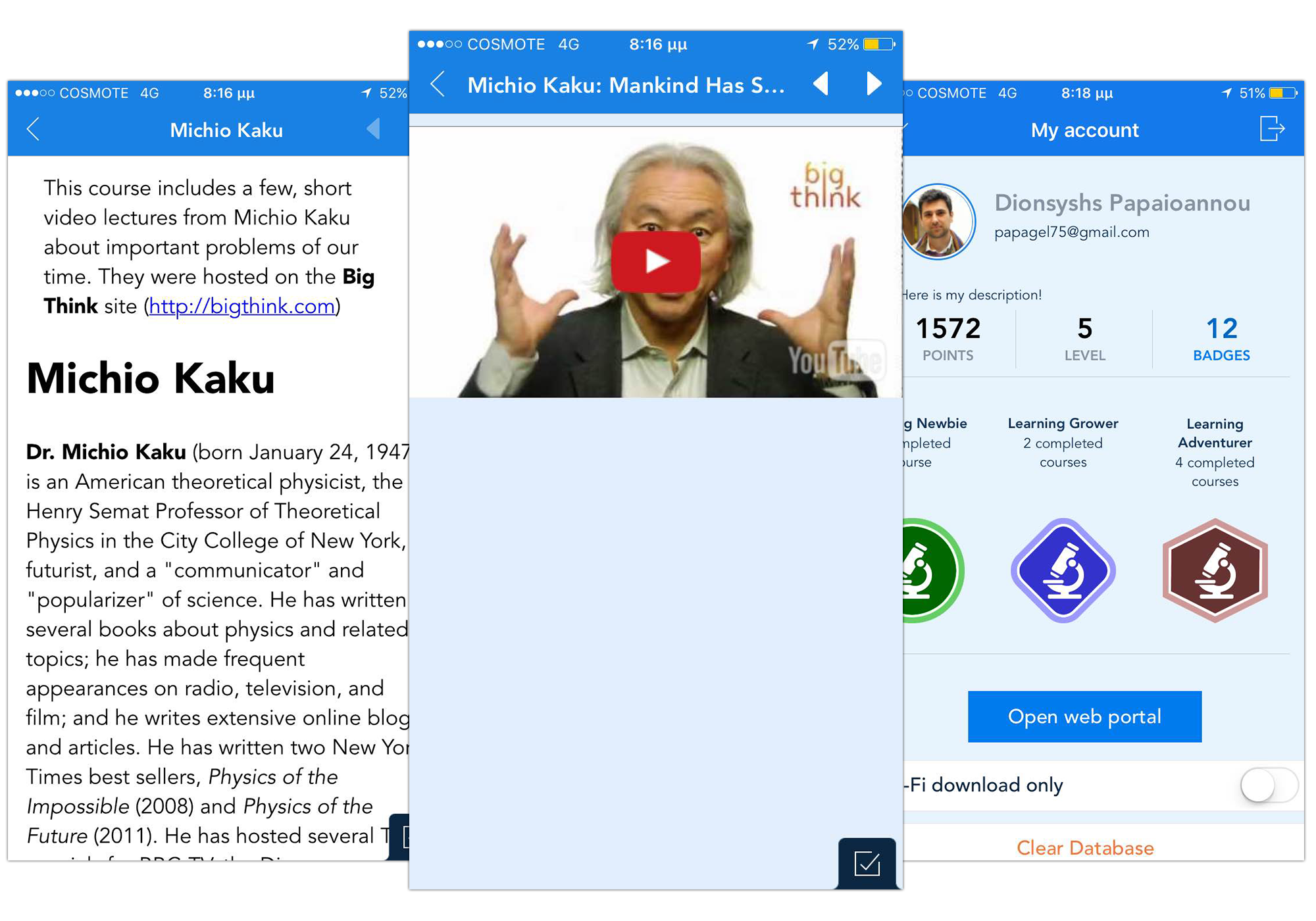 The ability to continue learning while not connected to the internet, or as we industry pundits call it "offline learning", is one of the flagship features of the mobile app.
It's easy too — you just select and download any number of courses you want, and you can go on with your training while on the subway, on a plane, or a cabin in the woods.
What's best, your progress will automagically get synchronized with the TalentLMS cloud servers the moment you go back online.
The second most important feature of the TalentLMS mobile app (and perhaps the first that you'll notice), is that the user interface has been redesigned to let eLearning content really shine on a small smartphone screen. This all-new, minimal and distraction-free design makes the mobile app a perfect fit for microlearning and microcertifications.
The web app has also gained some new features to help you manage your new-found mobile abilities. Depending on the content types and TalentLMS features it uses, each TalentLMS unit ("lesson") is now automatically marked as mobile and/or offline compatible.
More specifically, HTML, video, audio, presentations, documents and assessments are mobile compatible (meaning that they can be shown on your mobile device), while SCORM or TinCan content, Surveys, ILT, and Flash are not.
As for offline compatible content, the requirement is that it should be not just mobile compatible, but also downloadable (so, video files that you've uploaded to TalentLMS yourself are offline compatible, while linked YouTube content is not).
Of course, TalentLMS makes it easy to re-use content and create alternative mobile and offline-friendly versions of any incompatible course.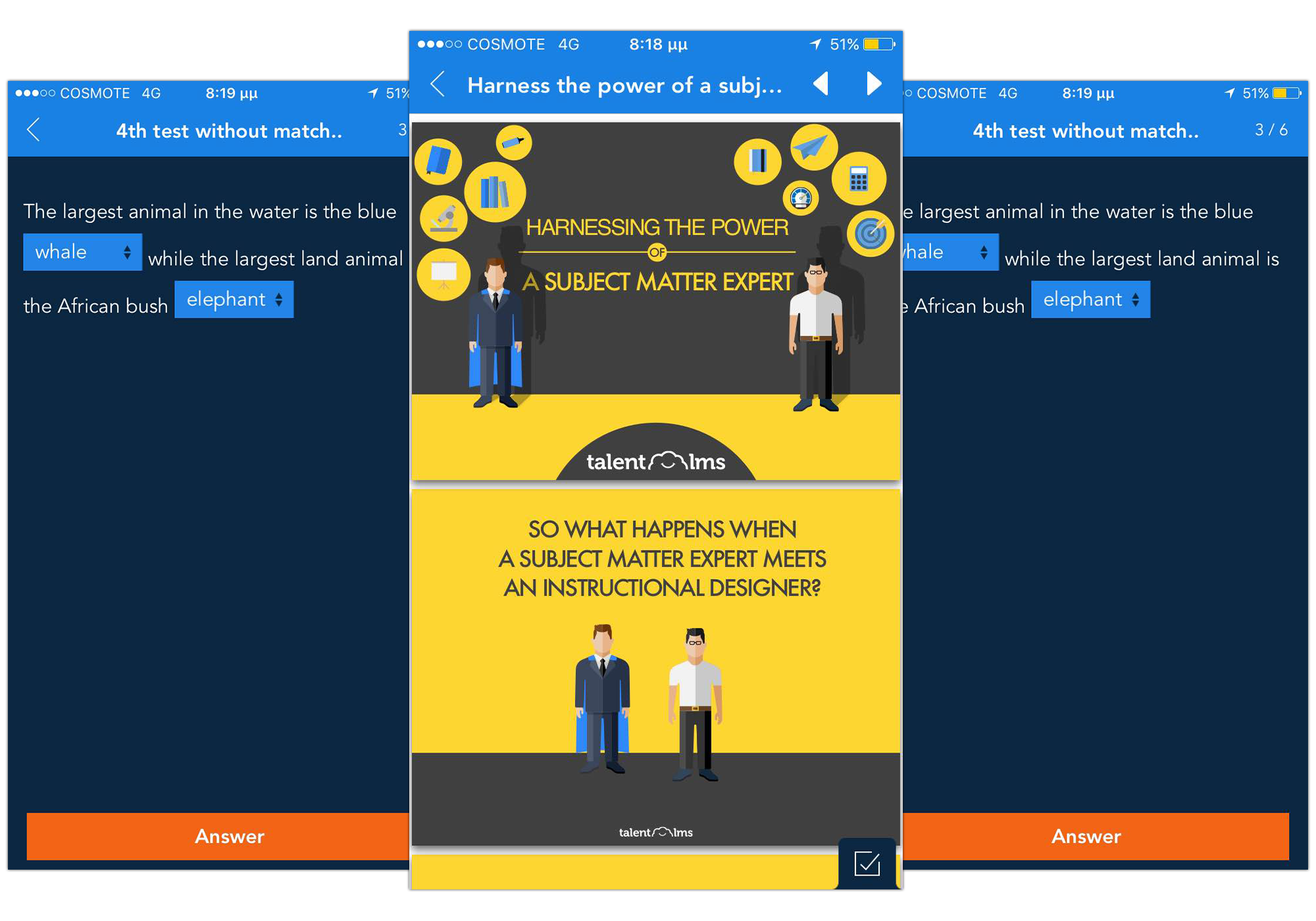 All the major eLearning related features that you depend on in the web-based TalentLMS (like assessments, gamification options, content traversal, unit completion and course rules, branches, profile management etc.) are still available on the TalentLMS mobile app. And with handy access to your Cloud account from within the app, you can even get some administrative work done in a pinch.
What about Android?
While TalentLMS for iOS has already been available for several months, we haven't been neglecting our Android-using customers either. In fact, we've been working on both iOS and Android versions of TalentLMS from the start — it just took us a little more time to get it to work just perfectly on all the different Android devices and configurations out there.
We're almost done, however, and the Android version of TalentLMS is finally coming along nicely — so nicely, that we're actual in the beta testing stage, in case you're interested in being an early adopter and helping us shave off any final annoyances.
And, as is the case with the desktop version, the initial releases are just the beginning — we have some exciting future plans for the mobile space that we will be sharing with you in due time.
| Tags: Microlearning,Mobile Learning