It was October the 6th, 2012, when long time's hard work came to fruition.
TalentLMS was created as a response to the challenges faced by those who wanted a simple, hassle-free training platform; an answer to the people who were in need for an LMS but didn't want to be bombarded with the myriad of features a corporate-grade system offered.
For those interested in numbers, TalentLMS has reached 8,000 learning portals, giving out 40,000 unique courses.

It has been an awesome first year, and the support we've been getting from our users is overwhelming. We took each and every one of your feedback, filtered it to fit our grand vision and turned it into features and improvements. Talentlms is destined to be simple yet complete. Uncompromising and beautiful.
Check the following infographic for a year filled with milestones: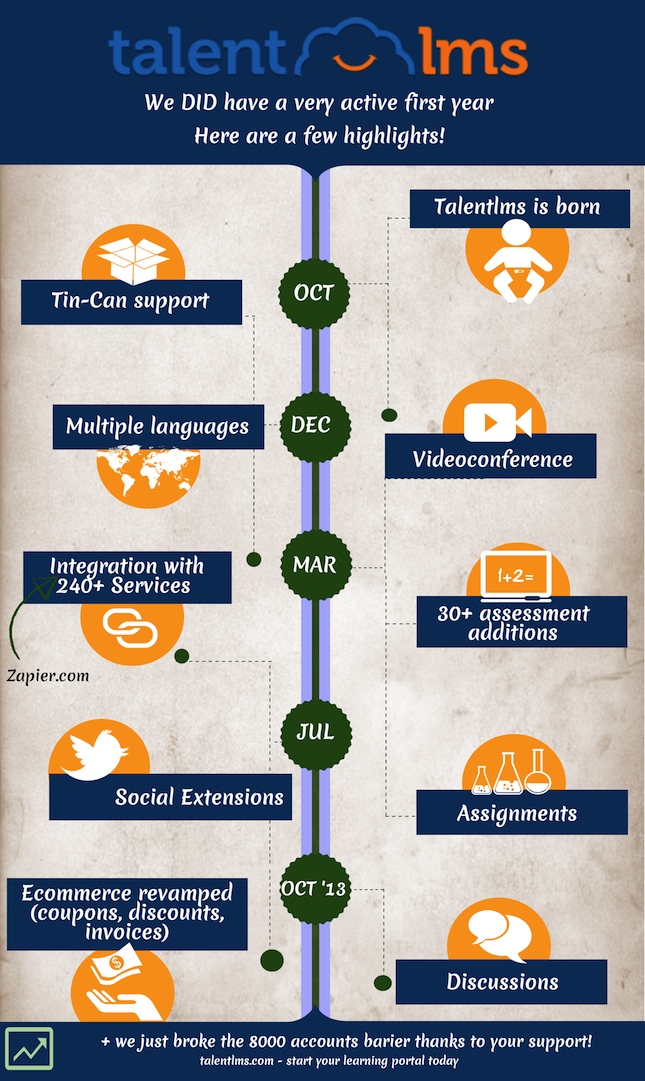 What's next?
Today we would like to introduce a number of important new features we're bringing to TalentLMS, many of which you specifically asked for.
Discussions
A large part of how communication is facilitated under various context is via discussion forums; we felt that it was a feature that would greatly enhance the sense of community in the online classroom. The implementation of Discussions inside Talentlms offers a usable, simple and noise free experience. Note also that each branch gets its own separate discussion forum so different groups of users can have their own private space.
Making payments easier
This is a great one! But it's not just one feature, it's four!
1) Stripe Support: You previously had the ability to request payments via PayPal, which is a widely used service on the Internet. Now we present you with the ability to be paid directly via Credit Card, using a safe and secure system called Stripe. It is the same system we use internally for paid TalentLMS plans and could not be more happy from it.
2) Coupons: Sales period has begun! Or has it?! You now have the ability to create and offer coupons whenever, to whoever and with whatever discount you like! It's as easy as inputing the Coupon Code you would like your users to have, and what discount corresponds to it; set how long you want the coupon to be active for, and you're done. Coupons can be used no matter the payment method (PayPal or Stripe).
3) Discounts: In the case that you want to make a universal disount for all your courses it is as easy as entering the administrator panel! Your users will view both the old and new price, realizing savings right on the spot.
4) Invoices: You can now add your information (e.g. business name, owner information) to be included in the invoice issued to customers upon payment.
Certifications: custom backgrounds
We previously offered a few default backgrounds to choose from. Now, you can also upload custom backgrounds for use on Certifications.
Sign-ups: now more tighly moderated
You previously had the option to allow users to sign up to your page using "Email", "Social Media credentials", "Email & Captcha authentication" or manually add users as an admin. Now, we offer the ability for admins to open up the sign-up page to everyone, but all registrations will have to be moderated and activated by the LMS administrator. This allows for more freedom, but also allows the admin to closely screen registrations.
Aesthetics, they matter
Customizing your logo or course avatar is an important step when customizing or standardizing your learning platform. Therefore, we decided to make it easier for users who previously couldn't find the right size or aspect ratio for their logo/avatar by offering an integrated cropping function. Upload and customize right away!
Fonts, more fonts!
You can now spice up your content with a variety of fonts hand-picked from the Google Fonts editor. Want to use something we're not offering? Let us know!
And More…
Alongside the aforementioned features, we are also introducing the following:
1) Admins can now set different registration methods per branch
2) Improved Social media integration: Like/Tweet features added on course catalog
3) Improvements on mobile and tablet devices, for your viewing pleasure
4) Grid mode on course catalog. Handy if you have many courses.
5) A way to manually complete the course for a user. Handy for blended learning environments where some training happens in traditional classroom.
Looking back, we've achieved sustainable growth, established meaningful relationships with our users, and continue to be eager as ever to deliver an evermore easy-to-use and useful platform for you.
Thank you once again, for being there!