While learning management systems like TalentLMS have made deploying, managing and running your online training easier than ever, there's still one aspect of the whole process that remains quite challenging: Creating great content in the first place.
Sure, TalentLMS makes it easy to upload existing content of all kinds, incorporate multimedia, format it for online and mobile delivery and all that. But coming up with original content for your courses? That's up to you. Or at least it was, until, some time ago, we introduced the TalentLMS Marketplace, giving you an easy way to expand your curriculum with professionally created courses at the click of a button.
Enter the Marketplace
Two years later, the TalentLMS Marketplace has advanced quite a bit from its humble beginnings. In fact, since its launch we've seen a 10 fold increase in both the number of courses offered and the sales volume.
To put some numbers behind these claims, the TalentLMS Marketplace catalog, initially populated by 20 high quality courses from our Australia-based partners Skills Maintenance, now boasts over 240 courses.
And with over 10 content categories, there's something for everyone too, from First-Aid and Allergen Awareness lessons, to Office Ergonomics and Environmentally Sustainable Work Practices.
Content a-plenty
Our two most popular (and populated) TalentLMS Marketplace categories are "Business Skills" and "Safety".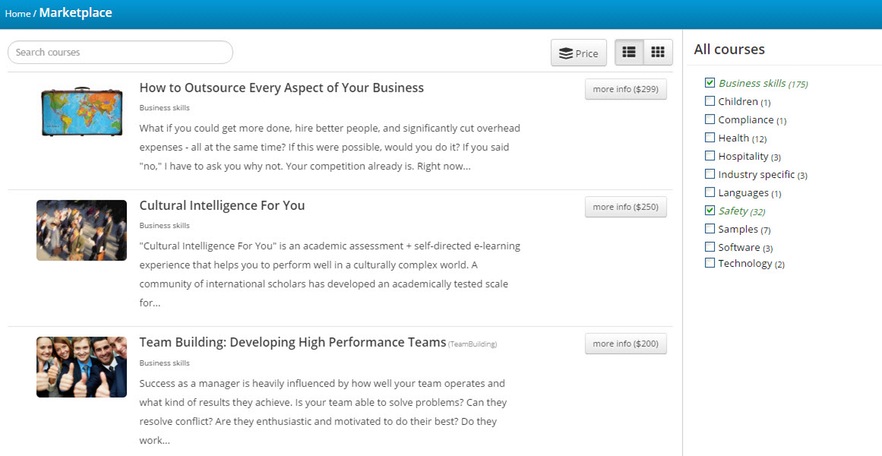 Just to give you a quick idea of the content on offer, the "Business Skills" category includes courses in general leadership topics, like "Conflict Resolution" and "Team Building", more task-focused lessons, such as "Conducting Effective Performance Reviews", "Inventory Management", "Customer Service Basics", and courses focusing on important onboarding and HR themes, for example "Disability Awareness", "Bullying in the Workplace", "Professional Ethics", and more.
As for the "Safety" category, it offers courses for the most common professional safety topics and operational best practices, including compliance courses covering mandatory training in industries like aviation, shipping and construction. For example "Asbestos Awareness", "Work safely in the construction industry", "Excavator Training", and many, many more.
Prices vary according to the depth and breadth of the material covered, ranging from a low-ish $10 to over $200 for certain more advanced units, with a median price of around $40.
Considering all the work needed to design, write and put together such a course on your own, even the higher priced courses are an absolute bargain for enterprise training use — and doubly so if you're running an eLearning portal that's reselling those courses to students.
Sell Your Wares With Us
Of course, our Marketplace is not just open for content buyers, but for content providers too.
We've grown from our initial collaboration with content provider Skills Maintenance, to featuring content from a plethora of professional content development companies, including LearnMe, ProvidentSolutions, CPAI, BestArabi, UFTC, Digital Marketing Mentor, VETiS and more — but we can always use more content.
For a quick introduction into how the Marketplace operates, from the perspective of both the seller and the buyer, watch this informative video below.
Key take-aways: 1) you need a Stripe account to request a course addition, 2) courses have to be approved before they appear in the Marketplace, 3) our commissions are competitive, and are paid immediately to the seller, with no waiting period, 4) we ensure that nobody unlicensed can clone and take advantage of your material.
If you're an eLearning content vendor and are interested in adding your courses into the TalentLMS Marketplace, please contact us at support@talentlms.com and we'll be glad to help you.
Shopping therapy at the TalentLMS Marketplace
From the buyer's standpoint, things could not be easier.
After you login as an TalentLMS administrator, you can visit the TalentLMS Marketplace either from your Dashboard (Courses -> Marketplace), or from the "Go to" dropdown menu.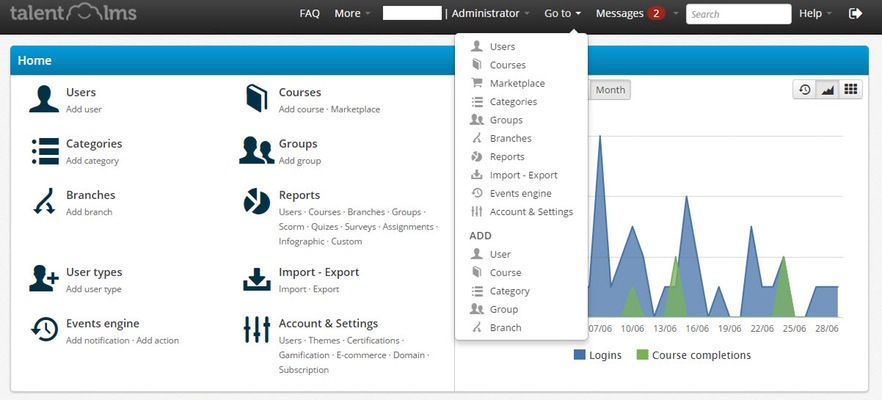 Once there, you see all the available courses, which you can filter by category, search, order by price, name, or date, read a brief description (or click on the course to see further details) and finally purchase a license.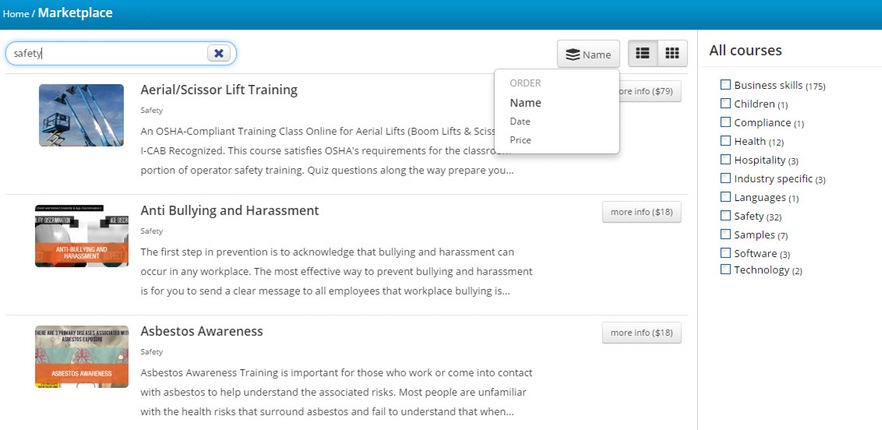 As soon as a course has been bought, it is added to your TalentLMS portal and you can assign it to your learners just like you would a regular course. You can also extend the course with new content of your own, or, if you're into eCommerce, sell it for a different price to your learners.
Conclusion
The TalentLMS Marketplace gives you a turn-key solution to training your employees or adding new courses to your eLearning portal.
With over 240 courses, and more to come, covering essential business skills, work ethics and safety issues, and compliance training topics, TalentLMS Marketplace courses can enhance and extend any corporate training scenario.
| Tags: eLearning Courses,Marketplace