TalentLMS has always made it easy to create training material — import documents in any standard office format (and then some), embed pictures, video and interactive elements, add your original content in its rich text editor, and voilá!
You know what's even better than easy though?
Not having to create training material at all, and just being able to select among hundreds of professionally-made corporate-themed eLearning courses to purchase and quickly deploy as part of your training program. Which is exactly what TalentLMS Marketplace has been about all along.
Now, TalentLMS has partnered with Vado, a leading training content provider specializing in bite-sized, chunked learning courses for the modern enterprise, to make it easier than ever to find the right learning material for your corporate training needs.

Vado's content library focuses on employee and management development learning content in four areas: competency development, career development, onboarding, engagement and retention, and is available in the form of short instructional videos, accompanied by detailed implementation guides and job aids.
Following the latest trends in corporate training, Vado's eLearning courses are also optimized for the mobile learner — which makes them a great fit for microlearning and micro-certification style training, and the perfect material to take full advantage of the TalentLMS' mobile application.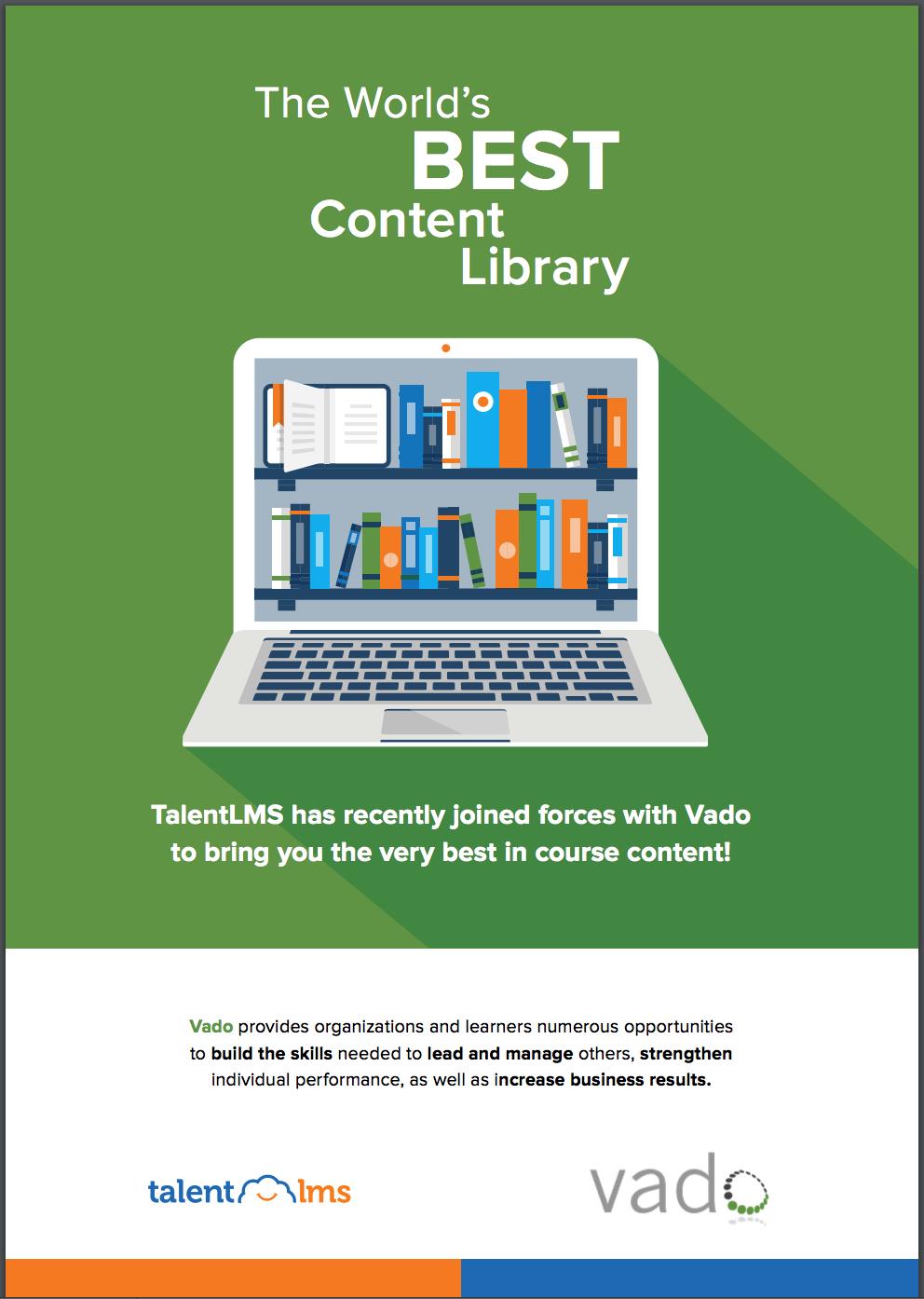 They are not skimping on variety either. Subjects include:
COMMUNICATION
Communicating with Others
Communication Skills for Managers
Giving Great Feedback
Meeting Management
CUSTOMER SERVICE
Customer Service Basics
Customer Service Management
HUMAN RESOURCES
Developing and Coaching Employees
Discussing Total Compensation
Onboarding New Employees
Retaining Your Employees
MANAGEMENT & LEADERSHIP
Bud to Boss
Building Trust and Respect
Building Your Leadership Skills
Conflict Management Skills
Creating Great Teamwork
Delegating Work
Increasing Employee Engagement
Leading the Organization
Strategy Management Essentials
Managing for Success
Recognizing Employees
Supervision Basics
PERSONAL DEVELOPMENT
Basic Business Skills
Become a Contributing
Project Team Member
Building Your Career
Coaching Career Development
Creating Great Work
Developing for Success
Developing Work Relationships
Increasing Your Contribution at Work
Personal Behaviors and Conduct
Providing Resources for Success
Starting a New Job
You and Your Boss
POLICY & COMPLIANCE
Preventing Discrimination and Harassment for Employees
Preventing Discrimination and Harassment for Managers
PROJECT MANAGEMENT
Project Management for Managers
SALES
Conducting Great Online Demos and Sales Calls
Lead Generation – Spears (Outbound Prospecting)
Lead Generation – Nets (Inbound Marketing)
Lead Generation – Seeds (Customer Success)
Leadership Essentials
Thanks to TalentLMS Marketplace's special deal with Vado, you can get access to the full library of courses for just $40 per user (in other words, just $4000/year per 100 learners — there are single courses from competing vendors that cost nearly as much as that).
What's best, businesses with a larger number of employees to train are eligible for volume discounts. The discount plans are 20% for 150-200 licenses, 30% for 250-500 licenses, 40% for 550-1000 licenses and an unbeatable 50% for 1050+ licenses — that's less than $20 per learner to access hundreds of professionally made video courses ready to deploy in your TalentLMS-based learning portal.
If you have any questions about the available prices and discounts, and to get a custom quote based on your size and needs, contact our sales team and ask for the Vado training bundle.
Vado's eLearning courses are available for immediate purchase from the TalentLMS Marketplace.
Like any course in the Marketplace (and any imported SCORM 1.2. material in general), you will be able to deploy them as is, edit them, and generally use them alongside any other training content in TalentLMS.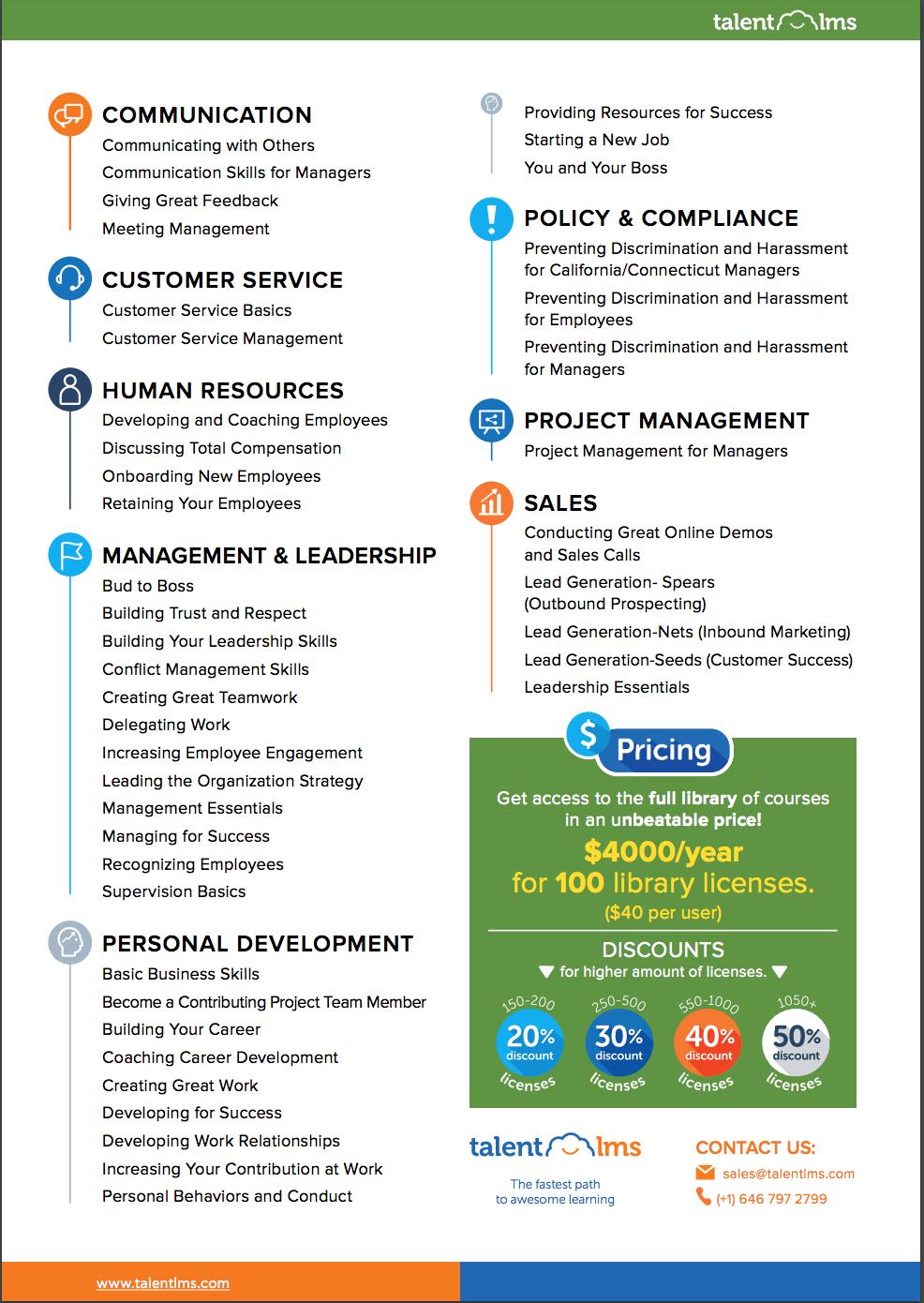 | Tags: eLearning Courses