Quality training courses are the foundation of a quality training program. But what do you do when you don't have the time, specific knowledge, or resources to build training courses from scratch?
You get them from learning and development experts.
Why should you invest in job-ready training courses?
Chances are, the people you're looking to train in a company work in different departments, have different job roles, and need different skills. Creating training on all topics for all of these people is not only time consuming, but probably impossible. How can one person have enough expertise to train every employee?
There are many benefits for using ready-made employee training courses from an online course marketplace. To name a few:
You'll save yourself the time and effort it would take to make courses from scratch.
You'll likely have access to reviews from other users, so you're not creating a training program blindly.
Ready-made online courses have no strings attached, which means you can easily switch to better ones as needed.
What topics should the employee training courses you choose cover?
In short, the ones that don't require customization for your organization. These include topics like:
Having a workforce trained in skills like communication and leadership is what separates average organizations from excellent ones. And you can achieve that without spending time on becoming an expert on each of them, and then building online courses. Get all of the benefits, at a fraction of the cost, by investing in ready-made courses.
The Course Store: TalentLMS's online course marketplace
TalentLMS, a top-rated learning management system, has a built-in course marketplace called the Course Store. The Course Store contains hundreds of courses on a wide range of topics, including sales, customer service, marketing, communication, and leadership.
The TalentLMS platform is trusted by over 6,000 organizations to deliver and track employee training. Anyone with a TalentLMS account can view the Course Store. This online marketplace is divided into two sections: TalentLibrary and Other Course Providers.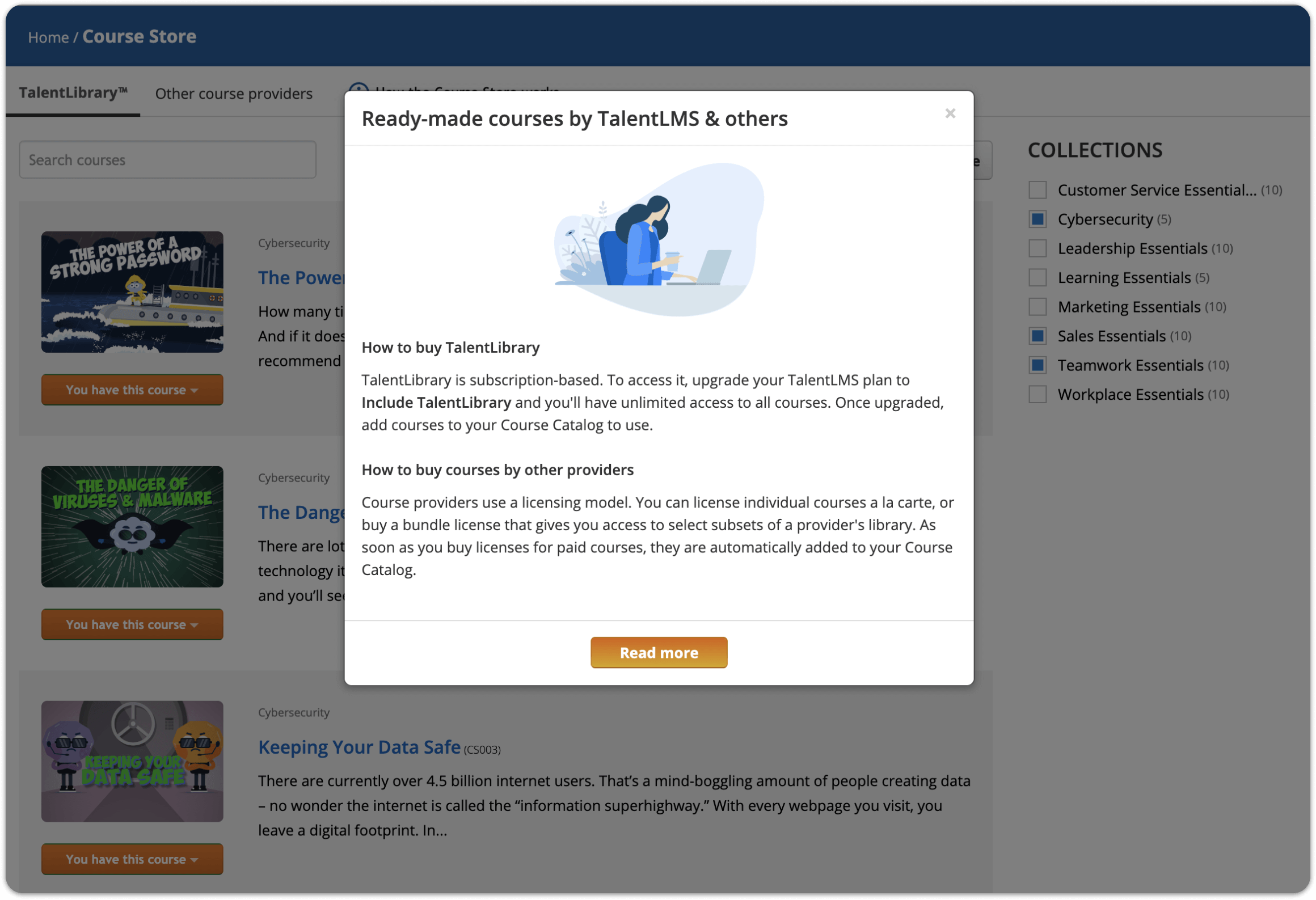 Introducing TalentLibrary
TalentLibrary is the latest major addition to the TalentLMS marketplace. It is a growing collection of ready-made, online employee training courses. New courses are released every quarter, and users with a plan that includes TalentLibrary gain access to all of them, at no additional cost.
The courses offered in TalentLibrary have been written and reviewed by senior instructional designers. They are short and enjoyable to watch, and come with a quiz and learning resource to help your people reinforce their training.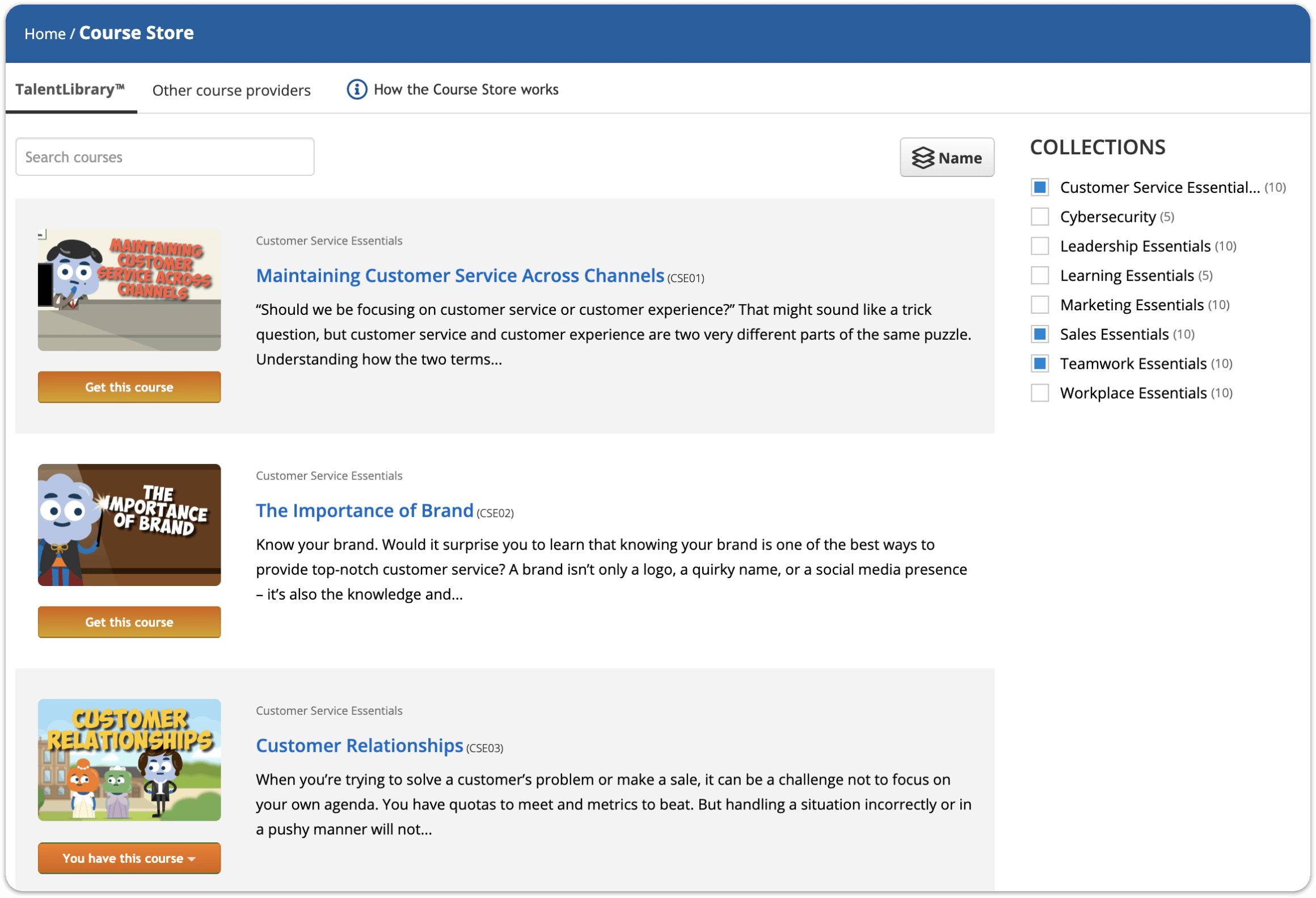 Other course providers in the TalentLMS marketplace
In addition to TalentLibrary, TalentLMS's Course Store also offers employee training courses from 20 different providers.
Browse the available courses in the marketplace, filter by category, search, order by price, name, or date, and read a brief description (or click on the course to see further details).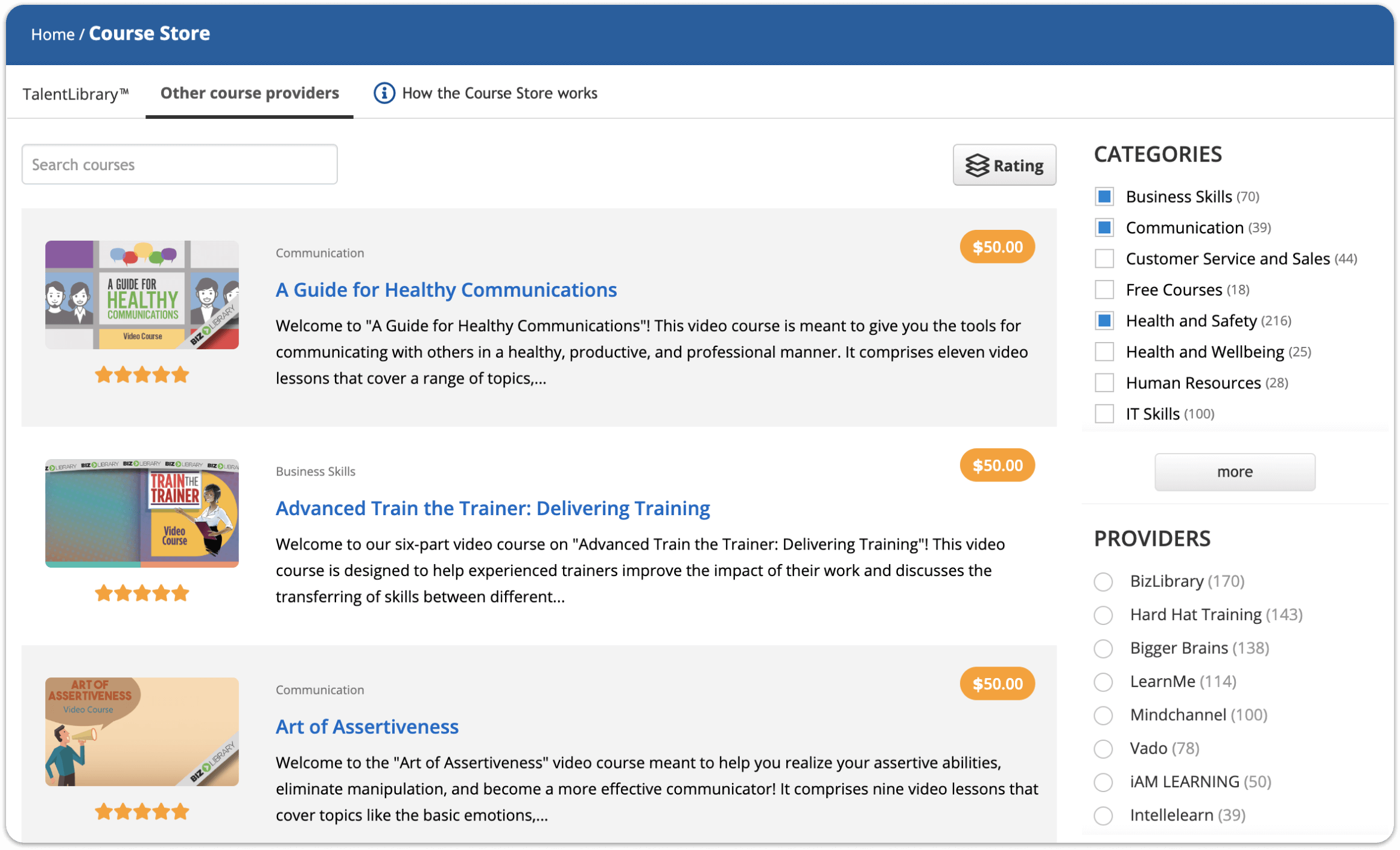 Deliver training courses to your people without breaking a sweat
Once you've gained access to TalentLibrary, adding courses is an easy and painless process. Simply browse the marketplace, select which courses you're interested in, and add them to your portal. That's it.
If you've chosen courses from another provider, they are immediately added to your TalentLMS portal upon purchase. You can now assign them to learners, and even extend them with content of your own.
TalentLMS makes it easy to assign courses, as well as track and assess your employees' progress, all in one location.
Take the stress out of creating training, once and for all
Much of an organization's success depends on the quality of its training. But that doesn't mean creating job-ready courses has to keep you up at night. The Course Store offers a wide range of options to help make your training program a success.
Head over to TalentLMS's marketplace to see what the Course Store has to offer your organization today!
| Tags: eLearning Courses,Marketplace