In 2022, "companies spent $1,207 per learner compared with $1,071 per learner in 2021", according to a report by Training Industry. The most shocking part, though, is that with all this investment in employee training, "only 12% of employees apply new skills learned in L&D programs to their jobs" according to Harvard Business Review.
The stats are true, and they're rather concerning. Essentially, they mean that training often has poor results because learning just isn't 'sticky' enough. Why not? Because employees aren't really (we mean really) engaging with content and activities. And why would they when that very content is dull, text-heavy, or detached from real life?
The good news? There's something called gamification in corporate training. And it's exactly what you need to boost training engagement and ROI. The following sections will help you learn everything that matters about employee training gamification. And with real corporate examples, too.
Defining gamification in corporate training
Gamification techniques have taken their rightful place in corporate training. They've been applied more broadly to education for some time already. But with the rise of remote/hybrid work models and the need for more online training, they quickly became an integral part of L&D strategies all over the world. These techniques draw on gaming design elements to make learning active, engaging, and practical. Of course, the bonus is that learners have more fun while doing it.
Let's take Duolingo as one of the shining examples of gamification in eLearning. Since 2011, this application has achieved more than 500 million downloads and 40 million monthly users around the world use it to learn the language of their choice.
Daily goals, leaderboards, and badges make people eager to learn a new word and apply it to a sentence. So, learning a language becomes a game—fun, competitive, and rewarding.
Similarly, gamification in corporate training is about constructing real-life scenarios and challenges in a risk-free learning environment. Instead of being lectured to, employees learn through self-driven interactive training activities. This creates a more rewarding and meaningful learning experience.
So, how do you go about it? Let's discuss the secret to efficient corporate training gamification. Ready, set, go!
How to gamify training fast
Gamification is a big word. But in practice, it can be pretty quick and simple. You don't need advanced IT skills to use gamification in corporate training. All you need is your existing training content and the right training software for employees.
Start by assessing the materials you already use for employee training. Update the content where necessary, and then look for opportunities to apply gamification elements. This can involve setting challenges, adding levels to your learning path, awarding points or badges when challenges are met, and leaderboards to encourage some healthy competition.
There's one small catch. You'll need a credible gamification LMS to quickly turn your gamification ideas into attention-grabbing training programs. Equipped with the right LMS tools to gamify training courses, you'll be able to make learning more interactive, convenient, and accessible to everyone.
Plus, push notifications and automated emails from your LMS will remind employees to engage in their next training challenge to unlock a level or reward. This way, learning is always top-of-mind.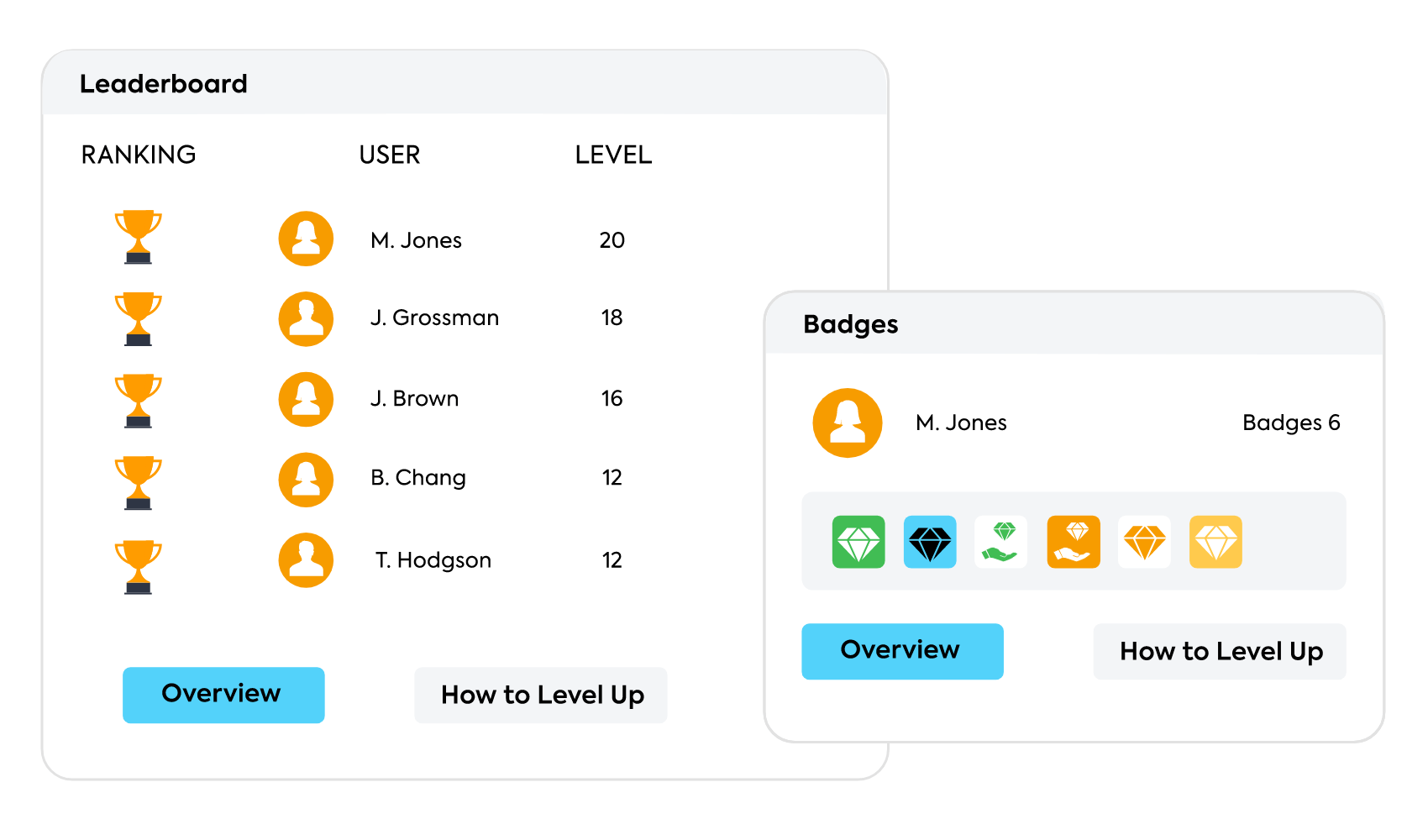 Still not sure how to gamify learning? Let's take a look at some of the best examples of gamification in corporate training from other organizations which have implemented it, and how to apply these ideas to your strategy.
Examples of gamification in corporate training (and how to do it yourself)
Now that you know how easy it is to infuse your courses with gamification, let's take a look at how other companies do it. Here are some real-life examples of gamification in the workplace.
1. Partner training at Formlabs
Most companies can only be successful if their channel partners (distributors, consultants, service providers, etc.) are also successful. This is why many companies invest in channel partner training. One such company is Formlabs, and they do it gamification-style!
Formlabs is a leading manufacturer of 3D printers and software. One thing they're really serious about? Delivering exceptional customer service. The challenge is that they have over 180 partners and 2000 technicians worldwide – that's a lot of training! So, they needed to make it convenient, relevant, and engaging.
Luckily, Formlabs found the perfect solution in TalentLMS, which offers all of their favorite gamification features—like points, leaderboards, and certificates. Using customer service games for employees, thousands of partners have started learning anytime, anywhere, and in a way that's fun and meaningful.
Plus, while partners are motivated to earn points and 'beat' the competition by participating in online training, Formlabs achieves great customer service at every touch point. It's a win-win. And you can have it, too.
By finding the right LMS for your company, you can simply switch on features like points, badges, and leaderboards to create hype and excitement about your channel partner or employee training.
---
Looking for an eLearning platform to make learning fun?
Gamify training courses in no time with TalentLMS.
The training platform that users consistently rank #1.

---
2. Sally Beauty Supply for retail sales training
For this organization, the main training focus was boosting customer service care, confidence, and loyalty. This is why Sally Beauty Supply chose to implement a gamified training program for their store associates so that they can help their customers find and buy the correct products.
The main issue that Sally Beauty Supply wanted to solve during training was the uncertainty associates felt of the process of customer service care, the lack of confidence in product knowledge, and lack of discussion with customers concerning their needs.
With gamification in corporate training, associates could practice real-life situations where customers posed questions about products. These gamification elements gave learners the chance to engage in a diverse pool of customers, make mistakes in a risk-free environment, as well as receive valuable feedback. As a result, associates were better able to assist customers, even just a few hours after training.
This example demonstrates how an organization can reinforce training, make it more engaging and impactful through customized and interactive training programs.
3. Deloitte for senior leadership development
Soft skills development was necessary for senior leader training at Deloitte. This is why the organization employed gamification elements in its strategy via the Deloitte Leadership Academy (an online training program for 50,000 Deloitte employees). Learners could establish their personalized learning goals and go through a variety of topics.
By using leaderboards, learners received badges to demonstrate their achievements in a list of the top 10 users. The numbers are quite impressive, as there was a 47% increase in returning users weekly, but also a rise in engagement levels as content was completed 75% faster than using their previous solution. Learners seemed excited to be involved in some healthy competition with peers.
4. Roland for sales training
For Roland, sales training was essential to ensure the proper distribution of their products. Training was conducted in person, but it was not always the optimal choice, as it was rather time and money-consuming. And especially when the pandemic hit, there was no choice but to move training online.
The issues that Roland had to face with sales training were particularly two. First, not all learners were familiar with online training tools, and second, they wanted to make sure training was fun. "We sell exciting and fun products, and we want to be a fun company to deal with. And, while we have high expectations of the staff, we also try to approach training in a fun way," Corin Birchall , VP of Global Retail Operations at Roland, explains. This is why they chose to invest in a user-friendly platform that allowed gamification integrations at the same time.
With TalentLMS, they managed to move training online, keep it fun, and engaging. In fact, they created Roland Academy, and during the first 12 months, they ran competitions every week. By keeping leaderboards, they could celebrate those who had completed the most courses. In that way, they managed to keep training fun and not a chore.
Having the right LMS for your business needs allows for an easy interface for users while offering gamification in corporate training. By switching on points, badges, and leaderboards, you can make training fun, engaging, and exciting.
Looking for an eLearning platform to gamify learning?
Create badges, points, and leaderboards in no time with TalentLMS.
The training platform that users consistently rank #1.

---
5. McDonald's for cash register training
Launching a new till system and training front-line servers on how to use it can be a challenge when it comes to large organizations like McDonald's.
Their goal was to give learners the chance to practice and learn in a safe environment without getting customers frustrated. But also achieve high business results like improved accuracy, reduced service time, and higher spend. And at the same time, make it fun and engaging.
Bearing these in mind, McDonald's leveraged gamification for cash register training. Through McDonald's portal users engage in a 20-minute assessment of serving customers while difficulty increases as it progresses.
The numbers are worth mentioning. 50,000 people used it within the first six weeks and saved the company £1.5 million in training costs. Also, an impressive 85% of learners claim gamification in corporate training allowed them to better understand the new system and made them more confident concerning their future performance.
Using the right platform to make training exciting but effective at the same time can do wonders for your business. A gamelike scenario minimizes mistakes and the cost that comes from them in real life. Simultaneously, training time and costs are reduced.

Gamification is the future… and not only in training
It goes without saying that gamification in corporate training brings impressive results to your L&D strategy but also your end goals in your business. Especially after examining examples of gamification in corporate training that big organizations implemented. But its benefits don't only stop there.
Companies use gamification during their recruitment process. For example, Google runs a coding competition with three main challenges—Code Jam, Hashcode, and Kick Start. Competitors go through the coding skills tests, regardless of their current skill level, and compete for a $15,000 prize, the Code Jam Champion title, and multiple job offers.
Also, organizations leverage gamification schemes for marketing purposes. KFC Japan launched a mobile game called Shrimp Attack to engage users and encourage them to try the new line of battered shrimp. The game was easy, users only had to swipe away at virtual shrimp falling from the sky and earned reward vouchers. 22% of users did indeed redeem their reward vouchers, and there was an impressive increase in product demand.
Gamification is also used to raise brand awareness and educate audiences and customers about products or services. For instance, ResMed launched the "Endless runner & Quiz" game with the help of Gamify to communicate their message about how people with sleep apnea, COPD and other chronic diseases can live healthier lives. Through this game players take specific sleep apnea questions that pop up and can only go further into their run if they answer correctly.
Let's play! What's next?
The gamification examples above have shown how game-like thinking can make all types of training more fun and engaging. The only limit is your creativity—and your LMS! So, once you've found the perfect LMS, your next challenge is to apply gamification best practices to your online courses.
Originally published on: 13 Jan 2020 | Tags: Employee Training,Gamification