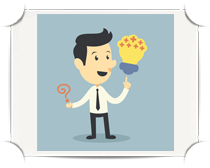 In my last piece I discussed possible uses of Gamification in K-12.
Let's talk about me, though. I'm a 25 year old man with a long to-do list each day. I'm sure that if we put it all down, we'll all end up with an excuse of how we have zero time to do other things, let alone new things!
Have you heard about The Hour of Code? It's this great idea that we should all learn the basics of coding, to familiarize ourselves with what goes on behind the scenes of those great programs we love using, understand computers and create something of our own!
As part of my school's curriculum, I had the choice to learn
Delphi
in junior-high; and I did – until I had to forget all about it and move on with other things. I believe that was the point, though. A full year later, learning Delphi left me with the ability to see behind the buttons that you clicked and magically turned A into B.
The Hour of Code is a way for people of all ages to experiment. An object-oriented approach with puzzle pieces you connect in order to construct the right coding sequence to get your program to work.
Basically, it's a two step approach.
You are given a visual, a maze, in which you are given clues of what your end-goal is. The point is to figure out what pieces of the puzzle you need to use (each piece corresponds to a line of code) in order to get from point A to point B without stumbling into obstacles.
When you connect the dots, you can also view the code that lies behind the puzzle pieces you just connected. It's simple like that. You can enjoy the puzzle aspect of the game, while actually learning what happens behind the scenes. I kept notes, it was interesting!
You go from learning how to move a bird two steps forward to the completion of the level, to coding using IF statements to make sure that your zombie reaches the plant irrespective of obstacles that may pop up in its path! The core of programming lies on a few simple lines of code, and the thinking process is what Code.org tries to instil to kids and adults all over the world.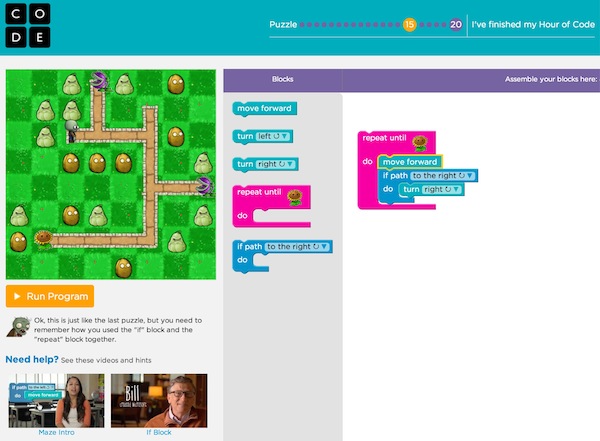 Learning play, or play learning?
It's safe to say that we can learn by playing (I've preached that lesson for ages), but it's also true that we can play while learning, and I just can't seem to find the thin line between the two statements in The Hour of Code. It's an entertaining process during which you – even subconsciously learn – but you immerse yourself in a graphical representation of coding so reminiscent of games that we love, that learning is so seamless, it's frighteningly good… almost subliminal!
It's an amazing example of Gamification and how it can be used to teach anyone from a kid walking its first steps into the world of technology, to an adult who feels computers are too much of a hassle to use, let alone code.
Have you tried the Hour of Code? has it inspired you to modify the way you teach, or incorporate gamification methods into your curricula? Let us know or simply share your experiencse!
| Tags: Gamification