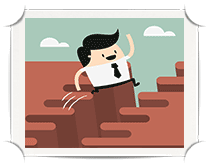 Asynchronous and synchronous learning mixed together? Brick and mortar school structure and eLearning at once? That's the blended learning approach. Not so new concept of blending different teaching techniques is getting more and more popular in scholar education and in workplace training. Although some experts claim that we all use blended learning and don't even know it, we surely can do it better and more effectively. We gathered top 10 articles about blended learning that will not only explain the idea behind combining learning techniques but also give you answers to your questions and tips on building your very own blended eLearning strategy.
Great, over 40 minutes long interview with Clive Shepherd about blended learning. Clive no only explains what blended learning is and how is it different than eLearning but also answers common questions like when is blended learning your best choice, how to design blended learning process, how do social contexts and learning strategies interact and many more questions that will make the concept and benefits of blended learning clear, even to beginners.
2. Blended Learning – Current Use, Challenges and Best Practices
Except for explaining the concept of various learning techniques, we look for articles that can actually help you implement them in your courses and do it the best way possible. This profound report from Kineo and The Oxford Group shows survey results about current use of blended learning, benefits of implementing it in companies, trends and blended learning future. There's also a chapter with best practices and 10 quick tips that every educator should keep in mind when building the process.
3. Blended Learning – Infographic
As always for those who prefer visual learning we have an infographic. Very rich and informative infographic about blended learning as a disruptive innovation that consists of definition, history, statistics and more practical part explaining the models and six example programs to see what blended learning is in practice. There are also real life case studies of implementing blended learning. This is definitely something you can't miss when learning about blended learning.
Okay so we know what blended learning is but if we want to get a deeper understanding of this subject, we should ask why it actually works? What makes combining different techniques better than choosing one of them? This article on TalentLMS blog highlights the most important effects that blended learning has on students, how it helps them engage in the process and get the best leaarning results thanks to more individual approach and improved feedback.
Since kids are getting familiar with technology at very young age, using mobile devices to increase engagement in learning is getting more attention from educators. Dave Landry Jr. explains why blended learning may be the best choice for schools and students to provide best learning opportunities and results by combining learning and fun, letting students prepare better for classess and making them feel more rewarded. He also explains 4 different models of blended learning that are used in schools
If you're looking for information about blended learning you will most likely find it on this site. BlendedLearningNow aggregates videos, articles, blogs, research and news about blended learning, all in one place. Lack of search button makes it bit difficult to find what you need among hundreds of resources but it's worth to spend some extra time on reading and watching collected materials to obtain thorough knowledge on the subject.
Christopher Pappas shares 7 well explained tips on implementing blended learning strategy to get the most from both synchronous and asynchronous learning techniques. Thanks to those tips you will understand how to identify your objectives, integrate group collaboration activities or create an effective assessment plan to provide engaging, interesting and immersive yet still flexible learning einvironment. 
Usually blended learning is associated primarly with schools and new ways of  making learning experience more engaging for children, yet blending different teaching techniques can also improve workplace training. In his article Tom Vander Ark shows what benefits blended learning can bring not only to teachers and learners but also to employees who are improving their work skills.
Blended learning is not just for one group of learners, if adjusted to target audience it can bring great value to children, higher education students or employees. In his article Joseph Rapposelli explains how it can benefit high school learners and prepare them for collage. As a reference Joseph gives his readers a case study of one of first blended learning programs implemented in Deleware's school district, describes tools and techniques used.
Implementing blended learning strategy in classrooms may be difficult for some teachers but as Bill Tolley says, all the sacrifices that need to be made are worth the results. Article explains the concept of blended learning and gives very clear advice on where to start and what models to choose to make sure you avoid all the pifalls and let your students fully experience blended learning.
---
Save time, frustration and money with TalentLMS, the most-affordable and user-friendly learning management system on the market. Try it for free for as long as you want and discover why our customers consistently give us 4.5 stars (out of 5!)
---
| Tags: Blended Learning