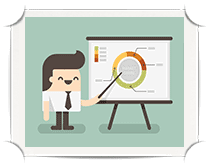 More often than not, organizations spend countless hours developing LMS courses and creating content geared toward employee training and development. However, if these companies aren't focusing on an effective marketing strategy to generate excitement for their new learning management system, chances are that all of the resources they've allocated (i.e. time and money) will have been been wasted.
So, how do you ensure that your LMS courses are going to be an effective tool that offers a great return on your investment?
The answer to this all important question is internal LMS marketing. Even employees who are obligated to participate in training and development need to be motivated to do. They need to feel as though the courses are going to be of value to them. To do this, you must begin build the buzz about your new learning management system well before roll out. This is an in depth guide to marketing your LMS courses internally.
Create an internal marketing team for your LMS courses
The first step in your marketing strategy is to identify members of your staff who can help to promote your courses in your LMS before launch. Typically, these are employees in the PR or human resources department. However, you'll also want to have an IT member on board, as they will be able to offer advice and invaluable support in regards to implementing your marketing plan. Identify what role each person is going to play and what the primary goal of your strategy will be. This will avoid any confusion later on and will ensure that you are going to achieve the results you're after, given that everyone will know their specific duties and responsibilities.
Pinpoint your target audience and primary distribution methods
You'll probably already have a general idea of who you are trying to engage with your marketing strategy, but you will also need to pinpoint which departments and which skills you will be targeting. This will allow you to gear your marketing efforts toward your target audience. For example, if you are rolling out an LMS program that will train customer service staff how to handle POS purchases and returns (as well as enhance their overall customer care skills), then you would want to customize your marketing campaign to appeal to those team members.
Design engaging, eye-catching promotional content (emails, newsletters, etc)
This is probably one of the most important parts of any successful internal LMS marketing plan, as these are the materials that are actually going to excite and engage employees (and make them want to develop their skills and expand their company knowledge base). So, you'll want to create promotional content that is eye-catching and informative. Here are just a few tips to keep in mind when compiling marketing tools that you plan to distribute internally:
Make the subject line of marketing emails catchy and appealing. Otherwise, employees will simply scan the email headline and move onto the other messages if they aren't engaged by that all important subject line.
When crafting emails, make sure that they are broken up into smaller sections that draw attention to valuable information. For example, if you have a page worth of content, break it up using bullet points and bold italics, so that the reader will be drawn to the highlights of the LMS courses you are launching.
Really sell the LMS in order to generate excitement. Let the learner know what they are going to be getting out of the courses and identify the new features that are going to be offered through the platform. Also, if specific courses may appeal more to certain departments, customize the message to include the key benefits that those individuals can expect to receive.
When creating the newsletter, email, or signage for the LMS marketing strategy, include information about how the learners will be able to access the system. Also, give them an overview of which courses will be offered and what skill sets each course will be targeting.
Gather testimonials from high level team members and post them on your internal company site or include them in emails to employees. People will enjoy hearing about the new platform and will be motivated to explore the LMS courses for themselves when you do launch it.
Why not design your marketing strategy around a theme that you can use to tie in all of the promotional materials. You can even include a drawing or giveaway as part of the theme. For example, offer employees a chance to win a gift card if they log onto the LMS a certain number of times during launch week. This will provide them with the extra incentive to give the LMS a try, so that they can then see the first hand benefits for themselves.
Be clear about how people can sign up for the courses and how they can log on to the system. There is nothing worse than devoting time, energy, and resources to an LMS marketing strategy, only to discover that employees are confused about how to actually use the new LMS.
Demonstrate the LMS courses and highlight their benefits
One of the most effective ways to promote LMS courses within your organization is to actually show the staff how to use the software and highlight the benefits it can offer them. Hold a demonstration where you show people how to use the system, such as how to access the platform and navigate through the courses. During the presentation, let them know about the many benefits that the courses will offer and provide real world examples of how the system will be helpful to them while they're on-the-job. Allow the learner to actually use the new LMS during the demonstration, if possible, so that they are able to experience its ease of use and functionality first hand.
When to start?
Ideally, you'll want to begin to promote your courses at least six months before the LMS launch, and then continue your internal promotional efforts continually until the roll out date. This will give individuals enough time to grow accustomed to the LMS' features, and provide them with ample opportunity to get excited about the new learning platform.
Good luck!
| Tags: Employee Training