How would you design your perfect LMS? Would you build integrations with your favorite tools? Add features that boost inclusion? Or, choose to get access to detailed reports?
The good news is that with TalentLMS, you don't have to pick among these options. Our latest update brings these and more improvements to your training platform.
Let's see what's new in TalentLMS 4.8:
New integration in the house: Welcome Microsoft Teams!
With videoconferencing on the rise, you might already be using (or thinking to use) a video platform to connect with learners even from a distance. And if the platform of your choice is Microsoft Teams, you'll be happy to know that TalentLMS now integrates with it.
In just a few clicks, you can connect those two platforms and set Microsoft Teams as your default web conferencing tool. This way, you'll be able to organize virtual conferences and ILT sessions without switching between accounts.
Learn more about integrating Microsoft Teams with TalentLMS.
Title: Training. Subtitle: Inclusive training.
Could a few lines of text make a difference in your training program? Yes, if we're talking about subtitles in videos. With our latest update, you can add closed captions to the videos you upload on TalentLMS.
People with hearing impairments, people who are not native speakers of the language on the video, and those who are on the go, can all enjoy a more inclusive and accessible learning experience. And if learners would rather watch a video without subtitles on, it's up to them to disable them at any time.
The closed captions feature is also available in the TalentLMS mobile app.
Learn more about how to add closed captions to your videos in TalentLMS.
---
Meet TalentLibrary™
A growing collection of ready-made courses that cover the soft skills
your teams need for success at work


---
Improved Matrix reports
The recently-launched Matrix report, that shows how learners are progressing through a course, now comes with more functionality. More specifically, with the TalentLMS 4.8 update, you can:
Filter courses based on their color-coded status (completed, not passed, in progress, not started, or not enrolled). For example, you can choose to display all users who've started but not completed a course yet.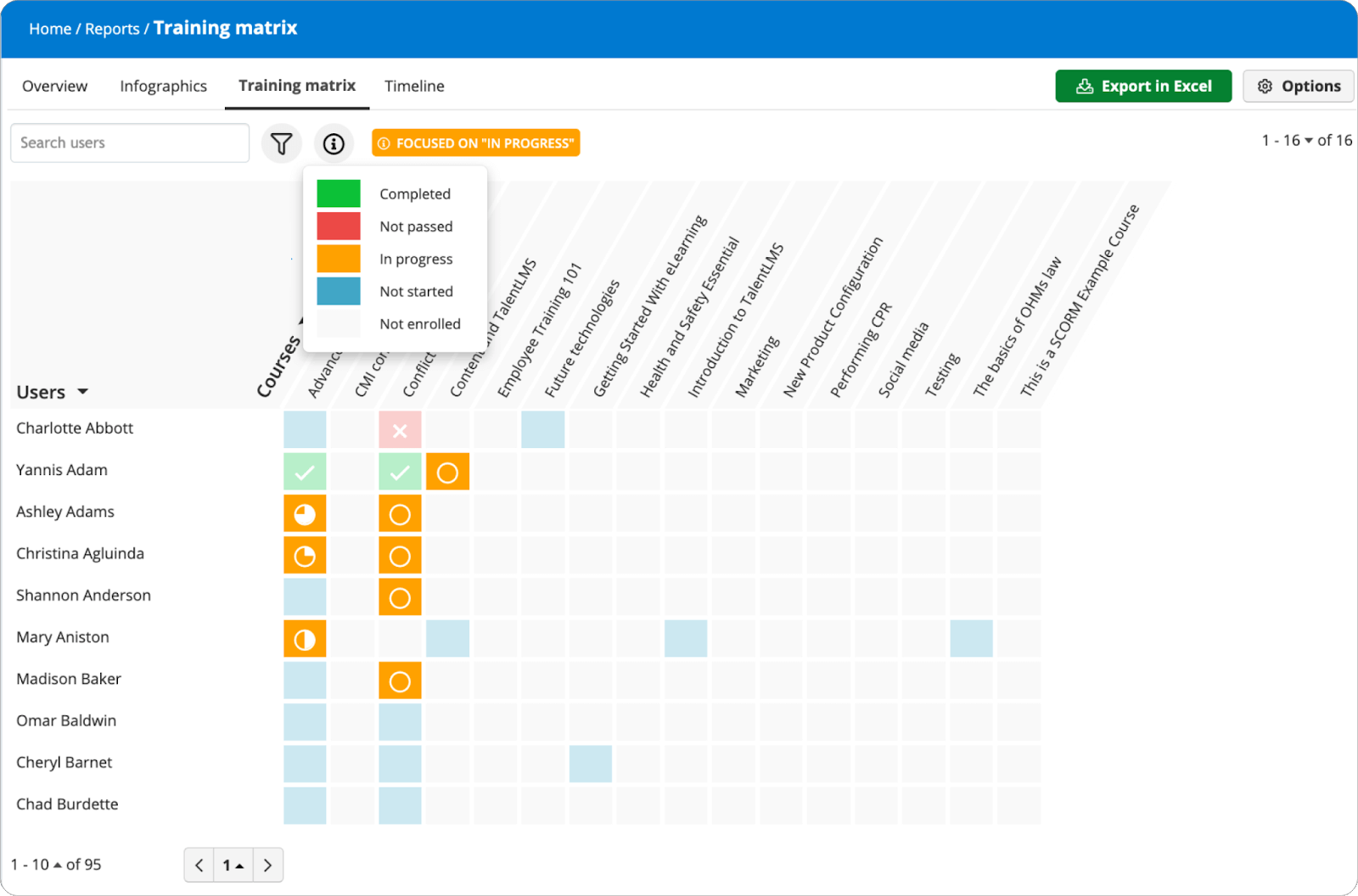 Zoom in on the info you need (course score, progress, code) with the click of a button. You can also display progress in percentages instead of icons.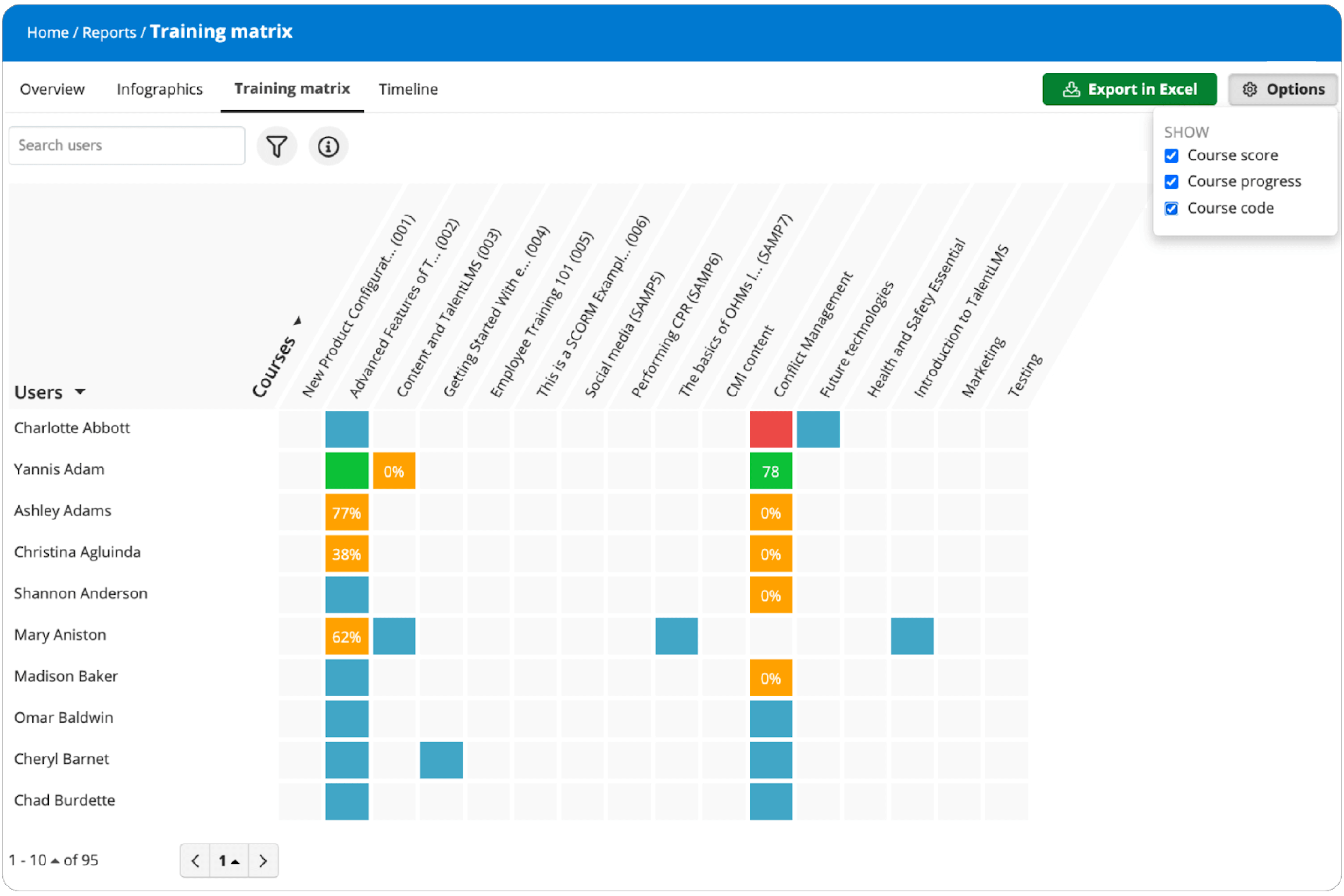 Capture a user's progress without having to move to their dedicated report. When you click on a cell, a pop-up will show you the user's progress, score, time spent on the course, completion date, enrollment date.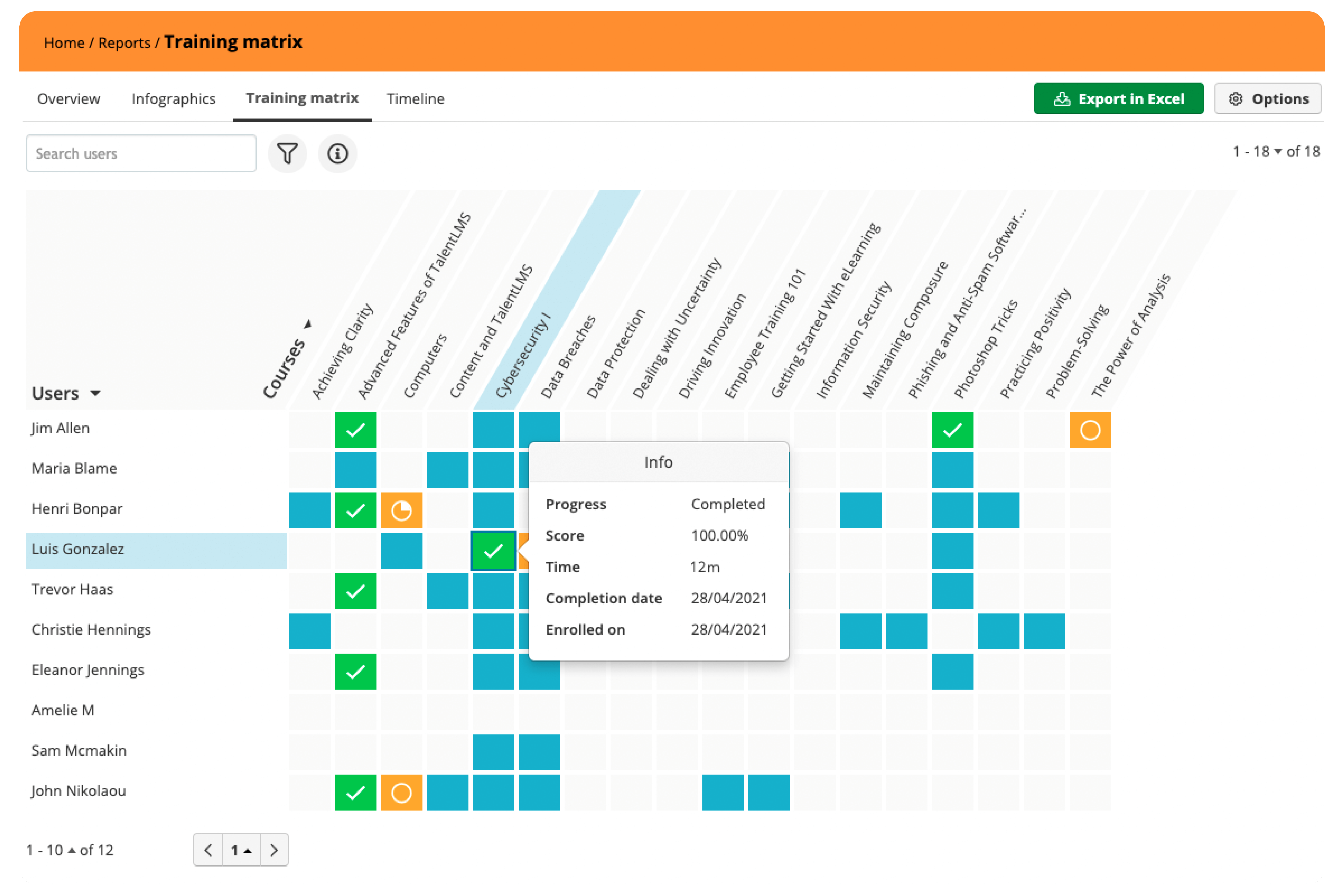 Export your training matrix reports in the exact same layout and functionality in Excel.
Learn more about how to work with the Matrix report.
There are 12 hours in a day
Does a training session at "17:15" sound weird? Or, perhaps, does a webinar at "7 pm" make you double-check whether it's in the morning or in the evening?
Depending on where you — and your learners — are located, you may be more familiar with a 12-hour or a 24-hour time format. With TalentLMS 4.8, you can now choose how time is displayed in your portal.
Bonus: Dark mode in the mobile app and UI improvements
Your favorite interface feature, the dark mode, is now available in the TalentLMS mobile app. Also, we keep making improvements to the UI of the platform for a seamless learning experience.
For more details on all new features, bug fixes, and improvements, please see the official Release Notes.
| Tags: Update