As the global pandemic continues to impact work and life, we predict that learning and development will become increasingly more important. Whether you're taking this time to upskill more employees, or preparing for what comes next, we are here helping you along the way.
So in this update, we focused on features to make your training more successful. And, we simplified processes to make TalentLMS even easier to use.
Let's see what's new.
The new essential: Virtual instructor-led training
Zoom. Webinars. Virtual instructor-led training. As many of you move your face-to-face training online, we've seen an increase in the number of users participating in webinars.
To help, we've doubled the slots per conference to 40 participants when you use our built-in integration with video conferencing tool, BigBlueButton.
And to make admin life even easier, you can now add users to a conference en masse by course or group.
Learn how to set up a web conference here.
Ain't nobody got time for that: Certifications
In this update, we've made it that much easier to track, download, and share certificates. Whether you're using certificates for compliance training, or as part of a certification program, this could slash hours off your admin time.
You'll no longer need to log into TalentLMS to download a certificate. Now, by setting up one notification, the system will email course certificates in bulk directly to your inbox. Using a unique URL, you'll be able to download and save them.
You can also share certificates with your learners this way. Learners can download them directly from their inbox, too.
See how to email certificates here.
New Rules: Reporting
We're continually improving our reporting functionality, and in this update, we focused on Custom Reports. Now, it's easier for you to dive deeper into your platform's data and find the exact information you need.
Not only can you run reports on user-specific attributes (for example, users who belong to branch x, users enrolled in course y), but now you can run reports on a course level.
This new functionality means you can generate a learning progress report based on users and courses, giving you a much richer and granular set of data.
The new course rules include:
Belong to list of courses (option to select specific courses)
Belong to groups (option to select multiple groups)
Belong to branches (option to select multiple branches)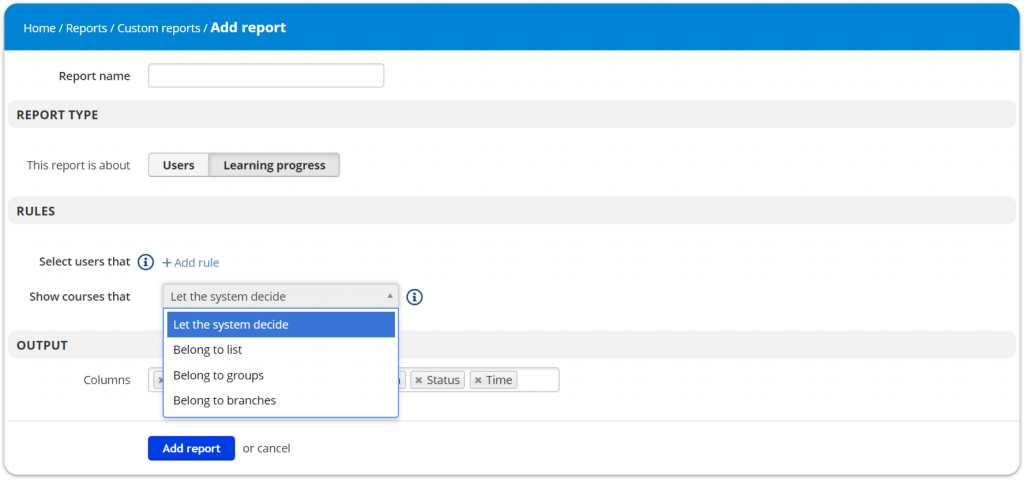 Learn how to set course-specific rules here.
Data visualization, notifications and more
We also improved a few more features based on your insights.
For more personalization in your training infographic, you have the option to select a specific date range in addition to weekly, monthly, and yearly outputs.
         See how to set a specific interval here.
You'll notice improvements in the Notification Center. Now you can automatically send email reminders to users who were added manually to your platform. Previously, only this functionality was only available to users who had self-registered. Sending reminders to your learners is a sure-fire way to engage inactive users and get them back into training.
.
⦁ We are constantly improving the user interface and user experience, and in this update, you'll see improvements in discussions, as well as the editor you use to create units.
Mobile
Learners are more likely to complete training when it's familiar and accessible. And as almost 92% of internet users use mobile phones to go online, our mobile app team works tirelessly behind the scenes to keep improving the experience.
Over the past year, we prioritized learners over admins. But not this time. This time we gave attention to both.
Admin experience
Now, when you log into the mobile app as an admin, you'll see a dashboard designed for you with new functionality.
More specifically, admins now have access to:
A dashboard that shows an overview of your account's key metrics, such as number of users and courses, training time, number of logins (daily, weekly, total), number of active users, and completed courses.
A searchable list of all users
An overview of key metrics for each user
Stay tuned for more admin functionality in future updates.
Learner experience
For learners, you'll find a few new improvements.
They'll be able to resume each course from where they left off. A nifty Resume button will take them directly to the unit they were viewing the last time they were in a specific course.
Learners can now complete courses offline based on specific course rules you've set.
Learners can now request a new password through the login screen.
Better support for SCORM.
As always, we've improved UI, stability, and performance.

Say hello to TalentLibrary™
And finally, the most significant change you'll see in this update is the introduction of TalentLibrary™. TalentLibrary is a growing collection of ready-made courses focused on soft skills. It's available to all TalentLMS customers who upgrade to a requisite plan.
We'll add new courses regularly, giving you the chance to offer your employees more opportunities for growth and development, without needing to create courses from scratch.
For more details on all bug fixes and improvements, please see the official Release Notes.
| Tags: Update