Learners shouldn't have to adjust to training. Training should be geared around the learner. That's how learning becomes meaningful — and memorable. Training, whether it's a single course, a series of webinars, or a fully-fledged learning program, must meet learners' needs.
The TalentLMS 4.6 update, released in March 2021, makes sure that learners enjoy a more flexible and smooth learning experience. And that you have all the tools you need to build and manage that experience.
From more freedom to practice new knowledge to additional customization options, our latest updates will help your teams reinforce learning while being on a distraction-free training platform.
And the best part? You don't have to do anything — you'll automatically see all these updates when you log into TalentLMS.
Let's see what's new:
Learners have the power
Our latest release gives learners even more flexibility so they can schedule and follow their training the way it suits them most.
Set one expiration date for all
Up until now, you could set a time limit based on when a learner started a course. This gave learners flexibility, but added extra admin work for you as you had to cross-check multiple start and end dates.
Enter expiration dates.
Now, you simply make courses available and set an expiration date for each one, i.e. a deadline. All learners must complete their training by that time regardless of when they joined the course. This is especially useful for mandatory or time-sensitive courses (e.g. compliance training that needs to be completed before an audit).
You can rest assured that no one is falling behind, and no one is forced to follow a plan that doesn't fit their schedule. Plus, you'll save a lot of back-and-forth checking multiple deadlines.
Learn more about how you can set a custom course expiration date.
Practice makes learning stick
While tests and assignments prove knowledge, not all of them are made equal. Now, you can add weighted tests and assignments to your courses based on their importance.
For example, an assignment that evaluates necessary skills could have higher weighting compared to another assignment that tests nice-to-have knowledge.
Weighted tests and assignments let you create units with different levels of difficulty, assign credits fairly, and even let learners practice and focus on learning instead of grades.
Learn more about custom weighted tests and assignments.
A pass or fail score might be a good indicator of whether learners have grasped new knowledge, but training shouldn't end there. Along with tests and assignments that have a lower impact on the final grade, now learners can also re-take tests they've passed successfully to improve their scores or practice more to reinforce learning.
And do you want to ask your learners to re-submit a test? You can now do that in just a few clicks. New bulk actions let you reset progress so that learners can take a test again (it could be those who failed or all learners if you want them to practice).
Learn more about how you can reset user progress in tests.
Interactivity for the win
We learn better when we learn with others and from others. So, in this update, we focused on improving the ways learners interact with each other and with their instructors.
ILT sessions made better
As social distancing rules go on, webinars, web conferences, and online workshops allow learners to connect with experts no matter where they are. But ILT sessions don't need to be an extra burden for instructors and learners.
Now, instructors can get more targeted data as our new ILT-specific reports will provide them with all the info they need. Also, they'll be able to add past events into TalentLMS to have complete and more accurate reports of their ILT sessions.
But instructors are not the only ones who are better informed in this update. Now, email notifications to participants include the date, time, time zone, duration, and location of the ILT session. This way, learners have all this information handy without having to log in to the platform.
Lastly, we've made it easier — and faster — for instructors to communicate with learners en masse with a single message.
Learn more about how to message ILT session participants.
Sorting out discussions
Discussions are a great way for learners to ask their instructor a question or connect with fellow learners. And it's even greater when they can block out any "noise" and only focus on topics they're interested in.
Our latest update allows learners to:
Subscribe to discussions and get email notifications for specific threads.
Sort topics they follow in multiple ways, including by most recently commented and alphabetically.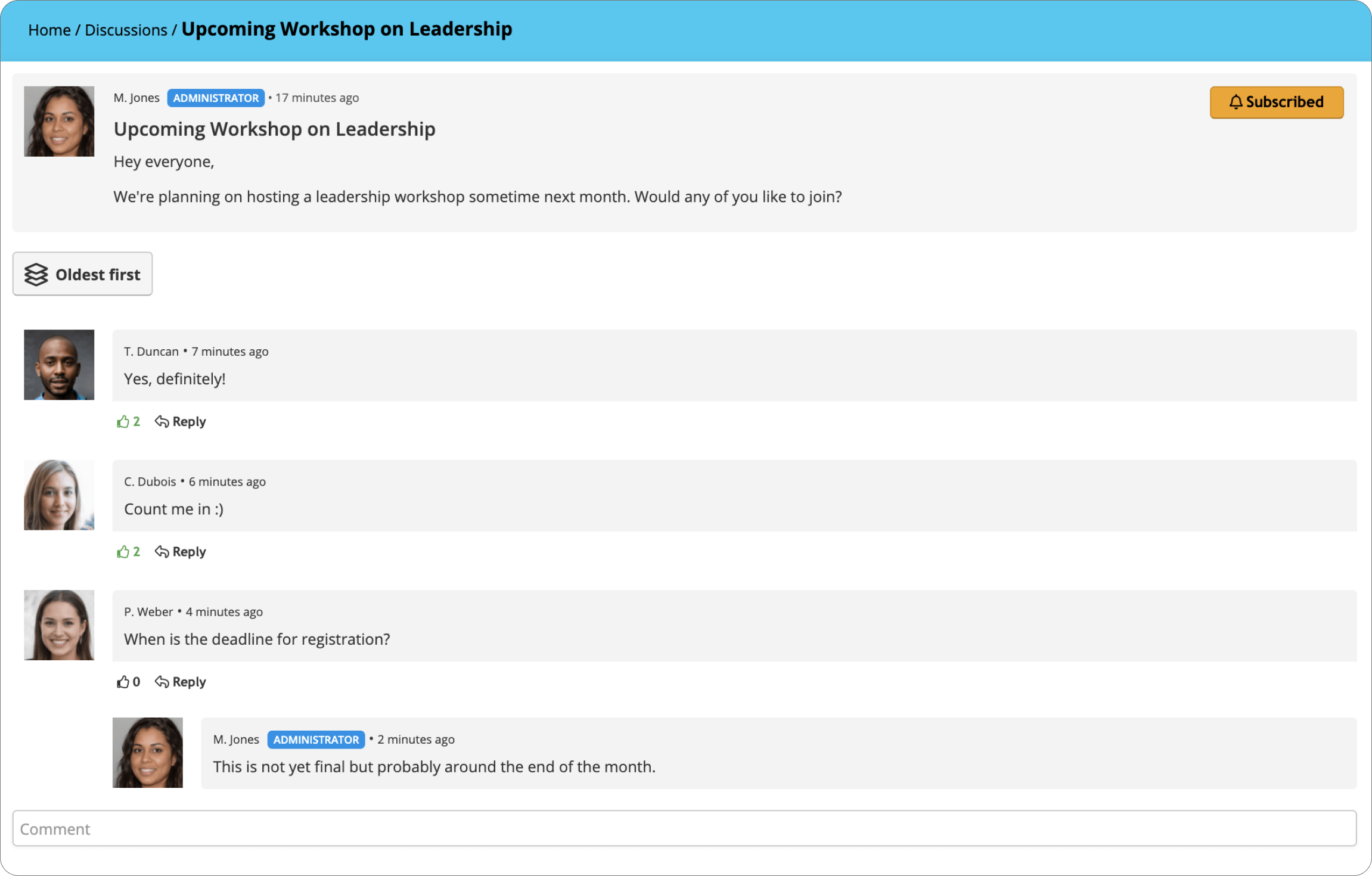 On their end, instructors can now view labels in discussions so they instantly know which course, group, or branch each topic belongs to.
Learn more about how to work with discussions.
---
New courses just launched in TalentLibrary™
Compliance, Data Analysis, Entrepreneurship, Project Management, Work Ethic, and more


---
Notifications on autopilot
Reminders are great time-savers, unless… they take you forever to set them. Here are our new "set-and-forget" notifications and reminders:
Repetitive course completion notifications
Do you want to make sure your learners never miss a deadline? Then, one reminder might not be enough. By setting the notification "X hours after course acquisition" to recur you can automatically remind learners they need to complete a course. Customize it by selecting a time interval (by days or weeks) and how many times you'd like the notification to repeat. For example, I'd like my learners to be reminded of this course every 4 days for a total of 10 times.
Learn more about how you can set repetitive course completion reminders.
Multiple reminders for multiple sessions
Your ILT units may not be a one-off event. For example, you might need to break down one webinar into multiple sessions. In this case, you probably want your learners to get a reminder before each session, and not just on the first one of the webinar. Now, you can. The event notification "X hours before an ILT session starts" can be triggered and sent for each one of your multiple sessions.
Learn more about ILT-triggered notifications. 
It all starts at the homepage
The homepage of your training portal is the first thing that learners see. We recently redesigned the custom homepage and in this update, we've added more options for you to make your portal shine.
Call to action
You can now add a button as a call to action to any of your text and media, or banner sections. You could, for example, promote an upcoming webinar and invite learners to register.
Smoother navigation
We've made improvements to the user interface to make sure that learners keep their focus on what matters; training.
Learn more about the new homepage feature additions.
TalentLMS + Azure AD = A perfectly synced match
Managing different accounts and transferring data from one system to another can get challenging. But it's often necessary. With our latest update, we've made things easier for those using Azure AD. You can now automatically sync user data between Azure AD and TalentLMS.
More specifically:
When you create new users in Azure AD, they'll be automatically added to TalentLMS, as well.
Any updates you make to user profiles through Azure AD are synced to TalentLMS.
When you deactivate a user or revoke their access to the application through Azure AD, they'll get deactivated from TalentLMS, too.
Learn more about automatic user provisioning with Azure AD.
Bonus: Integration, UI, and infrastructure improvements
Even small enhancements can make a big difference. That's why we keep working to improve our platform so that you and your learners enjoy the best possible learning experience.
For more details on all new features, bug fixes, and improvements, please see the official Release Notes.
| Tags: Update