Fall is a little misunderstood. While summer might be more fun and winter might be more majestic, this little season still has a lot of things going for it.
Those autumnal colors on the trees. Halloween. Thanksgiving. Black Friday. And –my favorite– enjoying a cup of hot beverage at home while checking out the goodies brought to you by the latest TalentLMS update.
So fill your cup of hot chocolate, and let's have a look…
Bring your own Videoconference
TalentLMS already offers an integrated, free videoconference solution that covers most common use cases (and is absent in most other LMSs).
Handy as it is, however, it's still a basic affair that might not cover the needs of larger or more specialized deployments. That's why, starting from this release, we are letting you integrate third-party videoconference options such as GotoMeeting /GotoConference or your own BigBlueButton based solution.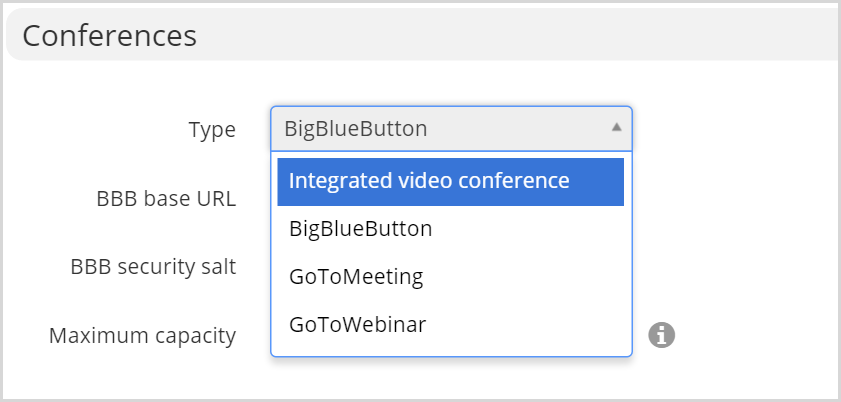 This update also brings a, much requested, indication of the users that have joined a videoconference, which makes it easier than ever to track the attendance of your conference sessions.
Custom pages after login
To help you brand your learning portal to the web at large, TalentLMS allowed you to create a custom intro page ("custom homepage").
This release expands on that feature by letting you build pages meant for your logged-in students. This gives you the ability to include any custom content you want alongside TalentLMS' UI pages and your courses.

Portrait Certifications
A small but oft-requested feature: you can now create certificates with portrait orientation alongside the regular landscape ones.
For your convenience, we've even made the whole process automatic; as long as your certificate's background image has a longer height than width, "portrait" mode will be enabled by default.
Improved Search
Search has also been revamped in this release, and is now offering additional handy information alongside your results.
We also snuck in an always available search option for the instructor's interface, allowing instructors to jump from course to course from any point within TalentLMS' UI.
Extended course completion rules
As with several other features in this release, this one comes as a response to a common user request for optional course units.
TalentLMS now allows you to use a collection (subset) of units as your course completion condition — thus rendering the rest of a course's units optional.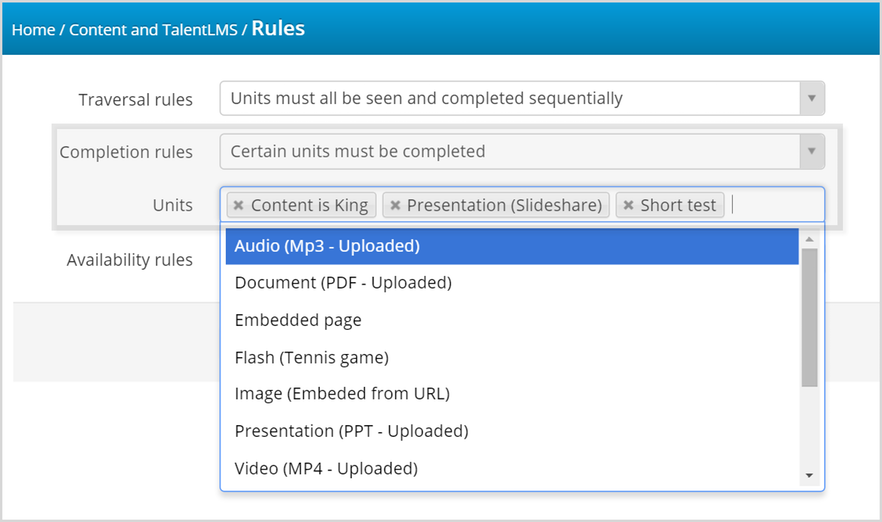 Attach files to user profiles via Groups or Branches
In our previous update we introduced the ability to attach files to user profiles.
In this one, and in the same manner, you can also attach files to Groups and Branches, and have them available for all users of the respective group or branch. It's a handy feature for stuff like notices, guidelines, forms to be printed out and mailed back, etc.
Login as another user
As an administrator you will often be asked to help students performing certain tasks or debugging some issues with the TalentLMS UI — for which it would be helpful to be able to see a user's homepage exactly as they see it.
Where other LMS platforms have you mess with screen-sharing for this purpose, the new version of TalentLMS lets you login to any user account from within your administrative interface.
Switch to another branch. Easily.
Branches ended up as a very popular feature of TalentLMS, and in this release we've paid special attention to them, adding a number of usability improvements and new options (like the aforementioned ability to attach files to all users of a branch).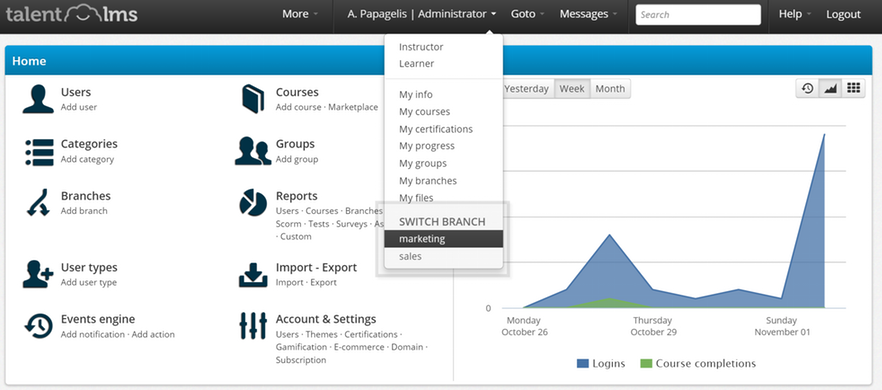 For users that are members of multiple branches, getting from branch to branch used to be a chore. Not anymore. We've made it easy to jump between all the branches that you belong to. And if you try to login from a branch you're not allowed to, the system will give you the rundown of the branches you can actually use.
Default course view mode
Are you a grid or a list person?
Whatever you are, as a TalentLMS instructor you now have the option to impose your preference upon all your new learners.
As a super-admin, move to Learner mode and select either Grid or List course-view mode, and it will be set as the default course view mode for all new users.
UX enhancements
In previous versions of TalentLMS there were two ways to access user info, the user's profile page and the user's progress report page.
In our quest to make TalentLMS ever easier to use, we've combined these two overlapping features, letting you access all user related information from their Progress report page — a one-stop-shop for user info, as our marketing department calls it.
We also redesigned the introductory course to make it more informative and more appealing. Give it a try, even if you've gone through the old one.
Mobile app beta program
Last but not least, we are soon launching a beta program for TalentLMS' mobile app.
The app, initially targeting iOS devices, has been in development for several months and is finally mature enough to undergo real world testing.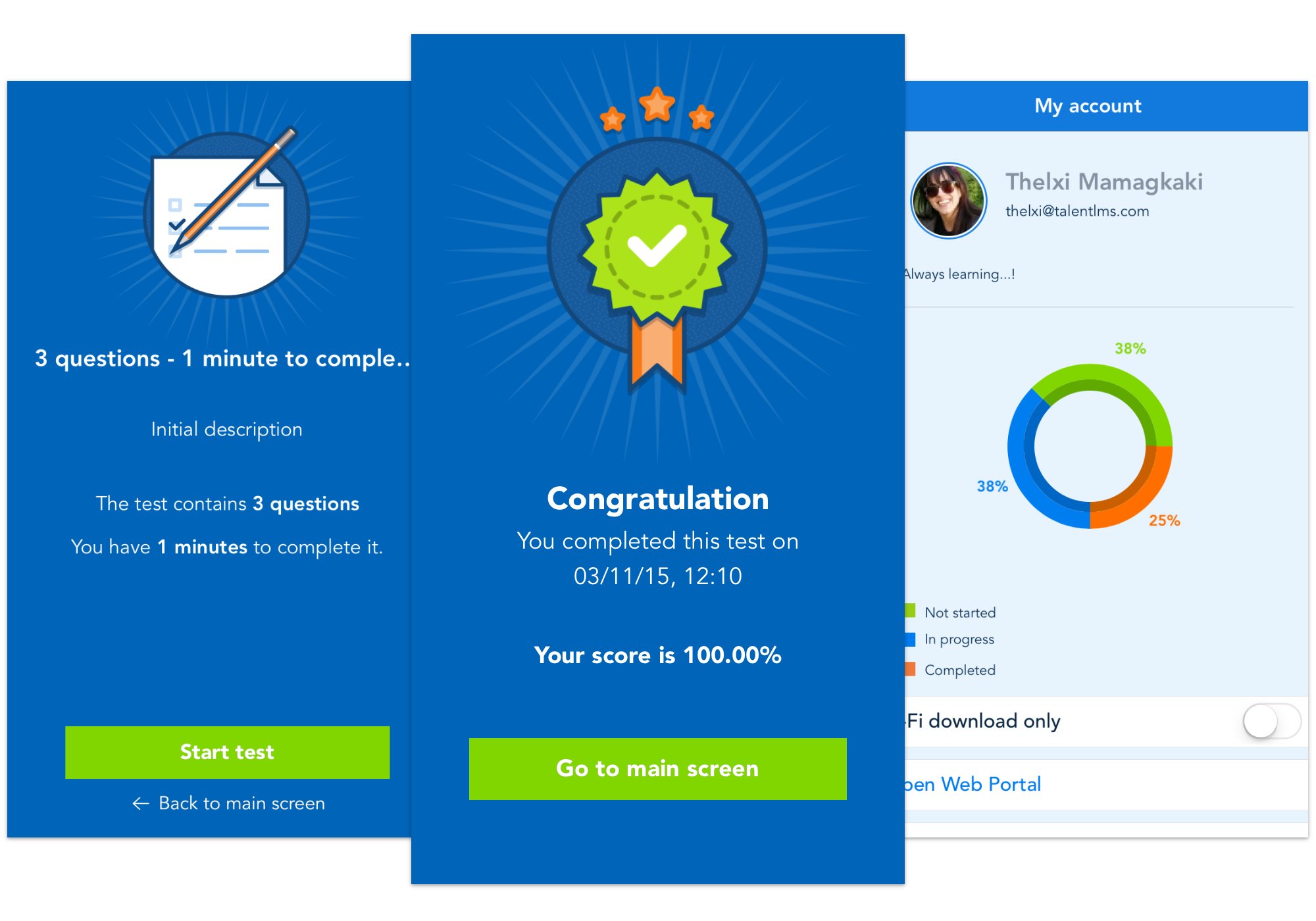 Anyone wishing to participate in the beta process can send us an email to iosbeta@talentlms.com. We'll be revealing a whole lot more information about the TalentLMS app in the upcoming months, from its design and functionality to the ways we think it will enhance your training, so stay tuned!
No installation needed
Phew. Merely reading about all these exciting new features should keep you entertained for a couple of autumn evenings or more. But even better, thanks to this "Cloud" thing, all are available immediately — no installation or configuration required.
Enjoy the new release, have a happy Halloween (or whatever holiday is available where you live), and let us know if there's something that you want to see next in TalentLMS.
| Tags: Update