In a world chock-full of choices, with information bombarding our senses from every direction, it's almost revolutionary to keep things simple.
This is the core principle of TalentLMS. We keep things simple so you can get work done.
In this update, we're unveiling a subtle fresh look, several new features, and one 'yes-finally!' integration that will help you get your work done. Simply.
Here's what's new in TalentLMS 4.0:
Clear and crisp UI for better user experience
User interface (UI) is more than pretty icons. It's about how simple it is to navigate and use a platform. And while TalentLMS is already remarkably easy, we've heard from customers that they'd like to see a more modern and friendly UI.
In this release, we gave TalentLMS a good polish. If it feels like we've reached out and cleaned your screen for you, our job is done.
Icons are clearer. The login screen is tidier. And the course catalog is crisper. You'll also notice some subtle improvements in menus across the platform.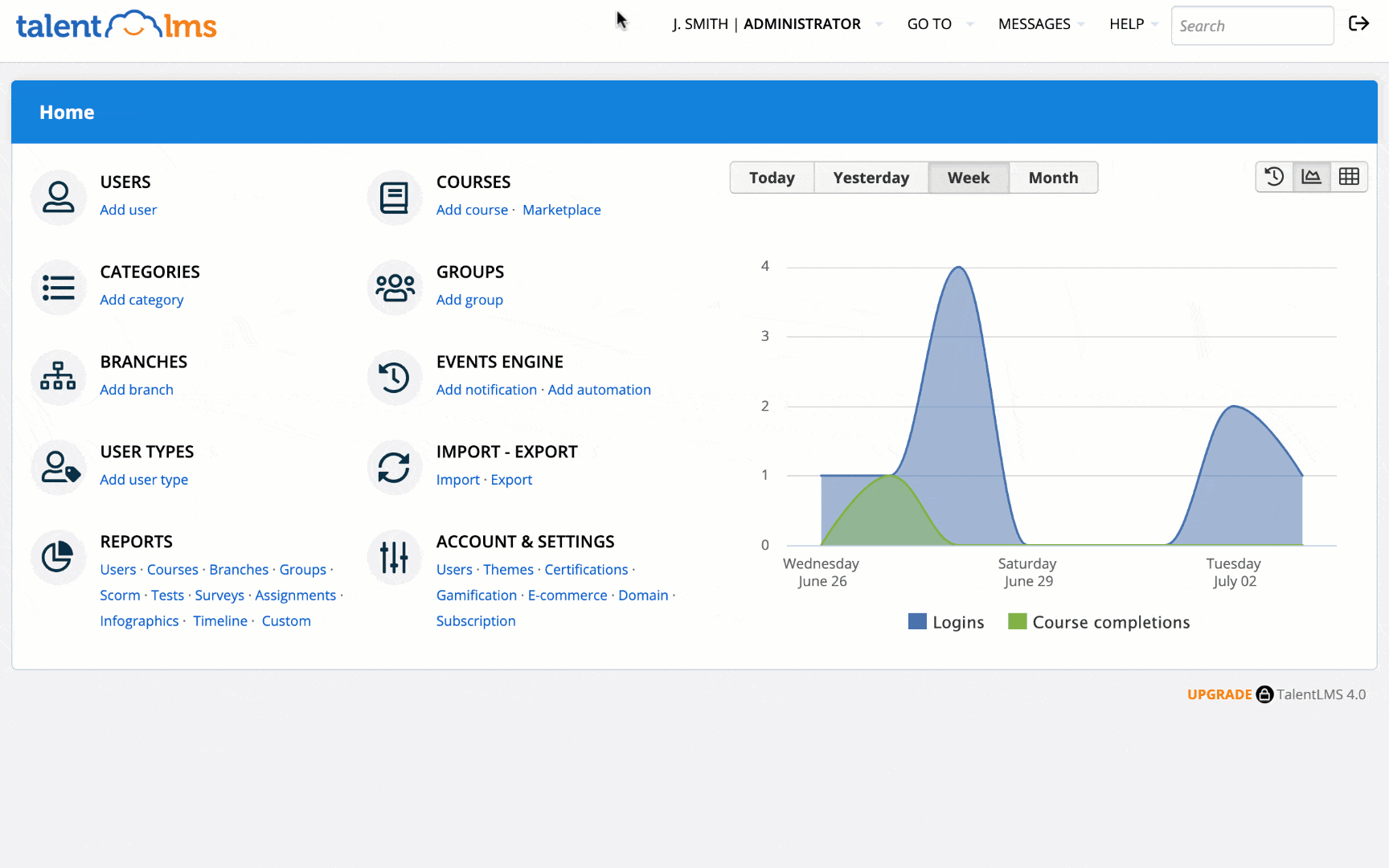 On pages where we use "tables" (i.e., User, Course, Reports) we hid the icons and they only appear when you hover over them.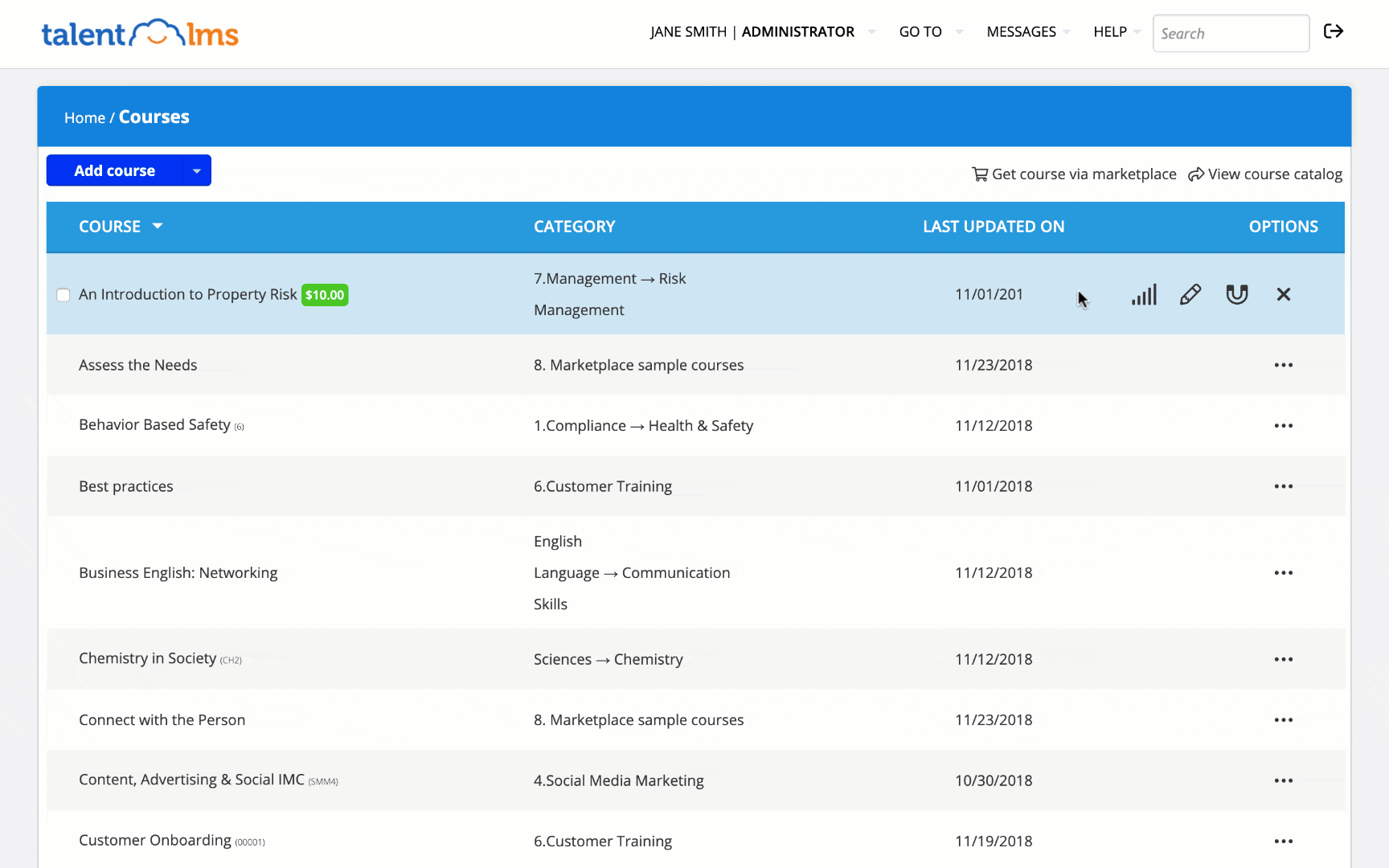 All of these changes are part of our ongoing project to improve both UI and UX, so TalentLMS is the simplest LMS out there.
We want administrators to get in, do the work, and get out — without frustration. And we want the platform to almost feel invisible to your learners and end users.
Look out for more improvements as we go on.
Streamline tasks with the BambooHR & TalentLMS integration
It's official. You can now connect your HR tool to your training tool.
We chose BambooHR, because it's an excellent platform for corralling employee information in one central place.
But you still need to connect it to your LMS.
Now, with this integration, you can connect the two and reduce double screens and, more importantly, double work.
Even better? Like all our integrations, it's free – regardless of your plan.
What does the integration do?
It lets you add all your employees from BambooHR into your TalentLMS portal easily. So, when a new employee joins your company and you add them to BambooHR, they'll automatically be added to TalentLMS and can begin taking their onboarding courses.
And you can also track training from inside BambooHR. This is especially helpful for company-wide training, like compliance. With this integration, managers will be able to log in to BambooHR and track who on their team has completed training and who needs an extra nudge.
See how to integrate TalentLMS with BambooHR here.
Get help when you need it with live chat
Note: This is an exclusive feature for customers who purchase or upgrade to a new Premium plan. On a custom Premium plan and interested in live chat? Contact your Customer Success manager for more information.
As many of you have told us in interviews and reviews, our email support is as amazing as in-person help. But many customers still want a way to get help at the moment they need it.
Sounds like a job for live chat support! Yes, in this release, we're launching live chat. You'll find it embedded in the Mega Help Menu, where you can talk to our support team in real time and get answers to your questions in seconds, not minutes.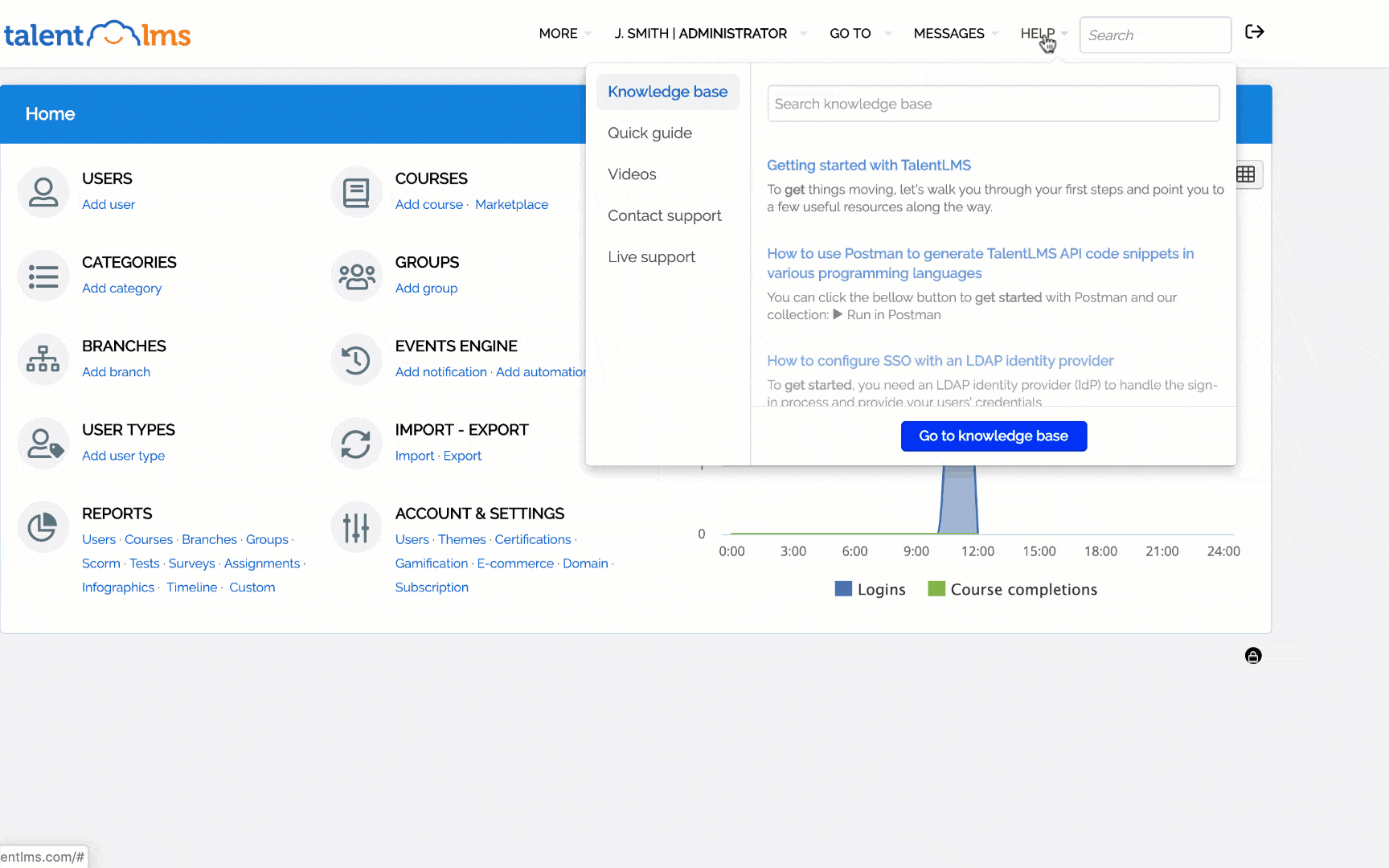 Course & user management
Let's look at a few new features we added to make course and user management even more powerfully simple.
Get learners in the mood with a preview video
Course descriptions are helpful. They prepare your learners for the course they're about to take and give them just enough information to pique their interest.
Now, you have the option to add a preview video.
Think of it as a teaser of your training. (But with fewer explosions!) Your learners will be able to see the preview video directly from the course catalog and get excited!
See how to upload a video as a course preview here.
Reset or complete individual units
Up to now, an administrator and instructor could manually complete or reset a full course for a user.
This helps you when you'd like a learner to retake a complete course, but what happens when you just want them to retake one unit?
You can now manually complete or reset a unit, which gives you much more flexibility on how you manage your users and your courses.
Learn how to reset or complete individual units.
Give users the option to speed up
We built TalentLMS so that you can use as many types of content as possible. So, we're always working on ways to make this content variety feel seamless. To that end, we've added playback speed options to uploaded videos. Now your users will be able to adjust their preferred speed setting, just like they do on YouTube and Vimeo videos. See? Consistency.
See how to activate the playback speed handler for your videos here.
User management
Up till now, when you wanted to control who could register on your portal (or a branch of your portal), you had the option to allow registration to specific email domains only. (Very useful when you only want users signing up using your company domain.)
Now you also have the option to prevent registration on a portal (or branch) for users with email accounts related to specific domains. This can prevent users from registering with email domains like yahoo.com, etc.
See how to prevent registrations from specific email domains here.
Custom fields, reworked
For customers who use a significant number of custom fields, good news! We've redesigned the way we handle these internally. Long (and very technical) story short, you'll now see significant speed improvements.
What's new in the mobile app?
With more and more demand for training on the go, we continue packing the TalentLMS mobile app with more features and functionality.
On-the-go discussions
Just like the desktop version, users now have access to Discussions on mobile. This means they can jump in a conversation, share feedback, and exchange ideas from their mobile devices.
Assessment engine additions
In this release, we've made some improvements to the Assessment engine. Users now have the ability to get feedback on certain question types. If you've created a question to shuffle answers, or if you've randomized the order, it will now work on mobile, too.
Video
Android users will be pleased to learn that the native Vimeo player is now live. In addition, all mobile users will be able to view private Vimeo videos.
Try TalentLMS 4.0 now
And there you have it. That's just some of the new features you'll find in TalentLMS 4.0. As usual, we also made many more improvements, fixed bugs and continue working to give you the best and simplest tool for your training.
You can check the full list of improvements in our Release Notes.
| Tags: Update