The whole world has returned to school now. Families have fiiinally nailed their morning routine. And you? You're hustling to get your best work done before the end of the year. The Fall 2018 TalentLMS Update is going to help you do exactly that.
Let's open the box and have a look inside.
Custom Infographics
You are probably already familiar with TalentLMS' built-in Infographics that show statistics about your training portal and learners. They are a handy way to get the "big picture" of your training program but are limited to a small set of data that has been pre-selected by our developers.
This release allows TalentLMS administrators to build stunning visual dashboards by combining virtually any data available in the system.
As an administrator, you can create a new infographic from scratch or clone and edit an existing one (a handy option for making multiple variations of a core design).
TalentLMS then lets you configure the scope of your Infographic (whether it would display data about the overall system, or a specific Branch or Group), and set its title, color theme, and banner artwork.
With those basics configured, you can start building your Infographic by adding different data sections. These contain the actual information, and you get to define their type, choice of elements, color theme, plot style, and so on, and order them in any way you like.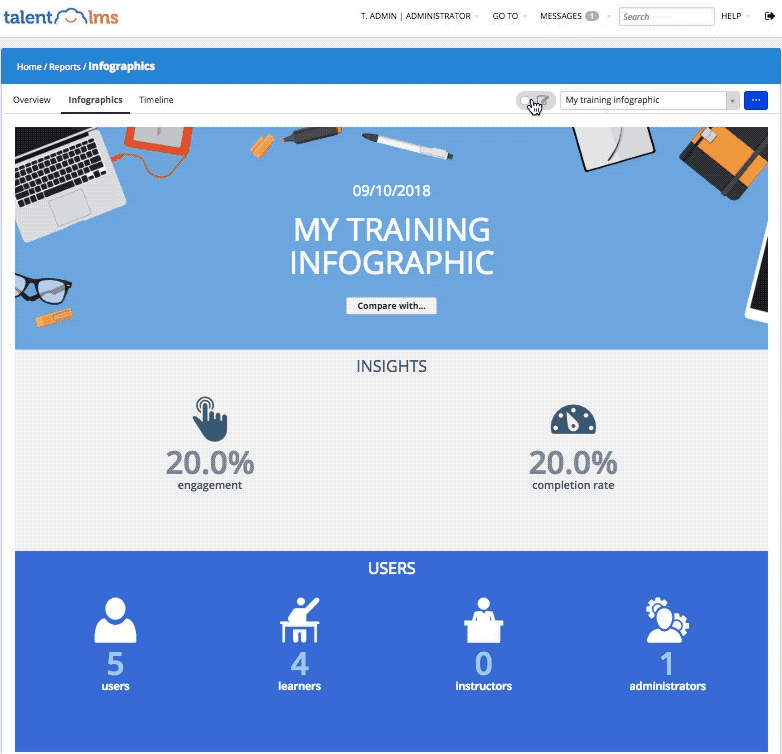 When done, you can save your new Infographic, export it as an image, or set it as the default dashboard.
Custom Infographics are an excellent way for eLearning administrators to have all the information that's important to them available at a glance. It's also handy for giving corporate executives a high-level view of the training program progress.
Learn how to create your own infographics here.
Video and Audio capture directly from the browser
TalentLMS leverages the (finally mature) Web Media APIs and allows you to create new content by capturing video or audio directly from your browser.
Learners can also take advantage of the new feature to complete assignments by providing their own video or audio responses. This ability is great for sales and customer support training (where, e.g., instructors can ask trainees to record a sales pitch demo as an assignment).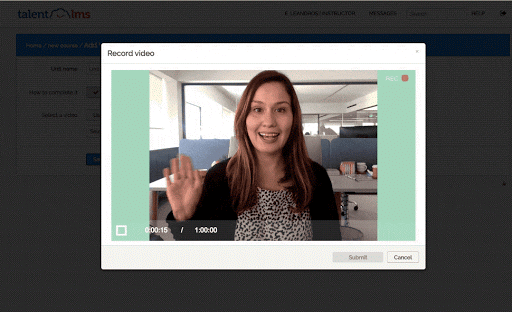 What's best, using this feature doesn't require a special video or audio application. Your browser plus a laptop webcam (or external web camera) is all that you need.
Read more on how to create content by capturing video or audio from your browser here.
Flexible course scoring
Course scoring also got a fair share of improvements in this update.
Up to now, a course's score was calculated based on the average of all completed tests and assignments.
From this release onwards, TalentLMS will allow instructors to select which tests and assignments it should use for its score calculation.  The new feature is great for adding optional and supplementary tests and assignments to your courses. Then, the instructor decides which of these will count towards the learner's final score. And if you only want to take tests into consideration (and not assignments), that's available as a new option as well.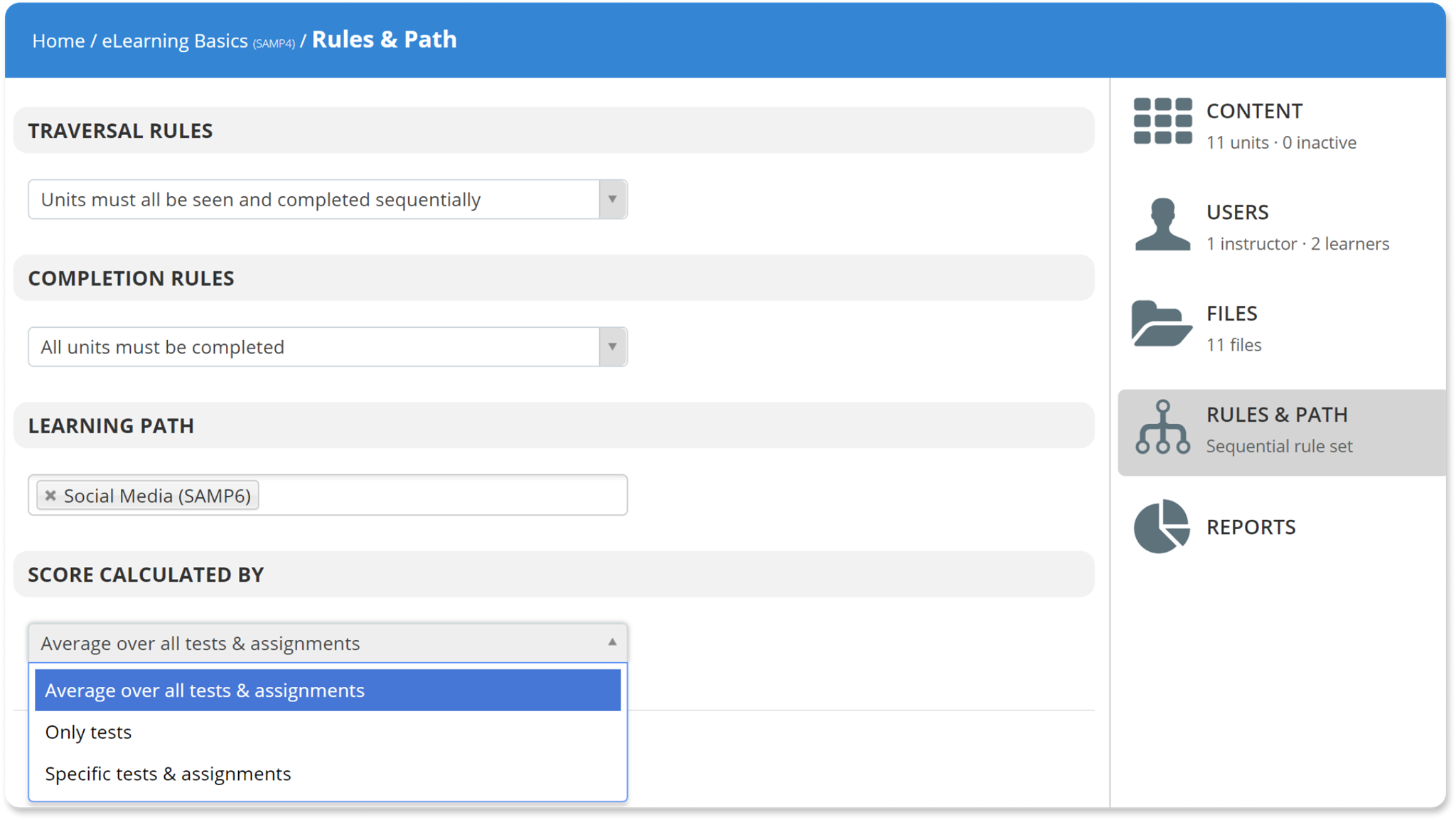 In this release, we have also revamped the learner progress screens which now serve as a mini-gradebook, giving insight on the learner's course scores.
Discover how you can change the score-calculating method for a specific course here.
Gamification badges
Continuing on the general theme of this release, which can be summed up as "even more customization options", TalentLMS now includes two additional sets of badges to help you spice up your gamification environment.
What's more, you can now configure a different set of badges per Branch to further distinguish your branches depending on their audience and intended role.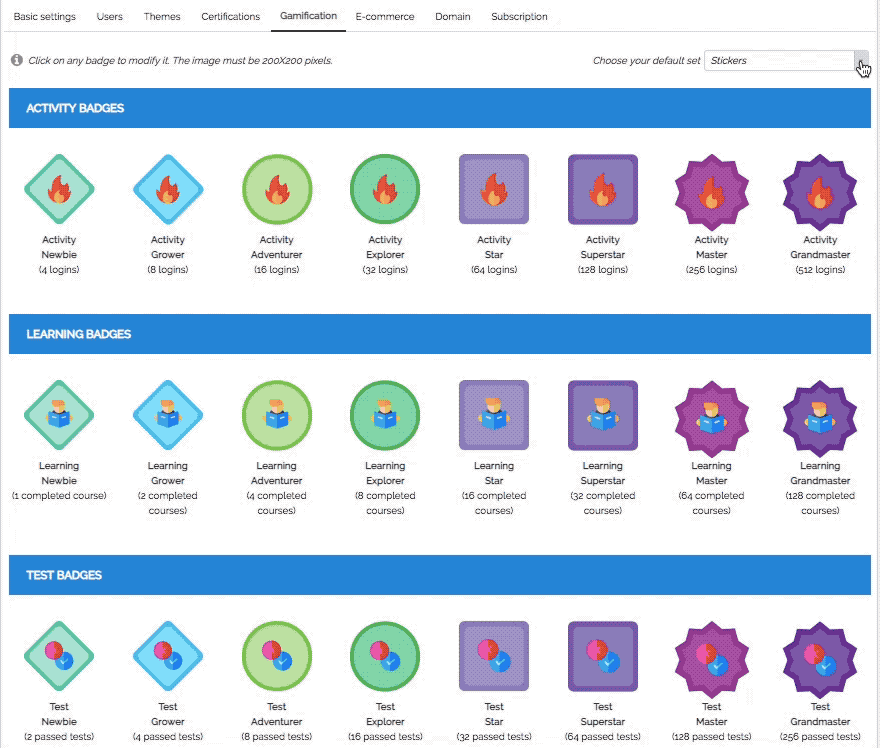 Learn how to change the default badge set of a Branch here.
Customizable core system emails
Several customers have asked for the ability to customize core system emails. If you're one of them, this release will make you happy.
TalentLMS now lets you customize system emails such as password reset and scheduled reports. The new option allows TalentLMS emails to match the tone and language required by your corporate branding and communication guidelines.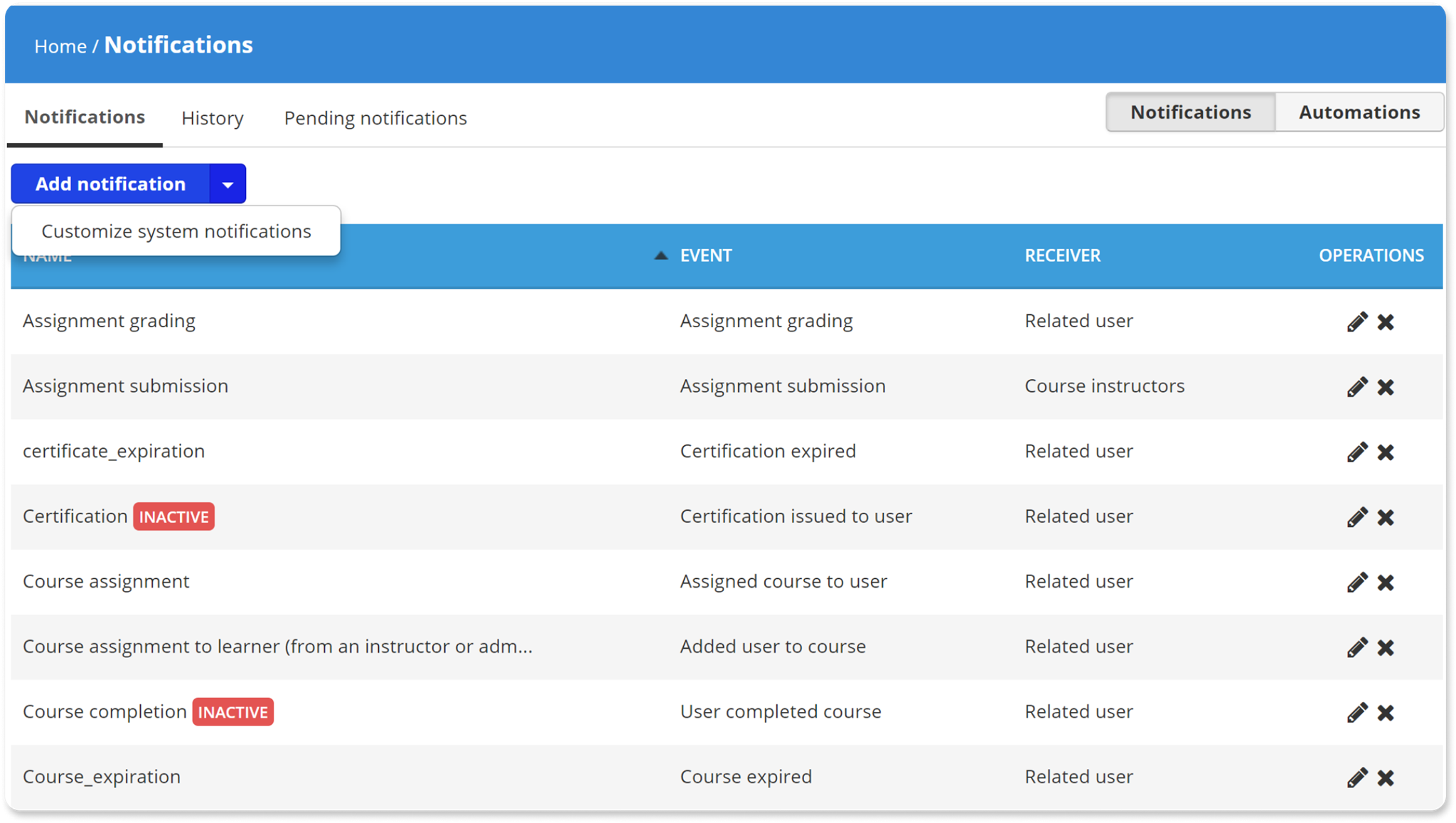 Read more on how you can customize the default system emails here.
Redesigned mobile app
In this version, we've re-built TalentLMS from the ground up based on your feedback.
With earlier versions, we aimed to test the mobile waters and give you access to powerful microlearning on the go. With that accomplished, and with two years of data on how our customers use the app, we returned to the lab and worked on our next-generation mobile codebase. The result is a whole new TalentLMS mobile app built to address the most common customer requests (and pain points) ― and to serve as the basis for future development.
UI-wise this is a brand new app, with a completely revamped user interface, simplified navigation, and a unified look and feel between iOS and Android devices, and between phones and tablets.
At the same time, significant under-the-hood performance improvements make sure the app is now much faster and consumes even less power. This release also brings improved support for offline content and better handling of several question types.
Plus, support for messages and discussions is in beta stage, and will land soon in a next update.
Last, but not least
As of this release, TalentLMS is EU Cloud Code of Conduct certified and Epignosis is a proud member of the EU Cloud COC and early adopters of the Code, with full compliance marks for our Cloud services.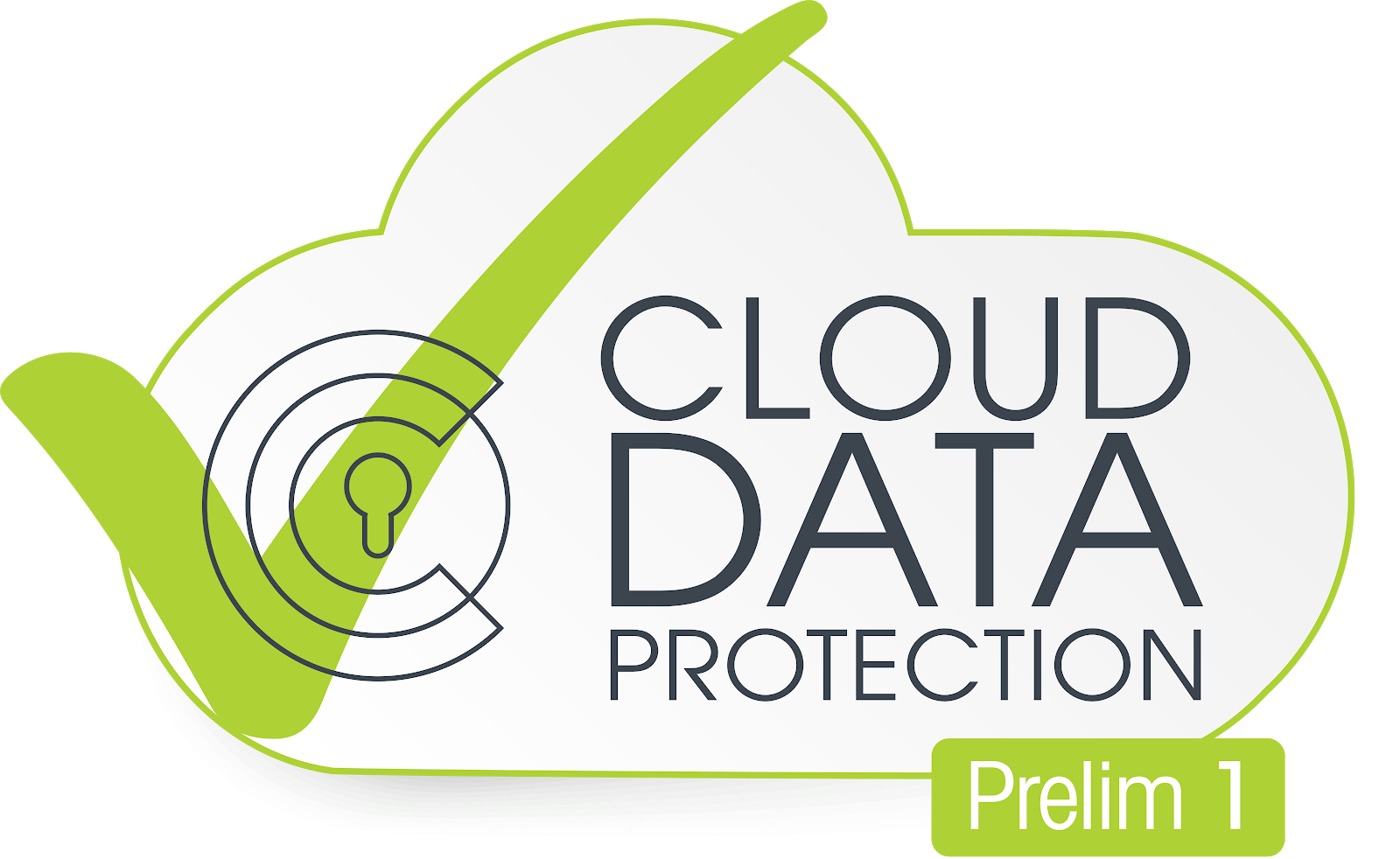 The EU Cloud COC was drafted by EU's Cloud Select Industry Group (C-SIG) under the auspices of the European Commission and DG Connect, and provides a set of requirement and best practice recommendations for Cloud service providers, including a roadmap for compliance to GDPR and to international standards such as ISO 27001 and 27018.
We are committed to continuing protecting your privacy and making TalentLMS the best and most secure corporate and commercial eLearning solution.
For a broader overview of what's new and what's better, check our release notes here.
| Tags: Update