Maybe it's because we wanted to mark TalentLMS 5th anniversary with a really special update. Or maybe it's because our development team has been energized by their summer vacations. Whatever the reason, TalentLMS 3.5 update has just arrived and it's full of great features.
Excited? Let's open the virtual box and see what's included…
1. Credits
With a large enough percentage of TalentLMS customers using the platform for commercial eLearning, we are always looking for ways to strengthen TalentLMS capabilities in that area.
Our big new feature for commercial eLearning in version 3.5 is Credits — a virtual currency that end-users can use for buying courses.
Similar to "gift cards", "store credit", "virtual coins" and the like, that various online properties issue, Credits offer an increased level of flexibility to the monetization of your courses.
As an example, consider the case where you strike a deal with a company to have its employees consume your courses in an á la carte fashion. Using Credits you can get paid directly from the company, and assign the corresponding credits to the company's employees to spend on the courses they want without having to use a credit card.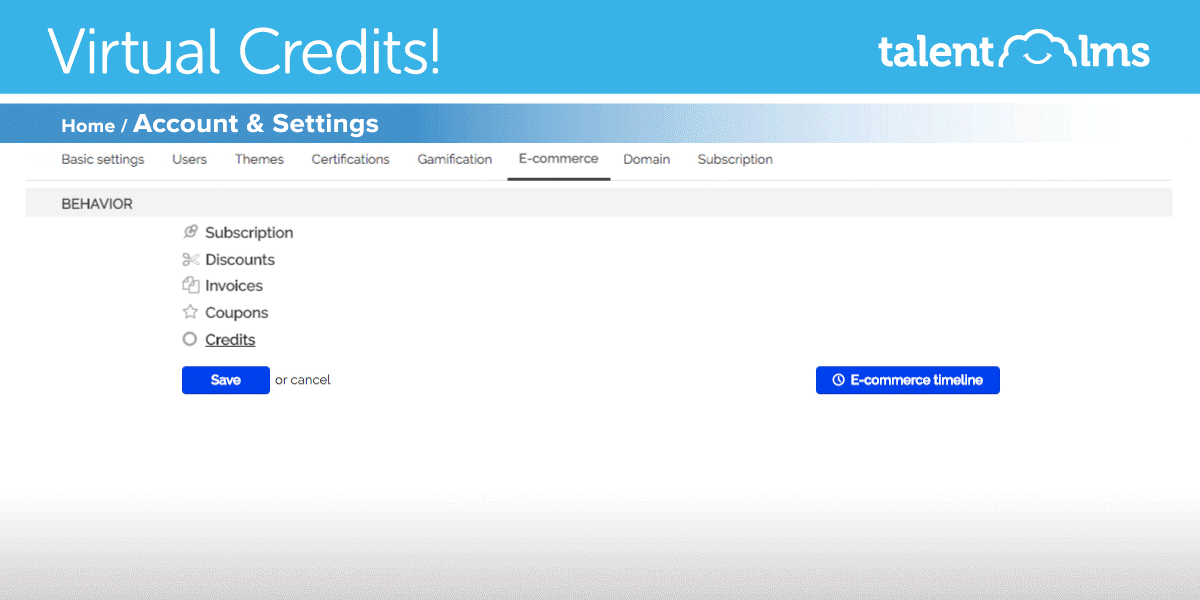 2. Free (and turnkey) SSL with custom domains
While it has always been a breeze to securely access your training portal through a TalentLMS subdomain (e.g. https://mysite.talentlms.com), using TalentLMS through a custom SSL-secured domain was a little more involved than it should have been.
You had to buy a certificate yourself and have our support team install it for you ― a costly and cumbersome process that had to be repeated every year or so when the certificate expired.
With SSL becoming increasingly essential for modern websites, the ability to seamlessly use TalentLMS with a secure custom domain has been requested by commercial eLearning sites, white-labelers, and businesses alike — and it's finally here.
Starting from version 3.5, TalentLMS comes with free SSL for your custom domains for everybody on a Plus plan and above.
Behind the scenes, we leverage the excellent letsencrypt.com certificate service, to create, update and manage SSL certificates for your eLearning portals on the fly.
3. Scheduled Reports Manager
TalentLMS Scheduled Reports offer an excellent way to have a regular overview of your employee training or commercial learning activity in your mailbox and to keep your instructors, boss, and other stakeholders in the loop.
To make their management easier, especially when you have lots of them, the new TalentLMS version introduces a convenient overview of all your scheduled reports.
4. Support for OpenID Connect
Along with revamped support for custom SSL domains, the new TalentLMS includes support for OpenID Connect, a popular authentication layer on top of the OAuth 2.0 protocol.
Used by industry heavyweights including Microsoft, Google, Salesforce, and IBM, OpenID Connect strengthens TalentLMS enterprise integration options, and can be used to implement several Single Sign-On scenarios, as it allows computing clients to verify the identity of an end-user and to obtain their profile information based on authentication performed by an authorization server in a REST-like manner.
Read more about OpenID Connect on the project's official webpage
5. ILT improvements
Whether you call it Hybrid Learning, Instructor-Led Training, or Blended Learning, TalentLMS has always offered strong support for the merging of online and asynchronous with in-person synchronous training.
The newly arrived TalentLMS 3.5 update adds a few important improvements to the platform's ILT capabilities.
Those include a new and highly improved visualization of the available ILT sessions, the ability to see (and pick) offered ILT sessions from your learner's or instructor's calendar, and a number of ILT related Notification events.

6. A new visual theme
It's not just our developer and services team that has been hard at work.
Our UI/UX team also wanted to create something special for TalentLMS' five-year anniversary. They couldn't settle on what exactly to change though, so they've gone ahead and changed everything.
That's right, this version comes with a whole new user interface theme — and if you're about to comment that it looks exactly like the old theme, that's probably because you aren't seeing it yet.
See, while the new design is the default theme for all newly created TalentLMS portals, we didn't want to switch your current theme (and revert any customizations you might have made) without your explicit consent.
Don't worry, though, it's still there for you, you just have to activate it in the Settings -> Themes -> choose the "Modern" theme.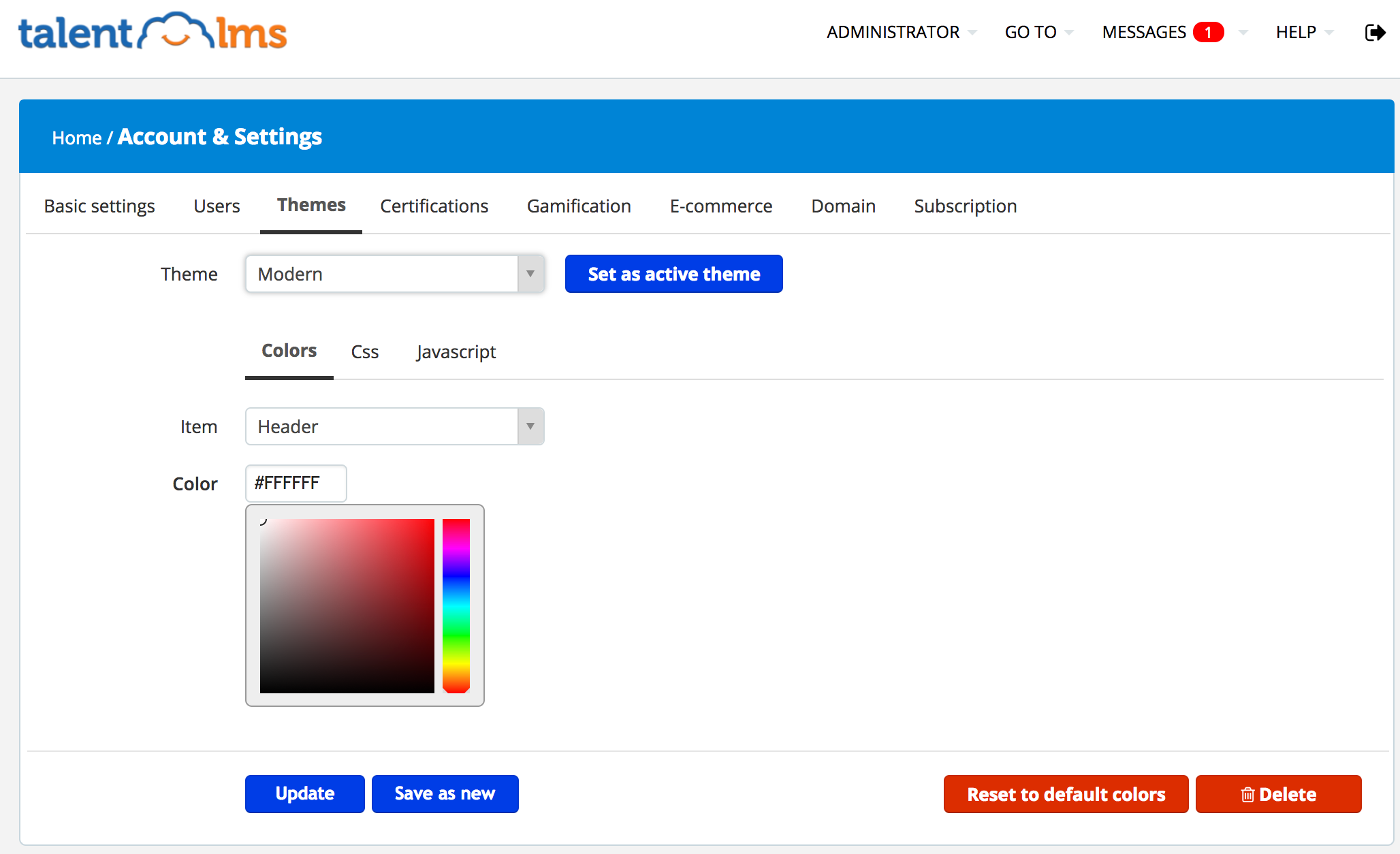 7. Updated video-conferencing
Speaking of ILT, we know that video-conferencing and webinar sessions are a big part of how our customers use blended learning, and besides our continued support for several third-party teleconference options, we have updated the embedded BigBlueButton engine to the latest stable version.
This translates to better streaming performance and increased video and audio quality for your video-conferences.
8. Deactivate a user on a specific date
One such feature that some of our customers have asked us about, is the ability to deactivate a user on a specific date in the future. The new option is available directly from the user profile screen.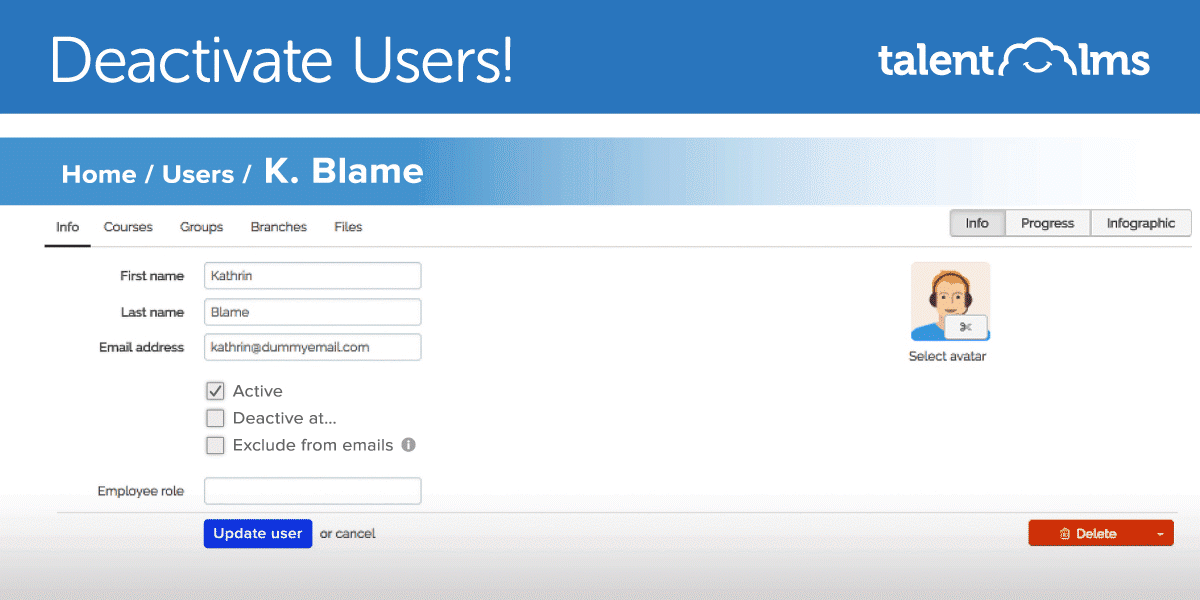 and more…
As always, the new release also comes with the usual assortment of smaller features, workflow enhancements, and platform improvements. For more information on all of these and more detail about the update, please take a look at the release notes!
Conclusion
Those were the 8 flagship new features of the TalentLMS 3.5 update that has just landed on the Cloud.
They are available for everybody to try and use without any installation required (though to take advantage of the custom domain SSL, you will need a Plus plan or above).
Check out our new features, give us your opinion on the changes, and let us know if there's something that you'd like to see in a future TalentLMS update.
Discover all TalentLMS's features today.
| Tags: Update