Conventional wisdom says that late July / August is "slow news season" (that would be "silly season" for people in the UK, and "sommerloch" for our German speaking friends). A period with few newsworthy stories in the media.
Well, I for one, do have some great news for the thousands of TalentLMS users worldwide: our brand new July 2015 release just landed, and it includes a number of important new features.
So, let's open the (virtual) package and have a peek inside!
Events engine
Our headline feature for this release is the brand new Events Engine.
If you're familiar with our existing event-based Notifications system, the new Events Engine supersedes that, giving you the ability to go beyond email notifications and have custom Actions be performed on specific events.
The process of adding a new action will be familiar to anyone who worked with the Notifications system before, as both notifications and actions are based on a simple "if this, then that" logic.
Actions take responding to events beyond the simple sending of emails, to handle all kinds of automation of TalentLMS operations. Actions can also accept additional parameters to further customize their behavior.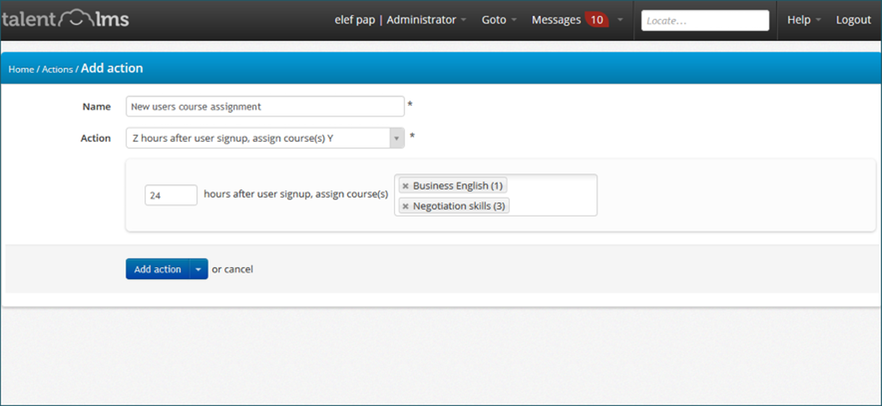 Note that, while all TalentLMS users get to benefit from the revamped Events Engine-based Notications, Actions are only available for users on our Plus plan and above.
Customized Badges
TalentLMS now allows you to replace our existing badges (icons & description) with your own. This opens up new opportunities to customize the gamification experience for your particular organization and its learners.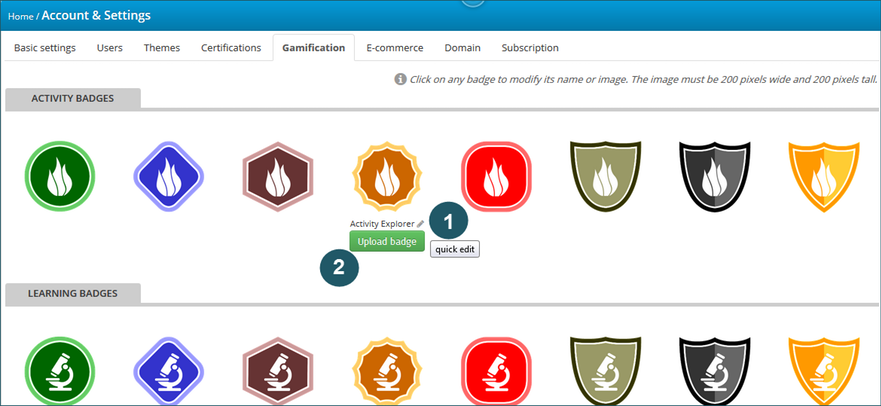 User files
Administrators can now attach files to any user's profile, for easy sharing of files inside the app.
The files can also be set as invisible for the end-user (when used in this way the feature becomes a handy way of storing documents related to a user but not meant for him (e.g. his internal file as student, proof of address scans he has sent, etc).
The new feature is accessible from the new "Files" tab when viewing a user's profile page.
Multi-day sessions
This new release also brings new functionality related to instruction led training (or "hybrid-learning"), namely "Multi-day sessions".
As you've probably already guessed from the name, multi-day sessions enable you to have sessions spanning multiple days, by linking individual sessions together to act as a single session.
Confused? No need to, as using the feature is easier than it sounds. You just create individual sessions like you always do (e.g. "Day 1", "Day 2" and "Test" for a 3-day session), and then link them to each other in the session edit page.
Multi-day sessions are grouped together in the list view under a common multi-session name, with sessions forming a multi-day session sharing the same group of registered users, capacity, and colour.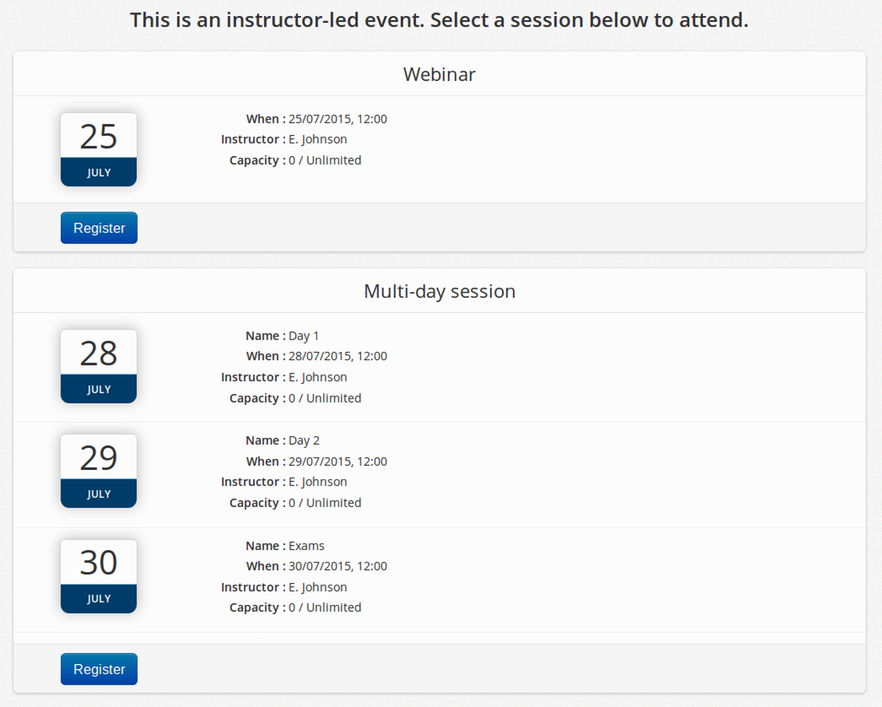 Create units by drag-and-drop
Starting from this update, you can create new TalentLMS units just by dragging and dropping a file from your computer into the content area of a course. TalentLMS will handle the rest.
How's that for convenience?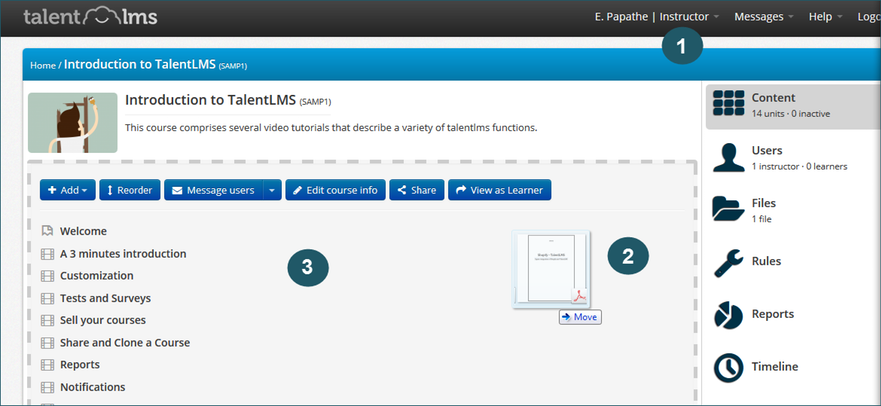 Prevent multiple logins from the same user
There's a new security option to prevent users to login with the same account from different browsers. You can enable it from Security section in the "Account & settings" page.
Besides the increased security this option offers (e.g. for users logging in from a public computer and forgetting to logout), it also puts up a barrier to paying users from sharing their courses with others.
Print test option
If you're not particularly fond of trees, you'll love this new feature: instructors now get to print a test with all of its questions using the "Print" button in the bottom of a test's page.
This is handy for having a print copy of tests to be given online, but especially for xeroxing and handing out physical copies of the test for instructor-led training sessions.
New induction process
Whether you're new to TalentLMS or just want to learn more about its user interface, our new onboarding process will help you get acquainted with the available options in no time. Just click on the flashing circles around the interface to get a quick tour of the various features and usage tips. You can disable or re-enable the feature at any time.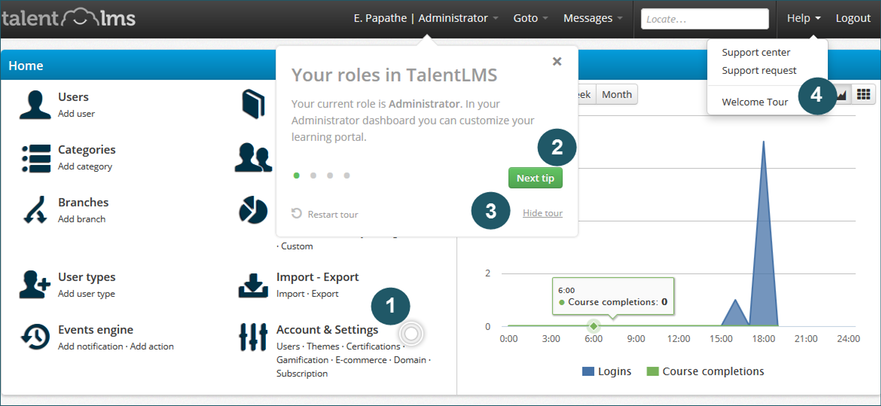 Executive Summary (or "TL;DR;" as the youngters call it)
A new TalentLMS update is out, and with it the usual assortment of new features, enhancements and fixes.
Aside from the brand new Events Engine that takes TalentLMS capabilities up to eleven and sets the stage for future automation goodness, this release offers handy new features and workflow improvements across the board designed to make your job easier and your eLearning business more productive.
So what are you waiting for? Log in to your favourite Cloud LMS and enjoy the smell of new.
| Tags: Update