2017 has been a good year for TalentLMS. And that's putting it mildly. We sustained an over 100% year-over-year growth, we've grown our team, improved on our support KPIs, and we've managed to score a few industry awards in the process.
It's only natural that 2018 is shaping up to be an even better year!
To drive this point home, we have launched a great new update release, with new features and workflow improvements that cover all aspects of the training experience.
Shall we open the virtual box to have a look inside?
SCORM improvements
TalentLMS has always supported SCORM, the industry standard for eLearning content exchange and training activity tracking. However, this support was limited to our web-based learning portal.
This is why we are glad that this release not only extends SCORM support on our mobile apps but also adds a new faster delivery method for SCORM content over CDN.
The latter is being rolled out gradually and is only available to selected customers for the time being. If you want to be part of our early adopters' program, you can contact our support team to activate it for your account.
Mass actions for users and courses
If there are some mass actions that you frequently have the need to perform, having to go through Custom Reports to run them is a bit of a hassle.
With the new release, you get the option to perform mass actions to selected users and courses directly from your main screen. How's that for convenience?


Learn how to perform mass actions on users here and on courses here.
New Notifications
This release also adds a few new notifications, which can be triggered by the following events or conditions:
– On user payment
– On level X reached
– X hours after user signup and the user has not made a purchase
"Just looking" automation trigger
It's not just Mass Actions and Notifications that have been shown some love in this update.
To match the "X hours after user signup and the user has not made a purchase", there's now a brand new Automation option.

You can use this Automation to have TalentLMS deactivate users that haven't made a purchase after a given grace period ― thus preventing the accumulation of inactive user accounts on your portal.
Learn how to deal with users that make no purchase here.
Password protected tests
If you ever needed to protect your tests from your learners, then you will like this particular feature.
While creating a test you can now set a password which users will need to know and enter in order to activate it.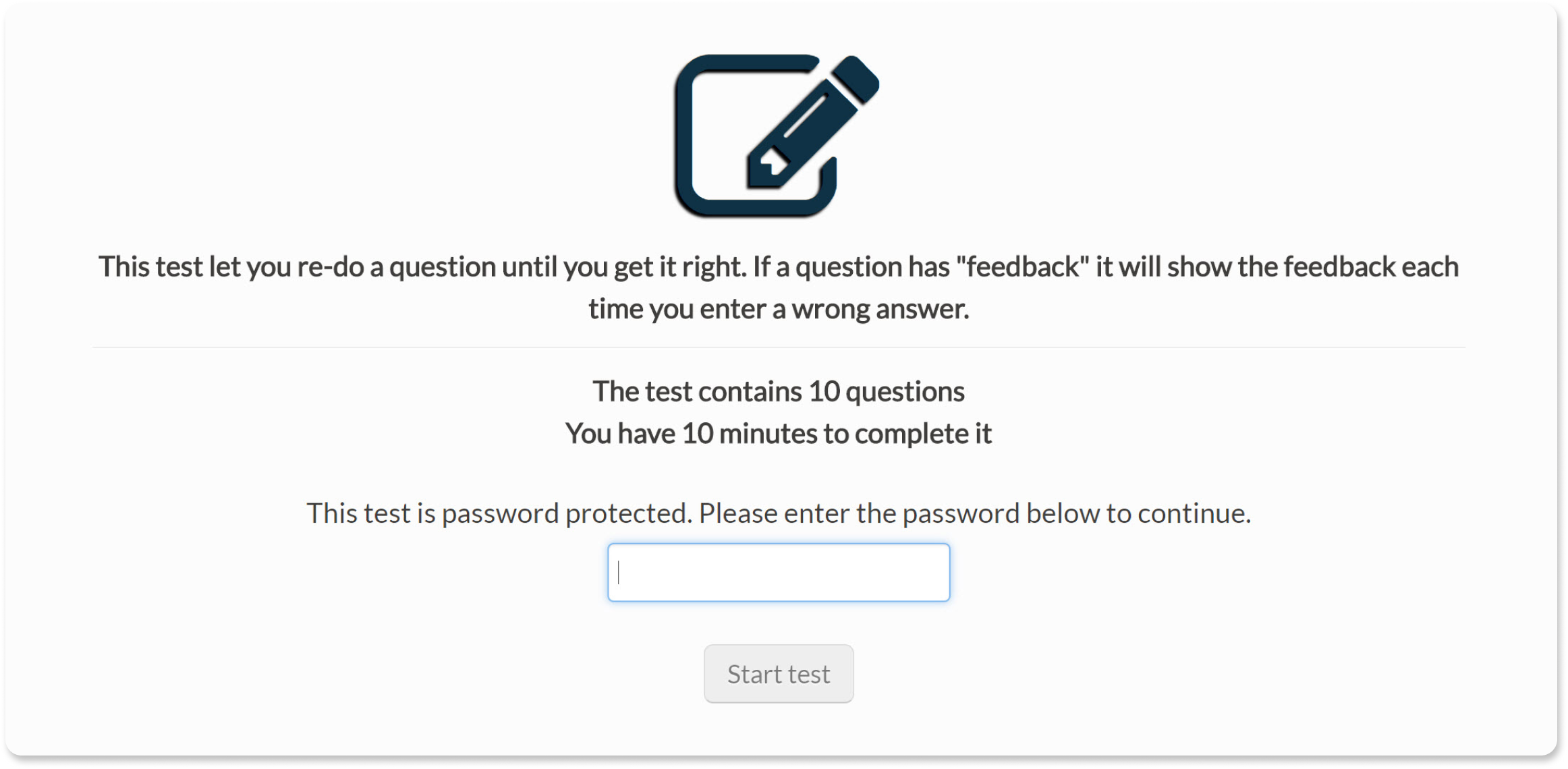 Learn how to set a Test as password-protected here.
Per-Branch ToS
A small change, with huge potential impact, that your lawyers will probably love to have as an option: Terms of Services (ToS) can now be added and customized on a Branch level.
You'll find the relevant option under the "Users" subsection of the Branch settings page.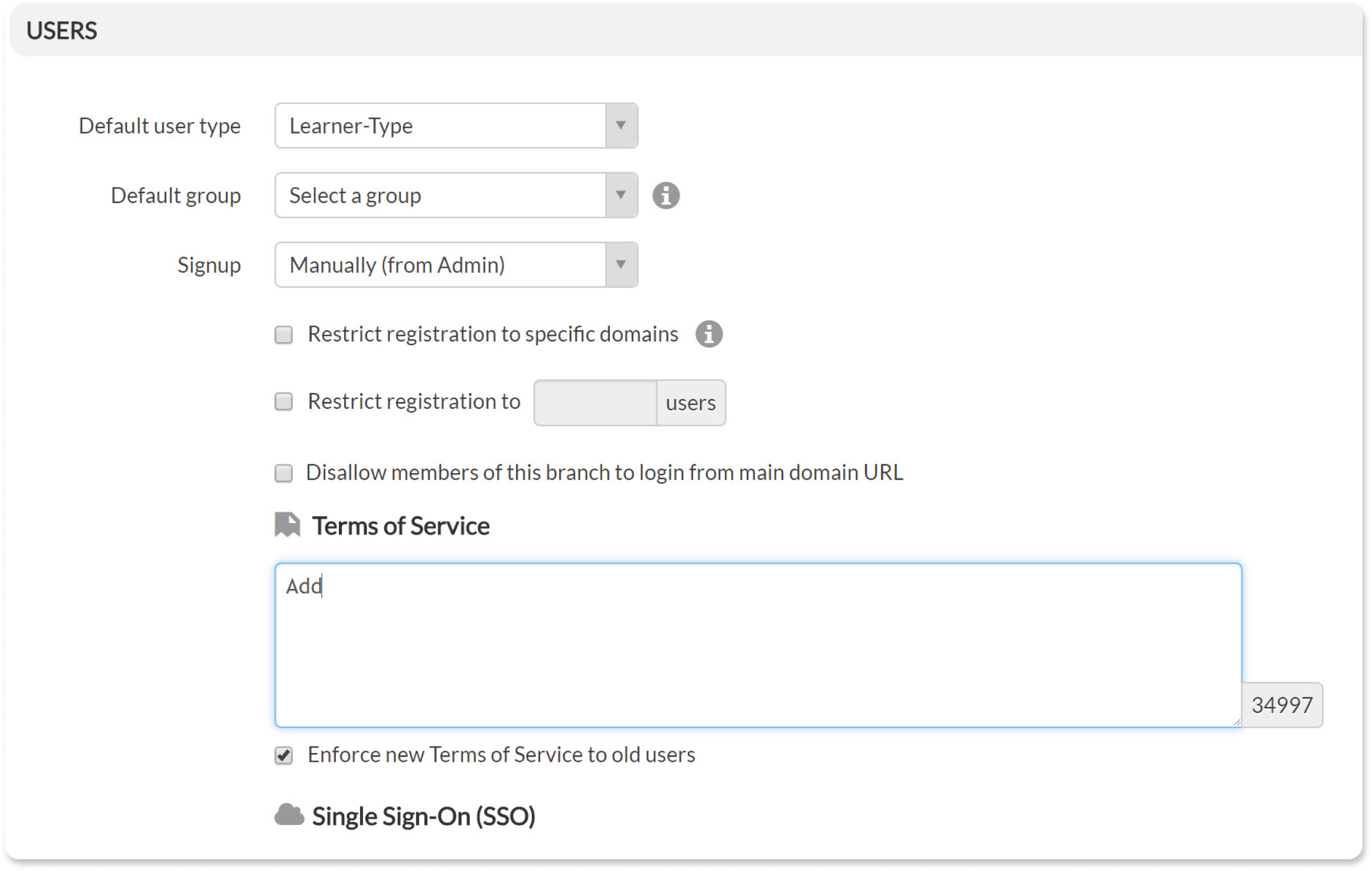 Learn how to add Terms of Service to your portal here.
Extended Gamification options for Custom Reports
Custom Reports have gained a couple of new rules relating to Gamification reporting. Namely, they get the ability to show:
– Users that have at least X points
– Users that have reached level X or higher
Oh, and points earned are now available as an output column in Custom Reports too.
Learn more about how to build Custom Reports here.
Restrict Coupons to selected Groups
The use of discount coupons can now be restricted to certain select groups. You can use this new feature to give special discounts to a specific set of learners, reward loyal users, and so on. Note, to use this make sure you've assigned a price to your group.
Learn more about how to work with Coupons here.
New REST APIs
There are some new REST endpoints available for those of you extending TalentLMS or programmatically integrating it into your enterprise environment. They give you some quite major capabilities, too, as you can now use the REST API to:
– search for and get user information by username
– get a list of grouped timeline entries (get timeline)
– permanently delete a user
Learn more about REST API here.
And a whole lot more…
Besides the aforementioned features, this release brings you the usual assortment of smaller workflow improvements, visual tune-ups, fixes, and behind the scenes work that contribute to make TalentLMS even faster and more reliable with each new version.
And, as always, the new release has been rolled out in the TalentLMS Cloud, so there are no bothersome installation steps before you can use it!
Just log in to your TalentLMS account and start enjoying the new features.
Want to learn more about this update? Take a look at our release notes.
| Tags: Update