Looking for ways to make developing and deploying your training easier? Then, you're in the right place. Because we've just released our 2018 Summer Update. For the uninitiated, we update TalentLMS every quarter and every update comes with new features and workflow improvements.
Let's look at what you'll find when you sign in today.
Dripping content
Until now, if you wanted to gradually introduce new content to a course, you had to manually publish it at the appropriate time. But no more!
From now on, you can use TalentLMS' "Dripping content" feature to do this. It lets you mark content you'd like to be released into a course at regular intervals.
Just add your units as you usually do, and then click the "Delay availability" link that pops up when you hover over a unit's title. From the panel that appears you can set the lesson to "drip" into a course after the desired number of hours or days.
Simple, but incredibly convenient.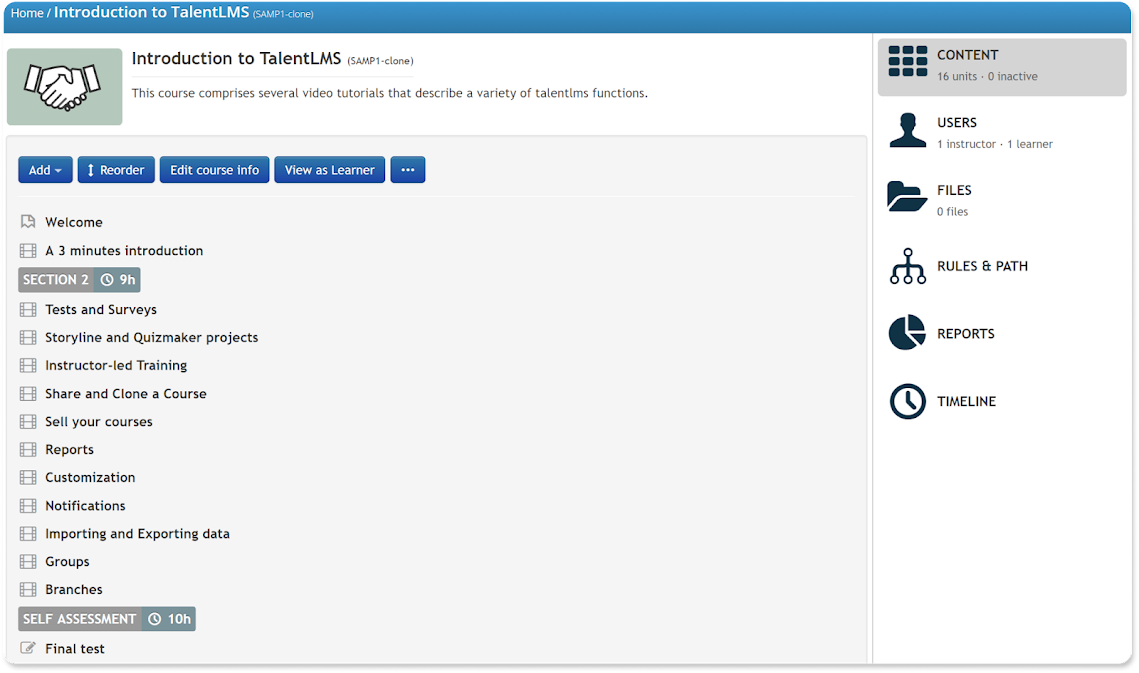 Learn how to drip-feed course content to users here.
cmi5 support
When it comes to eLearning standards, TalentLMS has always been a champion of SCORM and xAPI. Now, we've added the newest industry standard to the list: cmi5.
cmi5 is essentially xAPI but with extra rules. It's a new specification that helps exchange data between an LMS and a third party Learning Record Store. TalentLMS' support for cmi5 means that it will be able to exchange training data with all current and futurecmi5-enabled third-party tools and platforms.
So, if you already have your course in a cmi5 file, you can now just upload it as you would your SCORM/xAPI files.
Read more on how TalentLMS supports cmi5 content in this article.
Microstats
TalentLMS is well known for the comprehensive reporting functionality that it offers to Administrators and Instructors.
Until recently, there wasn't a way for Learners to summarily view basic stats concerning their progress — nor for Admins to get actionable insight about the system without going into detailed reports.
TalentLMS' brand new 'Microstats' feature gives users a quick way to view important information and act on it. In this release, Microstats panels have been added to the Learners Dashboard and to User and Course reports.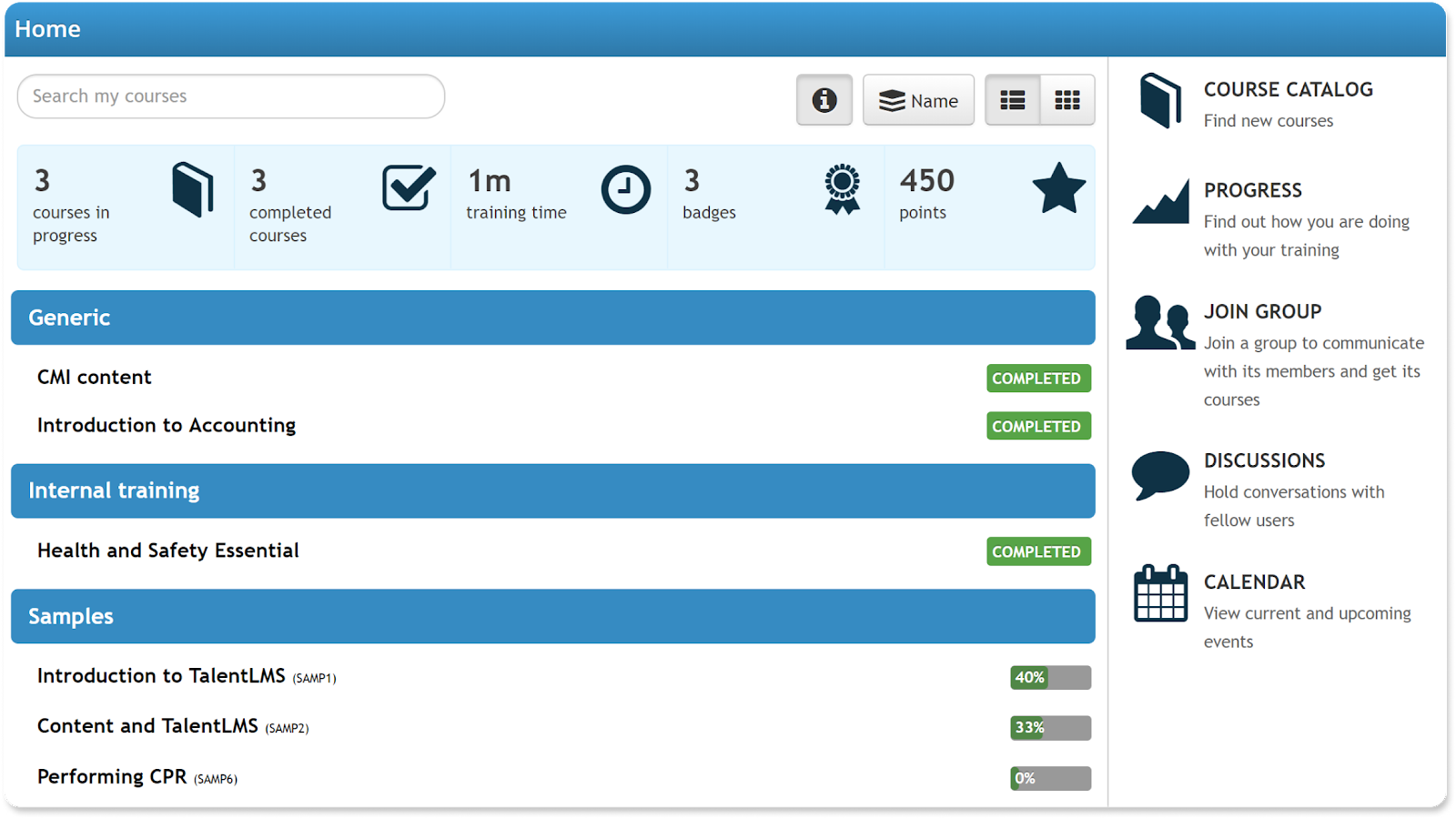 For Learners, the new feature offers a convenient way to keep track of their achievements and overall progress of their training, at a glance.
Discover how you can make the most out of Microstats here.
Revamped User and Course reports
User and Course reports are perhaps the most useful (and most frequently viewed) report types in TalentLMS, and our developers always try to come up with tweaks and adjustments to make them even more intuitive.
Based on your feedback, we've redesigned User and Course reports (on the individual level) so they provide more information at a glance. Plus, they're much better looking! Have a look and let us know what you think.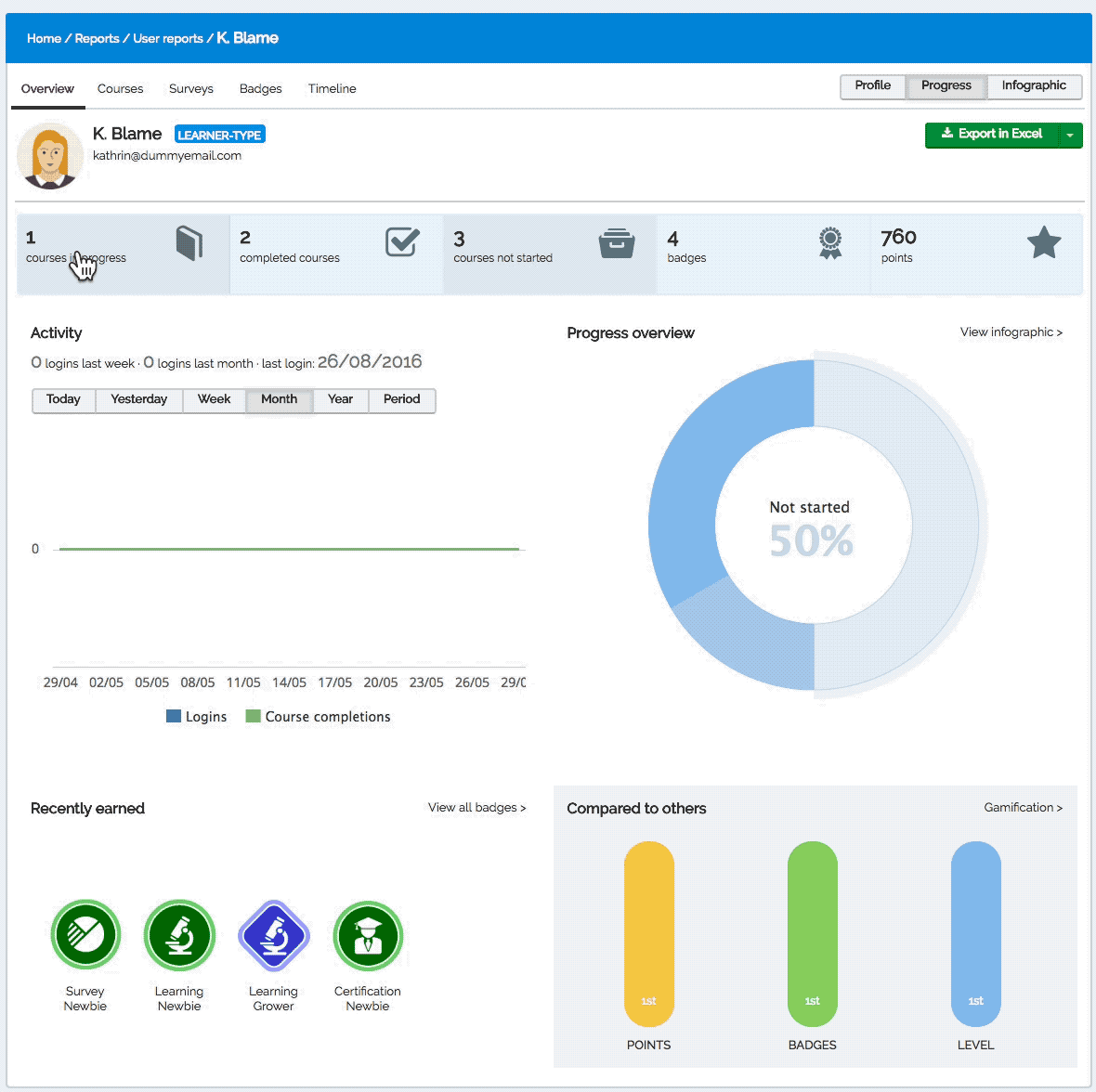 Content versioning
Whether you're a one-man eLearning operation or part of a large team of instructors, you can now edit your content without worrying that you could lose it all in a blink of an eye.
As you write and rewrite your lessons to perfect them, you can save each different edit, and then restore your content, at any time, to any of its previous versions. Hallelujah!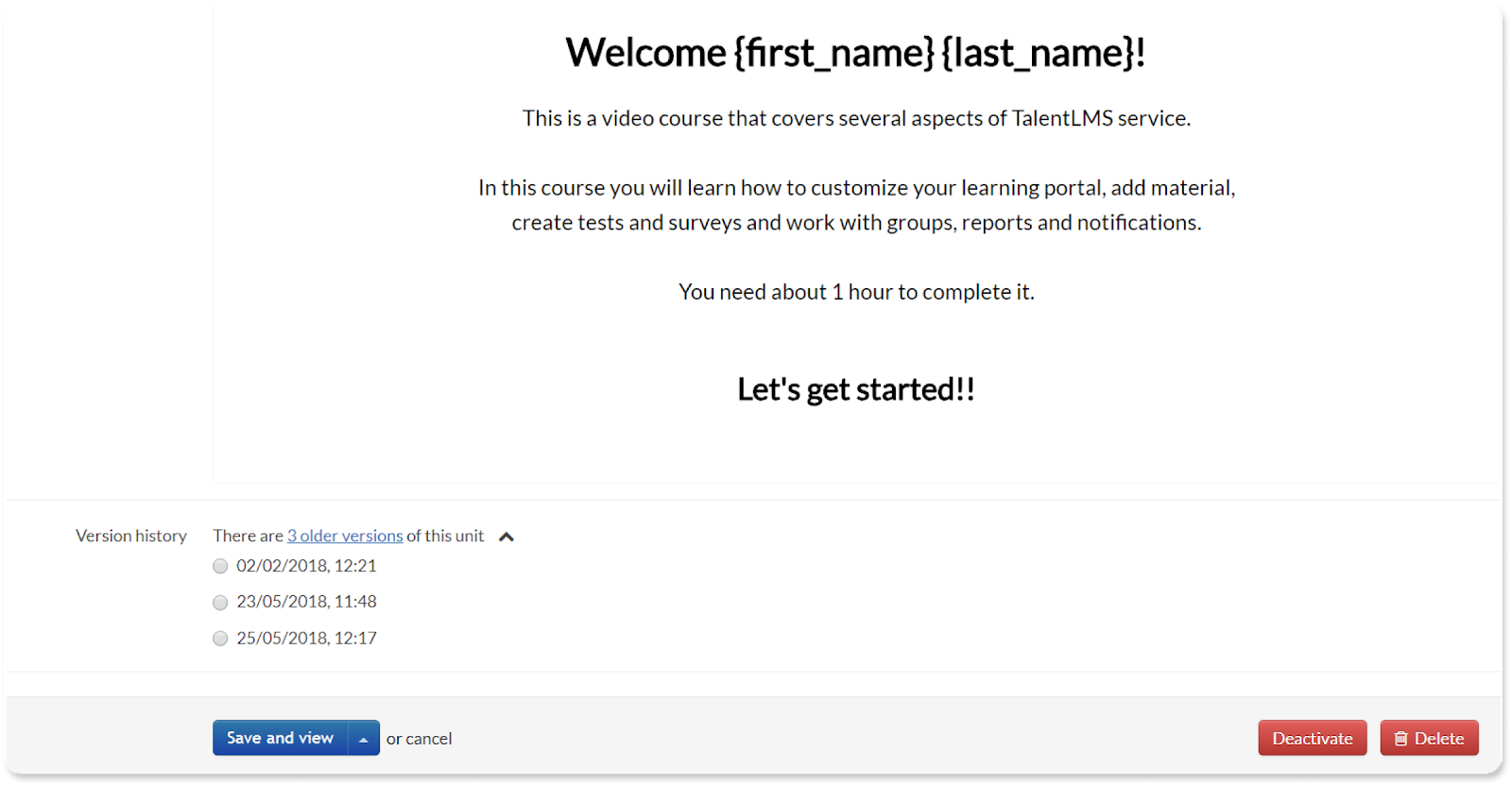 Find out how to work with Content Versioning in this article.
eCommerce improvements
We also revamped TalentLMS' eCommerce features with several major features making their debut.
TalentLMS now gives you:
a) Coupons that are only valid for specific categories
b) Annual subscriptions
c) Trial month option
These new features make TalentLMS even more of an eCommerce powerhouse, giving you increased flexibility in your subscription terms (annual VS monthly) and more targeted discounts (through category-specific coupons), while the new trial account option, is a great way to attract users to your commercial eLearning portal.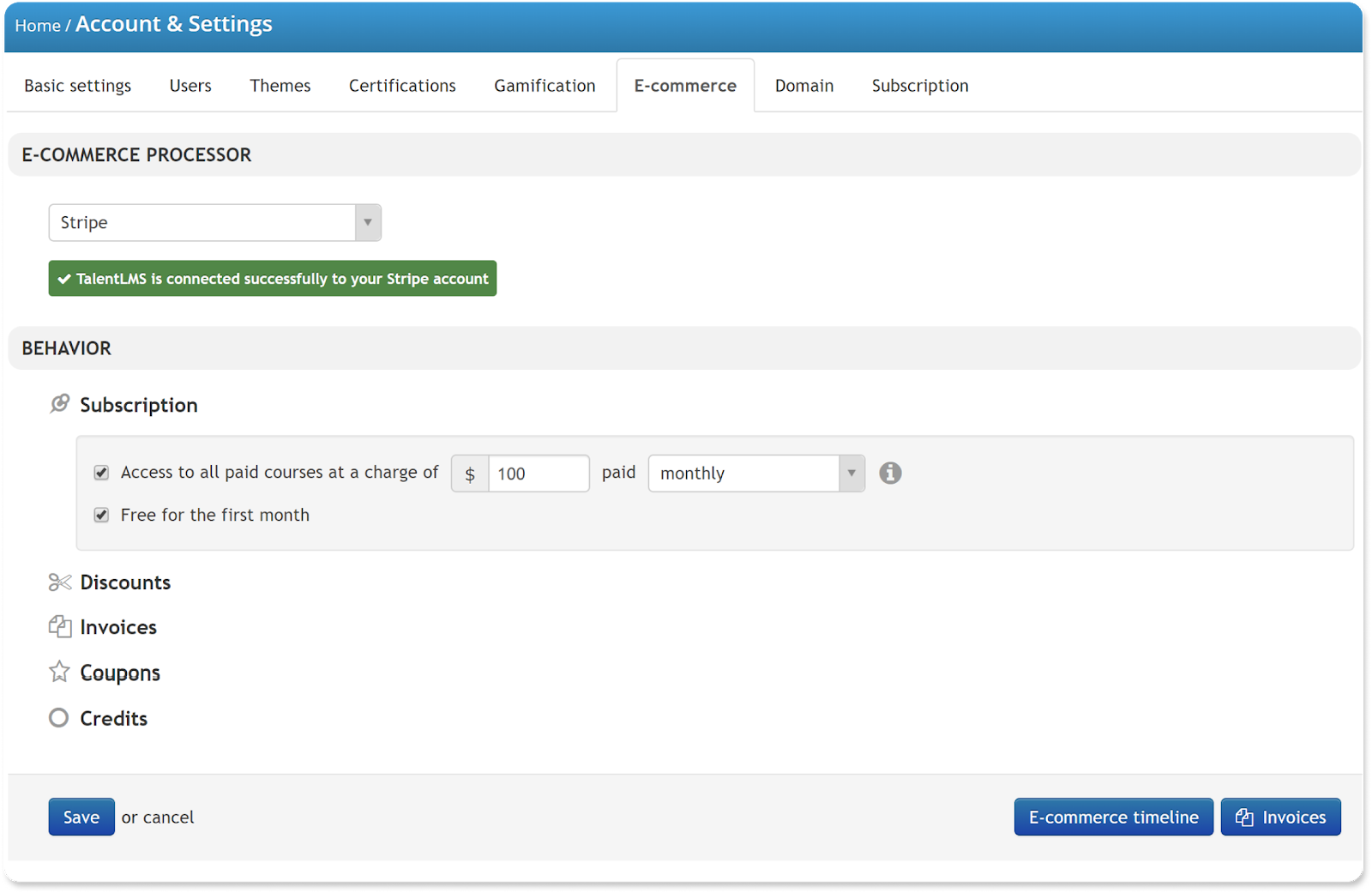 Workflow and usability improvements
Among other smaller design touches and workflow enhancements, the Courses view also got some love. You can now sort your courses by Last Accessed, and you also have the option to view categories when on Grid view mode.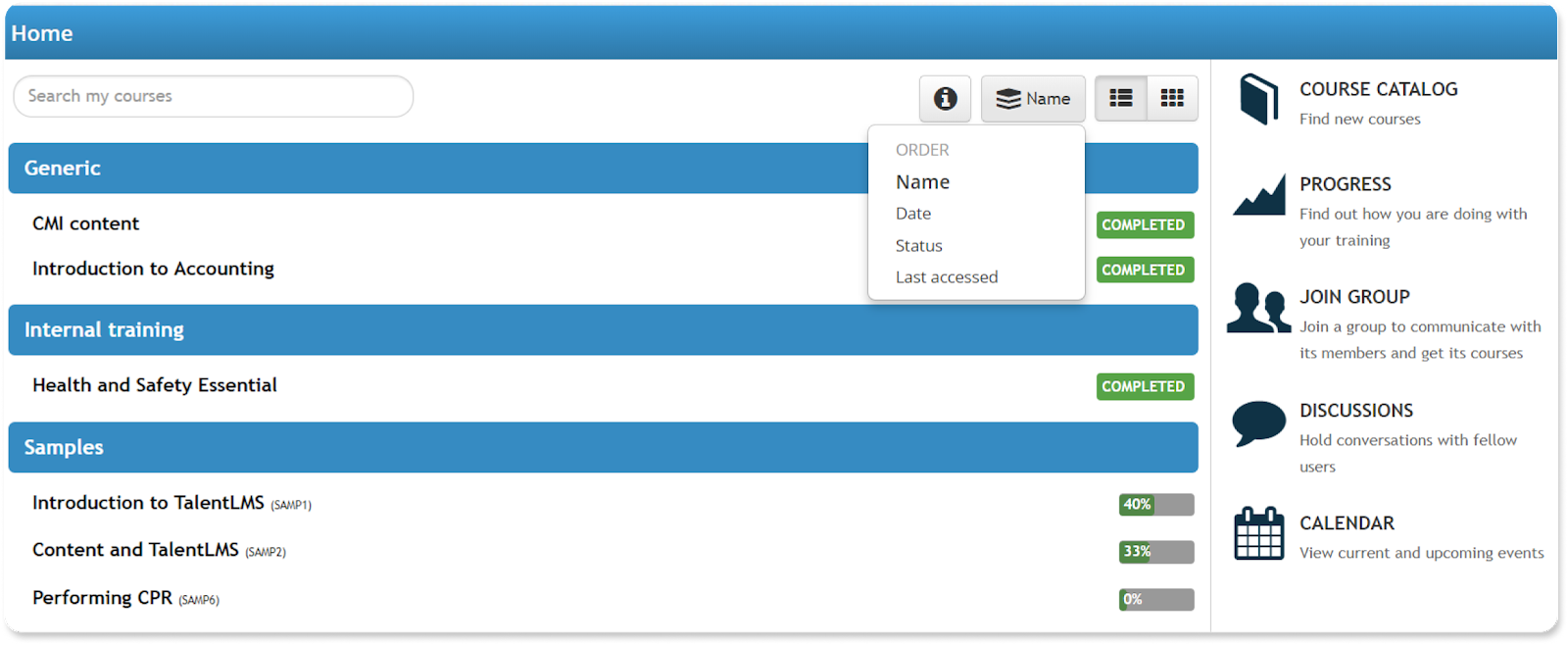 GDPR-related features
The General Data Protection Regulation (or GDPR) is now active legislation, and we've included new features to help you comply with its terms.
TalentLMS now supports:
1) The ability for users to delete their own account – particularly apt for commercial learning portals open to the public. (Learn more about how users can self-delete their accounts here).
2) Custom reports and actions designed to help you achieve GDPR compliance.
One of the major requirements of GDPR is that all your users explicitly agree to the way you store and use their personal information and data.  (Learn more about how to make sure your users have accepted your ToS here).
To help you in this, TalentLMS lets you create a Custom Report based on whether a user has accepted your learning portal's Terms of Service or not. Then, using the list of accounts that haven't accepted your ToS, you could e.g. run a "mass action" that targets those users and sends them all a warning message or deletes their accounts. It's that easy!

For a broader overview of what's new and what's better, check our release notes here.
| Tags: Update