The latest TalentLMS update that just landed on a Cloud near you brings several major new features, a couple of oft-requested customization options, and the usual assortment of enhancements, workflow improvements and bug-fixes you've come to expect from a TalentLMS update.
So, let's open the package and see what's inside this new release.
Custom reports
Reports got some special love in this update cycle, with several new customization options added, including a whole new type of custom report.
Specifically, TalentLMS' updated reporting engine gives you the ability to add, remove and reorder columns, and to add your own "user fields" to custom reports.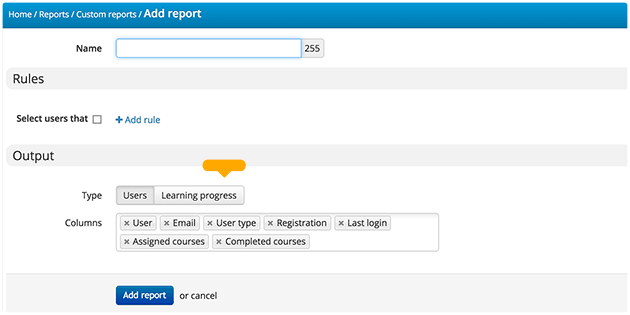 Furthermore, this release introduces the "Learning progress" custom report type, which gives you an overview of the course progress for a select subset of users. The new report can easily answer questions like:
I want an overview of the courses that my people have completed within the last month (and schedule that for delivery in my email)
I want an overview of what courses my people are assigned to and what their status is.
Revamped messaging
TalentLMS' messaging system is another feature that has seen big improvements in this release. Among those is the ability to forward emails, to include individuals to replies and, last but not least, a WYSIWYG editor for composing your messages.
User Infographic
Everyone seems to love infographic visualizations, so in this release, we're introducing a new one built-in to TalentLMS. The "User Infographic" gives you the most important information about a user's account in an easy-to-read visual form.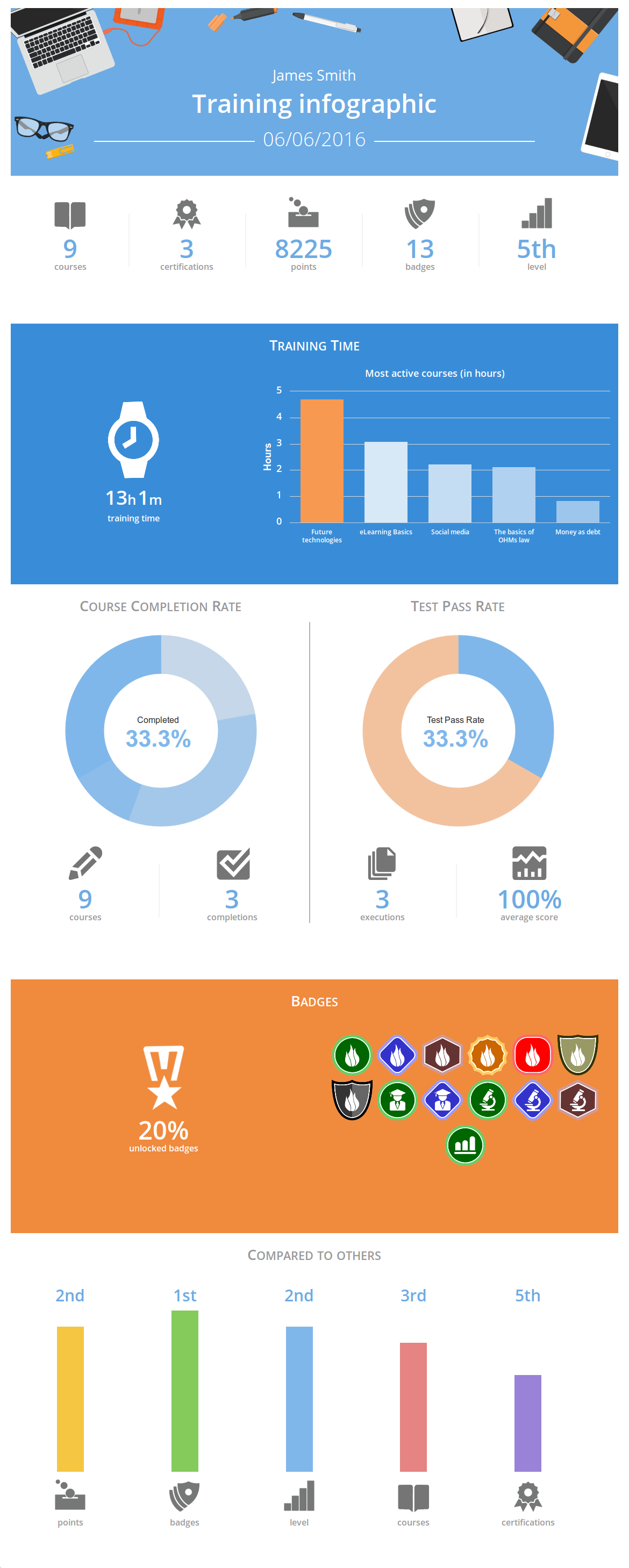 Full Grid Exports
Got grids? Now you can export them too, and not just page-by-page, as in previous versions. The Grid Export functionality has been extended to cover the full grid and not just the current page — allowing users to export up to 50.000 rows at once.
More awesomeness
The above were the headlining features of this release. There are a lot more included, perhaps less prominent, but sure to improve a lot of use cases, and make the lives of TalentLMS administrators, instructors and content creators even easier.
These include:
• Support for unlimited custom user fields
• Support for the date-time custom field type
• Reset gamification stats for Groups or Branches
• Easy way to switch between course edit and report mode
• Option to exclude specific users from emails
• A new action that calls a user-specified URL on course completion
Plus, a number of usability improvements and workflow enhancements on Branches, Unit Creation, and more.
Recap
A new TalentLMS update has just landed on the Cloud, with major updates to Custom Reporting and Messaging, a new User Infographic visualization, and enhanced Grid exporting. On top of these, there are several smaller features, and UI improvements, that are all about more flexible workflows.
Log in to your TalentLMS account to check out and enjoy the new features, which have been already rolled out for all TalentLMS users, and don't forget to give us your valuable feedback on what you like about the new features, what could be improved, and what you would like to see next.
P.S. This update introduces an important structural change in how we handle custom user fields. Although the change was designed to be transparent for everybody, a technical issue may have negatively affected a small portion of users. If you use custom fields in your TalentLMS portal, please make sure that everything works properly. If not, please contact our support for assistance.
| Tags: Update