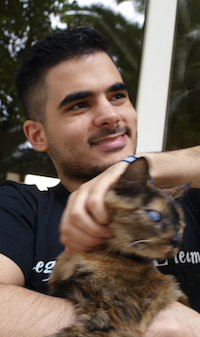 To the people who have no fear to admit they have much to learn, and those who have something to teach…
My name is Dimitris Alexander Kaplanis; I have a bachelors degree in Finance, and my interests span from social media, to debating, the way and reasons of how people behave and interact, to all things tech, and my true love, Brazilian Jiu Jitsu.
I've always been a very easy-going, extroverted guy, and that I largely attribute to the fact that ever since I was very young, I travelled around the world a lot.
I lived in Saudi Arabia and South Africa, away from home, all through my teens.
I was always very motivated to deliver what I felt was quality experiences to my fellows in University and after that. That drove me to co-found an AIESEC chapter in my University which gave students the opportunity to travel the world and take up internship opportunities. I feel strongly for the sharing of quality experiences, as much as I do for the sharing of information and quality education, and I believe that the latter can stem not just from full-time professors, but just anyone; you and me!
As a kid who grew up in the 90s I saw first hand the transformation of all my interests as the Internet was introduced and adopted into the world. I learnt not only to recognise the benefits of such a shift, but also the newfound possibilities for greater expansion in the fields of education, technology and entrepreneurship.
We are subconsciously spreading information to a vast audience every time we share, like or retweet something. It only takes a few clicks, and some people still haven't realized the power that lies in our hands. I'm confident that we have the ability to show everyone how easy it is for just anyone to contribute toward a better education without borders.
To conclude, and give you more time to enjoy the real goody which is TalentLMS, I will strive to deliver content you are thankful for!