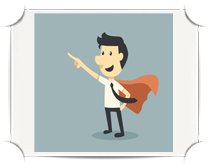 The respect and popularity eLearning has earned in the aviation industry surpasses other industries. If you go back to the 1970s', the US Defense Advanced Research Project Agency, DARPA was a pioneer in developing technology innovations like ARPANET and Artificial Intelligence. The office still runs to this date in Arlington, Virginia, with an annual budget close to 2.8 billion.
Benefits of eLearning in aviation
The Advanced Research Project Agency Network, one of the world's first packet switching networks, combined with the projects in Artificial Intelligence, could be considered as the beginnings of eLearning in aviation. Aircraft simulation software for space projects as well as warfare simulation projects for combat personnel were the first applications of the innovative technologies of that time. The fact that training could occur in a controlled and risk-free environment was the greatest advantage and justification for research in these projects.
Indeed, eLearning in high-risk situations saves lives, cuts costs and enables trainers to teach tricks and procedures that are sensitive and very difficult to teach in a real environment. eLearning in aviation is not just about cognitive knowledge or operations skills. It's also about refining response time, impulse-decisions, self-defense and emotional intelligence during extended periods of isolation and adverse conditions. No wonder, episodes of star wars fascinate the masses to this day.
eLearning in the aviation industry has accomplished outstanding feats, making way for other industries to follow suit, with rivalry and enthusiasm. Museums around the world sport glimpses of these innovations and still manage to spell bound the spectators for being "way ahead of their time". In this section, we discuss the applications of eLearning in the various fields of the aviation industry and how eLearning strategies suffice special learning situations.
eLearning programs in aviation industry
Learning management systems are the core of all eLearning programs in the aviation industry. Most airlines as well as defense organizations around the world use eLearning to train their staff and engineers. Knowledge of standard operating procedures (SOP) is not sufficient for employees. Training solutions in the aviation industry include, but are not limited to:
Flight simulators

Simulation training programs

Collaboration systems (CRM, Finance, HR)
Performance-based learning
With the emergence of new learning technologies, challenging learning situations in the aviation industry have successfully been met. With time, airspace congestion has increased, cockpit technology has become complex and sophisticated, and low-budget airlines are proliferating, as well as increase in low-time pilots for commercial flights. Learning needs are no longer limited to information dumps. There is a widespread need for performance-based learning in aviation. Aviation personnel need skills for quick decision making, conflict resolution, deal with complex unforeseen problems and of course managing flight in all possible situations.
Learning technologies in aviation
Airline industries are even keener in utilizing the latest and state-of-the-art learning technologies offered by eLearning and LMS companies. Improving security, communications, passenger convenience and efficient on-time performance are some of the training needs. Round the clock operations, widespread and diverse workforce and job descriptions require a flexible and powerful learning and development environment. Learning solutions offer a variety of low-budget operational and performance programs that sell quickly and receive positive responses.
Erwin Bratengeyer and Christian Albrecht defined the aviation LMS in their joint article, Deployment of eLearning in the Airline Industry:
"In a nutshell, an LMS is a software system that automates the administration of training events and supports the management of learning in an organization. It provides the infrastructure centralizing two sets of components associated with training. Firstly, Management/Administration: training program, enrolment, certification, reporting and eLearning in the Aviation Industry. Secondly, Learning/Teaching: learning activity, content delivery, communication, collaboration, and assessment."
Three approaches of developing eLearning
We all know the strategic, organizational and learner benefits of eLearning. In the aviation industry, eLearning is relatively challenging to design and develop. Given the requirements of a learning situation, eLearning is developed using the following three approaches:
Flight simulation training for pilots and flight crew

eLearning in this situation can make trainings more cost and time effective. Pilots can undergo simple eLearning trainings to understand and memorize the various parts and features of a cockpit and its functions. They can then work on actual simulators to put their newly acquired knowledge into practice. Emerging eLearning solutions enable developers to create multiple flight scenarios, from adverse weather conditions to hijack situations. Survival trainings for crew and pilot is the key training content that is effectively developed using eLearning tools.

Scenario-based Training

These can be developed using real-world scenes from the immediate surroundings of the learner. For example using airport, aircraft, customer service and other backgrounds with uniformed avatars. These scenarios can illustrate a real dilemma that needs to be solved using the interactive features and dialogue exchange between the learner and the eLearning program. Emergencies and other life-threatening situations can be emulated easily. Training managers and instructors can use this performance data to determine the need for additional training interventions for the individual. Animated and 3D characters in an eLearning environment provide the missing social context (in isolated eLearning environment) that motivates learners, thereby improving cognition and recall. Research indicates best learning outcomes using avatar characters integrated in work-context like scenarios that interact and support as well as mentor the learner.

Safety Management Systems (SMS)

The best eLearning feature in aviation is the ability to keep the content accurate, current and valid. Upgraded health and safety regulations, safety checks and performance protocols keep staff warned and informed. This is more favorable than being under-equipped to decide for everyday issues that may arise in a dynamic work environment in the aviation industry.
Conclusion
eLearning in aviation industry is here to stay. The latest Learning and Development survey by the Chartered Institute of Personnel and Development (CIPD) reveals that around 82% of public sector businesses now use eLearning in various formats. The time and budget spent on eLearning is expected to double in the next 3 years. The Leitch Report presents these findings from the CIPD, according to which, these numbers confirm the government's endorsement of eLearning programs.
As a result, eLearning design, development and delivery has responded with advanced learning solutions that are both organization and learner centered. The success of eLearning in aviation has yielded a positive, upward spiral both in terms of performance and customer satisfaction.
See our video:
| Tags: Corporate Training