In the wake of the Great Resignation and a global shift in the way people recruit and retain employees, many companies are re-evaluating employee benefits. These "extras" play a key part in engaging employees, and should be a high priority if you're looking to grow your organization.
To strengthen job satisfaction and retention, you need to ensure a quality employee experience. Pizza Fridays alone won't keep people working at a job they don't find fulfilling. However, perks like career development and training can improve life on and off the job, and not just for your team members.
Extending learning and development opportunities to employee family and friends can create a more appealing benefits package. You show your people you support them when you offer things like wellness training, upskilling, or online tutoring to those they care about most. And, at the same time, you send a clear "learning for all" message.
Let's take a look at why you might want to consider expanding L&D benefits to those close to your team members. We'll then share some ways you can implement valuable training programs as business perks.
Why should I support training for friends and family?
Why should business owners consider spending more money on training people who don't work for them? We're glad you asked.
Many employee benefits include family members and partners—most notably, health insurance packages and parental leave policies. This makes employees happy, and stating that you cover dependents in your job listings helps attract top talent. But it's not just workers who benefit from having their closest circle included in company perks.
Providing training to friends and family members helps you as an employer in several ways:
You increase employee well-being. These are the people who make up your team members' support systems. Helping them with their goals and concerns can help reduce stress at home. For instance, you can alleviate worry about a child struggling in school or a partner looking for new job opportunities by helping out with tutoring or training.
You show support for career advancement. Employees want to know you're invested in their futures. You can do so by showing them you're dedicated to helping not only them, but also their spouses, partners, or children succeed in their goals. When they know you're committed to helping them learn and grow, they'll be more likely to see a future with your company.
You contribute to a better society. When you advance people's options for education, you're not just offering a perk your employees will appreciate. You become a "learning for all" advocate and benefit your community. You can help people become stronger contributors through access to learning for academic, financial, or professional success.
As with other incentives that keep top talent on board, access to learning and support at home can have a direct positive impact on employee loyalty and retention. It shows them that you care about their futures as much as they do and boosts their overall job satisfaction.
So how exactly do you go about actively supporting learning for all?

How to include friends and family in your training offerings
First, consider your options for rolling out training. If you, like many companies, have adopted home or remote work models, the tech you need is likely already at your fingertips.
You can start by creating a separate portal to your LMS that people outside the company can access. You can use it to host multidisciplinary courses and content not directly related to your company (things like general skills or wellbeing courses).
You can also use other eLearning tech solutions, like webinars and videoconferencing, to meet training needs. The key is to determine what you'll offer, so you know how best to do so.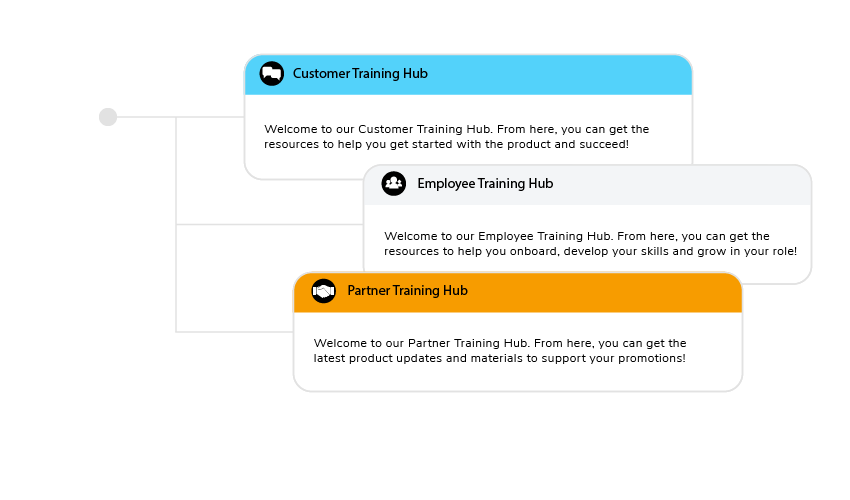 Build an engaging learning hub with TalentLMS
Create different sub-portals for different audiences,
and meet everyone, employees, friends, and families, in one place.

---
4 valuable L&D opportunities for non-employees
While all learning is beneficial, there are certain types that would provide instant, relevant value to your employees and their close circle. Consider the following four ways you could offer training as a "friends and family" benefit:
1. Online tutoring for children and dependents
When a child is struggling at school, a concerned parent or caretaker will spend a lot of time and energy on helping them catch up. Offering free access to online tutoring services can take the burden off a busy employee.
A large percentage of parents (51% of those with children ages 5-9, 58% with children ages 10-14, and 53% with children ages 15-18) are concerned about their kids falling behind because of COVID-era school lockdowns. You can respond to this widespread concern by covering the cost of a subscription or sessions through a dedicated online tutoring service.
2. Wellness training
Many companies provide health and wellness training to increase employee well-being and, in some cases, reduce health insurance costs. Extending wellness training to dependents will help build a strong support system for them at home.
You can expand your program's reach by adding courses on things like stress reduction, mindfulness, or time management to your external LMS portal. Helping extend well-being to the home environment will be especially valuable, as employees cite mental wellness as one of the top things they want from employers.
You might also pay for an online fitness subscription where fitness experts offer training on healthy eating and lifestyle decisions or conduct virtual workouts.
3. Personal finance help
Financial stability and growth are common concerns for many people. Offer your employees and those close to them a sense of security, especially in the face of global inflation, with training on best practices for managing and growing their wealth.
For instance, create a series of webinars on things like the basics of saving for retirement, investment, and tax planning. Send out invitations to all employees and have them log on to learn from experts and ask their most pressing money questions.
4. Reskilling and upskilling
You can help those affected by recent mass layoffs or looking to advance in their careers by giving them the chance to brush up on their skills. Offer career development content through your LMS on the basics to get them up to speed.
For instance, help employee spouses or partners looking to re-enter the workforce with access to sales, customer service, leadership, or soft skills training.
---
Meet TalentLibrary™
A growing collection of ready-made courses that cover the soft skills
your teams need for success at work



---
Give your employees benefits with meaning
The employee perks that build loyalty don't have to be big and expensive. Yes, higher salaries and flexible working hours go a long way toward ensuring higher employee satisfaction.
But money alone won't keep people coming back to a job that leaves them stressed or unfulfilled.
To boost employee retention, focus on benefits that are truly meaningful. Supporting learning for all and helping people and their loved ones grow is a great way to add value to their personal lives. Showing concern for your employees' well-being, on and off the job, keeps people happy and helps you build, and retain, a strong workforce.