Did you know that 76% of job seekers would take a look at how diverse your workforce is before considering working for you? Or, that more than half of your current workforce may require you to provide hand sanitation stations in order to feel safe to return to the office?
These are not unreasonable expectations by any means—but they do paint a vivid picture. In 2022, after two years of a pandemic that changed everything about how we approach work, employees have been reexamining their priorities.
And if companies want to keep attracting and retaining top talent, they need to start paying more attention to the question "What do employees want?"
Putting the spotlight on employees
People went through a lot these past few years. From navigating stressful changes at work and at home to having to stop working altogether in order to take care of family members, it became clear that a new work-life balance had to be found.
And the rise of remote and hybrid work, although a solution to some of these issues, created its own share of problems and things to consider.
In many ways, the pandemic acted as a catalyst—highlighting systemic inequities that were already there. For instance, female employees were hit harder by the ramifications of COVID, with 2.4 million women leaving the labor force compared to 1.8 million men. And diverse US employees faced more challenges than their non-diverse counterparts.
All this has led to a reevaluation of needs and priorities across the board, which explains why we're in the middle of The Great Resignation. People have collectively become less afraid to "rock the boat" and won't hesitate to openly share their work experiences, online and offline. And yes, this includes your current and past employees, as well as new candidates.
With half of the American workforce intending to quit within the next 12 months, employee retention and competition for top talent are becoming hot topics. Now more than ever, keeping your staff satisfied and engaged is crucial for your brand as an employer—and for your business as a whole.
What do employees want from their workplace in 2022?
These are some of the most unexpected employee needs—that could help you stand out from the competition, boost employee satisfaction, and retain top talent. So, what do employees want in the workplace?
1. A four-day workweek
Working Monday to Friday may be on its way out—at least as far as employees are concerned.
A survey showed that 83% of American workers would be in favor of a four-day workweek and willing to work harder, given that their salary would stay the same.
The demand for flexible work, in general, skyrocketed during the pandemic. Even if a four-day workweek is not in the cards for your company, it's still worth considering a flexible work schedule that would allow your employees more time to rest, invest in their wellbeing, and be more productive at work.
Besides, in a recent TalentLMS and Workable survey on 1,200 US tech employees, lack of flexibility in working hours was stated as the top reason for wanting to quit for 40% of the respondents.
Looking for ways to fit training in a hybrid work environment? Here's a guide on how to build a flexible training program for your teams. 
2. Cleaner offices
For employees returning to the office, post-COVID hygiene is a big concern. An Essity survey showed that 65% of American employees are worried about whether their workplace will maintain cleanliness and hygiene protocols. And 58% would like to see their office have more hand sanitizing stations and more frequent cleaning.
Although more and more people are getting vaccinated, building new habits in a good workplace that will help ensure everyone's safety is fundamental. Especially with remote work now being a valid option for many organizations, employees won't risk returning to the office unless they're ensured all possible measures for their safety have been taken.
3. More opportunities for togetherness
What else do employees want from their employers?
One of the negatives of the new hybrid and remote workplaces is that it's becoming increasingly harder for employees to get together with their colleagues. And yet, these interactions are much needed. According to a TalentLMS survey on remote work, chatting with a colleague is one of the top things that boost employees' motivation throughout the day.
To combat the alienation employees may be feeling due to their new work conditions, it could be a good idea to use videoconferencing and gaming technologies to bring people closer. For instance, you can schedule non-mandatory Zoom lunches or Friday get-togethers where employees can just log in.
Or, focus on the gamification elements of your eLearning programs, that will allow people to friendly compete and chat. When possible, real-life team gatherings will be beneficial as well and will help you create a good working environment.
Creating more opportunities for togetherness, online or offline, will help strengthen team spirit and make your employees feel like they're not alone.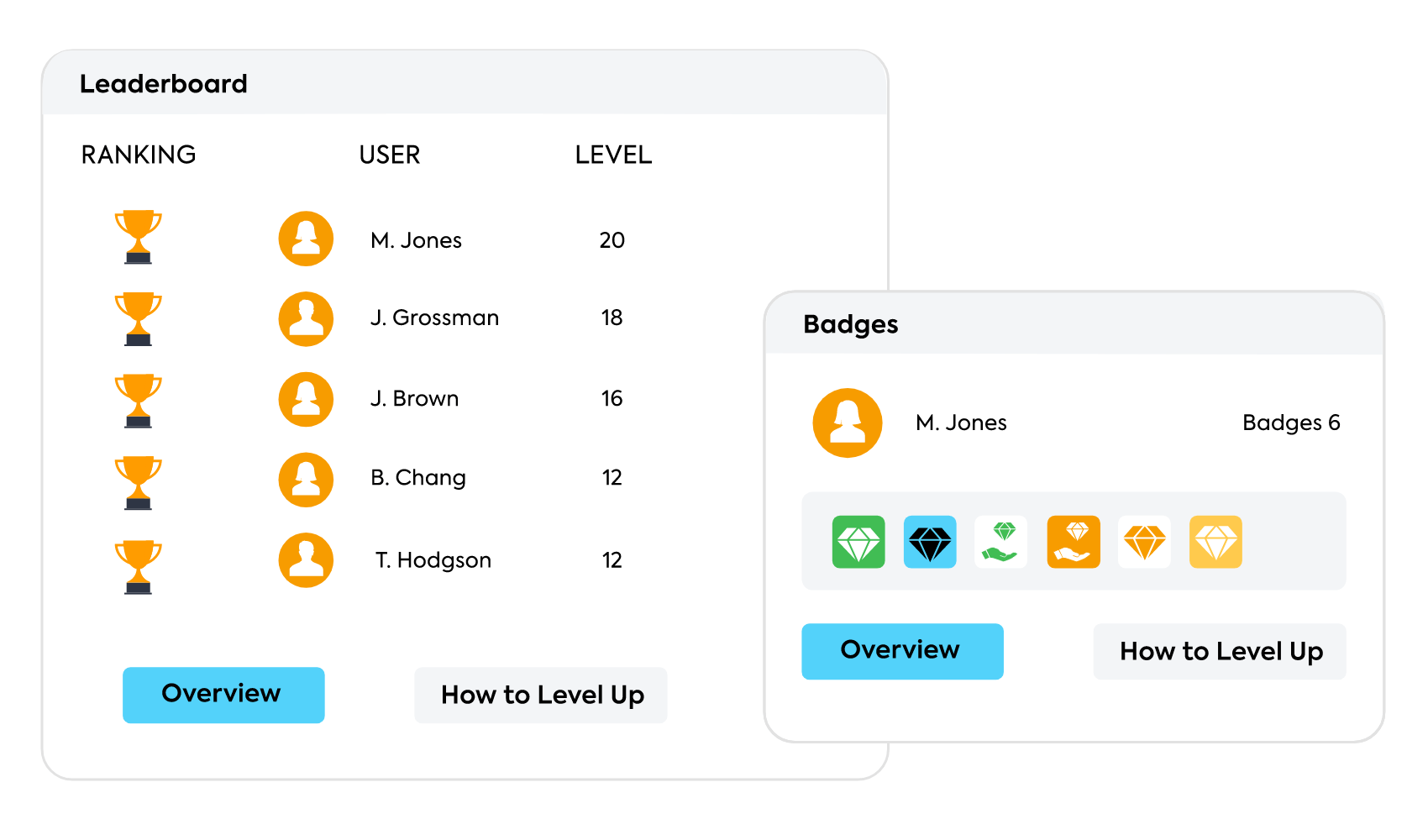 Add a touch of fun in the workplace with TalentLMS!
Have your teams engage in friendly competitions and share badges and awards.
Easy to set up, easy to use, easy to customize.

---
4. Concrete "offline" time
Gone are the days when employees felt obliged to respond to work emails late at night or during weekends. And it's a good thing. If you're pressuring your staff to be available and responsive 24/7, you're creating a toxic work environment where people do not feel safe enough to have boundaries—which in turn leaves them more susceptible to burnout and quitting.
A more concrete offline time can be anything from after-hours email blackouts to Flexible Fridays, where employees have the option to be completely offline if they wish. It can also be about encouraging your team to take time off whenever they can, or take more frequent and well-defined breaks.
The culture of constant hustle has proven to be a non-sustainable one and doesn't help with employee satisfaction. Instead, a gentler approach that respects people's free time is more likely to yield results from now on.
5. A clear commitment to DEI
Diversity in the workplace is not just a catchphrase or a box to tick. Especially after the pandemic and the disproportionate problems it caused to diverse employees, people want to work for companies that show their commitment to DEI in more than just words. And this begins at the hiring stage.
According to a Glassdoor survey, 76% of job seekers see a diverse workforce as an important factor when evaluating companies and considering job offers.
Showing your commitment to DEI starts from reevaluating your hiring practices and extends to your day-to-day operations. It informs your management decisions. It involves using gender-neutral language and diverse imagery in all your materials.
More importantly, a commitment to DEI means offering relevant training, so that all employees can overcome unconscious biases.
---
Meet TalentLibrary™
A growing collection of ready-made courses that cover the soft skills
your teams need for success at work



---
6. Frequent feedback
The rise of remote and hybrid work and flexible schedules means that many employees are now working at different times from the rest of their team members. And although messaging and communication apps like Slack have made asynchronous communication easy, not getting feedback or recognition in real-time can still leave employees uncertain.
What do employees want, then?
Giving feedback (and praise!) should happen often and organically. But because that's not always possible, setting up a time once or twice a week to touch base on projects and offering guidance where needed can make a big difference in employees' confidence.
7. A little less surveillance, a little more trust
"More feedback" however does not mean more micromanaging and less trust. In fact, monitoring employees' behavior, communications, and social media activity is a point of conflict for many. This can never result in creating a good working environment where employees are satisfied.
With the rise of remote work, we're also seeing a rise in employee surveillance. A Digital.com survey shows 60% of companies with remote employees are using monitoring software to track employee activity and productivity — and 14% of them have not informed their staff about it.
While monitoring online behavior can increase productivity, it's also a source of stress for employees. According to Elements Global Services research, 3 in 4 remote workers are concerned about their employer tracking when and how much they work.
This doesn't mean you should abandon your employee monitoring software if you've found that it makes a difference in terms of growth and productivity. What it does mean though, is that you should be upfront about using it, phrase it in a positive way, and make some allowances for the fact that employees are human beings and will likely browse their social media now and then.
It also means checking your own biases toward remote work. A Gartner survey found that 64% of leaders believe in-office employees perform better than remote ones. This affects promotion opportunities: in the same survey, 76% of leaders said they consider in-office employees more likely to promote.
Extending in-office and remote employees the same levels of trust and giving them equal opportunities to succeed is now more important than ever.
8. Mental wellness support
When thinking about "What do employees want?", wellbeing should be among your top priorities. Employee mental health really took a toll within these past two years, with 2 in 5 US adults having reported symptoms of either anxiety or depression. This has a steep impact—both on a personal and professional level. The World Health Organization estimates that poor mental health costs the global economy $1 trillion annually in lost productivity.
Many people are now returning to work or having to navigate remote and flexible working arrangements for the first time. Being able to proactively discuss and address stress, feelings of burnout, and depression with their employers will be fundamental in a good workplace. Especially to new generations (Gen Z and millennials), who seem more prone to burnout than boomers and Gen X.
Plus, it's good business: case studies have shown that companies that invest in their employees' mental health see a 4$ return of investment for every 1$ spent.

Some things will always be important to employees
No matter their generation, gender, nationality, or sexual orientation, there are some things employees will always want from their workplace.
A salary that contributes to their financial wellness; a sense of safety and stability; opportunities for learning, growth, and career development. All these things are fundamental in order to build a good workplace that employees will love and want to stay in.
But they're not enough by themselves.
If you want your company to keep attracting and retaining top talent in 2022, you also need to consider your employees' more "unexpected" needs—and do your best to try and fulfill them. But instead of wondering, "what do employees want?", it's best to ask them directly.