After an intensive recruitment process, you've found the perfect employee. Now's the time to start onboarding. Get your strategy right and your new hire's engagement and commitment and the (swift) application of their skills will follow. Get it wrong and your new hire is twice as likely to move on before they've even really moved in.
How you onboard matters. So it pays to get as much insight as possible into what works and what doesn't from the people who know—your new hires themselves. An onboarding survey is your chance to quiz new hires about their onboarding experience. And use the data you gather to make the adjustments, additions, and improvements you need to set your new hire (and your employee retention strategy) up for success.
But what should you ask and when? To help, we've prepared 101 onboarding survey questions that cover every stage of the onboarding process, from sending out your offer letter to an engagement health check a few months into the role. They won't all be relevant to you. So, pick and choose those that apply and ignore (or save and store) the rest.
You can go straight and download the pdf with all of the 101 onboarding survey questions, or jump to the sections that interest you to get tips and sample questions:
---
Making an offer
Onboarding starts when your search for a new employee stops. Which means your onboarding experience kicks in as soon as you send out your offer letter. A make or break stage in the process, the aim here is for your successful candidate to formally accept your offer. If they don't, all of your hiring efforts will have gone to waste.
And you want them to accept your offer full-heartedly. In other words, you want to make sure new hires have a positive experience when they receive your job offer. These onboarding questions will help you measure how successful the offer stage is:
The welcome email/job offer letter I received made me excited to join [company].
The welcome email/job offer letter I received gave me a good insight into the culture at [company].
I received the job offer letter soon after being verbally offered the job.
Accepting the offer was straightforward.
The waiting game
They may have signed, but haven't started yet. The time that looms in between the offer and the start date puts you in a vulnerable position because your employee is still susceptible to offers from other companies.
So, you need to use this time to form a connection with your new hires, remind them you're there, and make them feel valued. You also need to provide all the information they need ahead of the first day. Are you doing this effectively? These onboarding feedback questions will let you know:
[Company] kept in touch with me before my start date.
I was provided with all the information I needed before my start date.
[Company] asked me about any special requirements or adjustments in advance of my start date.
What could have gone better in the weeks leading up to your new job?
I feel positive about starting my new role.
I would have liked to have received information about the following before my first day, but didn't (select as many as apply):
Company policies
Employee benefits
Organizational chart
Working pattern and flexibility
Expectations around the role and success criteria
Dress code
My team members' names and roles
Other: _______
Getting to know the office
You want your new employee to feel at home when they're in the office. Which means helping them familiarize themselves with the physical space and giving them all the information they need to feel safe and comfortable.
Here are some onboarding questions that will help rate your success in this area:
Day 1
I'm able to navigate my own way around the office.
I know where the meeting rooms and other communal areas are.
I know where the emergency exits are.
I'm familiar with the emergency exit procedure.
I've been made aware of potential workplace dangers and safety hazards.
Month 1
I know how to book a meeting room.
I have had health and safety training.
---
Don't leave your new hires in the dark
Deliver online training from day 1 and gather their feedback with TalentLMS.
The training platform that users consistently rank #1.


---
Meeting the team
However great the physical environment is, it's really the people who make a place. How effectively are you integrating your new hire with their colleagues and associates? Ask them the following onboarding questions to find out:
Day 1
I knew who my mentor was before my first day.
I've met everyone on my team.
I've had time with my new line manager.
There was an opportunity to socialize.
I had the chance to share some information about myself.
Week 1
I had enough time with my mentor.
I had the chance to meet with other key people in the department/company.
I've met everyone I'll be working closely with.
My colleagues have made me feel welcome here.
Month 1
I know who the key contacts are in all the relevant departments.
What would help you feel connected to the rest of the team?
IT setup
IT is so much more than systems. It gives employees a means to function, operate, and communicate. To empower your new hires, it's important to get the tech setup and access right from the very first stages of your onboarding experience.
Assess exactly how well you've done with these IT onboarding questions:
Day 1
I was provided with all of the relevant login information I needed to access the IT systems and workplace tools.
I was able to use all of my workplace equipment.
I knew who to contact if I had any technical issues or questions.
My email was set up and ready to use.
Month 1
I understand the company's approach to file sharing, computer security, passwords, and data encryption.
I'm confident in using the systems I need in my role.
I have access to all the relevant systems I need to do my job.
I know how to request IT training if I feel I need it.
Workstation
Everyone needs their own space. And having a workstation that's well-stocked, thoughtfully designed, and fully functioning will make your new hire feel settled and confident to carry out their new role.
Include these questions in your onboarding feedback form to see how well you've met these criteria:
Week 1
My workspace was organized and I had everything I needed to start working.
I was able to communicate effectively using the phone.
I'm aware of the protocol surrounding the use of the phone (how to answer and transfer calls, record a message, and put someone on hold).
I've been introduced to all the people I share an office/desk/space with.
I'm aware of the policies surrounding workplace design and personalization.
HR admin and info
Starting a new job can sometimes feel like drowning in paperwork, albeit important paperwork. To help your new hire keep their head above water, despite the weight of HR admin, your onboarding process needs to effectively manage the flow of documents and information, provide guidance, and offer support.
These onboarding survey questions will help identify any weak spots in your approach:
Day 1
I knew who to contact to get help with my HR paperwork.
I knew where to look to get guidance on completing my HR paperwork.
I had the guidance I needed to complete my HR paperwork.
I felt overwhelmed by paperwork.
The HR information I received was clear.
I know what benefits I am entitled to.
I understand the details of my contract.
I know what paperwork I need to complete and by when.
Week 1
I don't have any outstanding questions about my HR paperwork (contracts, benefits, etc.)
I know who my HR representative is and how to contact them.
Month 1
I know where to find details about company policies and HR information.
I know how to access my personal payroll, benefits, and other HR information.
What's still unclear to you in terms of our work policies?
Engagement
New hires are typically engaged during the first few weeks/months in their role. But including some core engagement questions in your onboarding survey will give you a useful benchmark to work from if you want to measure levels of engagement in the future.
These questions are designed to gather new hire feedback on engagement so you can evaluate changes over time:
Week 1
I feel proud to have started working at [company].
Month 1
I would recommend [company] as a great place to work.
I'll still be working at [company] in two years' time.
I feel motivated to succeed in my role for myself but also for [company].
I think about looking for a job at another company (select one option):
Always
Usually
Sometimes
Rarely
Never
Learning Management System (LMS) training
Employee onboarding software (also referred to as induction training software or a learning management system) helps you move onboarding training online for better delivery and management.
Using an LMS for onboarding brings big benefits for both your company and employees as new hires join your team. If your company uses an LMS to manage its training, introducing your new hire to it will form part of your onboarding experience.
Here's what to ask to ensure you've provided the right info in the right format:
Week 1
The instructions to log into the LMS were clear and easy to follow.
I have had time to familiarize myself with the LMS.
Month 1
I feel confident using the LMS.
I know how to search for and take courses using the LMS.
Note that when crafting your onboarding survey questions, you shouldn't limit your new hires. If the question is straightforward, a simple "Yes" or "No" type of answer should be enough. But for more complex issues, give employees the chance to answer with a free-text-response, or measure their level of agreement, satisfaction, likelihood, and more with Likert scale questions.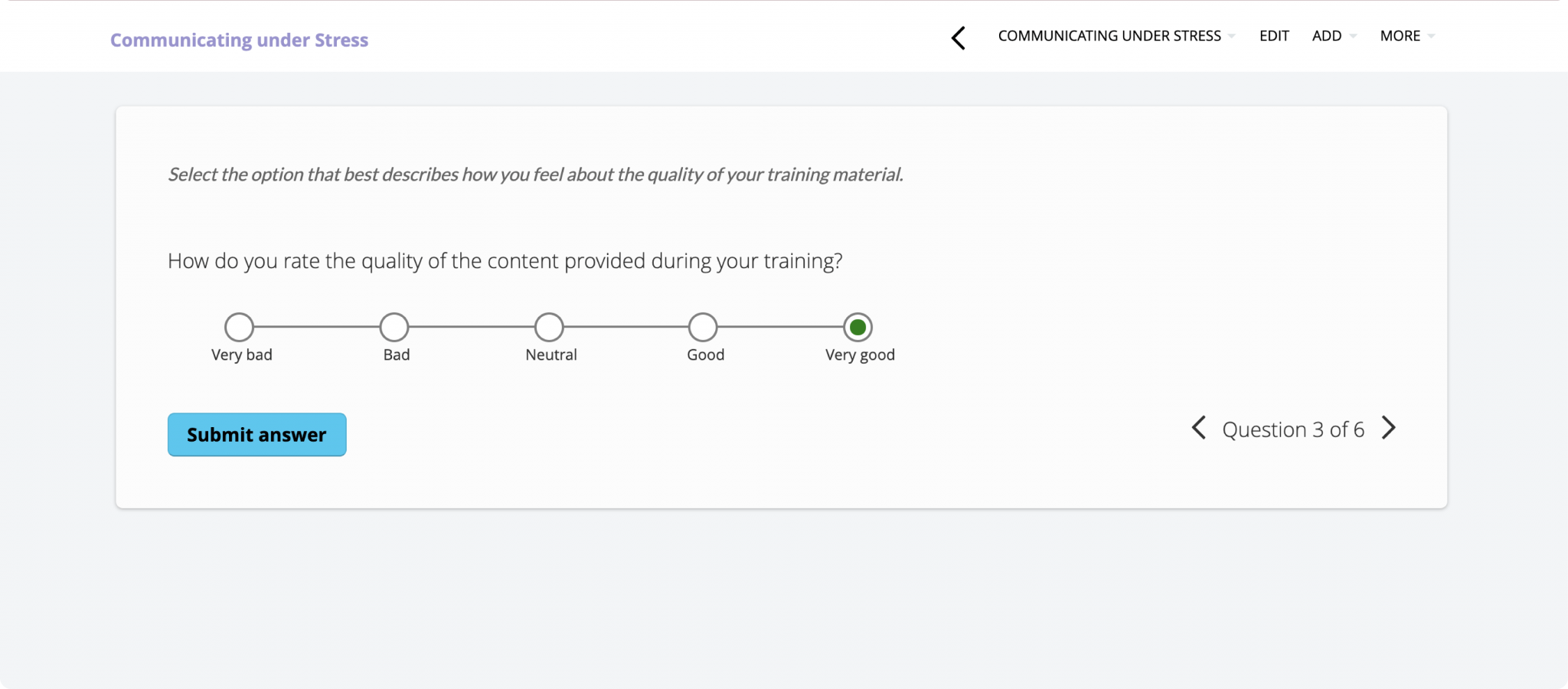 Train your new—and existing—employees with TalentLMS
The training platform that users consistently rank #1.
Easy to set up, easy to use, easy to customize.


---
Organizational alignment training
Are your new hires in sync with your company's goals and values? Use these onboarding questions to evaluate their understanding of your organization's direction and drive and their role in supporting that:
Month 1
I'm aware of the values of [company].
The organizational values of [company] align closely with my own values.
I understand how my role contributes to the organizational goals of [company].
Month 2
I have a good understanding of the company's direction and 5-year plan.
I could explain in one sentence our business goals.
I understand how my role contributes to the company goals.
Role perception
Your new hire's joined your company to carry out a specific role. Check that their view of their new position matches yours with these role-specific onboarding questions:
Does your job description effectively cover your role in the past few months?
Do the expectations of your manager mirror those in your job description?
Is the job what you expected it to be?
Job-related training
However well-qualified for the role your new hire is, they'll still need to familiarize themselves with your systems and processes. And may also need upskilling in some areas. Pitching this kind of training at the right level is important, but not easy.
Keep in mind that job-related training is not something that happens only during onboarding. As the role evolves and new business needs arise, you may need to offer ongoing training. Consider getting post-training feedback from employees on a regular basis.
Specifically during your onboarding process or during the first months of a new hire, gather the feedback you need to provide job-related training that hits the mark by finding out about the following:
Week 1
I have the tools and resources I need to effectively perform my job.
Month 1
I've had good training on the processes relevant to my role.
I know what I still need to learn to do my job well.
I know how to access the training I need to further my skills.
The information provided has been at the right level for me.
Month 2
I have the knowledge I need to succeed in my role.
I've got a lot of questions about topics not covered in my training.
Evaluating performance
An effective onboarding process should include feedback and performance because it reinforces a commitment to developing and investing in your new hire.
Use the following to demonstrate this and help your new hire reflect and review their progress so far:
I understand how my job performance will be evaluated.
I have a clear view of my career path.
I feel encouraged to develop myself.
What growth opportunities do you see?
How can we help you improve your performance?
Remote working
Operating outside of an office environment is now the norm for many companies. If this is the case with you, your onboarding feedback needs to reflect this work-from-home experience.
Cover all of the key areas with the following onboarding survey questions:
Day 1
I had all the hardware (laptop, mouse, keyboard, phone) I needed to start working.
I felt welcomed and part of the company because…
It was easy for me to complete and sign the relevant paperwork.
I have all the communication tools I need to contact different members of my team.
I've been provided with all the software I need to work remotely.
Week 1
I've had the chance to see and talk with everyone I'll be working closely with.
I understand the company's approach to file sharing, computer security, passwords, and data encryption.
I know what the home office guidelines and budget are.
I'm aware of the policy regarding remote working.
Month 1
I know how to troubleshoot if I have technical problems.
I would feel more connected to the rest of the team if…
I need the following tools or resources to do my job better:
Are there any significant communication issues that need to be fixed?
The onboarding experience
We've covered all of the separate aspects of your onboarding program. But what about the experience as a whole? Get an insight into how your new hires felt about their induction by using these questions:
Week 1
Has was the onboarding input you've been receiving?
Very helpful
Mostly helpful
Neutral
Mostly distracting
Very distracting
Month 1
Was your onboarding program the right length?
Did your onboarding program help you feel that you could do your job well?
How would you describe your first month at the company?
Download your sample onboarding survey questions
Want to have all onboarding survey questions in one place? We've gathered them in a pdf so you can easily create your questionnaire. Pick the most relevant questions, gather feedback from your new hires, and improve your onboarding process.
---
Download our onboarding survey questions
Get inspired from 100+ questions,
and deliver a successful onboarding experience.


---
Time to deliver
There is no right or wrong approach to sending out your onboarding survey. If you've structured your questions according to specific timelines—one day in, one week in, one month in—you could schedule it accordingly.
Or, alternatively, send it out in one go towards the end of your formal onboarding process. What matters though is that the data you gather is actionable and easy to quantify.
Apply a consistent, fixed value rating scale to your questions where possible. Then, use your free-response questions to qualify or provide deeper insight into this quantitative data.
And remember to keep it digital. Presenting your onboarding survey in a digital format makes it easier for your hires to complete, but also easier for you to collate and analyze. And with all that data in your hands, your onboarding experience is in safe hands. Now it's over to you.