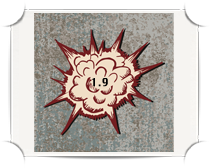 Since TalentLMS's birthday on October 6th 2013, we've been hard at work designing the roadmap for 2014, a year we are very excited about as some of the most revolutionary changes will be seen on TalentLMS.
Let's not jump ahead though; last Sunday, the 26th, an update went live on TalentLMS, and this post is dedicated to highlighting and explaining some of the most important changes.
Usability / Grid mode for Course Presentation
When it comes to your Learning Management System, our motto stands, less is more. We want users to get as much as they can out of the course list, without an excess of information that clutter the page. Previously, you had the option to view a text-list of the courses under their respective categories. Now, you have the ability to view them in Grid mode. Hovering over courses with your mouse button has a sliding effect:
Usability / Course ordering
We have changed the way courses are sorted. If you have course codes assigned to your courses, the sorting will prioritize course codes over course names. This is particularly useful if you are looking to sort all the course of a certain category, without having to name them similarly. For example, you can have two courses named "Algebra" and "Trigonometry" which would normally have many other courses between them (alphabetically sorted), if you assign course codes "MA101" "MA102" they will be sorted one after the other, as was intended.
Efficiency / Clone Units from Other Courses
In the same way that you can use test questions between different courses across the TalentLMS platform, you should be able to share content between different courses. When creating content, some courses may have similar prerequisite knowledge, or background story. In some cases, you may wish to present some material to jolt the memory of your students without referring them back to a previous course, or having them pay all over again to get it. In that case, we felt that being able to Clone content from other courses was the quickest and most effective way of creating content without actually doing double the work. This can be achieved by going to the course menu and pressing on the "Add" button; proceed by clicking on "Clone from another course".
You will be presented with a popup asking you which course unit you would like to copy:
Customizability / Notification Filters and Custom Javascript
Notification Filters: Being efficient means being quick, and sometimes we may not be quick enough to respond to an event. That's why we pride ourselves over the automation offered by our Notification system. It's a highly customizable notification system that allows you to create your own notifications and automatically respond to events that may occur in the system. Due to the broad nature of some notifications, and the need to narrow down on more specific events and respond to them, we felt that introducing Notification Filters was the missing feather on our hat. Notification filters allow the TalentLMS administrator to create notifications specific to a certain course, group, branch or assignment. Here's an example of how you could use the notification system as a way of unlocking new courses and synergizing with other features within the system, like Groups:
Additional JavaScript: TalentLMS is an open field; it allows its users to easily customize its themes with a few mouse clicks, replace, resize and crop its logo and do a significant amount of changes without programming knowledge required. Then it also allows you to dive deeper into customizing its aesthetics using CSS, and now, the opportunity to customize TalentLMS using JavaScript is also present. Under the Theme options, you can now find the "Additional JavaScript" button. It works exactly like "Additional CSS" in the way that the editor allows you to enter text, save it and be done.
DISCLAIMER: JavaScript is a scripting language which has many amazing capabilities, both good and bad. Although you may be able to find a plethora of different scripts written in Java, be cautious of who you trust to write your code, or which website you copy code from, because malicious attacks may be performed through it and we cannot be responsible for that. What ways can you benefit from JavaScript? I network, that's what I do. I like being connected with people, friends, acquaintances and the ability to do that is far more important than the act itself; I like having options. So how much more can I expand on networking? We have discussion forums… how about a live chatroom? Since the birth of the Internet, some of the most famous chatrooms have been based on JavaScript, so I decided to do some digging and find a free yet safe way of adding a chatroom on my TalentLMS website. I found Embedded-Chat (You can sign-up for free at the bottom of the page), which offers an easy-to-use and modern chat feature; the only thing the TalentLMS Administrator has to do is sign-up using his E-mail address, retrieve the JavaScript code from the website, and paste it into the Additional JavaScript editor of TalentLMS. Done. To make things simpler, try this:
Switch to Administrator role
Click on Themes, under Account & Settings
On the Update Theme button, click on the downward arrow and then click on "Additional JavaScript"
Paste the code provided by https://www.embedded-chat.com/ upon registering.
When you complete the steps, you should see a window on the left side of your page.
Note: Embedded chat will not appear on the Administrator Panel page, and it does not work when SSL is enabled (for security reasons). Other Uses of JavaScript Since JavaScript is like any other programming language, and a predominant one on the Internet, there are thousands of applications for it. A useful application for website administrators is Google Analytics and the ability to track the traffic and other analytical information of your platform. Check it out here.
Customizability/ Support for SAML 2.0 and LDAP
Following Stripe Integration, we are introducing the option for Single Sign-On (SSO). Using one of the two available protocols, namely SAML 2.0 & LDAP, you can use your Single Sign-On account credentials to log-in to TalentLMS too. You just input the information corresponding to the protocol of your preference, and you're ready to go. A detailed description on how to setup SAML 2.0 or LDAP to follow shortly.
Note: Single Sign-On is not supported by Free and Small plans.
Security / Enforce SSL
Prioritizing safety, we are now offering Administrators the ability to enforce SSL on Login. Simply going into the Basic Settings under Account & Setting, as an Administrator, you can tick "Enforce SSL on login screen". This will force the login page to always operate over a secure HTTP connection and keep you secure while browsing through the pages of TalentLMS.
Note: When SSL is enforced, some JavaScript plug-ins may not work.
That's it for now! Your suggestions and feedback have been instrumental in designing and fine-tuning some of the new features. Stay tuned for more!