Being an industry-leading eLearning management platform for enterprise training is only one of TalentLMS' talents.
It's also a great LMS to manage the sale of your courses.
Besides the eCommerce features that come built-in, including integration with Stripe and Paypal, coupon codes, subscriptions, discounts, bundles and custom invoices; we have long offered integration options with third-party business and eCommerce platforms.
One of TalentLMS' most popular commercial integrations has been with eCommerce giant Shopify. This integration, made possible by leveraging the Zapier platform, a third party web service that enables different web applications to talk to each other. This allowed our users to share customer data with their Shopify account and sell their LMS courses at its popular marketplace.
Today, we're pleased to announce that we have an ever better option for the TalentLMS-Shopify integration, in the form of our new, 100% native, Shopify application that leverages Shopify's own developer APIs.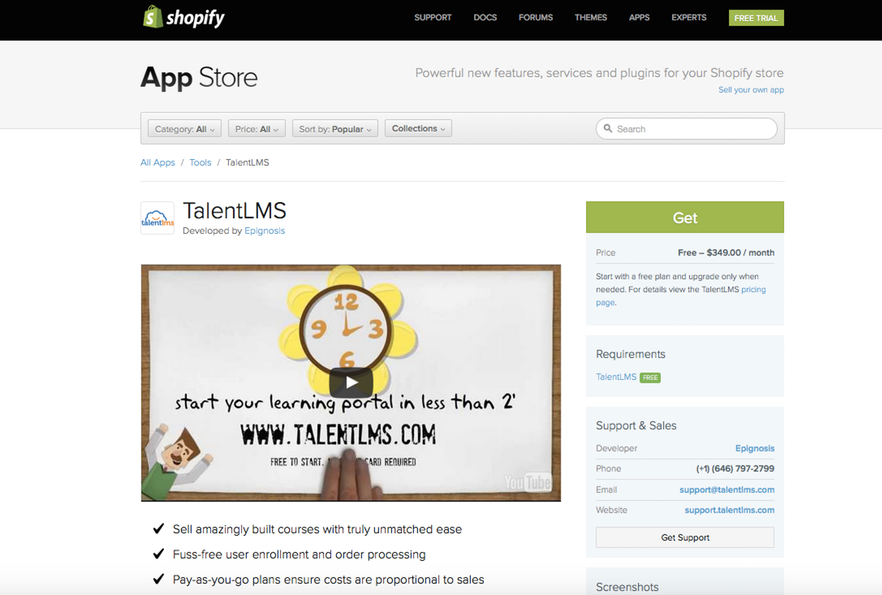 Not that there's anything wrong with the Zapier-based integration. It's just that being finally able to use Shopify's API directly enables us to cut the middleman, and provide even tighter integration between the two platforms while at the same time minimizing the necessary configuration steps.
Installing TalentLMS' Shopify App
Assuming you have a Shopify account setup (if not, you can register for one here: https://www.shopify.com/signup), connecting it with TalentLMS is easy.
1. Begin by installing the TalentLMS App from Shopify's marketplace.
2. Configure the newly installed app with your TalentLMS' domain and API key. (You can find the latter in TalentLMS' "Account & Settings" page).
3. You are now all set to begin selling TalentLMS courses through Shopify. For that, create a few Shopify products, one for each course you intend to sell. Since courses are "digital goods" and don't require physical delivery, you should deselect "This product requires shipping" at the bottom of each product page.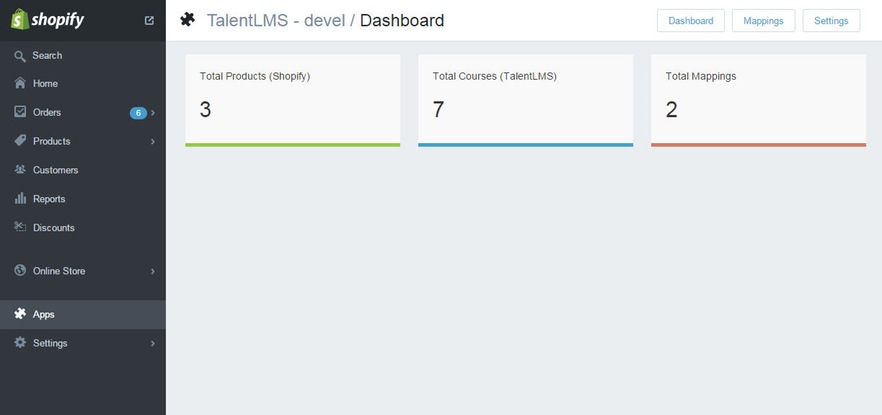 4. Use the TalentLMS App to map your newly created Shopify products to your existing TalentLMS courses. This way once a customer buys a course / product through Shopify he will automatically be enrolled to its associated course, and a login link will be delivered to him to access his courses.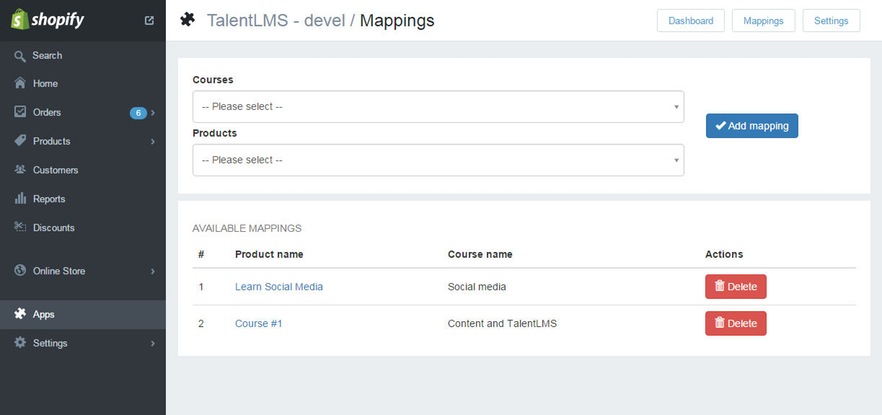 If you're only planning on using Shopify to sell TalentLMS courses then we suggest you configure it to:
– "Automatically capture payment for orders" (this will automatically accept your customers credit card and mark an order as paid) available under "Settings", "Payments" and "Payment Authorization".
– "Automatically fulfill the order's line items" (this will automatically fulfill/complete an order once it is paid) available under "Settings", "Checkout" and "Order processing".
The above steps are optional but if enabled, learners will be given immediate access to their courses once they hit the buy button.
And this is all there is to it. An even easier and tidier experience than our previous Zapier-based integration option, and, more importantly, one that paves the way for even more deeper Shopify integration, as we can now leverage the whole of Shopify's official application API.
Conclusion
Our new native Shopify TalentLMS' app allows you to sell your courses through Shopify, transparently handling the translation between Shopify product sales to TalentLMS course sales and automatically enrolling Shopify buyers to the courses they bought.
Between this new app, the WooCommerce integration, and our powerful built-in eCommerce tools, TalentLMS has all the features you need to create your own successful eLearning portal and sell your courses through your eCommerce platform.
Get your free TalentLMS account today and you'll be sold too!
| Tags: LMS Integration