In last month's post discussing TalentLMS' integration options, we mentioned that our team is working hard on adding a tighter integration with the eCommerce king, Shopify.
Well, the time is now! In this post we'll have a look at how our new integration with Shopify works, how you configure it, and what it enables you to do.
Shortcut: check the Talentlms-to-Shopify step-by-step integration guide
Sell Your Online Courses With Our Learning Management System (LMS) And  Shopify
With over 150,000 merchants and billions in sales, Shopify, created by the Canadian company of the same name, is one of the most widely used eCommerce platforms, letting anyone set up an online shop, accept credit card payments and respond to orders.
By integrating TalentLMS with Shopify, you can use the platform as a marketplace for your TalentLMS courses, exchange and share courses and customer information between the two platforms.
Integration between the two platforms has been built on top of the powerful Zapier meta-service, so in order to set it up you need to configure your Zapier triggers and actions.
Don't worry though, because, as with most things TalentLMS related, the process is easy. Let's walk you through it step by step.
Because that's what blogging friends are for, right?
(We assume that you already have a Shopify account. If not, go ahead and register for one, we'll wait).
Sharing customer accounts
If you're using both platforms, manually opening accounts and managing customer information from one to the other is no fun. Thankfully, you don't have to.
Zapier integrations, regardless of source and target application, follow the pattern of connecting triggers ("when this happens") to actions ("do that").
To hook Shopify and TalentLMS up so that new Shopify accounts are copied as new TalentLMS users, you can pipe the results from "New Customer" trigger from the Zapier Shopify service to the "New User" Zapier TalentLMS action.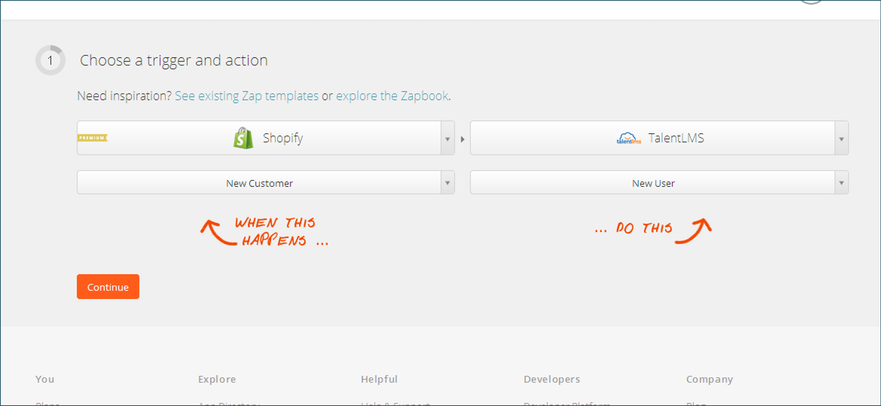 The only tricky part is matching the data coming out of Shopify to the information needed for a new user account creation in TalentLMS. Most fields have a straightforward relation between the two platforms — for the rest you can reuse or combine values as you fit it (e.g. use the Spotify user's email as the username of the corresponding TalentLMS user). As there are Shopify user information fields upon registration without corresponding TalentLMS ones, if you need them, you can set them up as custom fields in TalentLMS.
Setting up the inverse procedure (from new TalentLMS user to new Shopify account) is just as easy. You just have to connect the "New User" trigger of TalentLMS to the "New Customer" action of Shopify.
Sharing course info with Shopify (and vice versa)
Sharing customer information between Shopify and TalentLMS can be useful even if you don't sell courses. One use case for that would be offering complementary online training for buyers of your products in Shopify.
If you plan on promoting and selling your TalentLMS courses through Shopify though, you'll want to share course information between the two platforms.
For this to happen, your Shopify products should be stand-ins for your TalentLMS courses (so, essentially courses, themselves). If that's the case, you can connect the "New Product" trigger of the Zapier Shopify service to Zapier's TalentLMS "New Course" action, to have TalentLMS automatically pull new products created in Shopify as new courses.
The inverse is also possible (and probably more convenient, especially if you are used to working with TalentLMS' intuitive user interface). By using Zapier to connect TalentLMS' "New Course" trigger to Shopify's "New Product" action, you can have all your new TalentLMS courses automagically available as Shopify products.
Shopify orders to course registrations
Setting up your Shopify products as TalentLMS courses (or vice versa) only takes you half of the way there.
You'll also need a way to track new course (product) orders from Shopify and convert them to TalentLMS course registrations. As almost all things in Zapier, this is all about connecting the appropriate trigger to the appropriate action. In this case, the "New Order" Shopify trigger to the "Add User to Course" TalentLMS action.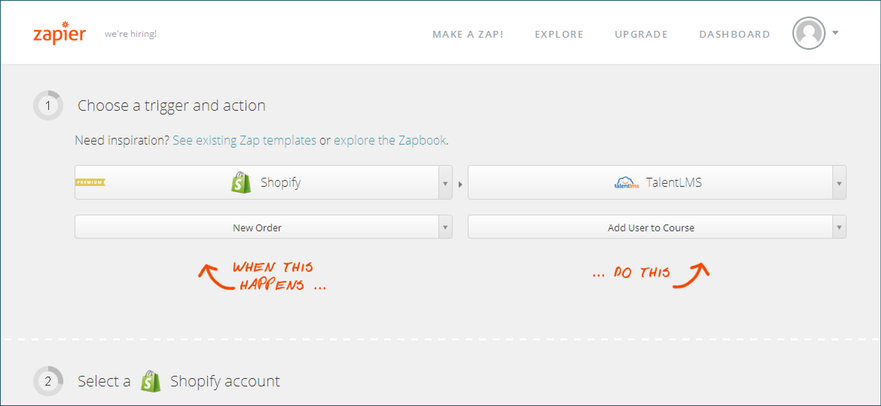 Are you sold on our Shopify integration yet?
That's all there is to it, really.
If you're selling eLearning courses but you're not yet a Shopify user, we suggest you take a look at what it has to offer, starting with its large and vibrant customer base.
For our part, we've made integrating the two platforms a no-brainer. After all, that's how TalentLMS got crowned as the most intuitive and easy to use LMS: by being intuitive and easy to use. That, plus bribing the judges (just kidding).
And in case you get stuck, there's a handy "Shopify ‐ TalentLMS Zapier integration" guide , that goes into the whole process in far more detail than we have screen space and you have time for.
So what are you waiting for? Get integrating!

| Tags: LMS Integration