You've got the perfect idea for how to skyrocket your business goals. Your employees will need to learn some new skills, and then apply new techniques on the job. All you need to do is design that course.
But what's the best way to build training that doesn't overwhelm people with too much content? You don't want to create a "training firehose" that leaves them dazed.
Organizing your courses into training modules creates a structure. And this structure helps deliver successful L&D programs. It might be tempting to curate online material or find a premade course and share that with your learners. It's definitely fast.
But fast isn't always effective.
A training module will help you choose the right content for the right purpose, decide on the best content type, and tie all your material together to achieve a larger learning outcome.
In this article, we'll discuss the value of modules and how to create a training module that fits your company's training goals. If you want to skip the guide, you can scroll down, download our free and customizable template, and start creating your training module right away.
What is a training module?
Let's start with a definition: A training module is a section of your eLearning course that focuses on one topic. It's an individual piece of the overall concept.
Think of modules like chapters in a book. For instance, say you're creating a course on customer service. You might have separate modules to teach handling complaints, solving problems, and building customer relationships.
Each lesson in the course may be a module, but it's also possible to have several lessons within one module. For instance, if one of your customer service modules focuses on problem-solving, you might include lessons on understanding customers' perspectives, communicating effectively, and managing expectations within the module.
5 steps for how to create a training module
When you're building training modules, you want to ensure they're engaging and that they serve all your learners equally. Here's a step-by-step guide on how to create quality training modules.
Step 1: Identify your learning objectives
As with any important task, you must start with clear goals. What is it you want to achieve with your training? The right target will help you understand what content to include and what tools to use.
Start by looking at problems your teams face. What are you trying to solve with the training? Once you know what you want to achieve, you can begin to break your bigger goal down into individual topics that will be the foundations of your modules.
For instance, say you have a company goal of improving customer satisfaction scores by 15% by the end of the year. You determine that to achieve your goal, employees need to be trained in how to have effective problem-solving conversations with customers.
Next, select specific learning objectives for each module. Focus on making them SMART—set specific, measurable targets that are relevant to the bigger goal.
Your training objective for the problem-solving conversations module might include understanding how to begin a conversation confidently, proper communication etiquette, dealing with difficult situations, and following up with a customer.
Step 2: Decide on your content type(s):
Once you know your learning objectives, decide what content formats will best serve them. Different content types work for different skill sets and audiences. Some of the content types you might consider include:
Video. This format is great for illustrating skills in action, explaining hard-to-grasp concepts, and getting people's attention.
Scenario-based learning. Here you present learners with scenarios they might face on the job, so they learn the skills in context. Use these training modules for employees who need a chance to practice in a safe environment and get comfortable using the skills on the fly.
Quizzes. Quizzes test learners on the knowledge they've gained. They're a great way to boost engagement with gamification and make things more fun. They'll also help you track learners' understanding.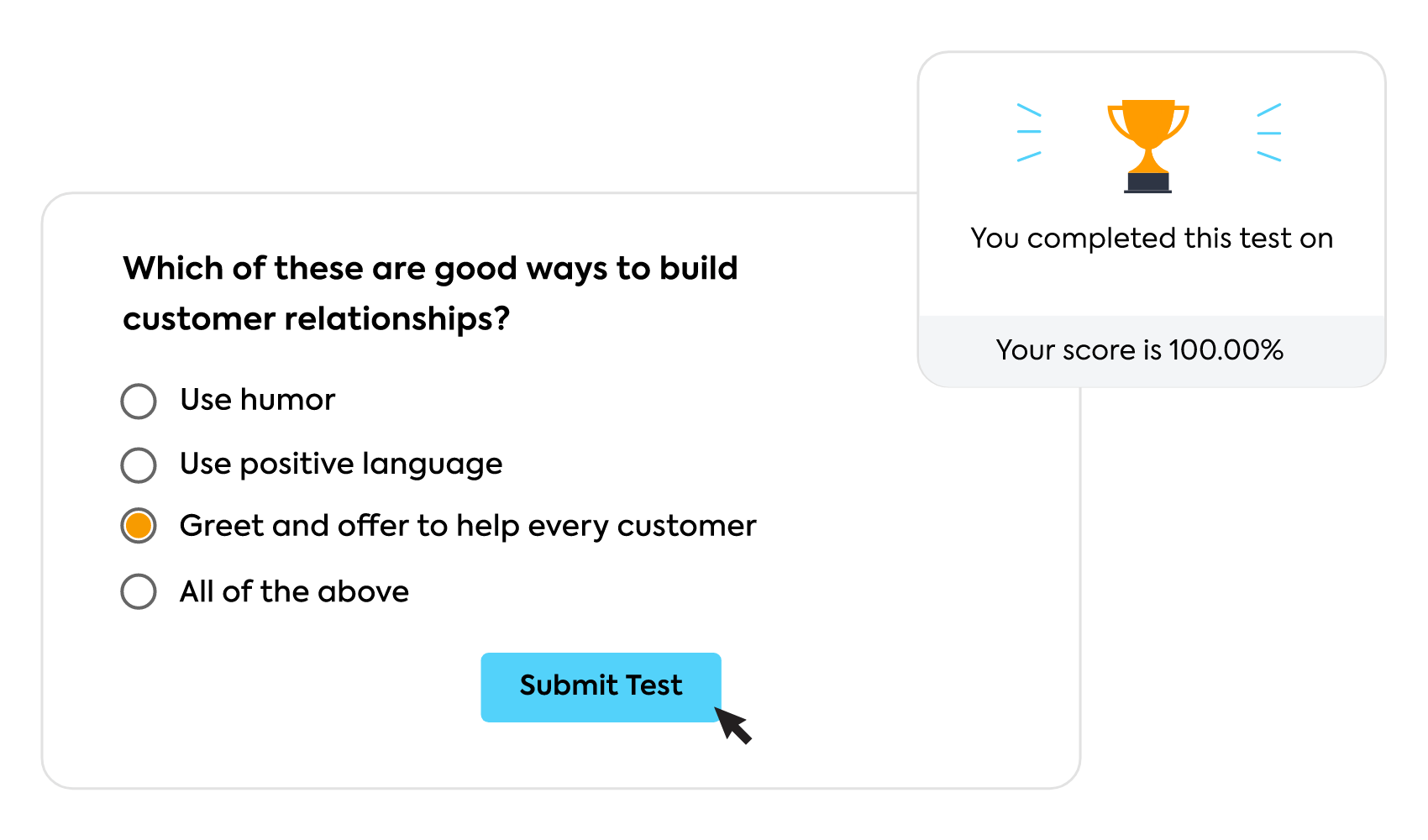 Create tests and assignments in just a few clicks with TalentLMS
Use interactive quizzes to make learning stick while adding a touch of fun.
Easy to set up, easy to use, easy to customize.

---
Presentations and graphics. Sometimes it's best to put the information out there where learners can examine it for themselves. Engaging slides and helpful graphics can make it easy to get information quickly. Just be sure to keep text minimal and avoid big blocks that will be hard to get through. Make colorful and interesting designs to hold people's attention.
Microlearning. Microlearning consists of bite-sized lessons focused on just one idea. They can be completed in just a few minutes via smart devices. These are ideal when you want to focus on core points and engage employees who don't have a lot of time.
Group discussions. You can conduct live sessions online where everyone logs on at the same time and the training is led by a facilitator. This is helpful for real-time group discussions and exercises. The trainer can also gauge in the moment what people are learning and adjust the pace as needed.
Let's look at our customer service module example with these formats in mind. You might consider video-based content where employees see conversations with clients and sales techniques in action. Then, you could follow up with a quiz at the end of each lesson where they choose proper responses to given scenarios to help cement the skills they've learned.
Step 3: Create your training module template
Once you know what content you'll use, it's time to put it into a template. You can build one from scratch or save time and effort by choosing a premade one. If you're using an LMS for training, you should be able to easily plug in content and get up and running quickly.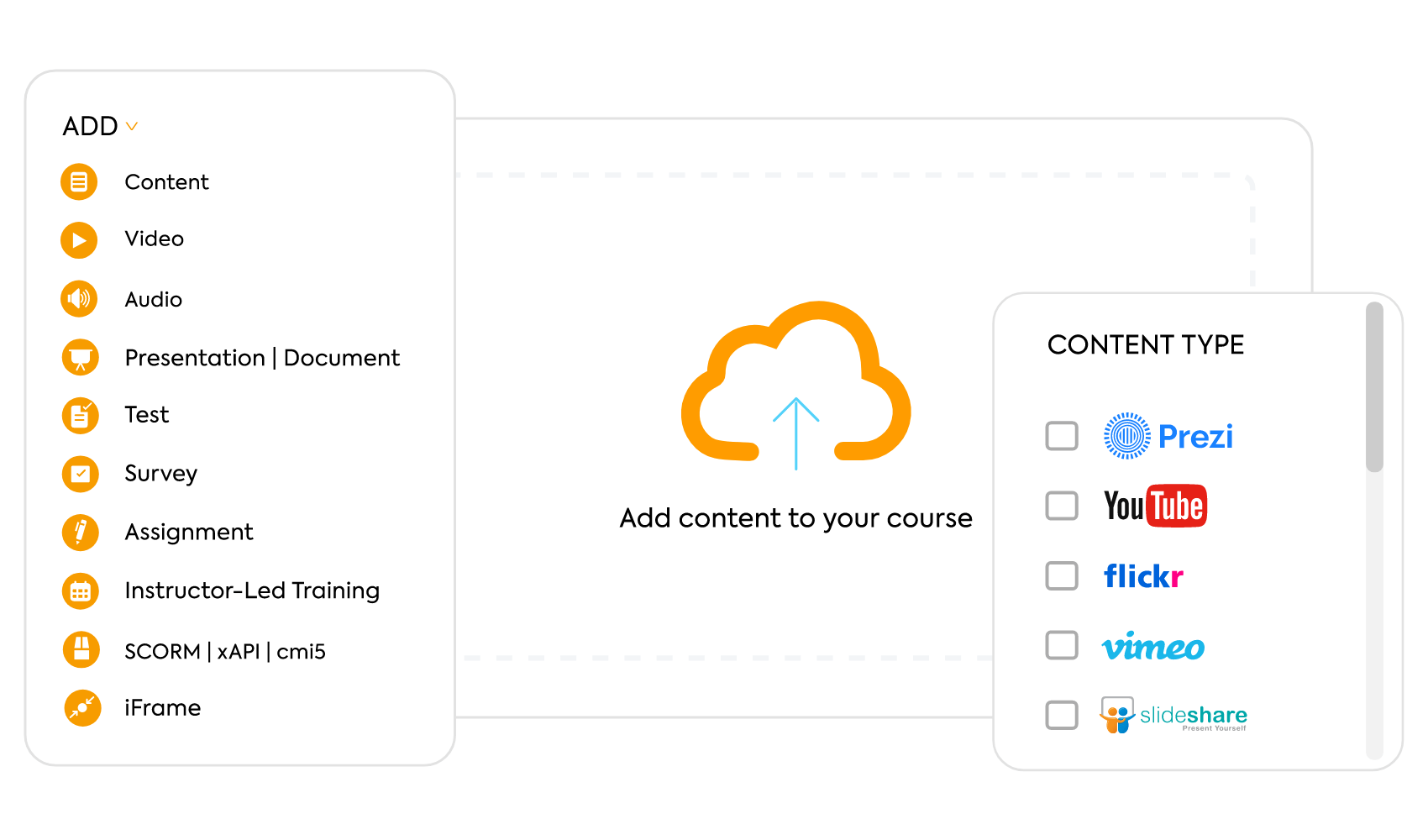 You can re-use templates from previous modules for consistency. Or, try out something new but maintain the look and feel of the rest of the course with custom branding and design.
Step 4: Roll out your training
Now that you've got your training module ready, it's time to make it available to all your learners. Provide access through your LMS so people can log in and join easily.
Look for an LMS that can send out invitations and reminders to learners. It should also be able to help people track their progress to make it easy to pick up where they left off and complete the training quickly.
Step 5: Measure your results
It's important to track training metrics so you know whether your module is achieving your objectives. Look at things like:
Completion rates
Quiz scores
Time-to-completion numbers
Where people may be stalling or dropping out of training
This information will help you see what's working and also identify areas that may need a little work.
Your LMS can help automate measurements. Use the reporting feature to easily generate and analyze metrics so you can pick out patterns.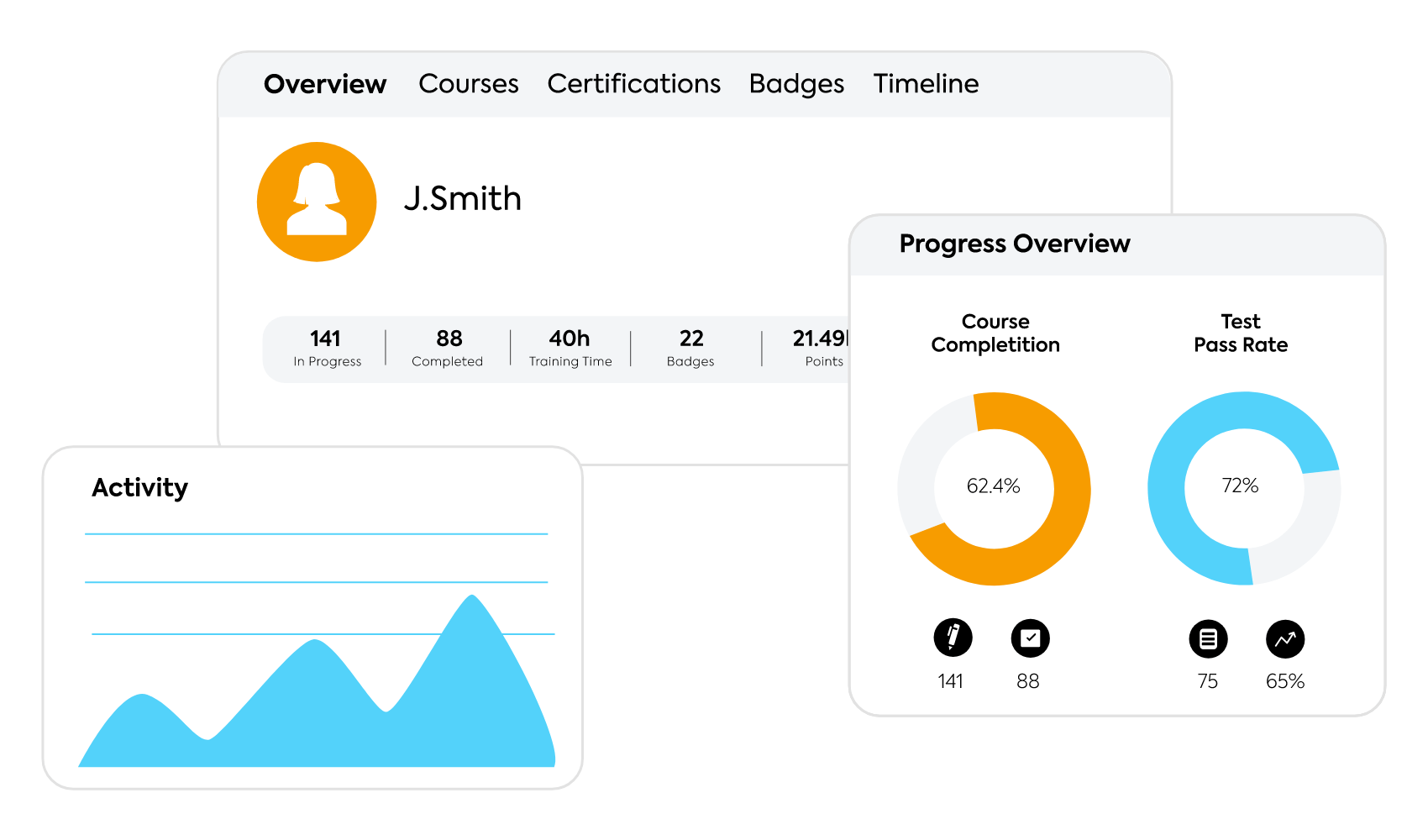 Track how effective your training is with TalentLMS
Generate automated and custom reports, and identify areas for improvement.
The training platform that users consistently rank #1.

---
You can also get valuable information directly from your employees. Survey learners about their experience. Ask about the content, but also about useability. Listen to the feedback and explore how you could improve the experience and make it easier and more meaningful.
Template for planning your training module
Creating a new module starts with planning. Consider all of these elements as you begin:
Topic: What specific information will you cover in this module? Where does it fit within the overall course?
Audience: Who will go through your module? Make sure with training modules for employees that you include departments or groups the content will apply to.
Lessons: How many lessons will you include within the module? Consider how much information you need to cover and break it down into logical lessons.
Goals: Record learning objectives for each lesson within the module.
Format: What type of content will you use for the module or each lesson within the module?
Include any other helpful information about your specific audience or objectives. It's a good idea to track all the information in one place for reference as you build out the module.
Here's a module planning template to get you started:
---
Download our training module template.
Fill in the details and start building your online training.


---
Training modules are an investment in your company's future
Creating training modules might seem like a lot of work at first. But they'll save you time in the long run. Building and saving your modules in your training platform will let you re-use them in other courses or even repurpose them for different audiences.
When you take control of your training content, you ensure a learning experience that engages employees with relevant content and formats. And with the right training strategy, you'll help your organization reach its goals as you grow the business.
| Tags: eLearning Courses,eLearning Design