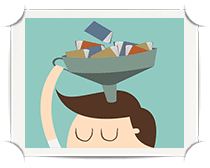 If you're into eLearning you must have heard of a concept called Social Learning. On the contrary to some myths, it's not a new thing. It's actually the oldest way of learning that we know. It is all about learning from each other, just like you did when you were a kid and friends were showing you how to kick the ball.
It's a known fact that learning through mimicking others, through discussion and working in a group brings better results than acquiring knowledge and skills from books. So now, when we have access to all the social media tools, how eLearning industry can use it to improve the learning experience?
We have gathered a nice bunch of links to some great resources that cover everything you ever wanted to know about Social Learning.
How will you benefit from social learning? Why is it better than classroom learning? These and more common questions about social learning are being answered by Patti Shank, based on Ben Betts' Guild research report. Although the information may not be groundbreaking, it's a great base for anyone who wants to know how to use social learning to get most of it.
And if the base is not enough, here's a list of meaty tips on how to properly use social media in formal learning. Those short but substantial 28 tips on using facebook, twitter and social media generally, will teach you how to create and implement a plan for social learning that will engage your learners and use everything that social media offers to give the best results.
Using social media doesn't mean you should stop using other platforms. In this step by step guide to developing social learning strategy and integrating it with your eLearning, you will learn how to combine different platforms. Christopher Pappas gives you 8 essentials on making your learners more engaged and learn from each other to make their learning experience not only more effective but also way more fun.
Less practical but as important to understand the idea of social learning as the articles above. This is Steve Wheeler's summary of Albert Bandura's book Social Learning Theory from 1977 (I told you, it is not that new!). In the article you will find 4 principles explaining why and how you should consider social learning in your strategy. There's also a section explaining how it can actually improve the education.
Another article by Patti Shank, based on Guild research report. This time the report evaluates Learning Management Systems according to how social they are. Survey results show how important nowadays are social features like discussions, communities and users ratings when users are choosing their LMS. There's also a survey that shows that 54% of users see the future of learning in social learning.
6. The future of e-learning is social learning
Short but informative presentation about social learning as the future of e-learning that answers the questions about what social learning is, why it's needed, what are the social media platforms and what is the role of social learning professionals in the process of implementing social learning strategy.
Armin Hopp's view on networked and social learning in the workplace, opposed to formal learning.  Article explains why social learning can give better results than traditional ways of learning and quotes the Speexx Exchange Survey results showing the increase of interest in social learning among business managers.
Formal and social learning together? Why not! Jane Hart in her substantial article, explains the 5 principles for creating a perfect strategy for formal online social learning in the workplace. After reading this, you will understand how to smoothly move your organization from traditional courses and workshops to online social learning. Don't overlook the link to the ebook about workplace learning revolution!
Social media has always been beneficial for business and so can be the social learning concept. Sharlyn Lauby explains basics of what social learning is and what's more important for companies: what are the benefits of using social learning in the workplace and how you can implement it in your organization. Any company that still uses traditional, formal training, should take this article to heart.