When people hear the word "automation" or "automated training" various emotions may arise. If you've never experienced an automated process before, you might think that it's completely impersonal, dull, and sterile. And that the human element is completely absent.
No, automations don't mean that your life will look like a Futurama episode. Forget about robots, lasers, and holograms. Automations actually make our lives easier, so there's room to focus on more important things.
Take for example a smart home. You can control anything, from the temperature of your house to the time the lights go out to feeding your cat, with just one click from your phone. Pretty convenient, right? This is what automation looks like when implemented correctly.
But what about automating employee training? Is it going to be a completely cold-blooded training experience or is it going to make everyone's life easier, from admins to HR to trainees?
What do we mean by automated employee training?
With automation, you can have parts of the training process run automatically instead of being performed manually by a person. Everything happens with the help of a program or software. Repetitive tasks become automated, so admins don't spend too much time on planning, assigning, and measuring. Instead, they can focus on more meaningful tasks, like developing proper training content and design or defining learning objectives.
An LMS is the ideal platform to deliver automated employee training. Most systems have built-in automation features, so all you have to do if you're already using an LMS is to enable the ones you want. Or, you may integrate your platform with third-party tools to build your custom automated training process.
Let's get into detail and examine whether automated employee training is worth a shot, and if so, how it can be successfully conducted in your business.
Is it worth automating employee training?
Automations don't only help those who manage training. A survey among UK employees showed that they feel technology and automation are changing their work life for the better.
If you're looking for an efficient and scalable staff training solution, then automation is your go-to option. Employees (and you) have a lot to earn from automated employee training, and here's why you should consider the investment.
1. Automations boost employee engagement
How can you improve employee engagement levels with automations? It's simple. By recognizing employees' efforts on a regular basis, you ensure that their learning achievements are acknowledged. Who doesn't love being recognized for their hard work, dedication, and progress?
But creating certifications or other recognition schemes, like gamification's badges, prizes, and awards manually takes time. With automated training, you can bulk recognize the efforts of your employees during training and keep them motivated without spending extra time.
---
Boost employee engagement with recognition programs
Create certificates and share them automatically with TalentLMS.
Easy to set up, easy to use, easy to customize.

---
2. Employees learn at their own pace
There's no one size fits all approach to training. Everyone has their own unique learning style. This is why training should be flexible so that all employees can stay engaged.
With the help of a cloud-based LMS, you can create automated employee training so that employees follow their own personalized learning path. For example, you may set a general timeframe of when they should complete a program. But how they move through that program is up to them. Some will want to take multiple courses in one sitting, while others will prefer to take training in smaller chunks. The idea is that once they finish a course, they automatically unlock the next one, and so on and so forth.
3. Feedback is provided on-the-spot
Provide employees with instant feedback so they know their progress anytime with automations. Not knowing if you're on the right path is discouraging. Imagine getting to the final assessment only to realize that you haven't understood the shared content.
With an automated training management system, your employees can rest assured that they're doing well on their training and keep motivated and engaged. For example, you can create small quizzes with automated feedback for each false answer and let the course participants revisit the content of the training course to make sure they've gotten the grasp of it.
Tips on how to successfully automate employee training
Now that you know the main reasons why you should implement automated training in your business, let's see how you can achieve that seamlessly and reap all the benefits.
Plan ahead
Think of which parts you want to automate. Just because you can automate something, it doesn't mean you should.
You don't have to automate everything at once, either. You may want to start small and see how that goes.
So, the first step is to write down parts of the training process that take the most time or areas you'd like to improve. Then, decide which of them can be automated. And, finally, prioritize the ones that should definitely be automated based on your business needs or start with the more simple ones.
Choose software that supports automations
You won't be able to deliver automated employee training unless you opt for the right automated learning management system. Make sure you find an LMS that ticks all the boxes in automations when it comes to your business needs. Your final choice will be based on the nature of your training courses, whether you're choosing synchronous or asynchronous tasks, and the size of your business.
Also, your goal is to make training easier and minimize tedious tasks on the admin side. Keep that in mind when choosing the right LMS for you, as it has to be easy to use.
For example, with TalentLMS you can easily automate how you assign courses and manage users, including:
Assign a course after users have completed another one.
Assign a new course to the users with expired certifications.
Deactivate users that are not active in the course after a certain amount of time has passed.
Don't forget to automate HR processes and administrative tasks
Automations are extremely useful when you have lots of time-consuming tasks and no time or enough people to do them
The most repetitive administrative and HR processes, such as enrolling or deactivating course participants in bulk can be conducted in no time when using automations. The HR department can easily send reminders to learners who are falling behind with their training, or notifications for them to attend a live session without having to repeat the task each time.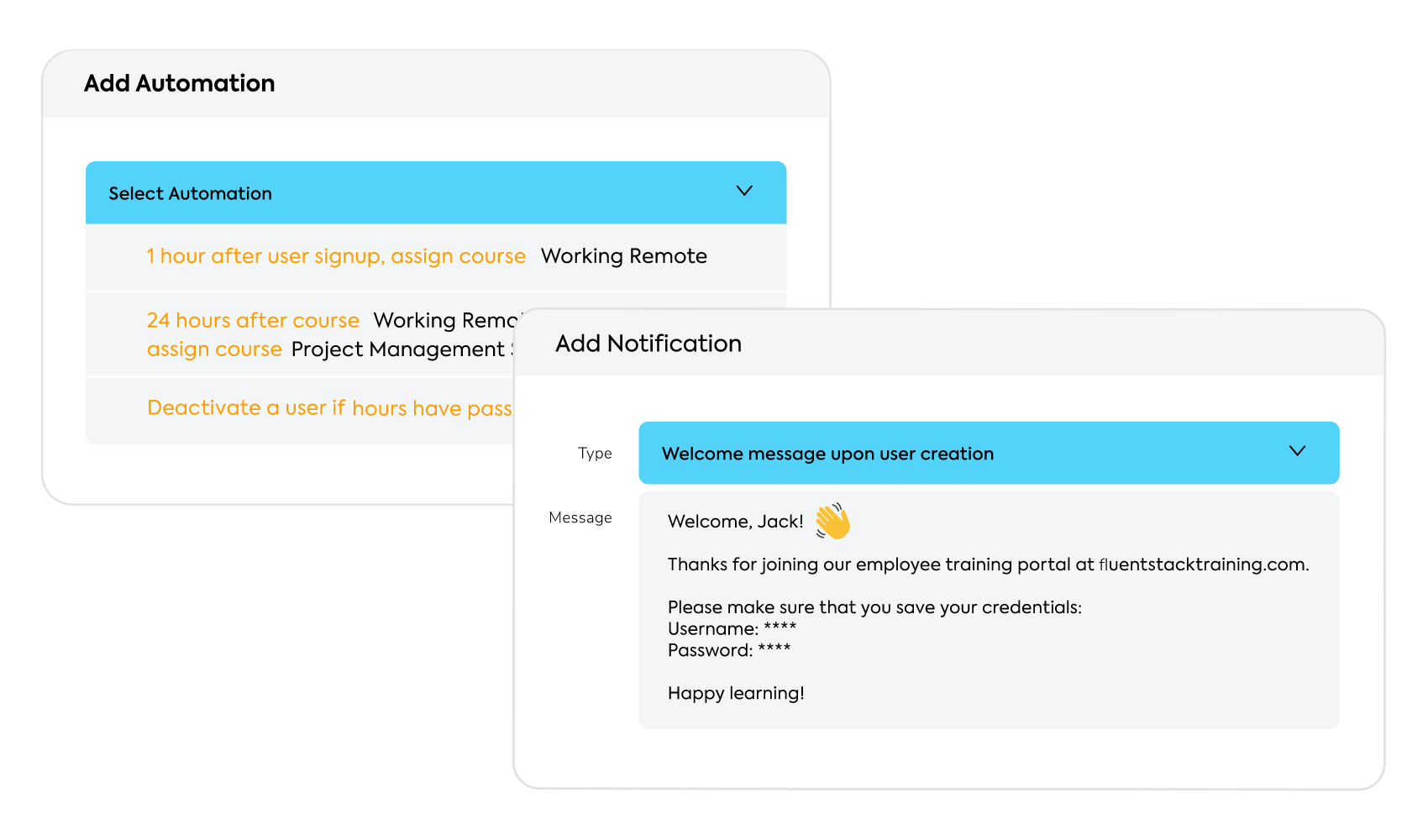 Notify learners in bulk with automations
Save time and reduce repetitive tasks with TalentLMS.
The training platform that users consistently rank #1.

---
Also, you get the chance to stay away from any human errors when inputting data, which is a real life-saver.
Let's say your HR department needs to enroll quite a big number of new employees in their onboarding training program. Imagine how hard this would be if they had to do it manually. With automations, it can be done in the blink of an eye, so your HR team can focus on more meaningful tasks.
Track your employees' progress in no time
How can you get a clear image of your employees' progress while in training? You can check each person's progress, that's for sure. If you have 50 employees under training it might be possible. What about big departments and loads of employees? Dealing with all this data can be daunting, mistakes can be easily made, and, finally, you might lose track of everything.
Automated management systems allow you to conduct mass actions in order to check on your employees' training performance by using custom reports. You can also set them up to be received automatically to your email. You can get data like course completion, learner progress, scores, and more. Then, you can share this information with other departments, if necessary, in just two clicks. Or, you could even automatically send a monthly report to senior management.
Keep the employees' spirits up by acknowledging their progress
Recognizing and validating your employees' efforts is the best way to ensure constant motivation and deep engagement into the training process. This could become a hurdle if you had to do so manually. However, you can use automated notifications, certificates, badges, and rewards to congratulate employees while in their learning journey without spending too much time on it.
For example, for each course completion, you can send automated certificates to the employees who have successfully completed their training. Remember when we were kids at school that the teacher offered us a certificate at the end of the school year? We all wept with joy and filled up with pride! Likewise, your employees get hyped up when they get a certificate or an award. They can share it on their social media and initiate discussions that will help them with networking. Thus, automated certificates are a lovely way to keep them engaged while acknowledging their efforts.

Can everything be automated?
The need to free our staff from mundane tasks, eliminate costs, and minimize human error has led to choosing automated employee training. However, automations can't be used for everything. And, in some cases, they shouldn't, either.
Knowing when you should automate processes is essential. Let's explore when it's best to avoid using automations:
Continuously changing operations
Tasks that are non-repetitive on a regular basis
Whenever human intervention is necessary
For instance, automations are not useful in front-desk tasks where human contact is absolutely needed, or when you have new hires and you want to welcome them on board.
For a hotel receptionist, on-the-job training can bring better results, as your employees will be able to experience first-hand what their job entails. They learn while working on the side of a mentor by following tips and practices in real-time. Human communication is complicated, and no automation can cover all the information needed for such positions where human interaction is present.
Automations are great for specific tasks during onboarding. For example, an automated onboarding email helps share basic information with new hires, like how to sign in to your training platform, or what their schedule for the first week looks like. But a warm welcome is important, so you definitely need to follow up these automations with an in-person or virtual meeting.
Thus, in such cases, you should try a more personalized approach to set the mood for your new employees. It's always better to plan a warm, creative, and inspiring welcome with a human touch.
The magic of automations for your business
Automating employee training can help ease the stress of both administration and learners if implemented correctly. You don't need to invest crazy amounts of time or money to streamline processes. An automated management system that fits your needs can do wonders.
Automations are here to help you save time. In case you spend a lot of time working your way around them, then something's wrong. The best tools are the ones that guide you into setting the automations up the first time and then making you "forget" they're there.
If you are aware of when, how, and why you should opt for automations, you are bound to witness all the benefits it has to offer to your business.
| Tags: Cloud LMS,Employee Training