Have you ever considered the "love connection" to eLearning in terms of the chemistry that leads to a lasting relationship between learners and online learning? Consider how easy it is to love someone when they are at a distance, and one can imagine why eLearning can be an effective tool. But not every eLearning program is loveable.
Success Factors For Your eLearning Implementation
Roca and Gagne (2008) analyzed 166 survey responses from learners who had participated in the United Nations System Staff College "training to build institutional capacity by significantly improving professional and analytical skills and awareness" in their article, Understanding eLearning continuance intention in the workplace" (p. 594).
Perceived usefulness, playfulness, and ease of use are the three main factors that steady the relationship between learners and their desire to continue to participate in an ongoing online professional development program.
What Roca and Gagne (2008) managed to do is cull out the various interactions and significance of the factors that lead to eLearning continuance. I plan to present those factors and explain the possibilities for developing your relationships with learners by identifying what is perceived as being important to learners and how it interacts with other contributing factors.
Framework
Basically, learners use eLearning systems for positive learning outcomes and continue when they are easy to use and when they enjoy using the system. Roca and Gagne (2008) developed the following framework (see Figure 1) for understanding what's at play when developing an effective eLearning program.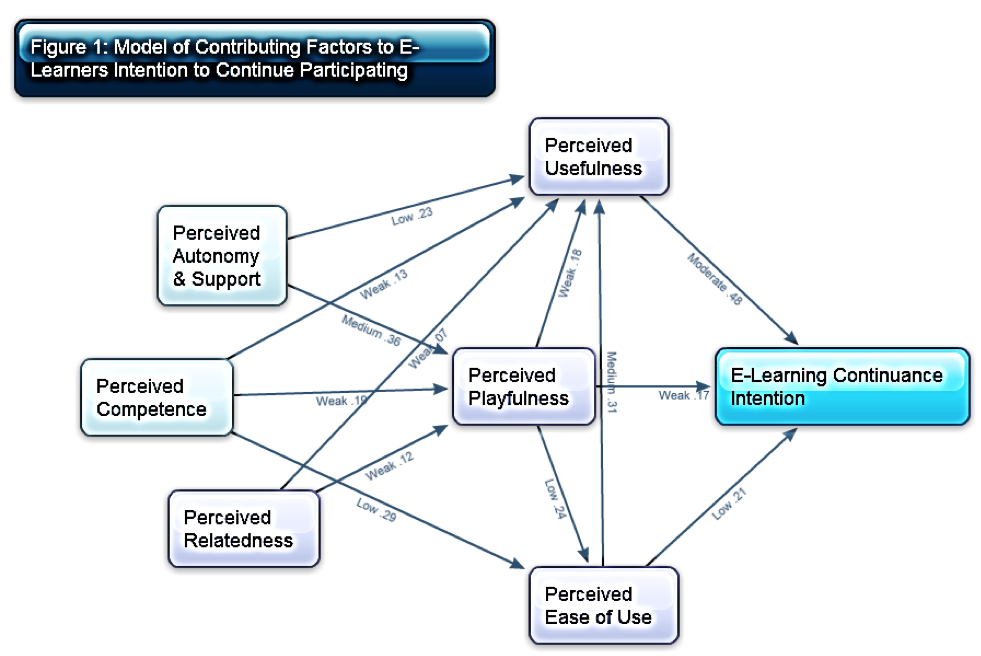 A number of factors contribute to usefulness: ease of use (.31), competence (.23), playfulness (.18), competence (.13), and relatedness (.07). One element that cannot be ignored when striving for usefulness is ease of use, the main contributor to usefulness and a significant contributor to learners' intentions to continue (.21). And two factors that should be considered to raise learners' perception that the program is easy to use are competence (.29) and playfulness (.24), meaning it's important not to rule out playfulness altogether since it contributes to ease of use which further contributes to usefulness
While usefulness can be achieved when the task is dull, Roca and Gagne found that playfulness works best with interesting tasks. Sigh. This point is rather obvious. However, this finding indicates that your eLearning program can be dull if the content is good and provides the learner with skills necessary to succeed professionally. High tech bells and whistles are one of the least important factors when designing an effective eLearning program.
Competence is measured by the learners' self-efficacy on the internet and with the computer. Technology choices should have the learner primarily in mind, in the sense that they are able to feel competent using the program, contributing to their satisfaction via ease of use.
Basically, when users enjoy using the eLearning system, they believe that the system will make them more productive. And when they find the system too difficult to use, it erases their feelings of enjoyment (Roca and Gagne).
Autonomy and support is an organizational factor that describes learners' preferences to choose to participate rather than be forced into signing up for the program. As well, once they have joined, expectations are that the firm will support their participation. This autonomy contributes greatly to learners' playfulness, an intrinsic motivator for learning. Learners are present because they have made the choice to be present. And when workers" feel connected and supported" (perceived relatedness), they will sign up for the program for the enjoyment they receive. Thus, Roca and Gagne (2008) argue that it just might be possible to increase the usefulness and playfulness of an eLearning program if supervisors use motivating techniques or if the company shows concern for workers.
Roca and Gagne were the first to show how important relatedness to the program is to eLearning participation. This is the love connection, the chemistry that leads to love.
Source: Roca and Gagne (2008): Understanding eLearning continuance intention in the workplace: A self-determination theory perspective. Computers in Human Behavior 2: 1585-1604
Image credits: Jeannette Novakovich, "Montreal Writing on the Wall" 
Guest post
Jeannette Novakovich, Specializing in professional communication, Jeannette Novakovich has designed blending learning and eLearning courseware for Service Canada and the University of Montreal and has taught for Penn States' World Campus. Currently completing her PhD in Educational Technology at Concordia University in Montreal, she has published and presented research in the area of social media applications for higher education.