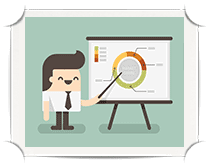 Rapid eLearning developers, please read this article (twice)!
If you think you have a trump card of an instruction design (ID) toolbox to create a jiffy course in x time, please re-think your responsibilities as an educator!
Healthcare training is not something to be taken lightly.
With virtually zero margin of error as well as tolerance for mess up in their performance, let's just make sure these trainings are locked and loaded!
Before you smirk at our over-zealous advocacy on the seriousness of the healthcare training, please allow us to explain.
Healthcare related content, context, performance criteria and evaluation is one of the most serious trainings you will ever create and deliver.
We believe this holds true, even next to aircraft simulations and warfare trainings (ironic isn't it)! Before you roll up your sleeves to create a new healthcare training program, please, ditch the "role-play hat" often donned by many IDs and eLearning developers.
Healthcare training is as serious as dealing with a life in the operation room. Your role as an eLearning course designer is suddenly under serious scrutiny.
Read on to find out why.
The many roles of an eLearning developer
Our favorite instruction design and eLearning expert, Tom Kulman states in his latest e-book The Insider's Guide to Becoming a Rapid eLearning Pro that an eLearning developer is a one-stop shop of multi-disciplinary roles:
Performance Consultant
Project Manager
Instructional Designer
IT Specialist
Programmer
eLearning Expert
You might have the bragging rights to say that you have been there and done that – meaning, acted as all of the above, and came out unscathed, with a shiny eLearning course. We don't deny your credentials or your strategies, nor do we under-estimate the testimonials on your website.
But we still think, when it comes to developing healthcare related training, more is actually less. Each role needs to be accomplished by an expert in the area.
This is mostly because (rapid e-learner alert) health-care training, in most situations, will be a customized eLearning experience. It will have all the bells and whistles you have been mercifully asked to leave out in the past.
In short, trainings in this field are multimedia and interactivity packed. You should not have a content reading session for your learners at all. Especially if the course is NOT instructor led, and is completely online.
You will need to integrate medical jargon with diagrams that provide opportunities for drill and practice and feedback. If there is one way to learn the concepts in a healthcare profession, it's the "learning by doing". No shortcuts, no quick routes. The slow and enduring, detailed descriptions of each objective is the only theme applicable in such trainings.
We mentioned "locked and loaded" before, didn't we?
Well, it basically means, you need to make sure your learners click on each clickable object on their screen, respond to each question, practice each mini-activity and watch each video before moving on to the next page.
We are not concerned with the comfort level of the learner here. We are more concerned about the content being delivered completely to the learner. In order to establish this strictness, each screen needs to be locked.
The course can never be marked completed unless the quiz has been attempted AND passed with minimum passing score. Such implications not only raise the standards of healthcare education, but they also improve performance of the healthcare professionals.
Healthcare Training Perceptions
Healthcare content needs to be developed with actual Subject Matter Experts (SME).
If you have never attempted to create a medical content related course before, you will definitely need to shed any prejudice of sharing your training strategy expertise with the SME.
When working in a team of the above mentioned eLearning roles, a medical SME has the most accurate perception of the concept, topic, illustrations and content of the course material. Have the programmers ready with questions to ask on the diagrams they need to convert into Flash.
What aspects of the diagram are interactive? Discuss all possibilities to rule out any ambiguity. Healthcare related content is usually about interactive diagrams. See this website for examples on medical illustrations: https://www.medical-artist.com/animation/patient-education-animations.html
Or try playing with this Adobe Edge Animate sample eLearning object on Glaucoma by following this link: https://create.adobe.com/2015/11/9/inspire_is_now_adobe_create_magazine.html
The idea is to enable us to appreciate the complexity behind healthcare training courses. The more clearly you express concepts through diagrams, the better you achieve the learning objectives put forth by the medical SME.
Content and text-based material is usually easier to perceive. However, there are certain key areas in human physiology or pathology that need to be reinforced. Medical training is all about reinforcing and strengthening concepts in order to enable learners to link and relate concepts both cross disciplinary and scenario-based.
Ensure you have these key concepts covered. Integrate practice activates for recall. Make sure you have your spellings right! Check the spelling for Medulla Oblongata anyone?
Healthcare Training Planning: Instructor Lead
When you create live training materials, a good rule of thumb to follow is (mentioned in Essential Medicines and Health Products Information Portal A World Health Organization resource):
• A question-answer session;
• A general discussion on the subject;
• A demonstration that involves the participants;
• A role-play with participants;
• A practice session with small groups.
Healthcare Training Content: Presentation Strategy
Online content development for healthcare training also needs a distinct presentation strategy. When selecting multimedia, follow these rules from the same source:
• Figures and symbols must be recognizable to the audience;
• Messages must be few and in the local language;
• Pictures should illustrate one message at a time;
• Pictures and words should be large if used in a group;
• Any equipment that is used must be maintainable and power must be available, if it is required;
• The cost should be within the means of the agency.
Resist the urge of correcting the client. Know that your proven strategies may not work well in healthcare trainings.
In fact, be open to possibilities and learn something new from your client. The golden rules in your eLearning development book that still apply in these trainings? Always under-promise and over-deliver!
If you have any health-care related course development experiences, please feel free to share them with us in the comments section below.