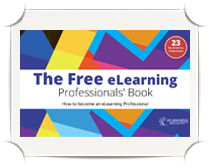 There is an absolutely overwhelming amount of information on the Internet on how to do things right in different areas.
The folks over at eLearning Industry had the brilliant idea of assembling tips and methods on how to become an eLearning professional, straight from the source! A Free eLearning eBook filled with tokens of wisdom from 23 eLearning professionals who come from a set of different backgrounds, some related and some completely irrelevant to eLearning and education; we get the perspective of different people who did it right and established themselves as eLearning authorities.
Quoting Christopher Pappas, founder of the eLearning Industry's network: "This is not your average looking, cliché reproducing, metaphysical, theory-loving free eLearning eBook."
What is great about the eBook is that the people interviewed are only a single Google search away at "eLearning". Be it staff of some of the most widely known LMSs, school principals, eLearning consultants and instructional designers, this Free eLearning eBook is rich on information stemming from a variety of different backgrounds and knowledge pools.
Here is an example of what you get FREE access to:
 Information on how to setup an eLearning company and sell your content (both from an instructional design and marketing perspective)
 Entirenet's Brandon Carson talks about what he believes are key principles in teaching using eLearning: Empathy, which is about taking feedback from all target audiences (high and low performing) and realizing the trends that come up and how that information can assist into the improvement of content; and Prototyping, which is all about trying several new things without the fear of failure; it's all about comparing old and new methods and investigating how and why one may work better than the other.
Learn, Apply and Improve is Joel Gardner's advice; learn new technologies, apply them in eLearning and improve on your methods using experience and know-how to make eLearning more effective and appealing. Keep adapting to changes in the external environment so as to maintain your target audience.
Get in the learner's shoes! Create content as if you would have to sit through it: is your course worth sitting through?
Communicate! Openly, clearly and effectively, be it your course's goals or the objectives of a single module, establish rapport, keep in touch, ask for feedback.
There is no cookie-cutter method for eLearning. It's not about getting it right; rather, it's about getting it right for your situation. Embrace all aspect of eLearning, be it blended learning or online learning entirely, there is a multitude of benefits to all aspects of eLearning, which are increasing daily with technological discoveries and the use of gadgets and computers in our everyday life.
In its entirety, I'll call it a library of useful advice everyone SHOULD read. I discovered that there were tips and insights that were unique to the different perspectives of people cited. Professionals in education, consulting and technology, holding degrees spanning a number of different and even sometimes irrelevant fields to education allows the reader to amass the most valuable of lessons: it takes innovation and foresight to become an eLearning professional. It's about understanding your audience and delivering content that you find interesting and engaging, gathering feedback and improving on your current content and method of delivering material.
"Visit eLearningIndustry.com and read the FREE eBook!"