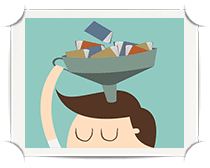 Have you ever tried working on a week or two week long project without laying down the main steps? Ever had the feeling of being utterly lost for direction while on a project? What about the feeling of inadequacy for skills? You start with enthusiasm that quickly follows with a flat liner?
Project plan
Beginning an eLearning course development project without a project plan will not be any different. As serious as it sounds, an eLearning course is both exciting and challenging to create. Being a training manager or a human resource manager, you know your organization better than an eLearning consultant. Developing a customized eLearning training content will be easier for you, as you know the day-to-day complaints and aspirations of several individuals and departments in your organization.
A meeting with the leaders and front-line managers is all you need to ground the content material for your e-learning course. If there is one thing we guarantee after your first eLearning course development experience, that is the unbeatable euphoria. Not only will you save your organization some good dollars, you will become an instant hero for being an in-house learning content developer. Add that to your current skills and you can only go higher up with grace and confidence.

eLearning eBook
So what was the project plan we mentioned to use when developing an eLearning training? It's the eLearning eBook created by the masterminds of Talent LMS. Our years of experience and professional expertise in instructional technology and eLearning development has enabled us to bring together the basic and advanced essentials for your project. The eBook is designed for novice to advanced instructional designers. This includes you, the aspiring training manager.
The chapters are aligned as independent units that provide value for every phase of your eLearning project. With a vague idea of the topic, objectives and course content, you are now ready to draw a rough project plan. Simply skim through the Table of Contents to get a gist of what will follow.
Introduction
The Introduction section describes the typical user who will benefit from this eBook. Determine if you can relate with this section. If you are convinced, then this eBook will provide meaningful guidance to correct your current eLearning project or to begin your new one. One fundamental value of eLearning is the potential to create life-long learners and culture change into learning organization.
Planning
The Plan unit will identify gaps. Gaps in your skills as an instructional developer. Gaps in the eLearning deployment resources in your organization. Gaps in knowledge and skills of your learners. With concrete needs analysis, you can plan your road map to a successful eLearning course with confidence and clarity.
Building
The Build unit is where we share the core instructional designer skills. Although, the profession requires rigorous training in adult learning theories and applications development, you can still become one on an ad hoc basis! Study this unit well to determine your strengths and weaknesses as an eLearning venturer. Learn the key features in developing learning objectives and aligning them with assessment items. Calculate the ROI for your new project as well as performance evaluation techniques after the course is complete. Discover the various course development strategies. Invoke the storyteller in you!
Engaging
If you want maximum users to engage in your eLearning courses, get some valuable insight from the Market unit. Find out how to increase your course registrations both internally and on an external marketplace. Reward users to encourage them to stay on the course and sign up for more through the eLearning industry's well-kept secrets!
Communication
The Communicate unit will demonstrate how learning management systems like Talent LMS can make your life easier – both as an eLearning training developer and as the course mentor/facilitator. Send out automated notifications for all kinds of announcements and notificationsyou can think of. Make best use of the various tools available in your LMS.
Assessments
The Assess unit is where you will learn how e-courses earn value by measuring learning in various methods. Learn how to develop assessments using your LMS and how to report them to your users. Analyze reports using metrics available in your LMS for a more meaningful study of learner performance. Create authentic assessments – real world performance context assessments that bring the user directly to their work environment. You didn't think this was possible? Now you will!
Course iterations and improvement is critical to developing agile and market responsive courses. This eLearning eBook will explain how to conduct surveys and receive feedback to improve current courses and establish requirements for new ones.
Conclusion
The Conclusion section brings the entire eBook into perspective through this checklist:
Course length (seat time)
Format and accuracy of the source content
Multimedia requirements (audio, video, images etc.)
Number of learners
Compatibility issues and versions (SCORM)
What reports and statistics are required?
What are the branding guidelines?
Standards like 508 and others
Languages other than English
So what are you waiting for? Get started with your project plan to develop your new eLearning training and impress them all!
Good luck.
| Tags: eLearning Design