Customizing your training portal is more than just playing around with the colors; it is adjusting the look and feel of your platform so that it matches your brand and identity. And why should you bother?
Because adding a personal touch to your training helps to connect better with your learners.
Looking for a personalized eLearning platform?
Add a personal touch in your training in no time with TalentLMS.
The training platform that users consistently rank #1.

---
LMS customizations let you:
Boost your brand: Even small changes like adding your logo or using your company slogan will stick to learners' memory and make them realize that this is the platform that you built for them.
Maintain a consistent image: The messages you spread, the values you share, and the language you "speak", should be consistent across all channels you're using. And your training platform is one of them.
Increase user adoption: The more familiar people feel with your LMS, the more likely it is for them to sign in and complete their training. Put differently, a platform that looks nothing like the rest of your website or other communication channels will easily turn learners off.
Improve learner experience: In eLearning, there are no "one size fits all" solutions. You know your learners better, and you understand their pain points more than anyone. So, you should customize your LMS, too, in order to meet those needs, and offer a better learning experience.
Developing custom eLearning courses has its benefits, but at the same time, may sound like too much work. However, with an intuitive, easy-to-use training platform, like TalentLMS, customizations are a matter of just a few clicks.
Let's see how you can customize your training portal with TalentLMS:
How to deliver a better learning experience with TalentLMS customizations
1.  Upload your logo
The first thing that most people remember about your company, besides the name, is your corporate logo. In some cases, they might even recognize your brand simply by seeing your logo without even reading your company's name. That's why it's essential to add your logo to your learning platform, especially if you're training external stakeholders, as well.
Having your TalentLMS-based eLearning portal showcase your logo is as easy as it gets. You just need to go to the "Account & Settings" page and upload your image.
You also get to upload your own favicon (which is that tiny icon thingy that appears on browser location bars and bookmark listings when one visits your site).
2. Customize the colors of your portal
For larger businesses, and for well organized smaller ones, branding comes with a palette of official corporate colors meant to be featured on the company's website, advertising, packaging, business cards, and generally all kinds of collateral.
Smaller businesses might not have such detailed branding guidelines, but they could also benefit from a consistent image when it comes to color, e.g. by picking colors that are featured in their logo, or that go well with it.
As for applying your brand colors to your TalentLMS portal, just go to the "Account & Settings" page, and either select a theme from the list of themes that already matches your color scheme, or create your own custom theme by changing the colors of each visual element on your portal.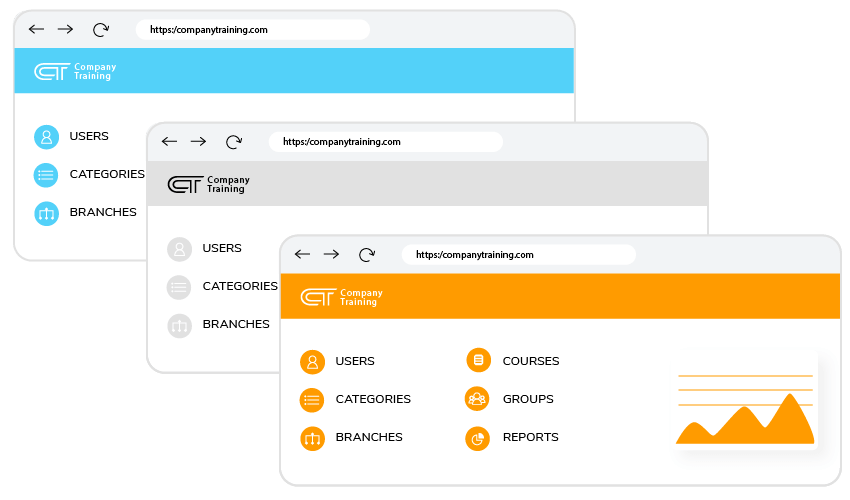 3. Be the king of your own domain
You've made your training portal match your brand, by adding your logo and using the appropriate color palette, now you have to give it a name, too. TalentLMS offers automatic subdomain mapping for all our hosted eLearning portals, giving you your own "company_name.talentlms.com".
While this might be enough for internal use, you'll probably want to use your own domain name for anything public-facing. Which you can, armed with our handy domain mapping guide. Sign in to TalentLMS as an administrator and from your settings point your TalentLMS account to your company domain. This way, learners will be directed to a custom domain name to start their training.
---
Need a white label LMS?
From simple color and font tweaks to domain mapping,
build an entirely custom eLearning environment with TalentLMS.

---
4. Set the tone (and the language)
Help your learners feel at home with their training by choosing their preferred language. Admins, too, can switch the back-end to the language they mostly use, so they can more easily navigate through the platform.
As expected from a product catering to the international market, TalentLMS lets you easily change the language of your portal, with built-in language packs covering over 30 different languages, and the ability to add your own language packs.
It doesn't stop there, though, as it also allows you to dig in and change words and phrases across your portal (e.g. in headings or buttons), to match your brand's tone of voice — whether you prefer enterprise-y, casual, or anything between.
5. Customize your homepage
Your TalentLMS homepage is where your learners first come into contact with your learning portal. And also where they log in each day to get an overall view of their courses, planned activities, and scheduled events.
TalentLMS allows you to customize your homepage in all kinds of ways. You can:
upload your own banner image
set your custom message or company motto
feature the courses you want
add video and text
create your own customized menu with additional pages and links to external resources
These customizing options let you improve the functionality of your mini-site and the overall user experience, as you make it easy for learners to navigate your training portal, find specific courses, or even get quick access to resources like an FAQ page.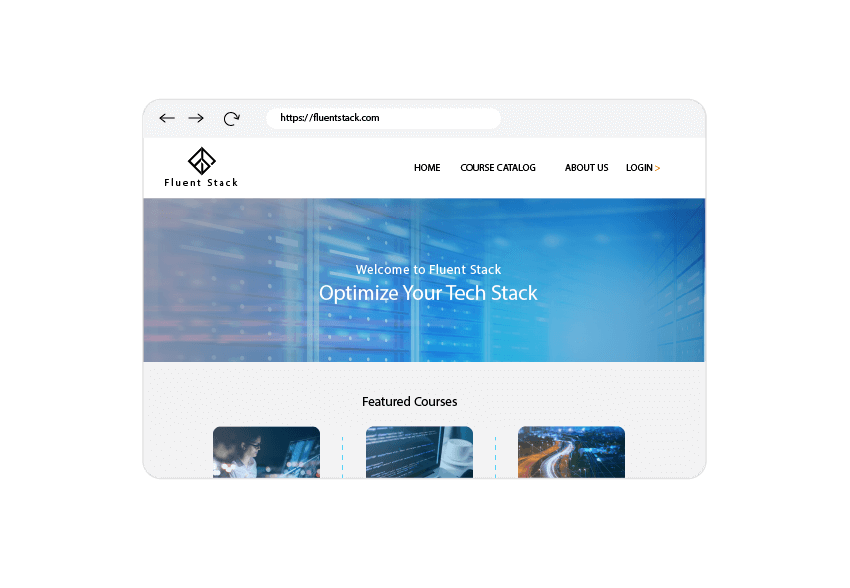 Learn more about the white labeling options in TalentLMS.
6. Keep everybody in the loop
You built your portal the way you wanted and you can now focus on the actual training. But, in some cases, you'll need to slightly change your portal to make a special announcement. Whether you want to inform learners about upcoming webinars, advertise a new course, or simply wish them "Happy Holidays", TalentLMS has you covered.
From your settings, you can set an announcement that can be visible on your homepage to anybody visiting your eLearning portal ("external") and/or shown when a user has signed in ("internal").
7. Customize your course content
If you're selling courses, then your course catalog is the virtual equivalent of a physical storefront — you want it to look pretty. And even if you're running an internal corporate training program, it won't hurt to make your courses more appealing to your internal users.
TalentLMS lets you set a custom image for each course, which will be displayed next to the course's name and details in the course catalog. To do that, you can simply select the desired image from the image upload box on the Course settings page. TalentLMS accepts the most common image formats, but your image has to be at most 3MB, so we suggest a compressed format such as JPEG.
If you want to get even fancier, you can customize the look of the text content within your lesson units — e.g. to use a "funnier" (sic) font for courses intended for smaller children, or to use specific fonts or colors to highlight important passages, etc. You can do that from the content editor, using the top bar to change the font, color, and other text attributes.

8. Branch out
Do you always train the same, one audience? Chances are that you have to train people from different departments, employees who are in different locations, or even different clients. Then why not tweak your training to match the specific needs of each audience? Luckily you don't have to own multiple accounts and build separate portals.
With TalentLMS, you can reach all audiences with one account — and unlimited sub-accounts. You can customize each sub-account (or "Branch" as you'll see it in your platform) so that they're tailor-made for different teams, and manage all from one place.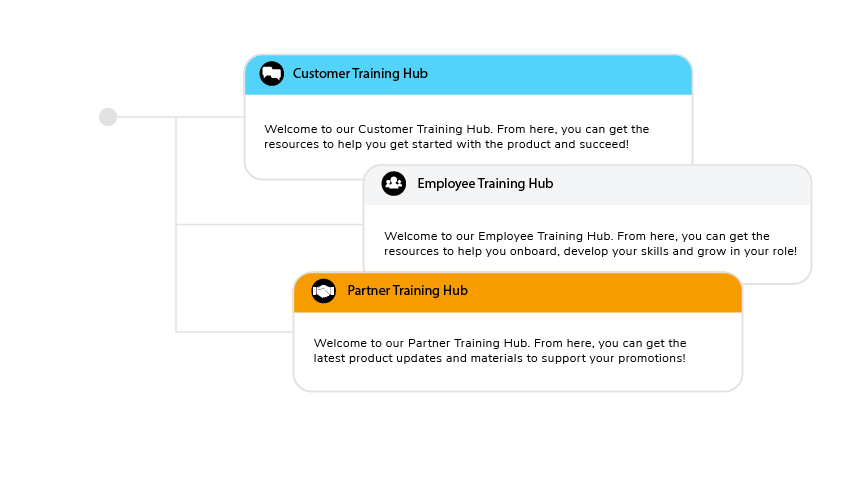 You can get started with Branches in no time following our handy video guide:
Looking for an eLearning platform to train people from different departments?
Create branches no time with TalentLMS.
The training platform that users consistently rank #1.

---
9. Create custom certificates
Certificates are a sort of proof of completion, a type of "degree", that you give to learners who have successfully completed one or more training courses. They also serve as a reward that motivates employees to take and complete a course.
TalentLMS comes with ready-to-use templates so that you don't have to make your certificates from scratch. Pick the ones you like the most and customize them so they automatically display the info you want, for example, the title of the course, the learner's name, their average score, and the expiration date.
While TalentLMS already comes in with several certificate templates, from formal elegance to utilitarian minimalism, it also lets you customize the design of your certificates by uploading your own logo, background, and text.
For more details, here's our guide on how to create perfect-looking certificates with TalentLMS.
10. Get your game on
Gamification is a great way to motivate and engage learners and get their competitive spirits up.
TalentLMS not only offers that but goes beyond standard gamification features by offering a fully customizable engine — so that you can configure your gamification experience to be as light or as heavy as you want it.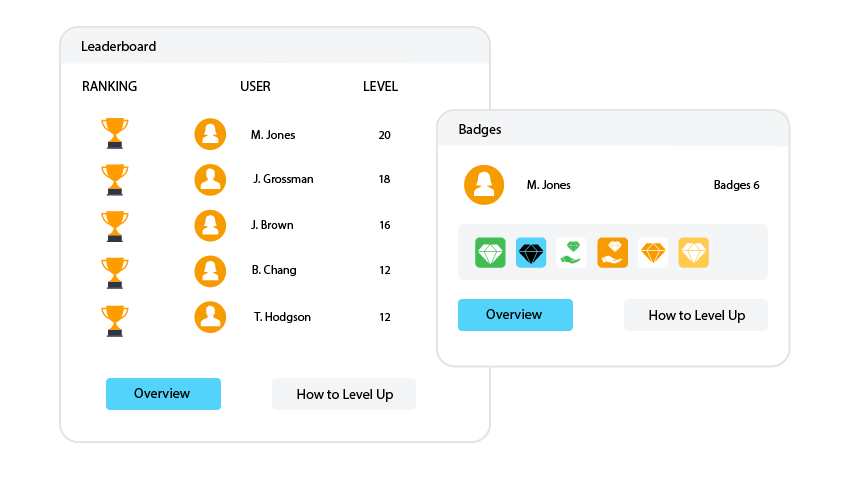 Learn how to configure TalentLMS' gamification options, from fine-tuning its point system to uploading your own custom badges here:
11. Customize almost any element of your portal using CSS
Have a specific design in mind for your eLearning portal? Don't particularly like a default style? CSS to the rescue.
CSS (short for Cascading Style Sheets) is a powerful HTML technology that allows you to change all (visual) aspects of your TalentLMS portal, from font colors and sizes to background images. TalentLMS already comes with a default CSS style, and you can override all or parts of it to your heart's content.
If you're already familiar with CSS, the possibilities are nearly endless. And if you're not, it's easy enough to get started, with our handy guides:
12. Set up notifications
TalentLMS has a powerful notifications system, allowing you to notify your users when some specific event happens (e.g. when they have successfully registered for a course, have to retake a test, etc.).
The notifications are highly customizable too, letting you choose which events will trigger notifications, as well as the exact wording of any message sent to the users.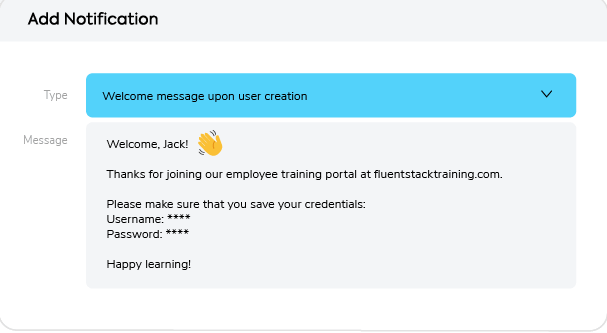 Here's a video tutorial on how to use the notifications system:
13. Add live chat
TalentLMS offers a number of built-in integrations, and quite a few more through the Zapier meta-integration service. But you can also extend TalentLMS' functionality using Javascript code that loads external services.
One of such external services that can really improve your users' learning experience is Zopim, Zendesk's chat service. Zopim adds a handy "live chat" widget that lets you engage with and assist your learners in real-time. Learn more about adding Zopim's Live Chat widget to TalentLMS.
Conclusion
In this post, we've examined 12+1 (that's 13, for those of you that don't believe in superstitions) TalentLMS customizations that will reinforce your branding and improve your users' learning experience. Of course, with TalentLMS' flexibility and breadth of customization options, they could just as well have been 23 or 103.
Do you have any particular TalentLMS customization tips that you're particularly fond of? Share them with your fellow TalentLMS users in the comments section below — and let us know if there's some particular option you'd like to see.
Originally published on: 09 Mar 2016