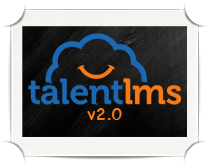 Sunday marked the release of TalentLMS v2.0, and today we're talking about it!
An LMS is an important tool. Important in the ways it can motivate the end-user to learn, but rather more important in the way it enables the content author to easily create.
In this version of TalentLMS, we will be discussing some important features we feel will greatly assist Administrators and content creators.
As an instructor, creating content is one of the most important tasks; we continuously try to make the process of content creation as quick as possible, to ensure the instructor spends more time in improving delivery methods and tweaking content as per the learners' needs, rather than spending all his time figuring out how the content will be implemented into the system.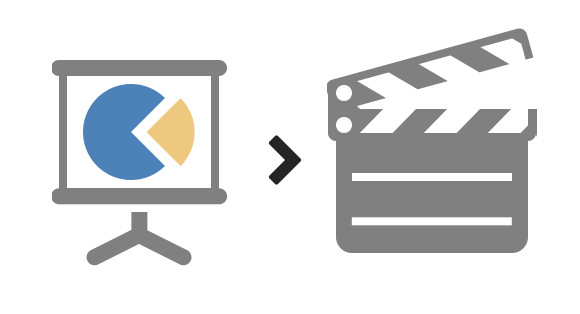 Built-in PowerPoint to Video Conversion
Powerpoint presentations have been the bread and butter of every person who has needed to present an idea, a project, or sales pitch at some point in their lives; presentations are also one one of the prime ways to deliver content in a concise and structured way. We strongly believe that enriched presentations are always more engaging than those that consist of plain text. But, having to go through it all, and manually moving through transitions can be a tedious and tiring task for the learner.
In TalentLMS v2.0 you are now able to add "Video", just using a presentation file. This will be automatically rendered into video and all of the animations, audio and transitions within the Presentation file will be preserved.
This functionality is available when adding content by selecting Add+ > Video > Using a Presentation File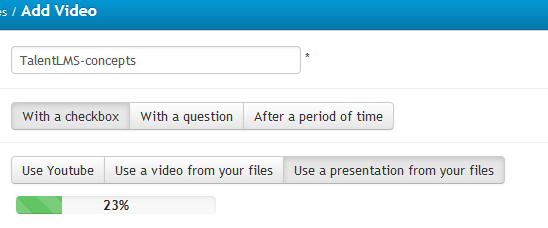 Reports Engine – Enriched
While TalentLMS has always been a system that allowed administrators to view comprehensive reports with graphical representations of the users' information, taking it a step further to offer full customizability of reports is the cherry on the already tasty frosting.
You can now create custom reports based on the activity you wish to track, and perform Mass Actions on the users of the report generated, such as Activation/Deactivation/Removal from Branch etc.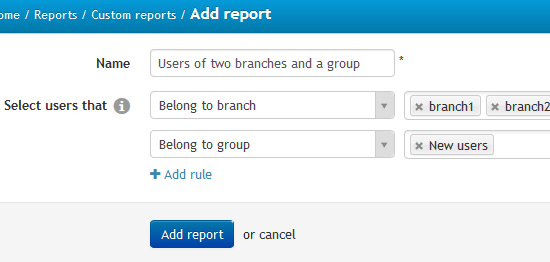 Language Customizations
Especially in the English language, the place which you come from may define how you spell certain words, or the way you say certain things.
An example of the above could be the word Course catalog which in UK English is Course catalogue.
You may want to change the "Not Passed" message that appears after a test to "Failed".
Or you may simply want to change the "Set as completed and continue" message that appears after a unit to "Complete and Continue". No matter the reason, you now have the ability to customize the specifics of the language used within the LMS. Note that TalentLMS locate and modify full expressions. For example you need to set an override for "Course catalog" and not "catalog". This was necessary to maintain a good system speed.
No matter the reason, TalentLMS administrators now have the ability to customize the specifics of the language used within the LMS.
This functionality can be found in Account & Settings > Locale.
Testing Improvements
1) Test Results are now Modifiable: In platforms like TalentLMS that offer the ability to test learners via Free-Text questions, automatic grading based on keywords may sometimes fall short of giving the appropriate amount of points. Via the Test Reports, an instructor may edit a user's test to reflect the proper outcome of the answer given. The system automatically adjusts the grading, too.
2) Test Timers are now Absolute: If a test allowed a learner 60 minutes to complete it, exiting the system and logging back in allowed the user to continue where he/she left off. Test timers are now counting down from the moment the test was initiated, rather than the time spent doing a test as a whole.
3) Intra-Test navigation made easy: Up until now, a learner was only allowed to navigate through test questions using the "Previous" or "Next" buttons. We made it easy to navigate from one question to another by allowed the user to select the question number he/she wishes to land on, instantly. This is particularly helpful in the cases of tests that cover extensive content using a large pool of questions.
Additional Changes
1) Make Discussion Private: This feature comes to complement the social aspect of TalentLMS by allowing the creator of a Discussion to make it private and only accessible using a unique URL. This comes perfectly handy in situations that users want to make a discussion private for the users of a specific course. A great idea to consider would be to create an iFrame unit and embed the discussion onto the course. This will give instant access to the course's users and will embed it on the course like a forum of its own.
2) Introducing Certification Identifiers: This is a feature asked for quite a bit; the reason behind that is that some providers wish to offer training courses and issue certificates that can be traced back to their system for authentication by prospective employers, or even the provider themselves. A certificate identifier allows the provider to track past certifications in order to renew them, as well as know that a user has an authentic certificate at hand.
Improving and adapting TalentLMS to the growing needs of LMS users and providers is an on-going process which cannot be achieved without your feedback. Keep supporting us by giving us your input with new feature ideas and a heads up when something goes sideways!