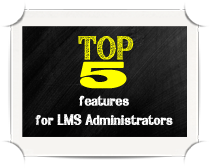 When inquiring for an LMS package, business owners have a few things in mind, including pricing, ease of use for their end-user, and other matters concerning both the functional and the aesthetic side of an LMS platform. Today, I would like to discuss what I find are the most important features for LMS administrators anyone should look for when researching the market.
It is important to care for our end-user, but it's also important to deliver content in an effective and efficient manner. This includes methods to save the administrator's time from mundane tasks that can be automated and be dealt with, relieving the administrator of the related worries.
1. A simple User Interface (UI)
A common misconception of start-ups is assuming your end-user has the same outlook of your product, for themselves. Although this may be true, and (for example) a user looking for an advanced computers course will seldom need information on how to use a simple LMS platform, assuming that everyone is of the same (even average) proficiency, is often recipe for disaster. As Oscar Wilde put it, "When you assume, you make an ass out of u and me."
2. Intuitive content authoring tool
The system has to be easy-to-use for the administrator, and even when the administrator is well-versed with technology, this is no reason for unnecessary burdens. Graphical User Interfaces were made by the very people that knew the ins and outs of coding to make it easier for them, and the rest of the world to handle computers. So yes, when looking for an LMS solution, make sure that you feel comfortable with the software.
I firmly believe that if something feels right within the first few minutes then it's probably a good choice. Having to spend hours in front of a screen to grasp on the basics of something seemingly very easy probably means that your learners will have an even harder time.
One of the most important things is the content authoring tool; the content authoring tool is the editor you use to create, format and rearrange content. It must provide you with all the required options to format and customize your content in a way that eliminates the need for many other external tools.
3. Bridging the gap between the learners and instructor
Bridging the gap between instructor and learner is something we have been trying to do, and continue to find new ways to achieve, for quite some time in eLearning. One of the biggest issues with eLearning is the "missing face" factor. I just coined that term so please bear with me. The missing face is a simple title to the lack of a teacher's physical presence. A teacher does not only serve as the vessel of information; a teacher is a sometimes a friend, a confidant, a tutor and a mentor. As with every benefit there is a drawback, eLearning freedom to plan around your own schedule, and study whenever you wish, comes with a price: you fly solo.
Solo is not bad though, when someone's got your back with features that allow you to play on your own and enjoy the perks of being in a group; it's called Social learning, and there are several methods to make learning social, and give another dimension to a seemingly lonesome learning method.
Ways to make learning social
Discussion Forums
Live Conferences/Webinars (How-To)
Personalized Feedback
Looking for an eLearning platform to make learning social?
Create gamified courses in no time with TalentLMS.
The training platform that users consistently rank #1.

---
4. Reporting system
I can't stress the importance of tracking progress enough. In LMS terms, this is translated into Reporting. Reports help an administrator understand the learners' progress, track trends, iron out imperfections in the content and tweak testing to engage learners better. All of that information, and more (depending on the Reporting system functionality) is available to the administrator of a complete LMS. After all, the only way to measure success is to quantify it and do the math.
Check out the how TalentLMS supports reporting tools here.
5. Automation
A simple user interface, an intuitive authoring tool, social learning tools and a reporting system – the last thing you need is to automate some processes to make sure that you spend enough time building a community and less time trying to manage your LMS. There are several kinds of automation that can take place an LMS; for example, automated notifications for the upcoming conference, or a notification that learners soon completing a course, or that your certification will soon expire. A myriad of different types of notifications will be available to the LMS administrator and some LMSs will even allow the custom creation of notifications to cater to the specific needs of the administrator, for specific courses or even specific user groups.
In Short…
An LMS is a set of tools used to manage and deliver educational and training content to learners across an online platform. When choosing an LMS from an administrator's point of view, you should always look for some important LMS features, like the following:
A simple User Interface: an environment in which you find what you need, quick and easy.
An intuitive content authoring tool: when creating content you shouldn't have to resort to other tools.
Social learning tools: they help you engage your learners and create a community in which growth and learning are inspired around the clock
A reporting system: the back-end; the system that tells an administrator information, like how much time was spent completing a module, to the mistakes that a whole class did on a test. Anything you need to know should be available via a smart reporting system that works for you.
Automation: Spend more time creating and less time managing. From notifications about pending subscriptions, to inactive users, to someone who's long gone but should be reminded of their imminent certification expiry – it does the job when you're busy thinking of the next great idea.