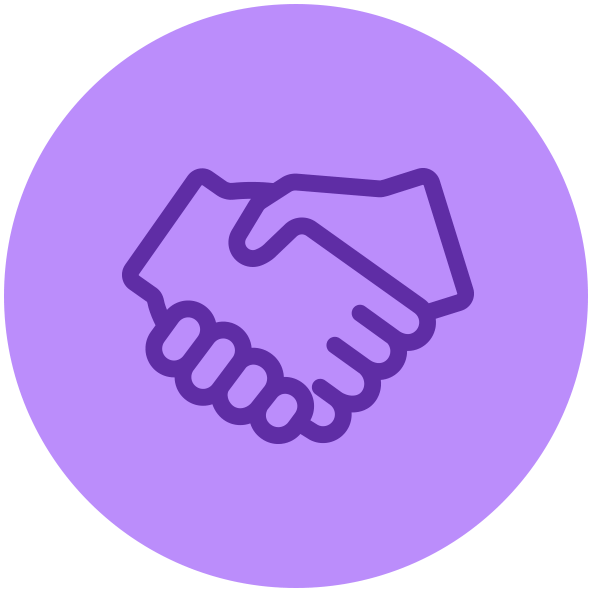 Kick off engagement from day one with comprehensive employee onboarding training
Welcome your new hires into your business and get them to work faster with onboarding training software. It's the simplest way to prepare new employees and cultivate a foundation for business success.
Why Use An LMS For New Hire Training
What is Onboarding Training?
Examples of Onboarding Training
What are the Benefits of Onboarding Training?
How an LMS can upgrade your new hire training
Employee onboarding software (commonly referred to as online induction training software or a learning management system) takes onboarding training online for better delivery and management. The advantages of using induction training software are many, such as:
Easy accessibility

Online onboarding software by its nature is always available as long as there's an internet connection. New hires can choose to engage with employee onboarding when they want, at the pace they want and from where they want.

Less business downtime

Using an onboarding training LMS requires up to 60% less employee time than traditional classroom training, letting new hires get productive faster.

Fewer induction training costs

An induction program delivered by employee onboarding software is far less costly than a physical onboarding program. Organizations incur no costs for renting a physical space, travel expenses, and trainers.

Less risk

An online induction training platform keeps digital records, which in case of litigation can be useful in proving that an employee was informed of specific laws and policies.
Supercharge your online onboarding training process with TalentLMS
TalentLMS is a learning management system engineered to improve the induction process for new employees. It's also the only induction training LMS at a reassuringly fair price. It's easy-to-use and comes packed with all the features you need to deliver outstanding onboarding training.
Who doesn't want increased employee productivity, fewer workflow disruptions and a competitive edge? Any company, regardless of size, can use TalentLMS for new hire training and reap these benefits and more.
You'll love using these features:
Powerful content-builder

With intuitive and robust content creation tools, TalentLMS simplifies course creation for you and your development team.

Easy administration

TalentLMS' Default Group feature streamlines your induction program for new employees by letting you select a number of courses and have them automatically assigned to all new hires.

Comprehensive assessments

With TalentLMS, employee onboarding can be combined with online tests, surveys, and quizzes so you know how well your new hires have absorbed their onboarding material.

Strong reporting engine

To assess your onboarding process for new employees, TalentLMS' Reports feature give you full insights to your learners' progress.

Supports isolated training portals

Tailor your onboarding training programs by facility, department or branch of your company for more effective induction. Use TalentLMS' Branches feature to separate each training portal.

Complete training solution

TalentLMS is not only considered online onboarding training software. It can also be used for all types of corporate and compliance training.

Integrates software

TalentLMS' Single Sign-On, Integrations and REST API features make administration user-friendly. These features connect your online onboarding training software to the rest of your onsite and offsite infrastructure.

Cloud-based

TalentLMS is a cloud-based LMS, which means you don't have to worry about installation, maintenance, or backups. Our team takes care of all of that, while you focus on your induction process for new employees.
What is onboarding training?
Onboarding training, also known as induction or orientation training, is a great way to get your new hires to be productive quickly. By training new staff in their first few days and weeks, you enable them to understand your expectations and the processes in place to help them.

But the purpose of onboarding training isn't only about learning business processes. The core of the induction training program will focus on the new hire's role and responsibilities.

Training new staff about the ethos of your organization, the finer points of their responsibilities and your business procedures creates a solid foundation. It's this foundation that ultimately, raises employee productivity, engagement and retention.
Successful induction training in the workplace
To capitalize on the benefits of onboarding, most successful businesses deliver comprehensive onboarding training programs to new employees. Instead of only introducing hires to the organization on a basic level, workplaces go beyond first-day musts and consider long-term needs. A strong onboarding process for new employees usually includes sessions on:
Role and responsibilities

An in-depth explanation of the new hire's day-to-day responsibilities and where they fit in the company structure.

Health and safety induction training

This kind of training covers all the necessary knowledge to keep employees safe and ensure compliance with regulations.

On-the-job training

This training provides the new hire with the precise skills, knowledge and competencies they need to engage in their new role with success.

Workplace security training

Security training informs employees about professional ethics, harassment laws and industry guidelines to name a few.

Employee benefits

Some of the most useful information to include in an induction program for new employees is about career advancement paths, bonuses, vacation time, pension plans etc.

Company culture

An essential part of the induction process for new employees is to share your company's vision and values. Familiarizing hires with the culture of your company gives them a greater sense of purpose and belonging.
An onboarding training program covering all parts of life in your organization is an induction training program that gets the result you want. Higher engagement, less disruption and greater productivity from day one.
Survey finds how new hires feel about onboarding
71%

feel prepared to do their job

65%

feel they become productive quicker

71%

feel they understand their responsibilities
Benefits of onboarding training to the employee
New hires come with fresh ideas. These ideas inspire businesses to lead down new paths. So, it's essential to welcome employees in the right way. Some advantages of onboarding training for new employees include the following:
New hire training provides a warm welcome and ensures employees feel comfortable in their new work environment. This attention, designed to make new hires feel valued and respected, increases motivation.

Onboarding training helps new hires adapt to their new role and workplace quickly. This is one of the advantages of induction training for new employees as they get the necessary information about the company to understand the culture, as well as policies and processes.

New hire training inspires good communication habits with the organization from the start. As part of an onboarding training program, introductions to an employee's supervisor, team members, and directors of the organization will make the new employee feel more comfortable when approaching them later.
We have seen drastic results and changes since using TalentLMS. Our new hire training timeline has significantly decreased thanks to TalentLMS and now the ramp up time for new hires is much shorter.
We found TalentLMS to be a cost-effective solution that allowed us to organize training using customized courses and measure effectiveness through testing. We also found that it was simple to utilize within our company and we were able to commence training quickly, which suited our requirements perfectly.
TalentLMS has proven so simple to navigate and has enabled us to overhaul our training mechanisms. From organizing training for our new hires to measuring general effectiveness through testing
Benefits of training new staff to an organization
An organization is only as strong as its people. And one of the most essential benefits of an onboarding program or plan for new staff is that it keeps a business stronger.
Induction training lets your employees "hit the ground running" and allows them to be productive from day one.

New hire training frees senior employees from time-consuming questions that can be better answered by strong onboarding training.

A new employee training plan helps teams keep workflows in place, without major disruptions by the new hire. Especially important for industries with high employee churn, where new hires need to be able to quickly reduce the workload of other employees.

New hire training reduces risk. The chances of costly mistakes are less likely as employees have been properly trained.

A third of employees decide in the first week whether they'll stay in the current workplace. And replacing employees can reach 50% of their annual salary. Solid staff onboarding training increases employee retention, in effect, reducing recruitment costs.