It's not exactly ground-breaking news; life just looks different right now. From the home to the workplace, no aspect of life has been left unturned during the pandemic.
Indeed, all workers face an uphill battle in today's economic climate, but for professions seen as highly-personable, the hill is particularly steep. If you're a sales professional (or someone who needs sales skills at work) you know the limitations presented by the pandemic are practical in nature, striking to the core of how you work day-to-day.
Sales skills and changes in numbers
To understand these challenges, SalesRoads asked 755 sales professionals about the state of their work. Although the survey looked specifically at the Software as a Service (SaaS) industry, SaaS has proven to be an incredibly resilient vertical that includes companies such as Zoom Communications and Salesforce.
Because of the sector's diverse nature and astounding success, it's reasonable to assume that the results of this research could be applied in a broader context to represent the hottest parts of the economy.
The findings suggest that sales professionals face three distinct changes; slow pipelines, work from home (WFH), and new buyer preferences. Although the challenges for salespeople are real, so are the pressures to exceed goal.
With that in mind, here are three ways selling has changed during the pandemic and the new sales skills you need to crush your quota anyway.
Change #1: Slow pipelines
You shouldn't be surprised that the largest economic downturn in history has been correlated with a reduction in new business opportunities.
Despite the focus on the high-growth SaaS sector, nearly 1-in-3 respondents still indicated that their pipeline was affected by a combination of smaller deal sizes and a reduced number of opportunities.
If you're a sales rep who's pipeline has been affected by COVID, consider focusing on your upsell game. Although not all buyers have extra capital, upselling existing customers is the quickest path to rebounding your pipeline.
Need some actionable tips on how to land an upsell? Read Hubspot's 9 Non-Sleazy Strategies for Upselling Your Customers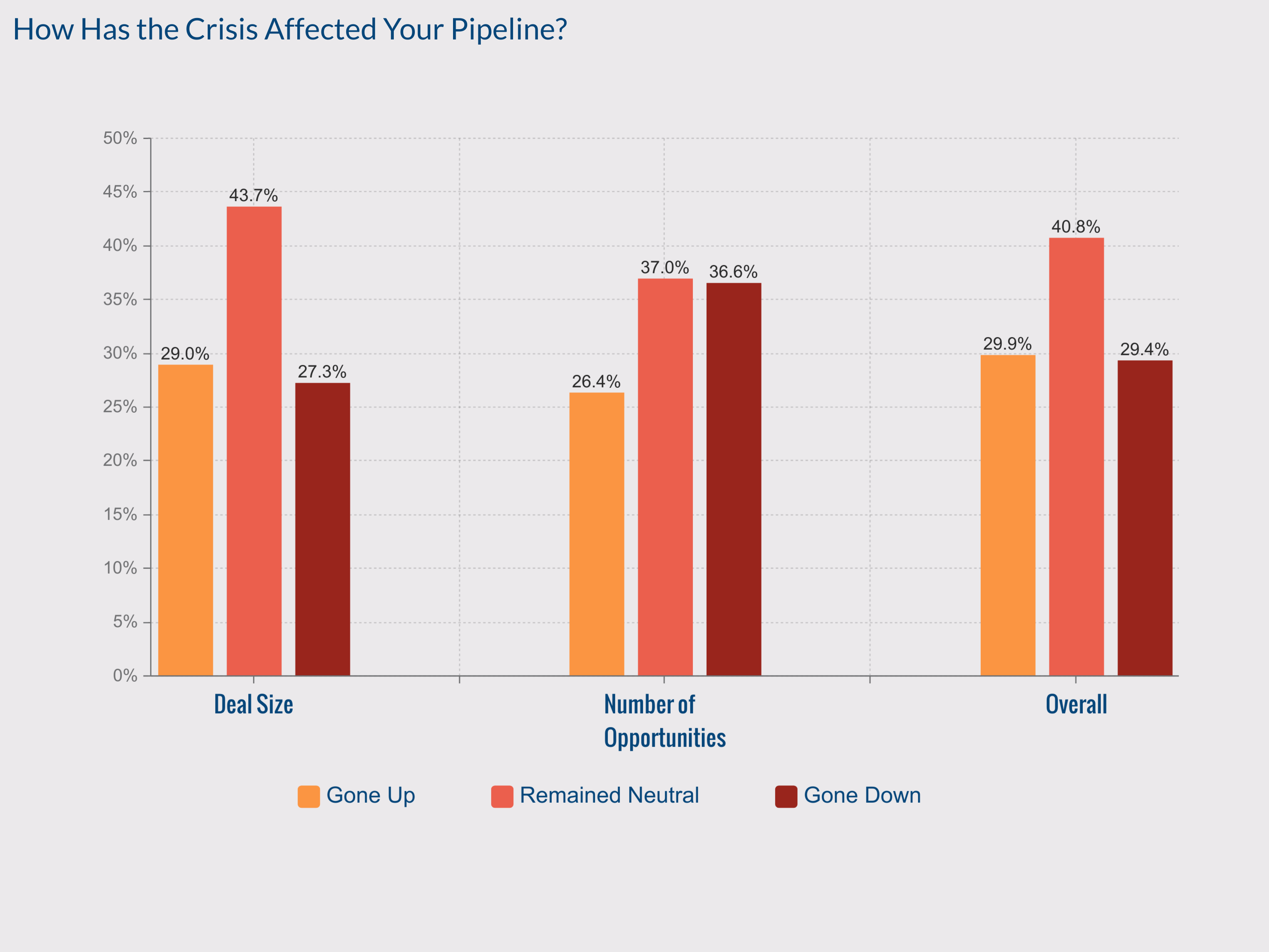 Change #2: Work from home
There is no doubt that the massive shift to work from home (WFH) has emerged as a highly-consequential outcome of the Coronavirus outbreak.
In fact, respondents indicated that WFH was having the second-largest impact on their ability to sell (only prospect budget cuts was a more cited disruption).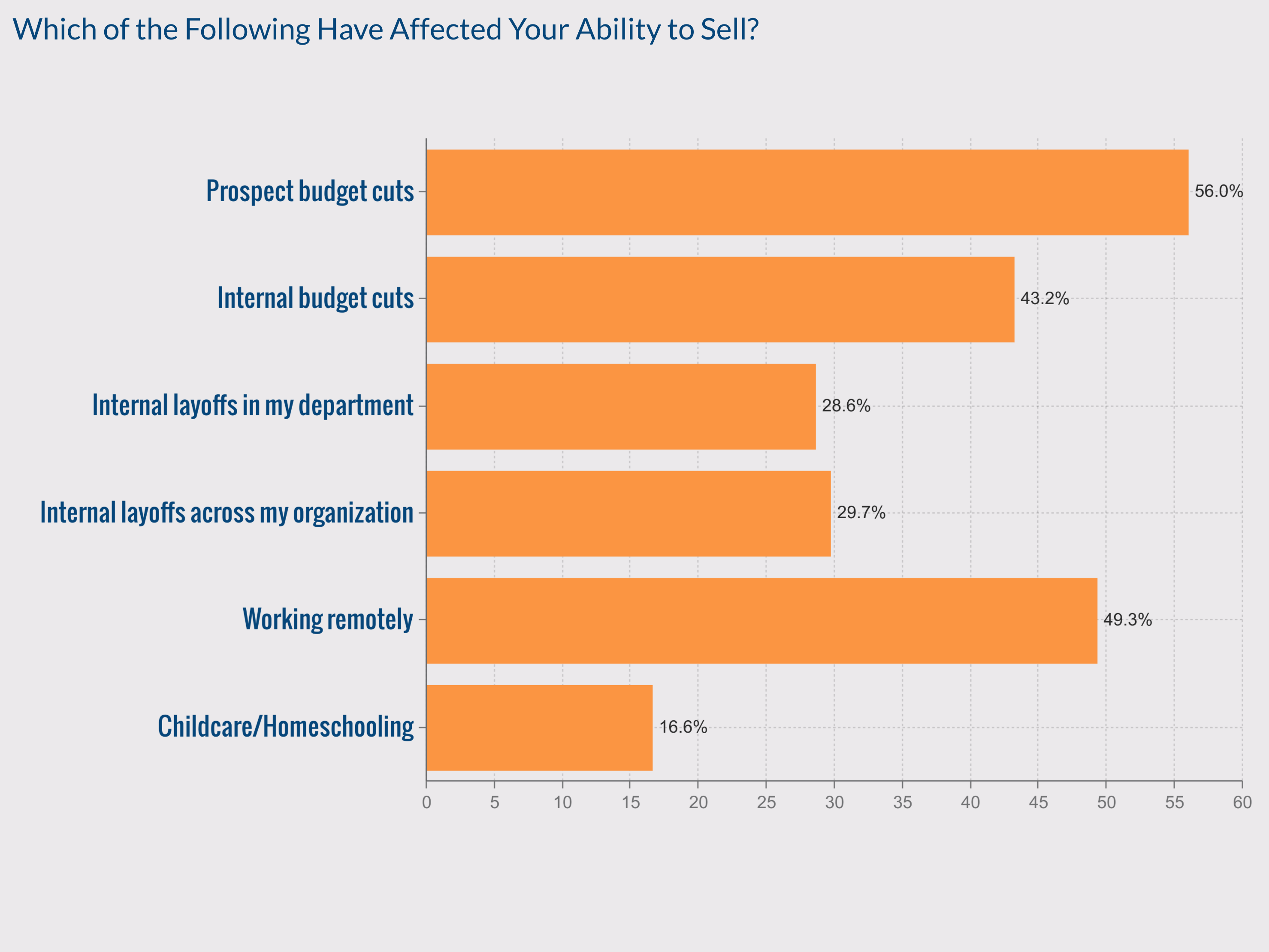 Despite this, 93% of respondents indicated they are more open to remote work in the future and another 78.7% of respondents said they expect at least part (26% of more) of their sales team to stay remote on a permanent basis.
The takeaway? WFH is here to stay, so now is the time to invest in your remote work skill set.
If you're feeling extra-challenged by WFH, be reassured that selling remotely is a learnable skill.
It just so happens that SalesRoads is a 100% remote organization and uses TalentLMS to train employees on effective remote-selling strategies.
You can read about many of our strategies on SalesRoads' blog, see Fool-Proof Tips for Selling From Home.
Change #3: New buyer preferences
Working from home doesn't just change our location, it changes the way we like to be interacted with. If you're a rep who suddenly feels stonewalled in their attempts to reach prospects, that may be because you're using the wrong channels for today's pandemic-world.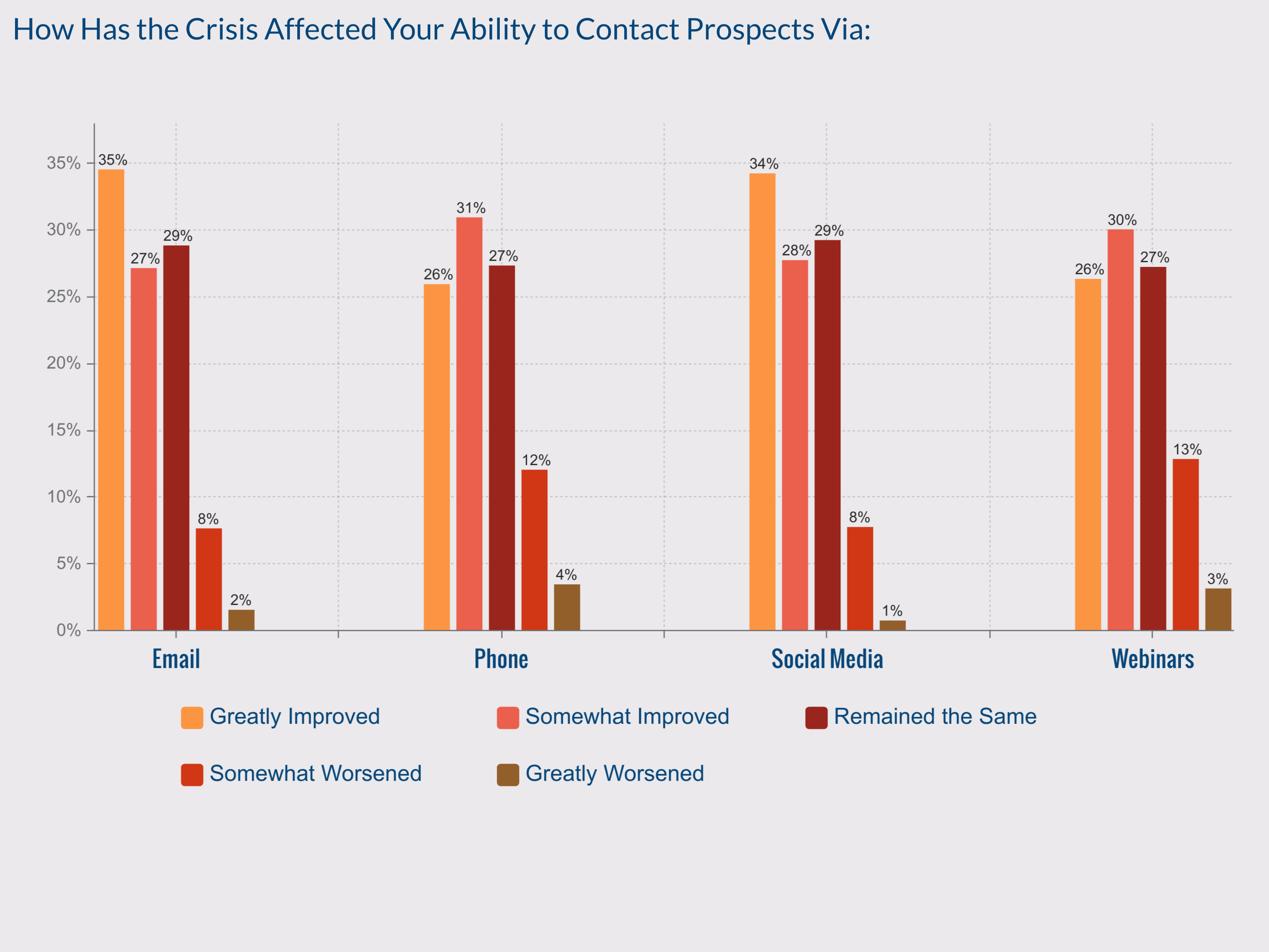 Interestingly, respondents reported improved buyer engagement across all channels.
We hypothesize this result is affected by sample bias stemming from our focus on the fast-growing SaaS industry. As such, we look at the ratio of improved to worsened when considering the current effectiveness of such channels.
In total, sellers reported improved buyer engagement on social media & email by a 6:1 margin. This figure is rather impressive when compared to phone and webinar, in which sellers reported improved engagement by only a 3.5:1 margin.
For sales professionals looking to reconnect with their customers, we suggest working on their social media selling skills. LinkedIn offers a great resource for using its platform to engage buyers.

What else can I do?
At the end of the day, it's highly unlikely that life ever returns to normal as we once knew it.
So, it makes sense to continue developing new skills that can help you in our rapidly changing world. In closing, here are two more sales skills and associated resources to help you crush your quota:
---
About SalesRoads
Leading Sales Outsourcing Firm, SalesRoads, surveyed 755 Sales Professionals on the state of their work. Their research is the basis for this article. You can read the full report, Selling SaaS in the COVID Economy, on the SalesRoads Blog.
| Tags: Employee Training,Sales Training