It is not surprising tha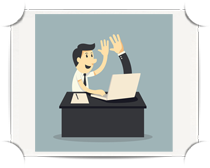 t corporations state that e-Learning is one of the most valuable training methods available today. Not only does it save up to 50% compared to traditional training, but it also reduces instruction time by 60%. However, this also means that it is an important role to create a self-paced e-Learning course into your LMS.
An important aspect to remember with creating a self-paced training program is that any interactions between the learners and instructors are minimal, if not non-existent. The course interactions are solely between the student and materials. So, it is actually the materials which guide and shape the experience. This requires that each individual learner take a more proactive approach to their learning process, with the emphasis being on learner responsibility.
Thankfully, with technology-based instruction there are new options for materials that can be integrated into the e-learning course, which can meet the interaction needs of each individual learner. One of the biggest ways that this is done is through the use of online streaming video. Online streaming video can be adapted to include picture-in-picture and instructor annotation, meaning that the video can include the instructional materials, the instructor, annotation, as well as screen captures and presentations.
Finally, LMSs allow for the eLearning course materials to be structured as weekly assignments or individual modules. This makes it easier to purposely structure content in order to easily fit in with each learner's preceding knowledge and existing concepts, which allows them to easily make sense of the new information being provided. By taking into consideration the needs of the learner and usability, creating a successful self-paced e-learning course will be a breeze.
The Two Biggest Aspects of Successfully Creating a Self-Paced eLearning Course into Your LMS
When working to create an amazing eLearning course and integrate it with your LMS, there are two major considerations to be made: Usability and the Needs of the User.
Usability
Usability can best be defined as a measurement of how easily a user can complete a task. Usability is not a matter of opinion, but a quantifiable measure, given that the right questions are being asked.
How easy is it for learners to locate the course materials?
How long does it take, on average, for I learned to complete a task?
How often do learners get frustrated or confused and give up?
How likely is it that a learner will make a mistake while completing their tasks?
All of these questions can be answered with a quantifiable amount. However, there can also be measurable differences in the usability of the e-learning course for different people. For example, younger users may have more or less usability issues than older people.
Usability can be a major distraction from the critical aspect of learning the subject matter, therefore it is a critical aspect of ensuring that learners will be able to achieve their goals and complete the eLearning course.
One of the best ways to ensure that your self-paced learning course has a high usability rating is by familiarizing yourself with your LMS and its capabilities, this helps to ensure that any materials that you would like to include in your course (such as: videos, presentations and any other materials) are supported by your LMS. Thus, you can avoid the hassles and difficulties which may deter some learners from successfully completing their tasks. Maximizing your e-learning outcome may depend, in part, on your courses' usability.
Employing the use of a heuristic usability test can allow you to determine how usable your e-learning course is and better adapt it to fit the needs of your learners. Thus, ensuring a much higher rate of usability and learner success.
The Needs of the User
The needs of the user play a large part in creating a successful e-learning course. Employing the use of user centered design methodologies allows the one creating the course to consider the needs of the learners, and ultimately make design decisions on their behalf. Analyzing the target user audience, through the use of user surveys or usability testing, can allow the designer to identify their learning styles, and possibly even run a pretest to ensure a successful self-paced e-learning course.
By employing the use of personas, you can create a self-paced e-learning course that better meets the needs of the end user. Personas allow you to determine important characteristics of your learners, which can help you design e-learning courses around their needs. Developing personas before designing the actual courseware allows you to design a successful e-learning course that meets the needs of the wide range of learners.
It is impossible to design e-learning course which can perfectly meet the needs of all learners, however, through the use of personas you can increase the chances of being able to meet the needs of a wide range of learners. In the simplest form, personas can be defined as prototypical learner profiles which are created with your design team. These learner profiles can be applied to one course or several, depending on your needs, and can range anywhere between a paragraph and a few pages long. Their main goal is to provide enough information about the targeted learner characteristics to allow those who are designing the self-paced e-learning course to imagine the learners that they are designing for. By helping to create a shared vision of the targeted learners, personas can help ensure that everyone involved in designing the self-paced e-learning course is designing for the end-users.
Creating a successful e-learning course that can easily be integrated with your LMS can be a daunting task, by ensuring that you are designing for the learners' needs. You can ensure the highest success rate possible. Designing and testing for both usability and the needs of the learner are the most integral aspects of creating a successful e-learning course. Bringing together the best course materials and design, with the needs of the learner in mind, guarantees the creation of the most successful self-paced e-learning course possible.
| Tags: eLearning Courses