You want your courses to be fantastic. You want to catch your learners' attention, engage them, and provide a "flat learning curve" experience. But designing a perfect learning experience can take a lot of time.
Luckily, there's eLearning authoring software for that. eLearning authoring tools can help you create cool online courses fast—and without breaking the bank. In this post, we're taking a look at 11 content-authoring tools to make your courses shine.
But this article isn't just a "trends list" with the best eLearning authoring tools for 2022. It's a list of the most prominent, established players that have been in the market for so long that have proven how powerful they are.
Keep reading to find out about:
What are eLearning authoring tools?
If you're new to the world of eLearning, the term might look a little confusing. But it's much simpler than it sounds.
All content authoring tools help users produce digital online content—text included. But in the world of online learning and training, authoring tools are far more than just basic tools to help create a first draft.
So, if you're asking what an eLearning authoring tool is, you are basically asking yourself how to create an online course or eLearning content in general.
Why? Because eLearning authoring tools are versatile tools that provide a diverse range of content types and media you can use to design an impactful eLearning course, from start to finish.
And here's a detailed list of the best of them.
eLearning authoring tools for beginners
If you're a beginner, without any concept of what eLearning software instructional designers use, you want to start small with basic tools that will get you started.
In this category, you'll find the four best authoring tools for users with little or no prior knowledge of the subject or the software. With these tools, you can experiment and explore without getting lost in manuals and product tours. And produce an online course to be proud of.
Elucidat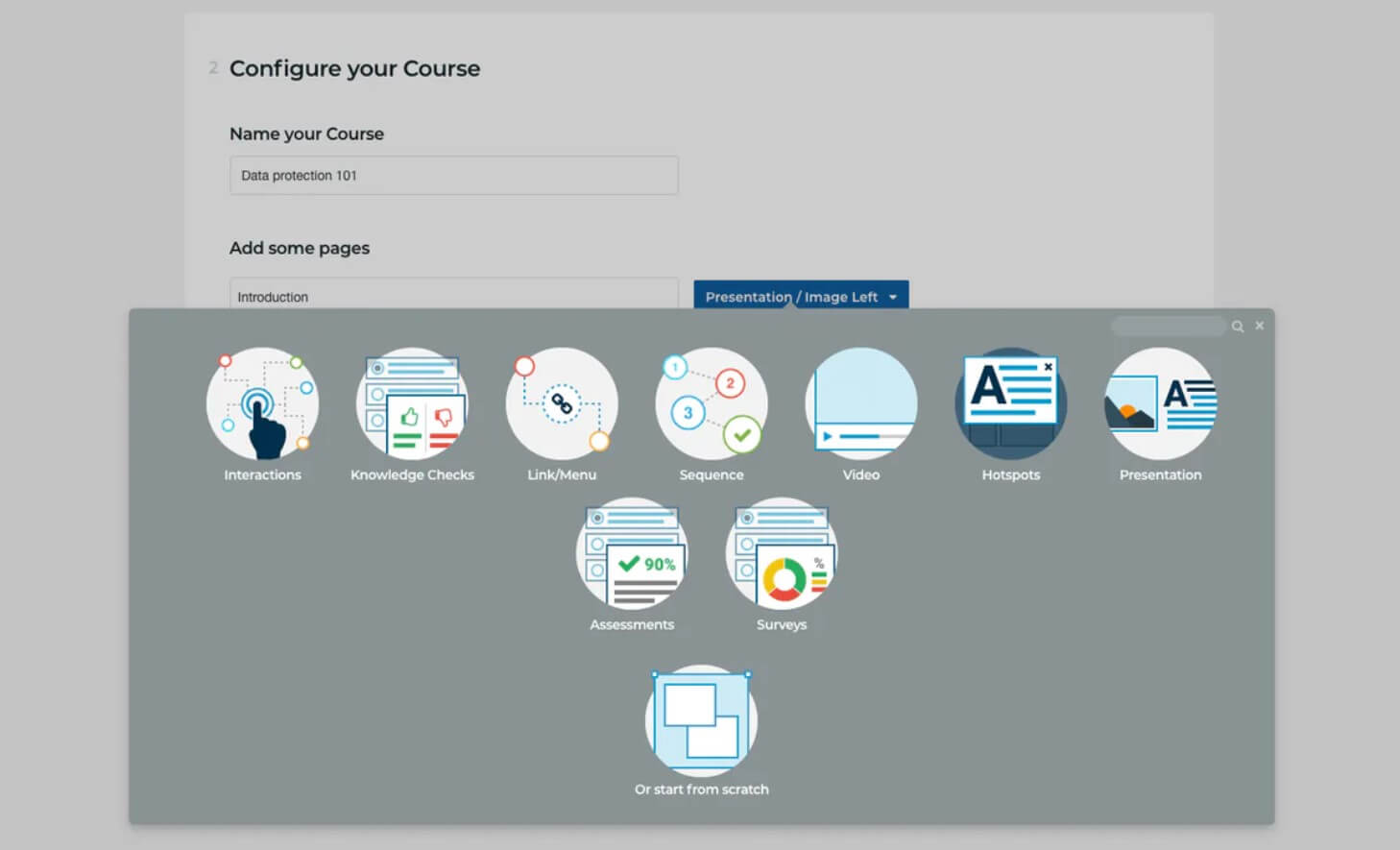 Elucidat is cloud-based. This provides an extra layer of security because everything is stored and backed up automatically. As a result, beginners don't have to worry about backups while playing around with a new tool they're trying to explore.
With an extensive library of pre-built templates (and, of course, the ability to build a course from scratch), Elucidat allows you to explore its features and capabilities from the moment you log in. And, ideal for those new to eLearning authoring tools, it guides users at every stage.
What's even greater, though, is that it also grows as you grow. If you're scaling and need more sophisticated tools from your authoring tool, Elucidat is there for you.
Large learning teams with multiple authors can work on the same course using tailored user permissions and access tools. You can brand your templates and content. Manage all of your assets globally, updating all relevant content at the press of one button. And control quality with review workflows and approvals.
With Elucidat, you can create interactive eLearning content with gamification, social polling, and other interactive elements that will hook your learners right from the very beginning. And use branching tools, custom rules, and custom workflows to offer a localized, bespoke learning experience.
Supported by xAPI, data aggregation, tracking, reporting, and analysis, are all covered within the tool.
Go with Elucidat if you:
Want your courses to be interactive
Need an easy-to-use, intuitive interface
Are all about collaboration
Have an LMS and want an eLearning tool that will integrate easily
Value SCORM compliance, learning analytics, and reporting
Look elsewhere if you:
Don't have time to fully understand the wide variety of tools it comes with
Want to see if instructional design is for you, and don't want to spend too much
Have a very small learning team and no plans to scale
Camtasia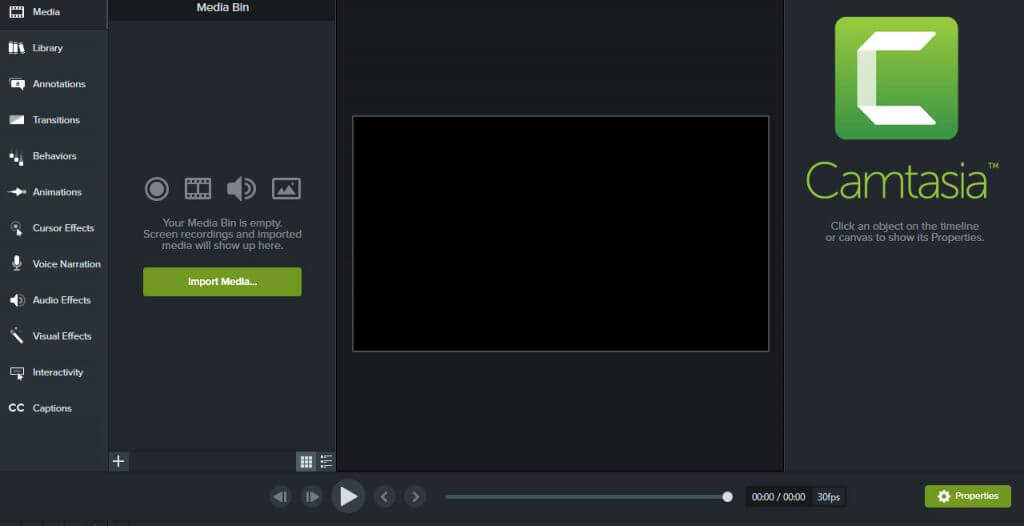 If you're an eLearning trends follower, you must have noticed that at least 90% of online courses rely a lot on video content. Sure, you might be looking for the best rapid authoring tool to create kickass courses. But, sooner or later, you're going to need a video platform.
Camtasia is perfect for this.
Pre-built, customizable, and branded video templates mean it's ideal for course creators with little or no video experience. Advanced features such as screen and video recording, and the ability to import PowerPoint presentations and upload existing video footage, make it easy to create compelling content with minimal effort and skills. In-built editing tools go one step further, helping users produce engaging and interactive video content complete with animations and effects.
All of this is easy to distribute, too, with robust file sharing options and seamless social sharing and YouTube uploading. Plus, speech-to-text technology can produce transcripts to use as captions.
It works for distributed and collaborative teams too. For example, users can invite others to view, edit, and comment on video drafts. What's more, it's compatible with a wide range of video and image file formats and operating systems. It works on Windows and Mac. And it comes with reports on test scores that are sent to you daily to monitor your learners' performance.
Go with Camtasia if you:
Want a powerful video editor as well as a screen recorder
Need your final videos to have no limits to their length
Want to integrate it with your presentation tools
Have little or no video experience
Use transcripts and want an easy way to produce them
Care about compatibility
Follow a collaborative approach to course creation
Are interested in regular reporting
Look elsewhere if you:
Need a web app and not a downloadable program
Don't want to pay every time there's an update
Gomo
Like Elucidat, Gomo is a highly responsive, cloud-based eLearning authoring software tool. This means you can host your courses on the web or offline via the Gomo app. It describes itself as "mobile-first" but comes with fully responsive HTML5 to produce an experience that is consistent across all devices.
While Gomo's design is already attractive, to fully customize (and leverage) all the templates it comes with, you do need a background in development. That said, you can create a basic first course using its Quick Start Wizard, and drag-and-drop interface, in just a few clicks.
Sharing content is easy, too. Using something it brands, Gomo Delivery, exporting content to users, websites, LMSs, and more, is done with a single click. It supports interactive content such as quizzes and a straightforward approach to importing and exporting data and media. And, like Camtasia, it also comes with full xAPI analytics to support effective and easy reporting and data analysis.
Gomo is very much a collaborative tool. This means that many creators can work on the same course at the same time, no matter where in the world they're located. In fact, Gomo is one of the few (and best) eLearning authoring tools built with geo-location in mind, boasting various translating tools and geo-targeting options.
Marketed toward learning designers, Gomo is still a workable and effective option for course creators with limited experience in using authoring tools.
Go with Gomo if you:
Are a beginner and want to experiment with an authoring tool
Want to have your projects available on the cloud
Deliver your courses globally in multiple languages
Lean towards mobile-first functionality, but want to cater consistently for all formats
Value content that looks more web-style than slide-based
Need to work to a lower budget
Work collaboratively
Look elsewhere if you:
Usually, look for a more intuitive interface from your tools
Need freedom and not templated designs when building courses
Easygenerator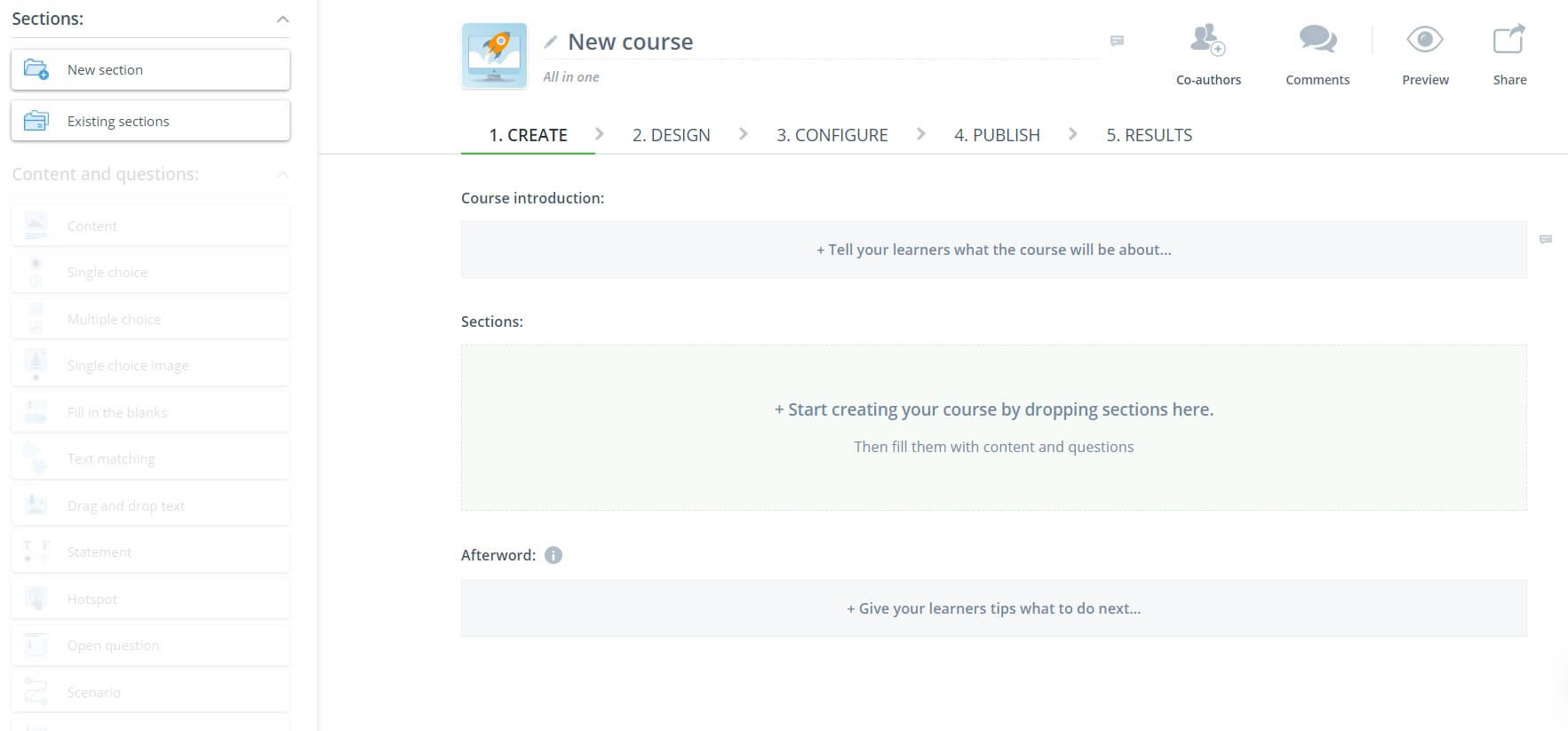 A popular choice, particularly with smaller companies with little or no technical resourcing, Easygenerator lives by its name. It makes a course creator's life easier by providing a usable and intuitive collection of the right tools to get teams up and running fast. And it provides excellent and highly responsive customer support to make sure users are getting the best out of the product. This two-way approach is reinforced through helpful webinars offering usability tips and tricks.
Reviews of the Easygenerator's product are pretty much consistent across the board, praising the product for its easy implementation and intuitive design, and its ability to produce courses at speed. Customer service, too, receives high commendation.
Keen to evolve and respond to customer feedback, Easygenerator has built up a rich portfolio of features that allows users to customize and brand content, import and export with ease, analyze results, and support a multi-language approach. It also promotes what it calls 'employee-generated learning', giving subject-matter experts the tools to capture their knowledge and create and share courses around this.
While it does provide tools to create interactive learning pathways, it may not offer the variety of interactive elements that other eLearning authoring tools come with. But if you're looking for one of the most accessible tools on the market and are keen to start building courses directly after you sign up, this might be an excellent fit for you.
Go with Easygenerator if you:
Are looking for a responsive design and mobile-friendly features
Use templates to create your learning environment
Like having a great customer support team to fall back on
Want to create courses quickly with minimal fuss
Value a home-grown approach to content creation
Look elsewhere if you:
Want 100% mobile delivery
Prefer to build original course layouts from scratch
---
Need a platform that supports the most popular eLearning standards?
Build and deliver your online courses with TalentLMS.
Easy to set up. easy to use, easy to customize.

---
eLearning authoring tools for instructional designers
Are you an instructional designer who wants to level up their game by switching to a better alternative? Are you a newcomer who wants to dive right into the sophisticated, best eLearning authoring tools right off the bat?
Whatever the case might be, keep reading for the best (and more advanced) eLearning authoring software that will help you create online courses you'll be proud of.
Articulate Storyline 360
If you are a Windows user, Articulate Storyline is one of the best tools you could ever go with.
The concept is simple: if you know how to create PowerPoint presentations, you'll know how to create an engaging course with Articulate Storyline. Because it basically gives instructional designers the ability to develop high-end presentation slides that look stunning.
The idea might sound simple. And in many ways, it is. It gives new designers all they need to produce well-designed courses. But it also works for power users too, because it also supports a "the sky's the limit" approach.
Storyline 360 is, by design, a little more complex than other tools and requires some extra eLearning authoring experience. And maybe this is why it's one of the most popular choices in the wider, online training community.
Go with Articulate Storyline 360 if you:
Need full control over the final look and feel of your course
Are looking for one of the most well-established tools in the market
Want your courses to look visually appealing
Expect courses to look and work equally well on any device
Would benefit from access to over 9 million course assets
Enjoy working in a GUI-based environment
Will use live and on-demand training webinars to improve your course developers' skills
Look elsewhere if you:
Aren't into software that requires local installation
Have a small budget or are unable to commit to its full annual subscription package
Need in-built LMS functionality
Want scoring and reporting features
Are a Mac user
Articulate Rise 360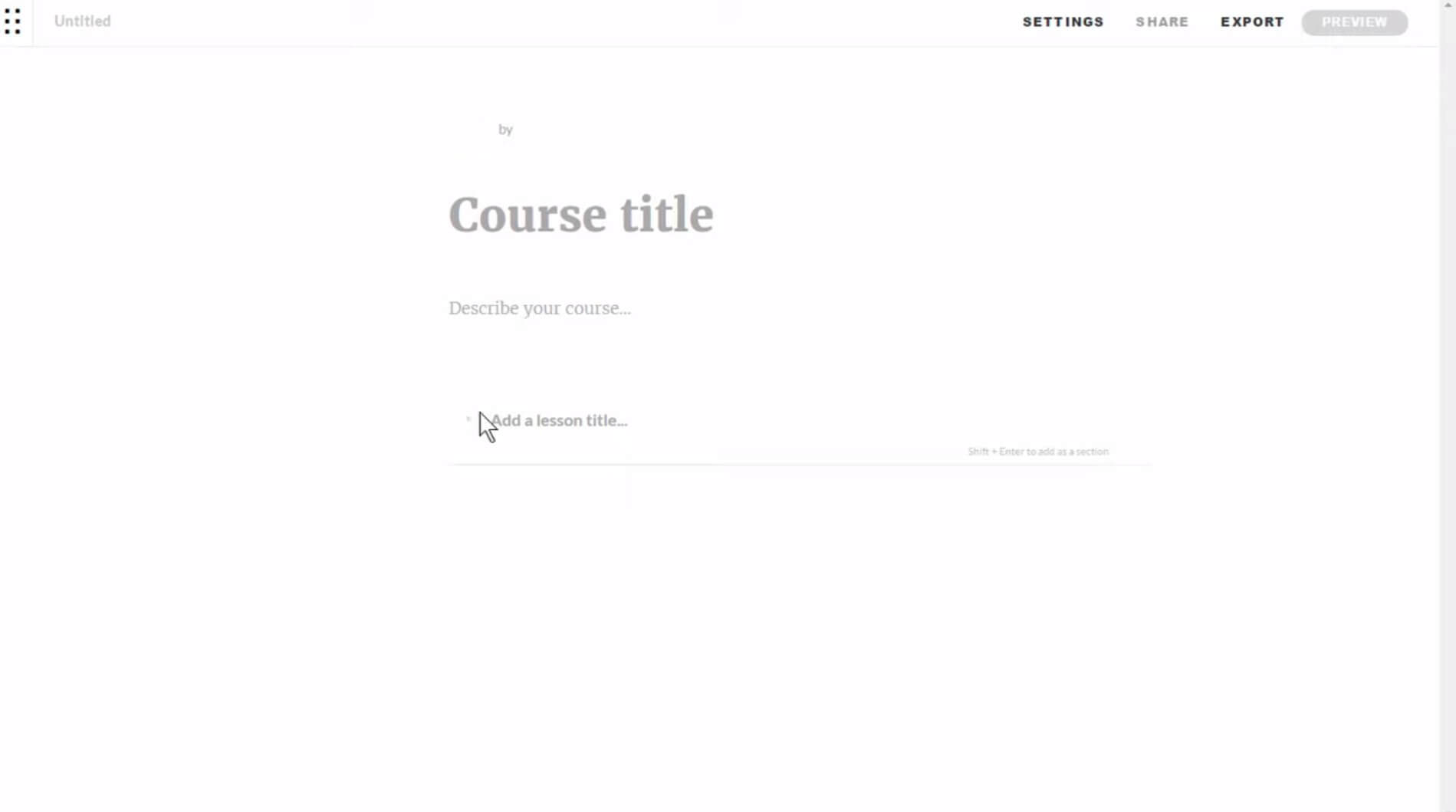 Unlike Articulate Storyline, Articulate Rise is a web-based eLearning authoring tool that instructional designers working on a Mac or PC can use to create amazing courses. All in an easy-to-use and intuitive interface.
With many different unit types to choose from, instructional designers who don't have that much experience can create courses full of interactive elements that look as appealing as it gets. Real-time editing, a "cookie-cutter" collection of tools, and its simple, block-building tool, also give back more than it takes to use. And maybe this is precisely why it's on every "best eLearning authoring tools" list out there.
Rise 360 is based around course templates, which means that the range of visuals is not that unique. And courses (at least design-wise) might feel identical. However, after you spend some time with it and learn to use the tools it offers appropriately, you will be able to create stunning eLearning content.
Go with Articulate Rise 360 if you:
Need a cloud-based solution
Are all about modern interfaces
Want a simple, easy-to-use solution
Appreciate responsiveness and elegant design
Look elsewhere if you:
Don't want any storage limitations
Expect lots of customization features
Want comprehensive and meaningful evaluation options
Lectora Online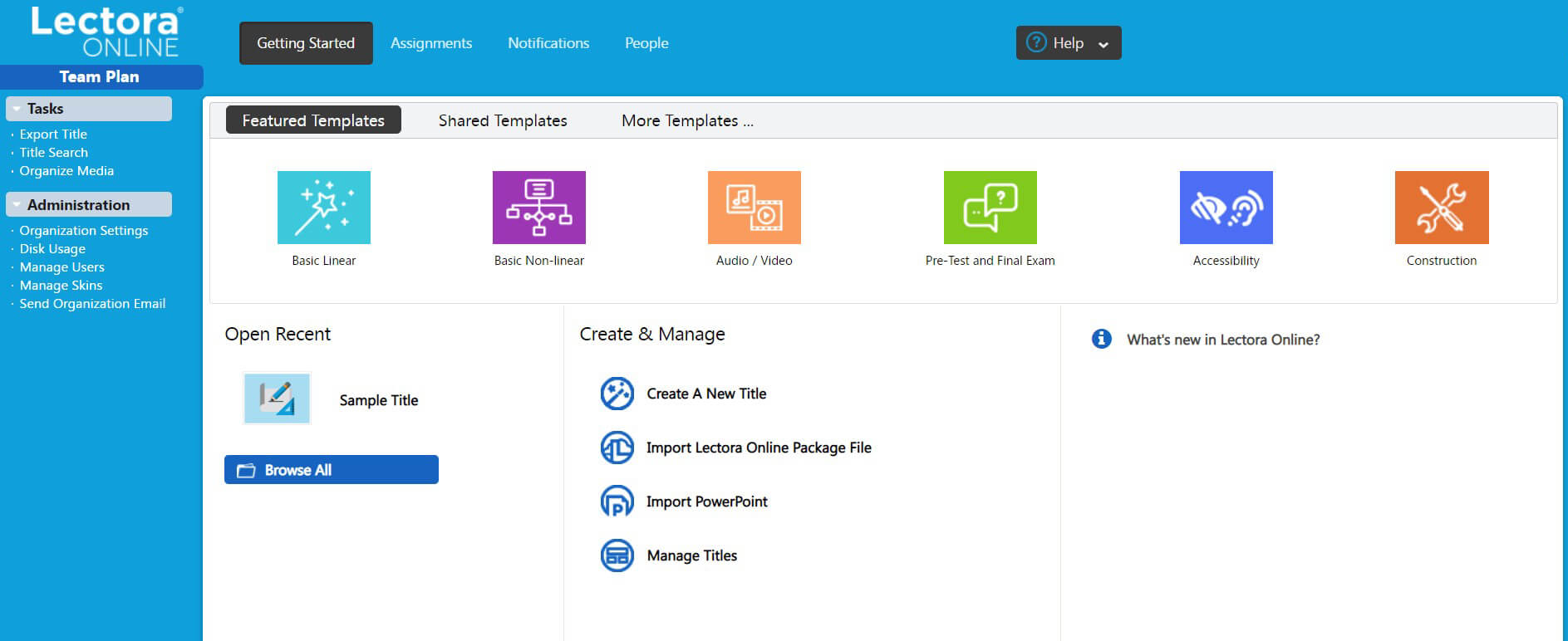 Lectora is one of the first authoring tools to ever come out. And it offers many different features to produce a complete, engaging, and professional eLearning course. For years, Lectora was a Windows app only. In 2016, though, the company released a web version, allowing everyone, no matter their operating system, to use the platform and thrive.
As one of the best eLearning software options out there, it makes your life easier by offering a wide range of templates to choose from and edit according to your needs. But there's a catch. The tool, by default, is made for professional and experienced instructional designers who feel confident with advanced content authoring tools.
Supporting seven languages (German, English, French, Portuguese, Spanish, Swedish, and simplified Chinese), Lectora has a global outlook. And is big on accessibility. While it doesn't offer as many enhancements as some of the other authoring tools on the market, it makes it easy for users to source what it doesn't provide.
For example, it integrates seamlessly with add-ons like Camtasia to support video recording and editing. And image editing software such as Snagit. It also integrates with other eLearning Brothers products, such as its ReviewLink feedback and sign-off tool, its VR authoring tool, and its AssetLibrary. But be warned, ReviewLink and limited access to AssetLibrary aside, these add-ons come at a cost.
So, yes, Lectora is one of the best eLearning authoring tools. But make sure you get some experience before you purchase that license. And be prepared to pay more for the full package.
Go with Lectora if you:
Need a cloud-based and desktop solution
Are all about modern interfaces
Want to ensure your courses are WCAG-friendly
Look elsewhere if you:
Don't want any storage or customization limitations
Want everything included and aren't into add-ons
Adobe Captivate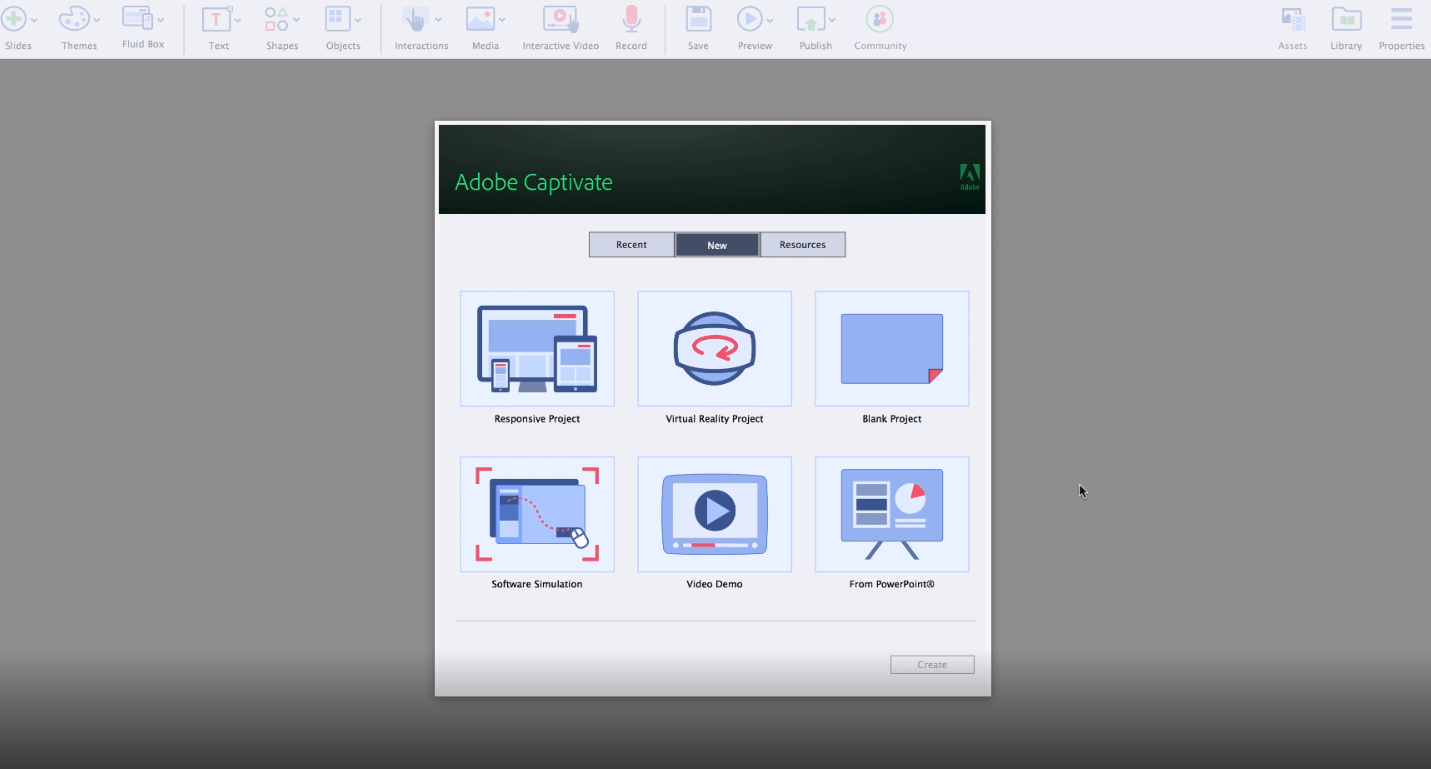 It's time to talk about one of the most powerful, most enduringly popular, and familiar eLearning authoring tools around.
Brought to you by a tech giant, Adobe Captivate doesn't just help instructional designers create courses that look amazing. It creates learning experiences.
Yes, you have to start from scratch, because the course templates that Adobe Captivate offers aren't very varied. But the quality of the supporting features it offers—from conventional card-based eLearning modules to virtual reality training—makes up for this. And then some! In fact, many designers view starting with a blank slate as an opportunity to move away from a "standard" approach. And exploit its powerful portfolio to create something truly unique.
It is, admittedly, an eLearning authoring tool of two halves. Novice users are treated to an easy-to-use interface, but will have to invest some time learning all the features. Advanced users can dive straight in, create variables, indulge in a bit of coding, and execute javascript if they want to.
All course creators can record their screen in high quality, enable gamification and interactive features for their learners, and create an astonishing overall learning experience across devices. Of course, as a desktop-based app, collaboration and team creation can prove quite hard, but this is only a tiny aspect of a perfectly designed tool that all professional designers should learn how to master.
Go with Adobe Captivate if you:
Like to work with advanced tools to engage learners (for example, VR)
Are looking for a tool to produce interactive content
Want to create high-quality screen recordings
See the benefit in stretching fluent users while supporting less-experienced beginners
Use other Adobe products and want something that syncs well
Look elsewhere if you:
Don't want to invest time in getting the hang of it
Want a tool where multiple authors can edit at the same time
Active Presenter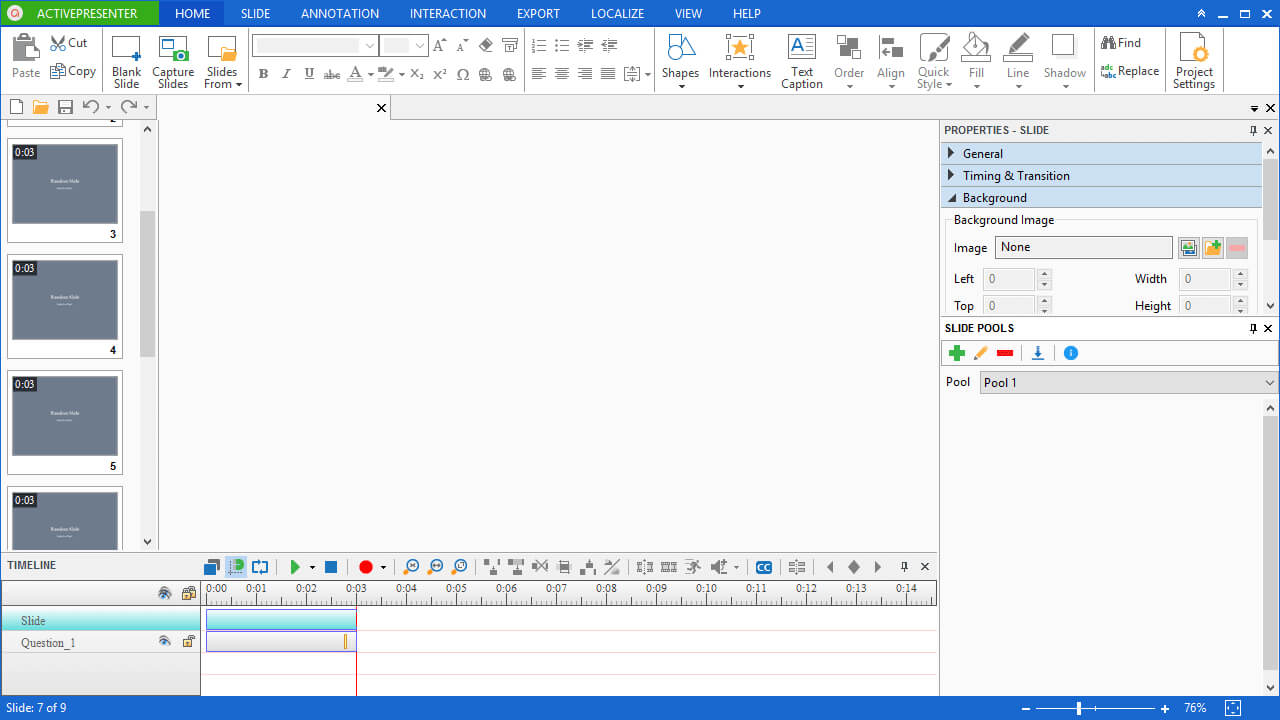 The people behind Active Presenter figured out the importance of video in eLearning. This is why they created the ultimate tool to help instructional designers design top-notch video material for their courses.
Active Presenter is an online, user-friendly video editor that allows you to record your screen, a voiceover, and/or a video of yourself. After you've finished producing your audiovisuals, you get to edit like a pro.
What's more, if you do it the right way and put the right types of content together, you get an interactive course with multiple tests and question types that Active Presenter includes. Don't be fooled, though. It might be easy to use, but it needs some instructional design experience to leverage its powers fully. And, at times, a more manual, hands-on approach to problem solving and fine-tuning.
Go with Active Presenter if you:
Work with preset templates, or you want to create your own
Want a solution to create videos for all platforms
Need an advanced video-editing tool
Appreciate having a supportive user forum
Are on a budget (most of the options are available for free)
Look elsewhere if you:
Want a more modern interface design from your tools
Import video files created in different software
Aren't big on video training
Produce complex videos and don't have the capacity to store large source files
---
Looking for an intuitive course editor?
Drag and drop existing material,
or create content from scratch in just a few clicks with TalentLMS.

---
Free or open-source eLearning authoring tools to consider
If you're on a tight budget or you simply want to test whether you have what it takes to make it in this industry, this category is for you.
The list below features open-source and free eLearning authoring tools so you can test the waters and update only when you feel confident. The two leading players in the "free eLearning authoring tools" category right now are Adapt and H5P.
Each one for their own reasons. Here's why:
Adapt
The Adapt Builder is one of the most popular open-source eLearning authoring tools. And we know exactly why. First of all, branding-wise, it's one of the most visually appealing builders on this list—yes, paid included. But most importantly, it offers a wide variety of tools to create courses in just a few clicks.
Adapt is really user-friendly. Right after you sign up, you get access to a clean interface that allows you to build your course by adding different content elements exactly where you want them to appear. That said, it does help to have some technical know-how when installing the product. A manual rather than packaged installer, the onus is on you to set it up and install the required plugins.
A move away from the traditional PowerPoint model, Adapt courses work like a webpage with linear navigation. This gives it a modern feel, but does demand a lot from the user in terms of scrolling.
If we had to pick one weakness, we'd say that since it's a product that has to do a lot with image, you might need the help of a graphic designer.
Go with Adapt if you:
Value cool interfaces
Prefer your course to have a web page feel
Want to add different assessment types
Are looking for a SCORM authoring tool
Don't have coding skills
Look elsewhere if you:
Don't want your learners to scroll while taking their course
Want a PowerPoint slide format
Don't have the time or technical support to manually install and configure it
Use branching scenarios
Need lots of animation and effects
H5P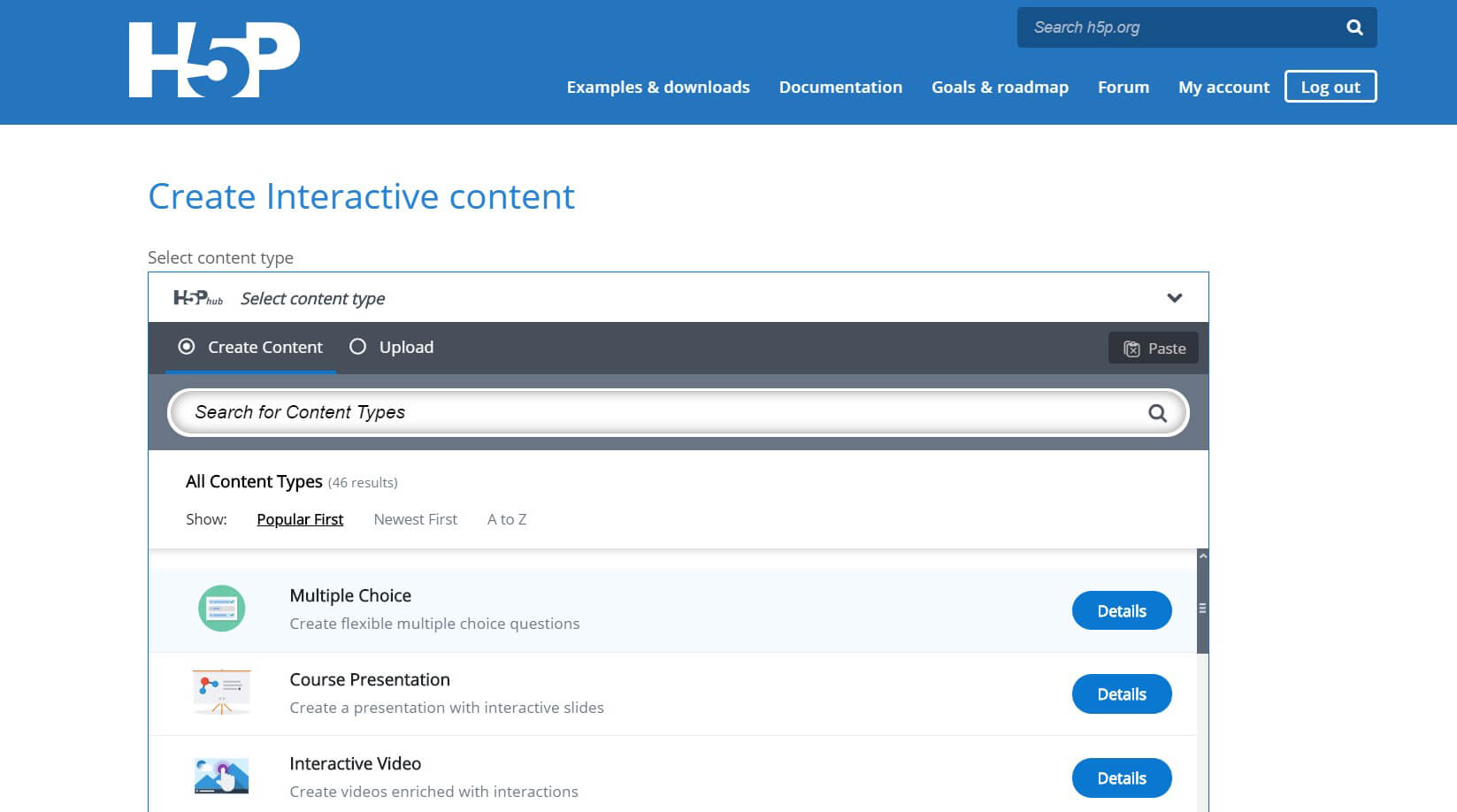 Let's fast-forward to what you need to know here: H5P is an easy-to-use, simple, and free eLearning authoring tool for newbies who want to see what building online courses is all about. But this doesn't mean that it's not impressive.
First of all, signing up takes less than five minutes. After that, you're immediately redirected to a page where you can take your pick from a range of different course templates.
It works in two ways. Create HTML5 eLearning content and publish it on popular platforms like WordPress, Moodle, or Drupal. Or add the content to any LMS that supports the Learning Tools Interoperability (LTI) integration.
It's used as a plugin. It follows a modular format. And it supports interactivity, branching scenarios, quizzes, and flashcards. Thanks to its block system, you can pick and choose elements which make the editing process fast and efficient.
Sadly, though, the visual components you can play with are limited. Ditto for the features. H5P, for example, does support publishing to SCORM, but only by using xAPI.
But when it comes to video content, it will definitely amaze you. H5P is among the best free authoring tools if you need to add a video (no, unfortunately, you can't record directly from the platform). And want to add interactive elements such as pop-ups, on-video questions, etc.
Go with H5P if you:
Are all for intuitive design
Want your learners to learn via interactive elements
Have limited or no tech skills
Work collaboratively
Look elsewhere if you:
Want a video tool with video recording
Use an LMS that doesn't support LTI
Need a preview function
Value privacy: Projects are public and visible by default
Next Steps
Now you know what software instructional designers use to create professional courses. Yes, authoring tools can help you generate training content that will engage as well as educate your online learners. But is this all that you need?
The answer is no. So, where do you go from here?
After you've finished developing your course, you need to put all this content you've created in your eLearning authoring software in an LMS. Because, at the end of the day, this is what will help you deliver a course to your learner.
An LMS with the right features will help create engaging content that your learners will enjoy using. When researching the best LMS for you, make sure to check whether it includes gamification features. And, of course, a good LMS should offer reporting features for valuable insights into your training. You can always start with a free LMS, play around with its features, and decide whether it's the right training platform for you.
Originally published on: 28 Jan 2020 | Tags: Tools for Training and Development