You want your courses to be fantastic. You want to catch your learners' attention, engage them, and provide a "flat learning curve" experience. But designing a perfect learning experience can take a lot of time.
Luckily, there's eLearning authoring software for that. Because an eLearning authoring tool can help you create cool online courses fast — and without breaking the bank. In this post, we're taking a look at 11 content authoring tools to make your courses shine.
But this article isn't just a "trends list" with the best eLearning authoring tools for 2020. It's a list of the most prominent, established players that have been in the market for so long that have proven how powerful they are.
Keep reading to find out about:
What is an authoring tool?
If you're new to the world of eLearning, the term might look a little confusing. But it's much simpler than it sounds.
All content authoring tools help users produce digital online content — text included. But in the world of online learning and training, authoring tools are far more than just a simple tool where you can create your first draft.
So, if you're asking what an eLearning authoring tool is, you are basically asking yourself how to create an online course or eLearning content in general. Because this is what authoring tools are: the only medium to produce online courses by adding various types of content and media.
And here's a detailed list of the best of them.
Authoring tools for beginners
If you're a beginner who might not even know what eLearning software instructional designers use, you want to start small with basic tools that will just get you started. This is why, in this category, you'll find the four best authoring tools for beginners so you can start experimenting without getting lost in manuals and product tours.
Elucidat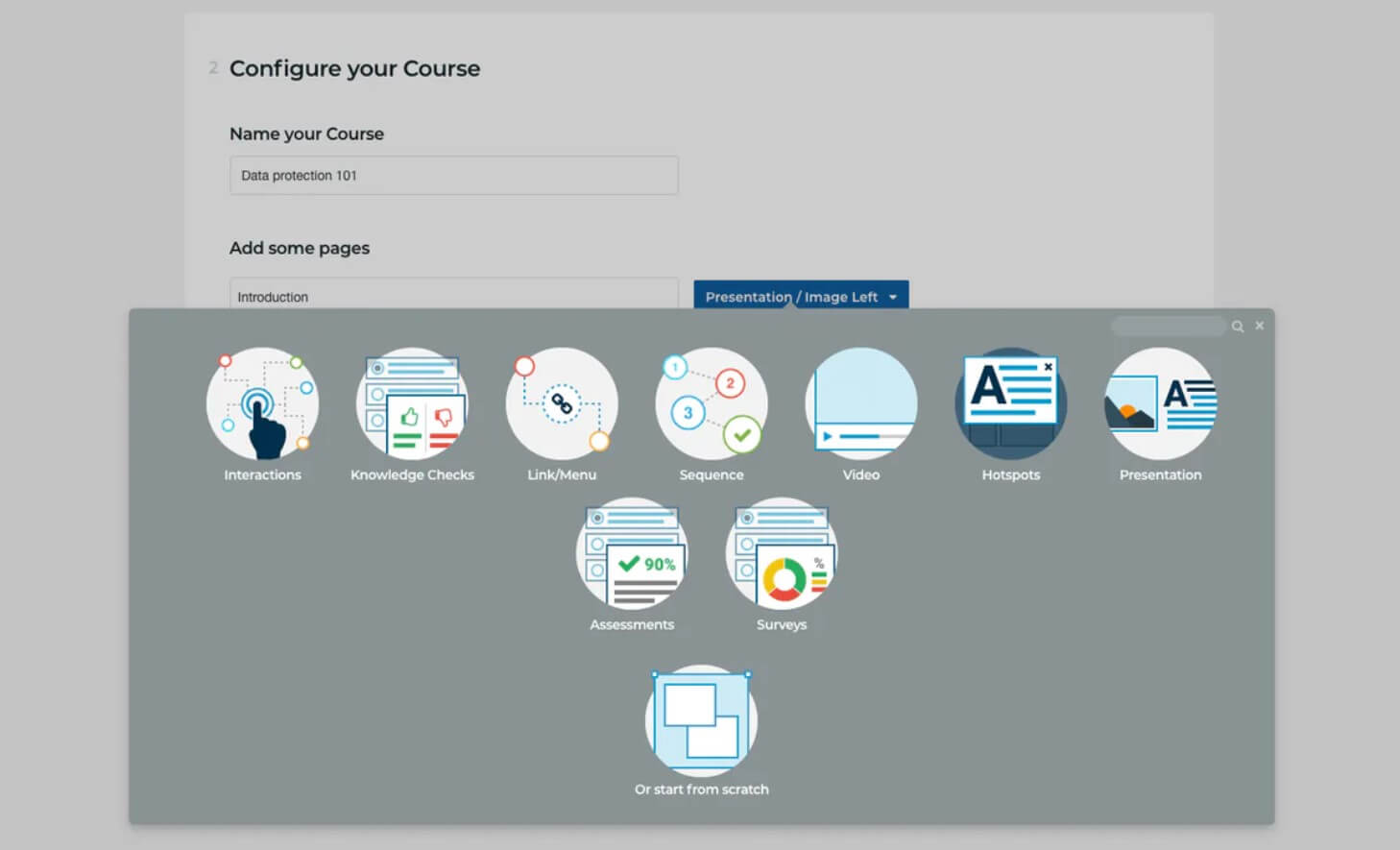 First of all, Elucidat is cloud-based. So, we're talking about an extra layer of security since everything is stored and backed up automatically. As a result, beginners don't have to worry about backups while playing around with a new tool they're trying to explore.
With an extensive library of pre-built templates (and of course the ability to build a course from scratch), Elucidat allows you to explore its features and capabilities from the moment you log in.
What's even greater, though, is that it also grows as you grow. When you reach a point where you need more sophisticated tools from your authoring tool, Elucidat is there for you. Create interactive eLearning content with gamification, social polling, and interactive elements that will hook your learners right from the very beginning.
Go with Elucidat if you:
Want your courses to be interactive
Need an easy-to-use, intuitive interface while building your courses
Are all about collaboration — multiple authors can work on the same course
Look elsewhere if you:
Don't have much time to fully understand the wide variety of tools it comes with
Want to see if instructional design is for you, and don't want to spend too much
Camtasia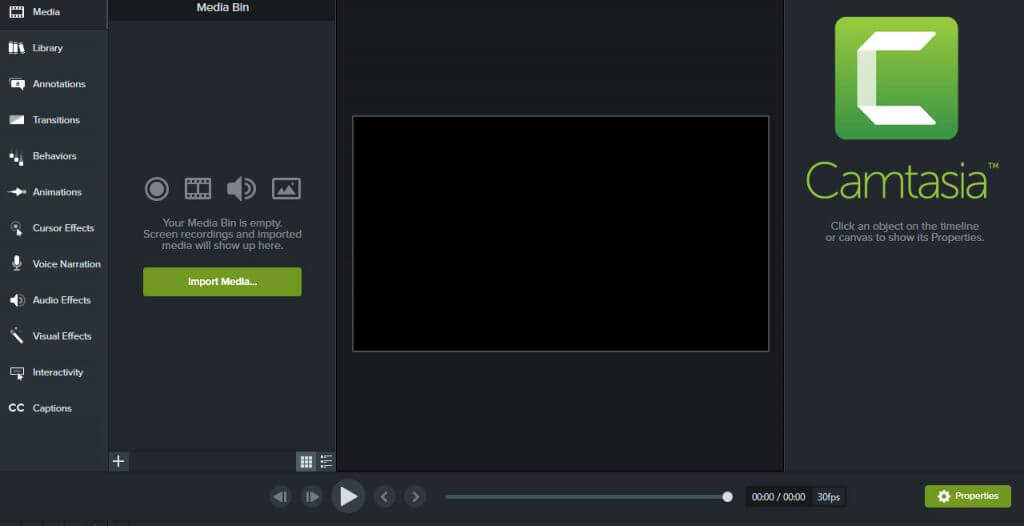 If you're an eLearning trends follower, you must have noticed that at least 90% of online courses rely a lot on video content. Sure, you might be looking for the best rapid authoring tool to create kickass courses. But, sooner or later, you're going to need a video platform.
Camtasia is perfect for this. With some advanced features such as screen and video recording, a course creator can engage learners by offering interactive video content. What's more, Camtasia comes with reports on test scores that are sent to you daily to monitor your learners' performance. And reporting is knowing!
Go with Camtasia if you:
Want not only a screen recorder but also a powerful video editor
Want your final videos to have no limits to their length
Need a tool to integrate with your presentation tools
Look elsewhere if you:
Need a web app and not a downloadable program
Don't want to pay every time you have to update to the most recent version
Gomo
First of all, Gomo is a cloud-based eLearning authoring software tool. This means that it allows you to host your courses on the web or offline via the Gomo app.
Even though Gomo's design is already attractive, to fully customize (and leverage) all the templates it comes with, you need to have a background in development. However, to create a basic, first course, all you have to do is access the quick start wizard and start building your course in just a few clicks.
Just like Elucidat, Gomo is a collaborative tool. This means that many creators can work on the same course at the same time no matter where in the world they're located. In fact, Gomo is one of the few (and best) eLearning authoring tools that have geo-location in mind with various translating tools and geo-targeting options.
Go with Gomo if you:
Are a beginner and want to experiment with an authoring tool
Want to have your projects available on the cloud
Want to deliver your courses globally in multiple languages
Look elsewhere if you:
Usually look for a more modern, intuitive interface from your tools
Need freedom and not templated designs when building courses
Easygenerator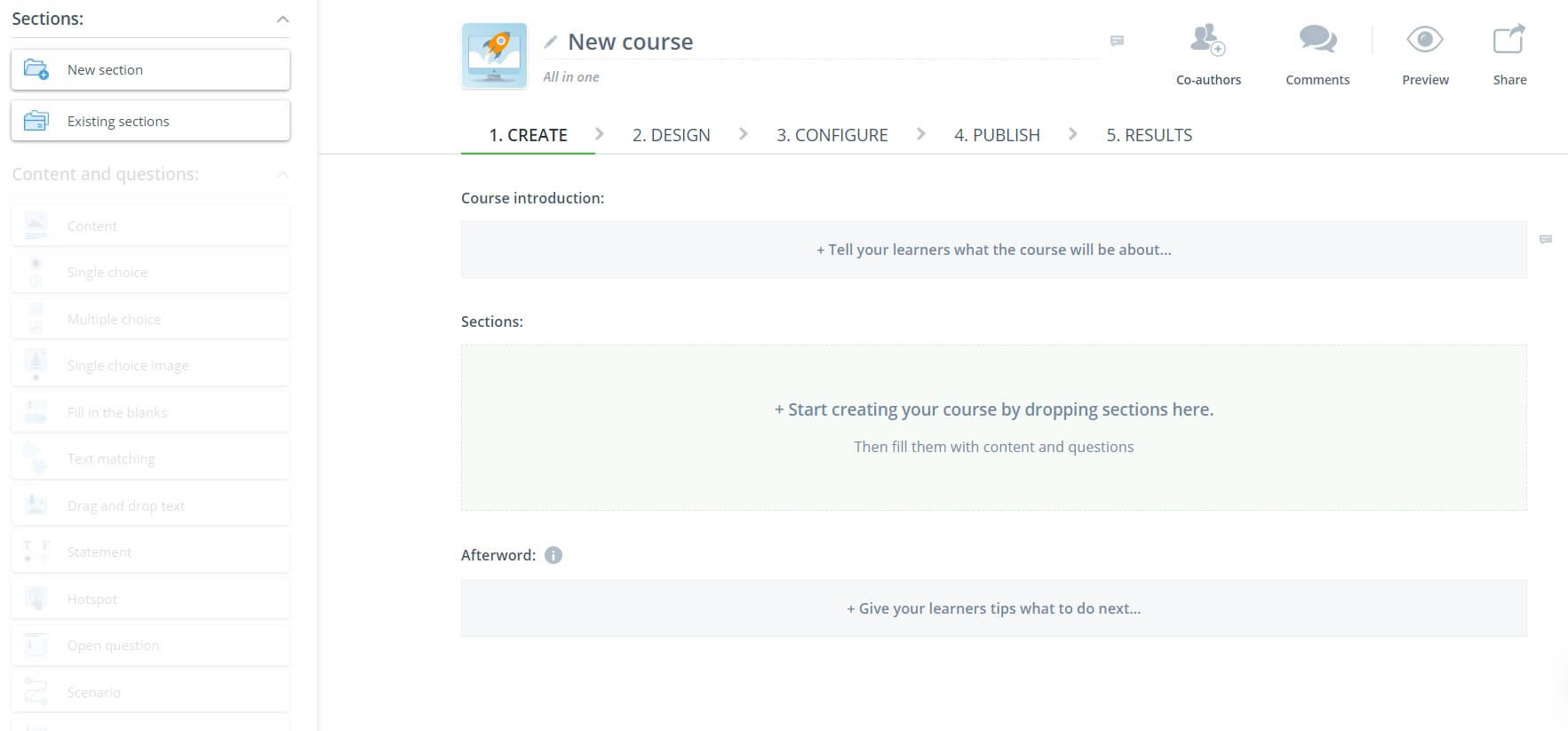 As the name suggests, Easygenerator wants to make a creator's life easier by providing the right tools that will get them up and running fast. But, of course, it comes with certain limitations.
As a tool that wants to automate the creative process, Easygenerator doesn't offer the variety of interactive elements that other eLearning content authoring tools come with. So, if branded eLearning content and uniqueness are among the things you're looking for in your courses, you might consider going with some other eLearning tools examples.
But if you're looking for the most accessible tool in the market right now to start authoring directly after you sign up, this might be an excellent fit for you.
Go with Easygenerator if you:
Are looking for a responsive design and mobile-friendly features
Rely on templates to create your learning environment
Look elsewhere if you:
Want 100% mobile delivery — not all unit types are optimized for mobile use
Are thinking of building original course layouts from scratch
Authoring tools for instructional designers
Are you an instructional designer who wants to level up their game by switching to a better alternative? Are you a newcomer who wants to dive right into the sophisticated, best eLearning software right off the bat?
Whatever the case might be, you want to keep reading for the best (and more advanced) eLearning authoring software that will help you create online courses you'll be proud of.
Articulate Storyline 360
If you are a Windows user, Articulate Storyline is one of the best tools you could ever go with.
The concept is quite simple: if you know how to create PowerPoint presentations, you'll know how to create an engaging course with Articulate Storyline. Because it basically gives instructional designers the ability to develop high-end presentation slides that look stunning.
The idea might sound simple. But Articulate, by design, is a little complex and requires some extra eLearning authoring experience. And maybe this is why it's one of the most popular choices in the online training community.
Go with Articulate Storyline 360 if you:
Want full control over the final look and feel of the course
Are looking for one of the most well-established tools in the market
Want your courses to look visually appealing
Look elsewhere if you:
Are not into software that requires local installation
Articulate Rise 360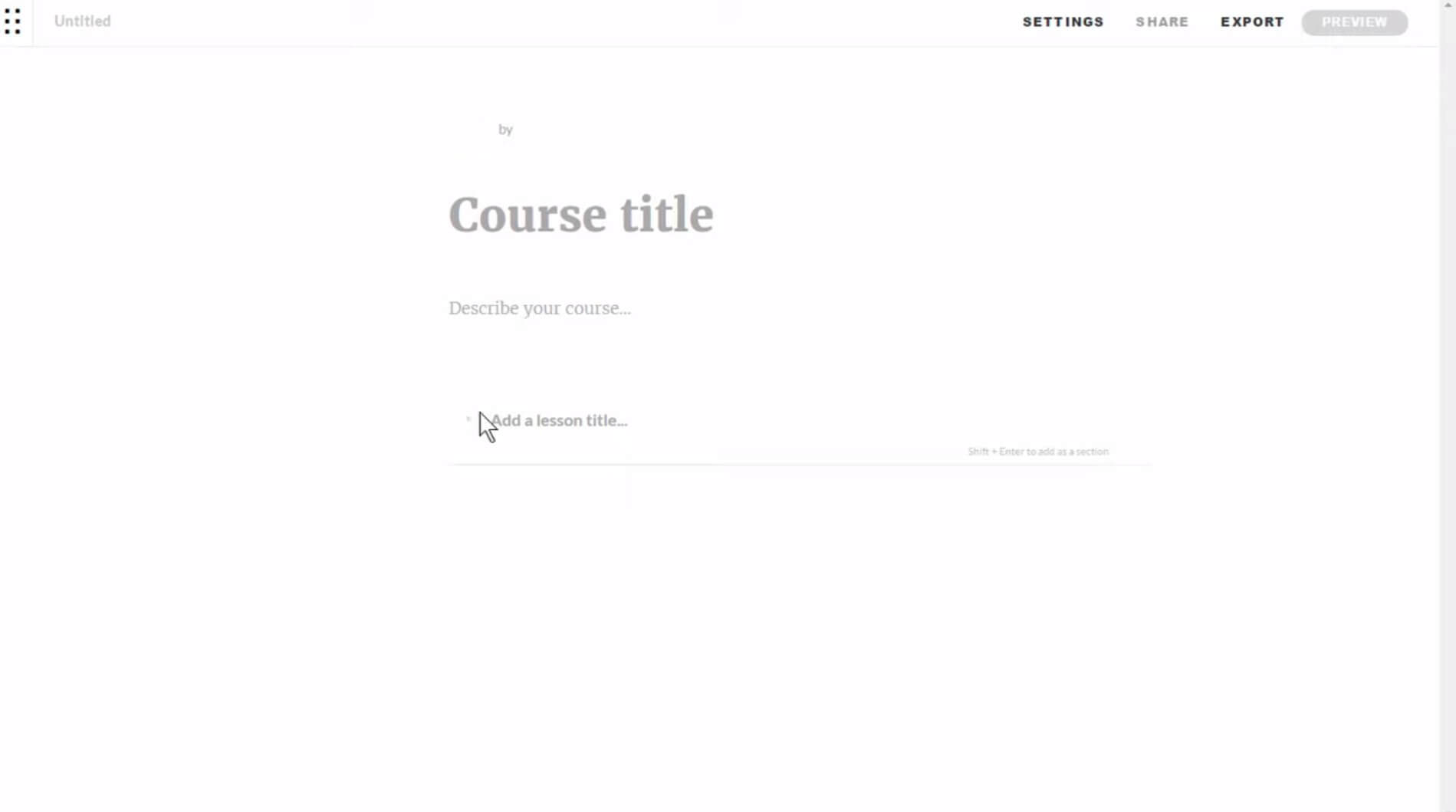 Unlike Articulate Storyline, Articulate Rise is a web-based eLearning authoring tool that instructional designers can use to create amazing courses. All in an easy-to-use and intuitive interface.
With many different unit types to choose from, instructional designers who don't have that much experience can create courses full of interactive elements that look as appealing as it gets. And maybe this is precisely why it's on every "best eLearning authoring tools" list out there.
Rise 360 comes with course templates to choose from, which means that the range of visuals is not that unique, and courses (at least design-wise) might feel identical. However, after you spend some time with it and learn to use the tools it offers appropriately, you will be able to create stunning eLearning content.
Go with Articulate Rise 360 if you:
Need a cloud-based solution
Are all about modern interfaces
Want a simple, easy-to-use solution
Look elsewhere if you:
Don't want any storage or customization limitations
Lectora Online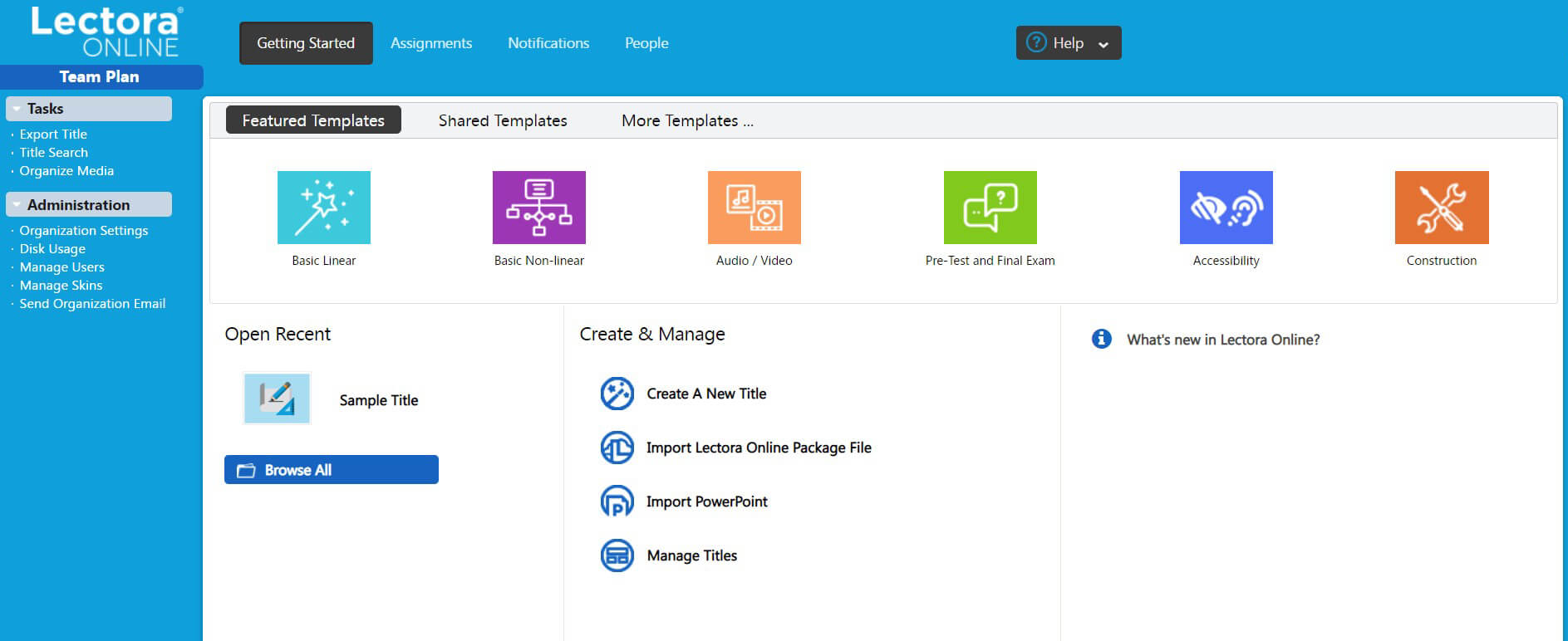 Lectora, as one of the first authoring tools to ever come out, grants many different features to produce a complete, engaging, and professional eLearning course. For years, Lectora was a Windows app only. In 2016, though, the company released a web version that allows everyone, no matter their operating system, to use the platform and thrive.
Because if you want to excel in instructional design, you need Lectora.
As one of the best eLearning software options out there, it makes your life easier by offering a wide range of templates to choose from and edit according to your needs. But there's a catch. The tool, by default, is made for professional and experienced instructional designers who feel confident with advanced content authoring tools.
So, yes, Lectora is excellent. But make sure you get some experience before you purchase that license.
Go with Lectora if you:
Need a cloud-based solution
Are all about modern interfaces
Want a simple, easy-to-use solution
Look elsewhere if you:
Don't want any storage or customization limitations
Adobe Captivate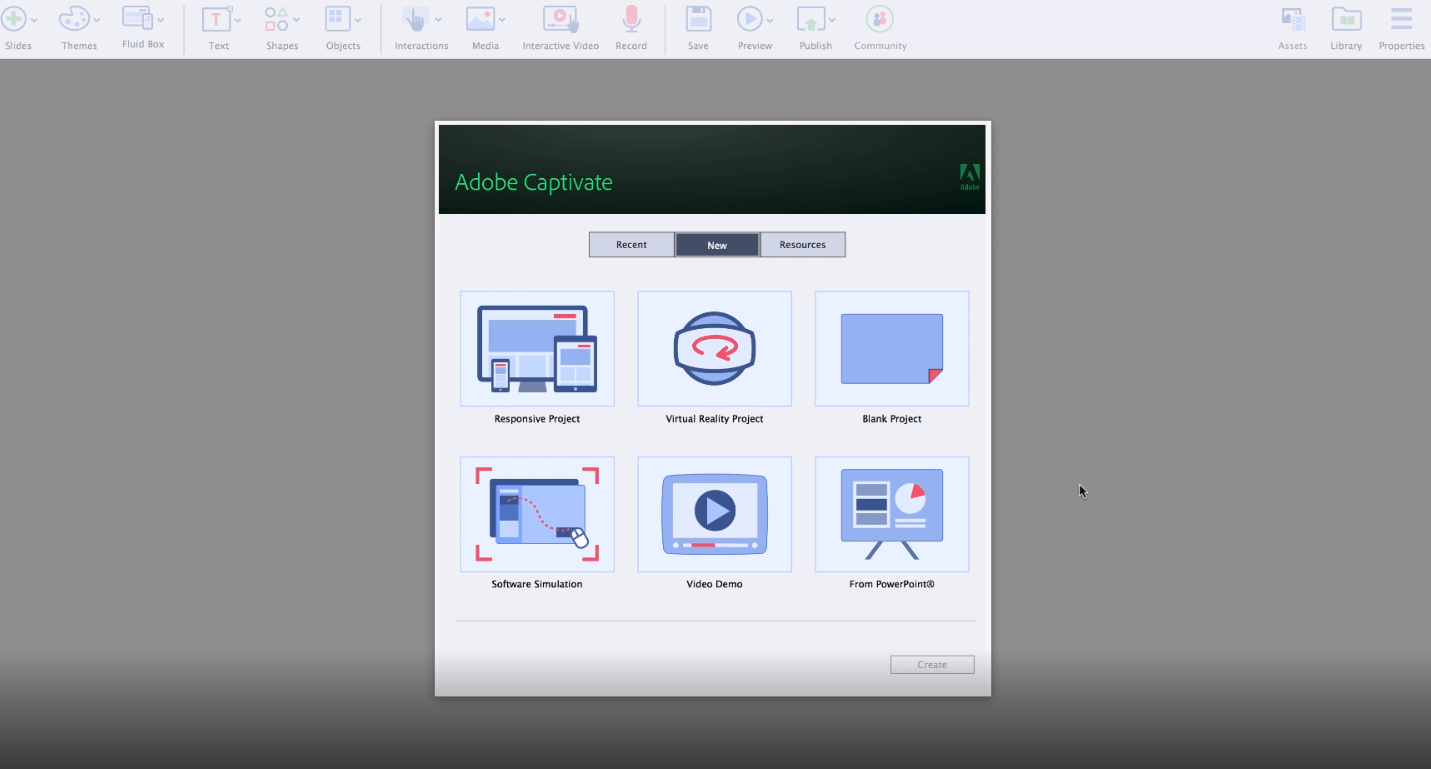 We need to talk about one of the most powerful, best authoring tools for 2019, 2020, and maybe 20-forever.
Brought to you by a tech giant, Adobe Captivate doesn't just help instructional designers create courses that look amazing. It creates learning experiences.
But you have to do it from scratch. Because the course templates that Adobe Captivate offers aren't very varied. Something that we cannot truly say about the quality of the features it comes with.
Course creators can record their screen on high quality, enable gamification and interactive features for their learners, and create an astonishing overall learning experience across devices. Of course, as a desktop-based app, collaboration and team-creation can prove quite hard, but this is only a tiny aspect of a perfectly designed tool that all professional designers should learn how to master.
Go with Adobe Captivate if you:
Like to work with advanced tools to engage learners (e.g., VR)
Are looking for a tool to produce interactive content
Want to create high-quality screen recordings
Look elsewhere if you:
Don't want to invest time in getting the hang of it
Want a tool where multiple authors can edit at the same time
Active Presenter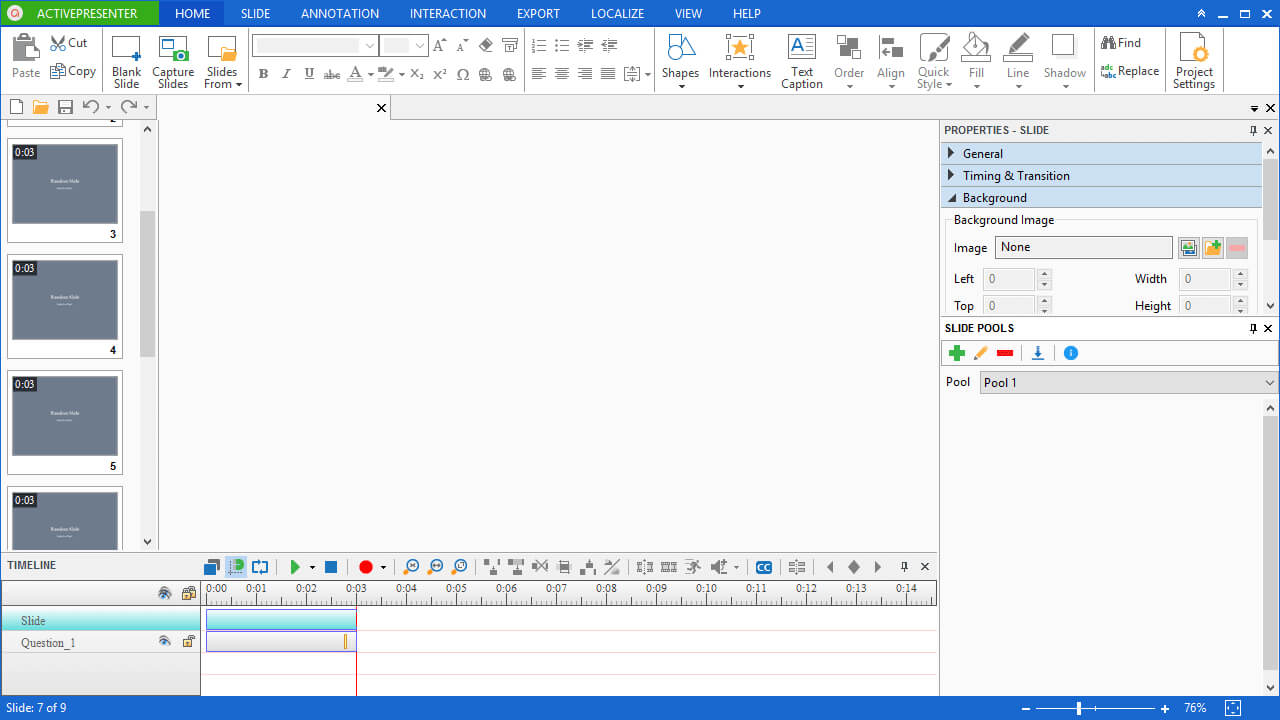 The people behind Active Presenter figured out the importance of video in eLearning. This is why they created the ultimate tool to help instructional designers create top-notch video material for their courses.
Active Presenter is an online, user-friendly video editor that allows you to record your screen, a voiceover, and/or a video of yourself. After you've finished producing your audiovisuals, you get to edit like a pro.
What's more, if you do it the right way and put the right types of content together, you get an interactive course with multiple tests and question types that Active Presenter includes. Don't be fooled, though. It might be easy to use, but it needs some instructional design experience to leverage its powers fully.
Go with Active Presenter if you:
Work with preset templates or you want to create your own
Want a solution to create videos for all platforms
Need an advanced video-editing tool
Look elsewhere if you:
Want a more modern interface design from your tools
Want to import video files created in different software
Free or open-source eLearning authoring tools to consider
If you're on a tight budget or you simply want to test whether you have what it takes to make it in this industry, this category is for you.
The list below features open-source and free eLearning authoring tools so you can test the waters and update only when you feel confident. The two leading players in the "free eLearning authoring tools" category right now are Adapt and H5P.
Each one for their own reasons. Here's why:
Adapt
The Adapt Builder is one of the most popular open-source eLearning authoring tools. And we know exactly why. First of all, branding-wise, it's one of the most visually appealing builders on this list — yes, paid included. But most importantly, it offers a wide variety of tools to create courses in just a few clicks.
Adapt is really user-friendly. Right after you sign up, you get access to a clean interface that allows you to build your course only by adding different content elements exactly where you want them to appear.
But if we had to pick one weakness, we'd say that since it's a product that has to do a lot with image, you might need the help of a graphic designer.
Go with Adapt if you:
Value cool interfaces
Want to add many different assessment types
Are looking for a SCORM authoring tool
Look elsewhere if you:
Don't want to have your learners scrolling while taking their course — the concept is built on deep scrolling
H5P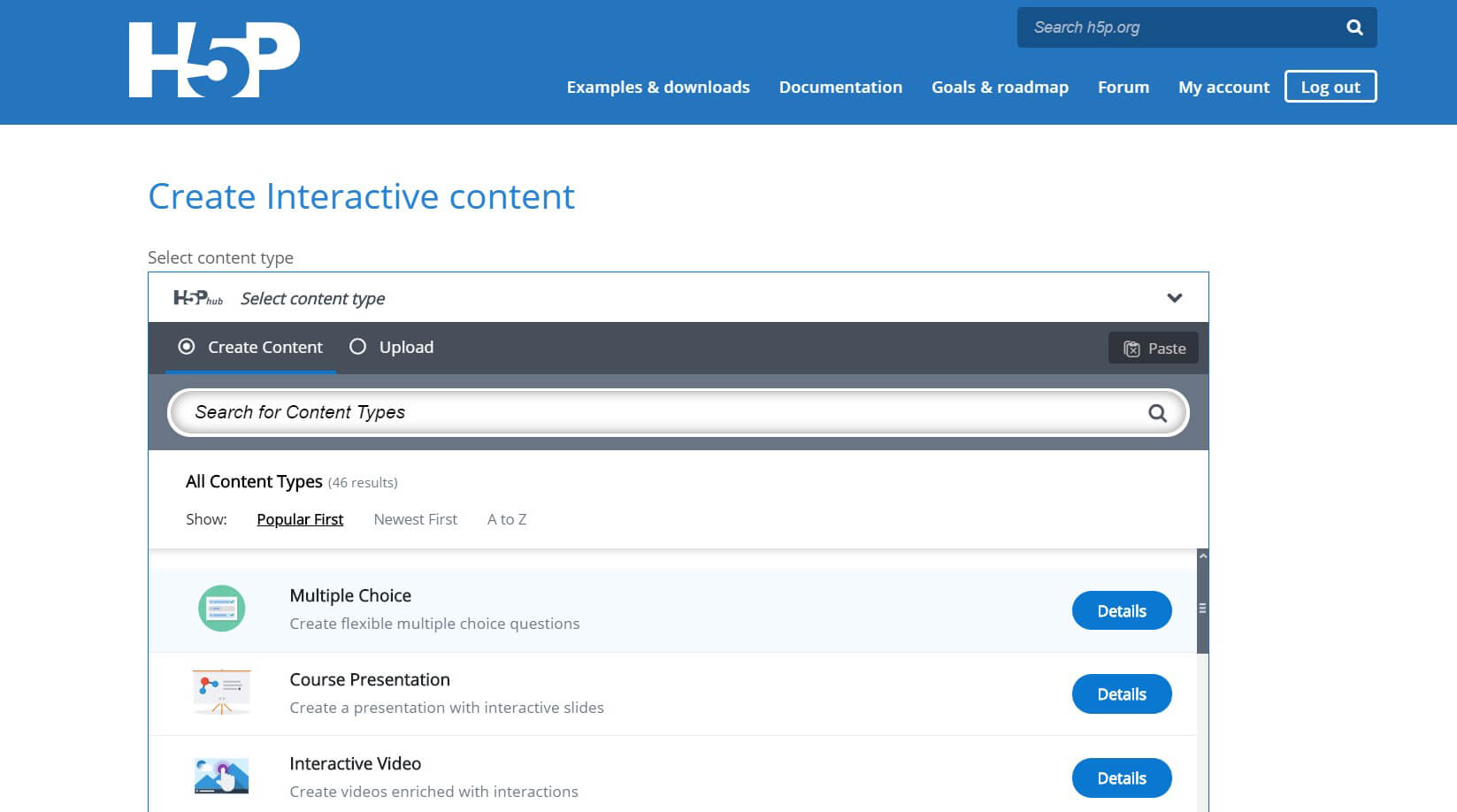 Let's fast-forward to what you need to, here: H5P is an easy-to-use, simple, and free eLearning authoring tool for newbies who want to see what building online courses is all about. But this doesn't mean that it's not impressive.
First of all, signing up takes less than five minutes. After that, you're immediately redirected to a page where you can choose among 20 different course templates.
Sadly, though, the visual components you can play with are limited. Ditto for the features. H5P, for example, does support publishing to SCORM, but only by using Tin Can API.
But when it comes to video content, it will definitely amaze you. H5P is among the best free authoring tools if you need to add a video (no, unfortunately, you can't record directly from the platform) and add interactive elements such as pop-ups, on-video questions, etc.
Go with H5P if you:
Are all for intuitive design
Want your learners to learn via interactive elements
Look elsewhere if you:
Want a video tool with video recording
Next Steps
Now you know what software instructional designers use to create professional courses. Yes, authoring tools can help you generate training content that will engage as well as educate your online learners. But is this all that you need?
The answer is no. So, where do you go from here?
After you've finished developing your course, you need to put all this content you've created in your eLearning authoring software in an LMS. Because, at the end of the day, this is what will help you deliver a course to your learner.
An LMS with the right features will help create engaging content that your learners will enjoy using. When researching for the best LMS for you, make sure to check whether it includes gamification features. And, of course, a good LMS should offer reporting features for valuable insights into your training. You can always start with a free LMS, play around with its features, and decide whether it's the right training platform for you.