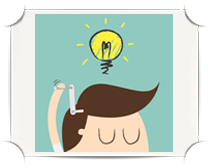 Call center online training is all about on-the-job training. Whether it's the IVR (interactive voice response) training, scorecard keeping, improving First Call Resolution (FCR) or the Average Handle Time (AHT), trainings need to be carried out while the agent is on duty.
LMS for call center: the 'how' and the 'why'
Call centers experience invariable bouts of down-time that need to be managed with the right trainings for the right agent. Learning management systems deployed for call centers are not your regular systems. These are tuned for advanced analytics that gauge performance in several metrics like agent performance, customer satisfaction rates, quality adherence factors, trainings completed, training performance, call handling improvement rates and much more.
"Why the fuss?", you may wonder. What's so special about call centers? An organization that sells products or services is only as successful as its call center! This is where direct communication with customers takes place. The goal is to create happy customers and sell more each day. Needless to say, best practices trainings in multivariate topics is the best prescription for call center agents.
Regular monitoring of learning and performance analytics will enable call center managers/supervisors to determine the strongest and the weakest agents. Trainings can then be suggested to these agents in the form of messages in their LMS profiles with reasonable deadlines. Call center management systems reveal the peak and downtime patterns for individual agents providing "training windows" for the much needed on-the-job-training. Such trainings demand immediate transfer of learning to the performance context. The next call from a customer receives a higher success rate.
10 strategies to use while creating eLearning for call centers
eLearning for call centers may sound tricky, right? Unpredictable events and unpredictable customers continue to challenge call center training managers. If there are two things that need to be deeply internalized by each call center agent, it's these:
First, all agents need to achieve excellence in customer service to reflect a positive company image. Managers need to demonstrate the consequences of quality customer service and inferior customer service early on and regularly.
Second, agents must be properly empowered to make on-the-spot decisions to take care of their customers. Agents need to be assured that their bold decisions will not be scrutinized or reprimanded. With these two core goals in mind, call center eLearning training effectiveness can be improved using these ten simple eLearning strategies:
1. Used game-based learning strategy
With a ton of customer problems demanding the attention of your agents, you need a highly engaging eLearning program to attract and retain their attention. There is a plethora of eLearning tools that enable instruction designers to embed interactive games, role-plays, contests and call simulations. This will keep your agents engaged and complete trainings faster than regular click-and-next trainings.
2. Develop agent-centered learning strategy
All learners have unique learning needs. Develop training programs that reflect the general work culture. They should enhance the strengths and eradicate weaknesses. Encourage over-achievers to train the team by example. Create a casual knowledge sharing environment by holding "debriefing" sessions. These are powerful sessions in which the rookie agents share their secrets. The novice agents find catching up relatively easier.
3. Develop work-context based trainings
Most companies hold live trainings in designated training rooms. The online versions are completed on personal computers/laptops. The trainees are then pushed to the floor with great expectations! Call center trainings would definitely not work this way. Allow learners to watch other agents in action. Encourage them to take field notes or fill out evaluation forms. Trainings would be more meaningful this way.
4. Remind job expectations regularly
Call center trainings are crucial to the product, process, and system of the company. The basic call-center curriculum revolves around these topics:
The products supported by the organization
The use and benefits of the products
How to troubleshoot the products
How to use the systems and processes that support them
Regularly re-train on the following: Quality Monitoring Standards and goals, Scheduling and Adherence standards, and Scorecard expectations. This enables agents to stick to the job expectations through the passage of time.
5. Introduce training system during onboarding
Onboarding is an excellent opportunity to introduce your learning management system to the agents. This will embed the training into their routine leading to a learning organization culture.
6. Involve Supervisors
Create a supervisor-centered trainings in which supervisors actively add their observations, lessons learnt, recurring errors and best practices to the instruction development process.  Supervisors are SME's in true sense. Their input is valuable for call center trainings.
7. Create short courses
Engage your agents with visually appealing trainings that are interactive and promote decision making. Your goal is to have the content internalized by the agents. Create compact courses that cover substantial content in seven minutes. The time spent on assessments will be more effective.
8. Play learning-goal based games
Games are not new to training. Casino themed games, trivia-like games and treasure hunt themes, all add entertainment to the education part of the training. Games motivate learners to practice repeatedly to improve scores, beat their peers and advance in the leaderboard. Playing such games during downtimes improves productivity and immediate transfer of learning to the next call.
9. Create partnership with agents
Develop a sense of ownership within agents by requesting their input and feedback on customer handling experiences.  Encourage them to describe their challenges and how they hope to overcome them: practice and/or new strategies. The results of on-the-job-aids will be anticipated and well-received. Performance will also improve when trainings are based on suggestions made by agents.
10.  Administer frequent and consistent trainings
Call center supervisors are stretched for time owing to the high-stress environment they work in. Agents that do not perform too well take up unfair amount of supervisors' time. To distribute this time fairly among all agents, coaches and agents can be made to interact during the performance for enhancement opportunities. Walking through tough callers with an expert agent enables novice agents to enhance their performance. On the job coaching can be carried out effectively by grouping similarly performing agents together and coaching accordingly. Integrate a system of measuring coaching and related performance of each agent to monitor training, learning and performance quality.
| Tags: Corporate Training