Talking about user experience in a software company is not always easy. Starting a UX-driven process for a product that is already in use makes things even more challenging. It requires a lot of effort, strong arguments, time and persistence. It actually means that a User Centered Design philosophy must be established and embedded in practices and norms which are already in place.
First of all: Why UX?
The main driver is the need for simplicity. A relevant motto describing the strategy for TalentLMS says "keep things simple", so we needed to ensure that the product remains loyal to this concept. In practical terms, this means that usability is considered as an absolute requirement, which has been fueled by the lively discussion on UX across the competition.
Stakeholders from TalentLMS and top management believe that good UX is something that will differentiate the product from competition, which will then indirectly lead to more revenue and reduce costs such as support. All of the above provided a solid basis to setup and run a first set of interrelated UX activities and this lasted almost a year.
Activities & Methods
First we decided to run a UX requirements workshop where stakeholders such as the CTO, UX designers and a UX researcher went through a process of brainstorming and discussing on the main user categories, their main problems and needs.
This workshop included three main steps such as follows:
Step 1 – Identify and prioritize the users (in broad categories)
Step 2 – Define and prioritize the user needs and pain points
Step 3 – Define and prioritize user tasks
We used affinity mapping as the method to structure our brainstorming session. This method helped us to discover embedded patterns of thinking regarding the user needs and their main challenges. We then continued sorting and clustering information into specific categories. After the session we gained a clear and common ground with a sense of where our thinking is focused.
Red routes exercise:
We continued our work with a simple group exercise in order to identify the most critical and frequent user tasks/journeys. Following the completion of the exercise we came up with a prioritized list that could guide further development of platform prototypes.
The main focus here was to eliminate any usability obstacles on the key user tasks/journeys. Therefore we used the user tasks that represented the red routes (for every main user category) as the basis for evaluation in the subsequent usability tests.
User personas:
In parallel with all the above, our research efforts focused on the collection and analysis of information from existing customers. We conducted both primary and secondary research: First we identified and interviewed users from the main user categories (admins, instructors, learners) in order to validate our findings from the UX requirements workshop.
Adjacent to this, we conducted secondary research and analyzed information about the users from other sources such as previous support tickets, social profiles etc.
Based on this research approach, we were able to create user personas for them that covered their background, personality traits, behaviors and goals, frustrations, motivations. After the completion of the above we were ready to set up the usability tests.
Usability tests:
Usability testing is considered the cornerstone of UX research methods. We planned and conducted 3 rounds of usability tests with more than 15 users who represented the 3 main user categories (admins, instructors, learners). We sent invitations to existing customers that represented a specific user persona.
The main goal for the usability tests was to observe real users performing key user tasks, identify the "more difficult" flows and related usability problems. Finally we set up a baseline for users performance and satisfaction.
This defined and recorded a list of basic metrics such as completion rates, number of errors, Time on Tasks and users satisfaction. Both quantitative and qualitative methods were used to collect and analyze data.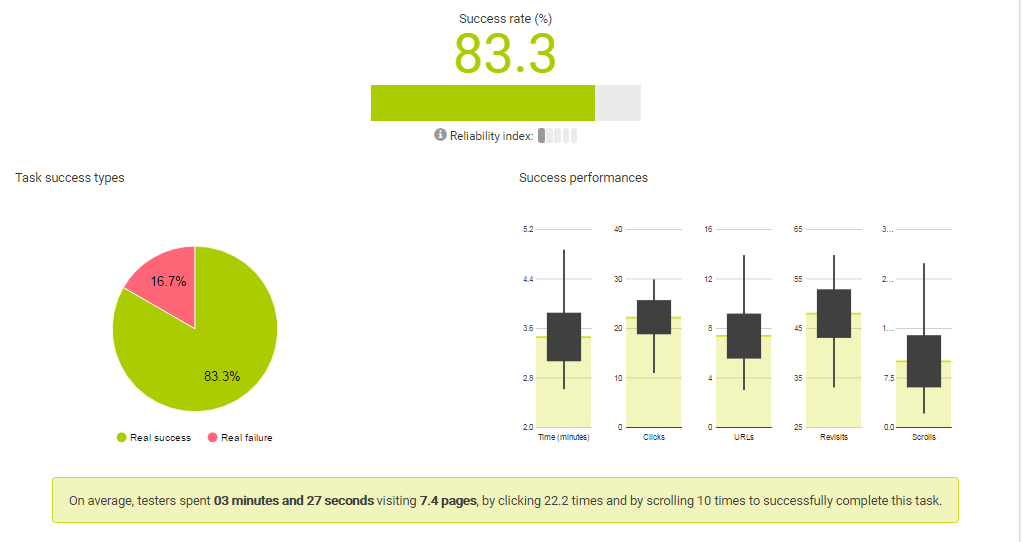 Some basic info regarding the usability tests:
Users were asked to perform the tasks as they were identified per user from the Red routes exercise.
Remote usability testing methodology was employed, which proved to be a real time-saver with such a geographically dispersed group of users.
A list with the main usability problems was compiled.
The usability problems were assessed and prioritized according to severity and frequency scale.
Problems with the highest priority were added to the backlog.
Customer journey mapping (CJM):
This was probably the most interesting, challenging and insightful activity that was performed during this project. A customer journey map describes a schema of the path traveled by a typical customer, moving through several touchpoints.
The main goal was to identify the user's potential needs and wants. In more detail; to identify the crucial touchpoints that have the biggest impact on customer satisfaction and can provide us with a clear presentation of the whole process carried out by the users.
Several people representing different business roles within the product design team were actively involved during the CJM sessions. This is important for the success of such an organizational "exercise".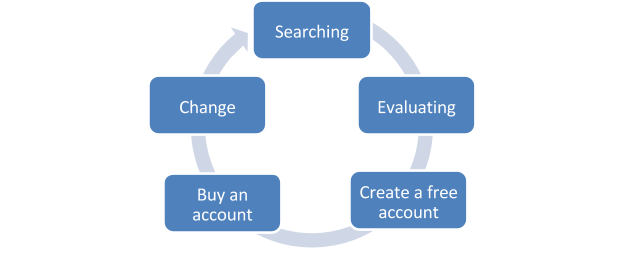 The CJM sessions took place on two different days (4-5 hours long each one). A multidisciplinary working group gathered together, representing several departments and business roles such as UX designers, the CTO, people from customer support, business development and marketing etc.
It was quite interesting and challenging to moderate such a session with colleagues who have different backgrounds, perspectives and expectations.
After two hard working sessions, we managed to identify and agree on potential "gaps" and improvements in the customer purchasing cycle as well as the product itself, such as:
Collecting more reviews in software directory sites.
Focusing more on our social image and presence, with more content related to the team behind the product.
Improvements on key landing pages such as our pricing page.
Improve sales pitch.
Create some demo sites where a customer can visualize how their portal might look
Improve customer onboarding.
Reward loyal customers.
After the CJM sessions, the team further discussed and elaborated on the above list and specific priorities were set.
Lessons learned…
First of all we had a lot of fun during the group activities. After all, UX should bring positive feelings not only for the users and customers but for the product owner and product design team as well.
Activities like workshops and CJMapping sessions gave us the opportunity to gather together for hours, share our perspectives and set out a roadmap for improvement at several levels. We learned many new methods that helped us to identify, structure and prioritize our ideas and knowledge.
The usability testing sessions were also a great opportunity for us to see the platform through the users' eyes. It revealed their actual behavior, and not just what they say, when interacting with the product.
By the end it was clear for everybody who got involved that UX is not just a set of methods or tools and techniques. It is a continuous process, an array of work and organizational practices that transcend individuals, teams, company policies etc.
That's why it became clear that UX can and should be easily integrated with other customer-centered activities.
Last but not least everyone involved realized that UX is definitely not a one-man show, as many product owners still believe nor is it the job of a UX expert that holds a magic wand.
About the author: Panagiotis has been working for 17 years in academic (teaching courses in 4 universities and having more than 60 scientific publications) and business settings as an expert in the field of Human Computer Interaction, UX research and usability evaluation.
Currently he is a freelance UX Researcher collaborating with startups and companies on several digital product design and UX – related projects. He is also an adjunct professor at the Open University of Cyprus.
| Tags: Learner Experience